Milwaukee is an interesting and diverse city located in the state of Wisconsin. It is known for its rich history, cultural attractions, and many trendy neighborhoods. Milwaukee attracts a diverse range of people to the city and has become a popular place for young professionals, artists, and creatives.
Visitors to the city will be impressed by the modern architecture and vibrant attractions such as the Milwaukee Art Museum, and unique treasures such as the Harley Davidson Museum.
The city is bustling with excellent restaurants, shops, and boutiques. For anyone visiting the city, there is a wonderful selection of boutique hotels to choose from, located in some of Milwaukee's trendy neighborhoods. From the Historic Third Ward known for its historic architecture to Bay View known for its beautiful parks and outdoor spaces.
To make things easy for you, we have picked the five best boutique hotels for you to pick from during your stay in the city of Milwaukee.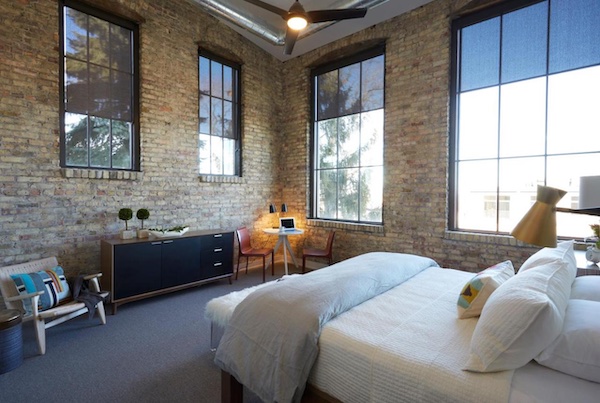 Kinn Bay View Hotel
The Kinn Guesthouse Bay View is an impressive boutique hotel located in the trendy Bay View neighborhood of Milwaukee. The vibrant and lively neighborhood has plenty of shops, restaurants, and attractions nearby for guests to enjoy.  The Lake Michigan shoreline is also an enjoyable walk away or guests can explore the many excellent galleries, theaters, and music venues located a short distance from the hotel.
The hotel has an interesting design style and features eight unique rooms, each with its own distinctive design and decor. The rooms have all been designed to a high standard and reflect the stylish feel of the neighborhood. Rooms range from cozy exposed brick studios to spacious suites and include amenities such as free Wi-Fi, smart TVs, and complimentary toiletries.
Despite the hotel's sophisticated style it openly welcomes families and pets. Each room has been carefully considered with comfortable Omaha mattresses and private bathrooms featuring slick subway-tiled walk-in showers and local hand-made soaps from Ursa.
The hotel has a welcoming atmosphere with common areas such as the communal kitchen. This encourages people to whip up their own meals and is fully equipped with a fridge, a pro series range, and kitchenware. Of course, if you want to relax and have your meals made for you, the hotel is home to the Italian restaurant Sorella, which delivers rustic-Italian cuisine.
Overall, the Kinn Guesthouse Bay View offers a unique and comfortable stay in one of Milwaukee's most interesting and vibrant neighborhoods.
Hotel details
Address:
2535 South Kinnickinnic Avenue, Milwaukee, WI 53207, United States of America.
Guest rating:
4.7 out of 5
Price per night:
From $140
Saint Kate Arts Hotel
The Saint Kate Arts Hotel is a boutique hotel located in the bustling downtown Milwaukee area, within the popular theater district. The hotel is known for its art-inspired design and its focus on promoting local arts, with every aspect of the hotel influenced and inspired by paintings, music, or sculpture.
The hotel is also home to the Gallery, an art museum that showcases contemporary art from local and national artists. The Gallery hosts exhibitions, artist talks, and workshops for visitors and the community making the hotel an important hub within the Milwaukee arts scene.
The guest rooms at the hotel have a modern and contemporary feel with a monochrome design. Rooms vary in size from cozy deluxe rooms to larger suites. However, what makes the rooms special and unique are the carefully considered touches such as records players, ukuleles, and original art in every room. Of course, all the modern hotel facilities are also provided, with comfortable beds, private bathrooms, and flat-screen TVs.
Guests at the Saint Kate Hotel can enjoy a meal at one of the hotel's restaurants or unwind with a drink at the Bar or the champagne room called the Giggly. Food at the hotel ranges from delicious homemade pizzas at Proof Pizza or fine dining at the Aria restaurant.
Overall, the Saint Kate Hotel is the ideal destination for art lovers looking for a unique stay in the city of Milwaukee.
Hotel details
Address:
139 East Kilbourn Avenue, Milwaukee, WI 53202, United States of America.
Guest rating:
4.6 out of 5
Price per night:
From $175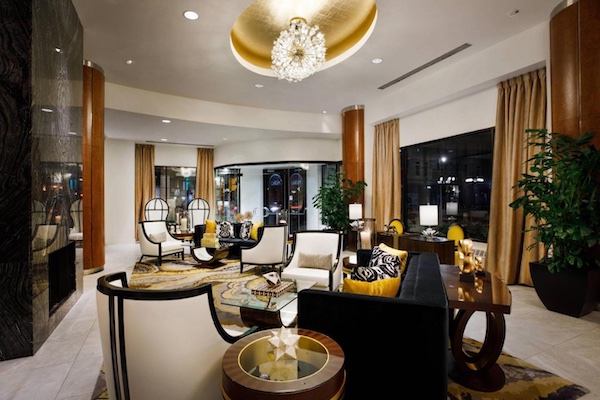 Hotel Metro
The elegant Hotel Metro is a fashionable and captivating hotel in Milwaukee's downtown district. This hotel is established within a remarkable historic Art Deco edifice, initially constructed in the 1930s and has been subsequently refurbished with top-notch contemporary facilities.
Exuding refinement and allure, the hotel fully embodies its Art Deco legacy through striking light installations and dazzling furniture. With 63 guest rooms and suites, the hotel's décor features deep black walls with golden highlights, and each room comes with a 42-inch flat-screen TV and complimentary WiFi.
For those seeking the pinnacle of leisure, the Spa King room is available, boasting an in-room spa bath and lavish bathing amenities. The suites at Hotel Metro offer ample space, complete with a full dining area and distinct living space.
Boasting an array of dining choices, Hotel Metro caters to guests' tastes with the European-influenced gourmet 'Oggies' eatery and the rooftop 'Pufferfish Tiki' lounge. Visitors can savor delectable cocktails while taking in panoramic city vistas. The hotel also features an excellent fitness center and provides private meeting and event spaces for business purposes.
Conveniently situated, Hotel Metro is a short walk from numerous top Milwaukee cultural sites, including the Pabst Theatre, Harley-Davidson Museum, and Discovery World. Additionally, the hotel furnishes a complimentary shuttle for nearby attractions and offers a concierge desk with valet parking services.
Hotel details
Address:
411 East Mason Street, Milwaukee, WI 53202, United States of America.
Guest rating:
4.3 out of 5
Price per night:
From $180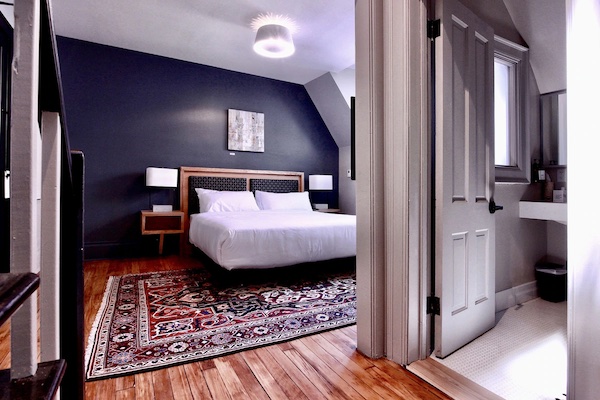 Dubbel Dutch Hotel
The Dubbel Dutch Hotel is a boutique hotel located in the trendy Walker's Point neighborhood of Milwaukee, Wisconsin. The hotel is located close to many excellent restaurants, cafes, and bars, and is a popular area for young professionals and artists. The Dubbel Dutch Hotel is also located a short drive or bike ride from other popular Milwaukee attractions such as the Milwaukee Art Museum, the Harley-Davidson Museum, and Lake Michigan.
The hotel is set in a historic double house mansion and is intimate with only nine unique rooms, each carefully designed with a contemporary blend of vintage and modern details. Each room includes flat-screen TVs, complimentary Wi-Fi, and private bathrooms and has comfort in mind.
Classic rooms are flooded with natural light and are decorated with custom furniture, locally sourced area rugs, and artwork to bring personality to the room. Whereas the Suites of the hotel offer large bay windows and separate living spaces for guests to relax in.
Guests at the hotel can enjoy socializing in the Gülden Room, with its cozy fireplace, where you can enjoy hand-crafted cocktails and small plates while meeting other guests at the hotel. The Gülden Room also hosts weekly trivia nights and Tarot card readings for guests looking for nightly entertainment.
Overall, the Dubbel Dutch Hotel offers a special stay in a historic and vibrant area of Milwaukee, making it a great choice for travelers looking for a smaller and more intimate boutique hotel experience.
Hotel details
Address:
817 N Marshall St, Milwaukee, WI 53202.
Guest rating:
4.5 out of 5
Price per night:
From $280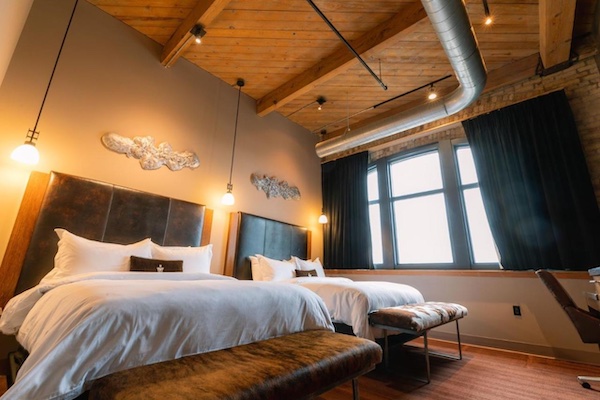 Iron Horse Hotel
The fashionable Iron Horse Hotel, an appealing red-brick boutique hotel, is nestled in Milwaukee, Wisconsin's Historic Fifth Ward. Positioned in the chic Historic Fifth Ward district, which was once recognized as the hub of industry and manufacturing, this extensive warehouse building has been meticulously transformed into a striking hotel.
With 100 guest rooms available, the hotel offers standard rooms, suites, and penthouses, all featuring a bold, contemporary loft-style aesthetic. The rooms exude a rustic elegance through dark shades, leather furniture, and visible original brickwork.
Each room is equipped with lavish amenities like soft bathrobes and premium toiletries, as well as flat-screen TVs and stylish modern ensuite bathrooms.
The boutique hotel boasts outstanding amenities, including a fitness center and a cozy massage spa. Patrons have access to diverse dining choices, such as the exceptional Branded restaurant, offering classic cocktails and superb pub cuisine. The true highlight, however, is the Ash restaurant, which prepares seasonal American dishes over an open fire.
Situated in the Historic Third Ward, the Iron Horse Hotel is an ideal option for visitors seeking to discover the city. The establishment is specifically designed for motorcycle aficionados, as evident by its name, and draws numerous biker groups visiting the area.
The hotel accommodates its biking clientele by providing covered motorcycle parking, benches to store boots and helmets, and robust hooks for hanging leather gear in each guestroom. Additionally, the Harley-Davidson Museum is conveniently located just across the bridge near the hotel.
Hotel details
Address:
500 West Florida Street, Milwaukee, WI 53204, United States of America.
Guest rating:
4.4 out of 5
Price per night:
From $120
About our boutique hotel recommendations in Milwaukee
We are a travel research company. We help you discover the best boutique hotels in Milwaukee by researching the internet for you. It's not just our opinion, it's the opinion of many travelers who have been there before you. We make it easy for you to find out about cool design hotels and unique design hotels on the island. Some of them might be so romantic that you might not want to leave your room.
Kindly note that we only list hotels with an aggregated guest review rating of at least 4.0 out of 5. We aggregate all reviews from different booking sites and other unbiased review websites. Hence, you can be certain all hotels listed above offer you a great stay in Milwaukee.
Best price guarantee
Get the best deals and prices for your stay in Milwaukee with Booking.com and Hotels.com! They offer price matching, guaranteeing you'll get the lowest online price. If you find a cheaper offer on another website for the same hotel room at least 24 hours before check-in, contact them to claim a refund of the difference.
Top 5 boutique hotels in Milwaukee
Let's quickly summarize this guide. Based on thousands of guest reviews and tips from travel experts, these are the best boutique hotels in Milwaukee:
More Milwaukee tips
Get more great insights like the guide above! Take a look at these other articles about Milwaukee: