Zurich has an interesting history, dating back to Roman times when it was founded as Turicum. It became a major trade center during the 16th century, and today, it still remains a popular choice for international banking. With such rich history and such a vibrant culture, there are plenty of reasons why you should make Zurich your next vacation spot!
Even though Zurich may be known for high-end shopping and luxury accommodations, there are a surprising number of affordable hotels in the area. If you want to save a bit of money while avoiding hostels, booking a cheap hotel is an ideal choice. These hotels give you the option of shared spaces and bathrooms, but if you want more privacy with a private bathroom, you'll have that option as well.
While these hotels are priced at a lower rate, that doesn't mean you have to compromise on the amenities or location. Several of the more affordable units include private bathrooms, complimentary breakfast, and tasteful decor. You will also be extremely close to the city center, several attractions, cafes, and nightlife, which can also help you save on transportation costs.
Even if you do book a cheap hotel room that is small and simple, you won't be hanging out too much in the room anyway. With all that Zurich has to offer, you will hardly notice the inside of your hotel room.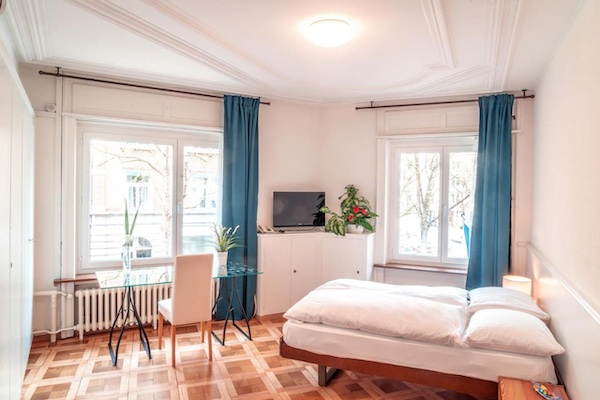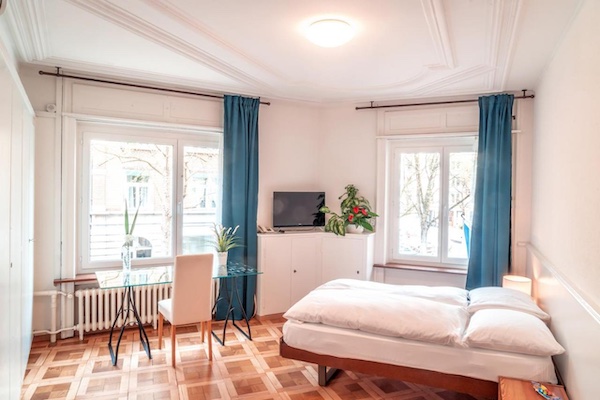 Hotel St. Georges
Located within walking distance to the city center, only 1,000 feet from the Zurich-Wiedikon train station, Hotel St. Georges provides a welcoming atmosphere and an accessible position. For a more affordable option, book the single room with a shared bathroom. Single rooms with in-unit bathrooms, double rooms with shared bathrooms, and double rooms with private bathrooms are also available. Rooms are simple, yet still bright, friendly, and clean.
Hotel St. Georges has a warm ambiance, and after a few days, you might feel right at home. The hotel lobby has an inviting fireplace, great lighting, wooden floors, and greenery and flowers can be found throughout the hotel. Breakfast is included in your stay, but there are a variety of excellent restaurants in the area. Yen's, serving Asian fare and sushi, is just down the street. Mazi, a charming Greek eatery, is also located in the neighborhood.
Hotel St. Georges is within a mile of several top attractions, including the Bahofstrasse, St. Peter's, Grossmunster, and the Urania Observatory. For an affordable, clean, and comfortable stay, with all of Zurich's highlights nearby, you can't go wrong with Hotel St. Georges.
Hotel details
Address:
Weberstrasse 11, Aussersihl, 8004 Zurich, Switzerland.
Guest rating:
4.2 out of 5
Price per night:
From $70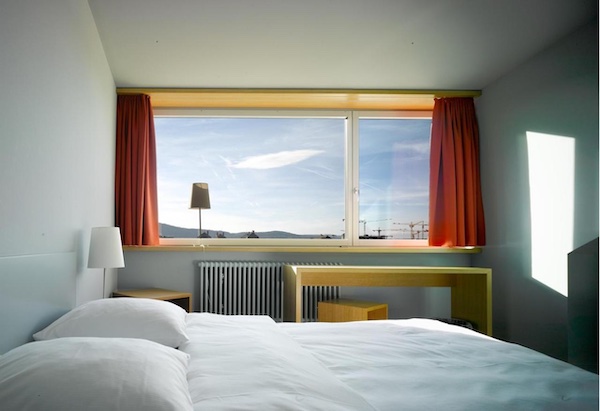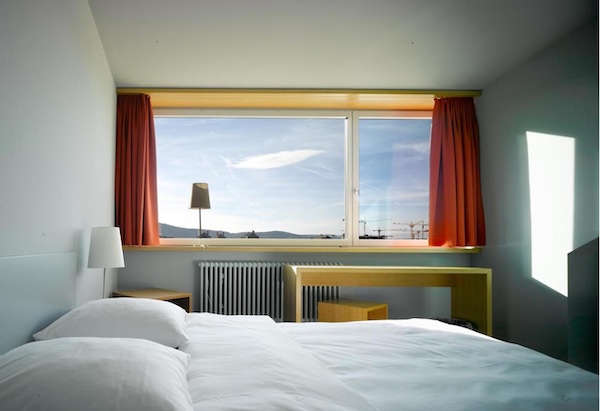 Hotel Marta
Hotel Marta, situated in the adorable Neiderdorf quarter, offers budget-friendly accommodations in the city center. The hotel was renovated in 2010 to create a simple and clean design throughout the property. All rooms provide a flatscreen TV, a private bathroom, and free Wi-Fi. While units aren't fancy, they have excellent city views, white linens, and simple colors.
Only a ten-minute walk from the Bahnhofstrasse and Lake Zurich, most attractions are within walking distance, making your stay hassle-free. A continental breakfast is included in the price of your room, but you can find plenty of other restaurants in the neighborhood. For traditional Swiss food, Walliser Keller is located only a block away. If you need a hit of caffeine, an onsite coffeehouse provides coffee and tea throughout the day.
Hotel Marta is committed to social welfare, employing ten women with learning disabilities and psychological issues. This hotel is also committed to sustainability, paying attention to electricity and energy use, along with the amount of waste they create. Travelers who want to contribute to the greater good while enjoying budget-friendly accommodations are sure to be a fan of Hotel Marta.
Hotel details
Address:
Zähringerstrasse 36, 1. Zurich Old Town – City Center, 8001 Zurich, Switzerland.
Guest rating:
4.3 out of 5
Price per night:
From $85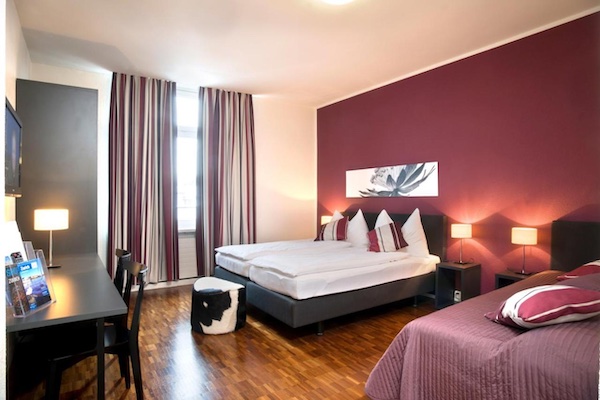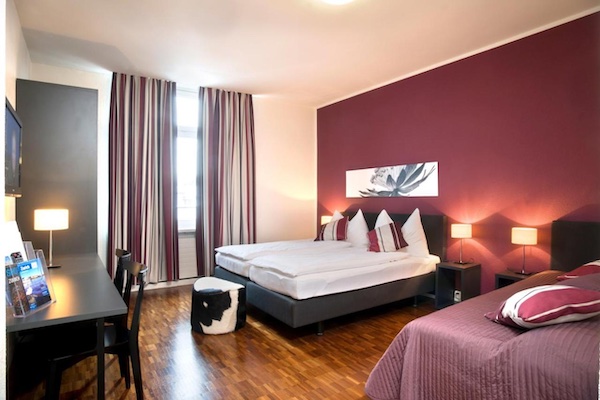 Hotel Hottingen
Renovated in 2016, Hotel Hottingen has affordable, centrally-located, and elegant rooms. Modern design, white linens, and wood floors make the space feel airy, yet homey. Featuring 30 air-conditioned rooms, each unit includes a coffeemaker, flatscreen TV, and mini-kitchenette. This property has a variety of accommodations, including rooms with single twin beds, two beds, double beds, three twin beds, four twin beds, and a variety of other spacious options. A continental breakfast is served daily, allowing guests to choose between various baked goods, eggs, meats, cheeses, yogurt, juice, jams, cream cheese, tomatoes, and more.
Hotel Hottingen is committed to sustainability, reflected in the way they do laundry, clean, recycle, and source breakfast foods. With only a short walk to Kunsthaus, Zurich Opera House, and Grossmunster, this location is ideal. You'll also be near several restaurants, like Restaurant Rosengarten, specializing in alfresco dining, and Santa Lucia Teatro, serving wood-fired pizza. The Hottingerplatz bus and tram stop is right next to the hotel, meaning that the rest of Zurich is only a short ride away. With lovely rooms, fantastic amenities, good value, and so much to do nearby, Hotel Hottingen makes for an excellent stay when visiting Zurich.
Hotel details
Address:
Hottingerstrasse 31, Zürichberg, 8032 Zurich, Switzerland.
Guest rating:
4.3 out of 5
Price per night:
From $100
About our budget hotel recommendations in Zurich
We are a travel research company. Our team helps you discover the best cheap hotels in Zurich by researching the internet for you. We have also visited some of these places. Hence, it's not just our opinion, it's the opinion of thousands of travelers who have been there before you. We make it easy for you to find out about the best budget hotels in the city.
Please note, we only list hotels that have an aggregated guest review rating of at least 4.0 out of 5. We aggregate all reviews from different booking sites and other unbiased review websites. Any hotel listed here should have a price of $100 or less per night. Hence, you can be certain all hotels listed above offer you a great and affordable stay in Zurich.
Lowest price guarantee
We partner with Booking.com and Hotels.com. Both booking websites offer the lowest price guarantee, so you can be certain you will always get the best deal for the hotels above. If you have seen a better price elsewhere, all you need to do is contact the booking website, and they will refund you the difference immediately. You can price match right up until the day before check-in.
We also recommend you read our guide about how to save money on hotel bookings. It's a list of tips about when you should book a hotel, what tools you can use, and other things you can do to find your preferred hotel at an affordable price.
Top 3 budget hotels in Zurich
Let's summarize this affordable travel guide. Based on thousands of guest reviews, these are the best budget hotels in Zurich:
More Zurich guides
Get to know the city even better by reading our other articles about Zurich:
Best boutique hotels in Zurich