Italy is one of the most influential countries based on food, beverages, and hospitality. When going right to the source, you can have truly unique experiences that you will never forget.
There are a few main cities in Italy worth mentioning. Venice, Florence, Milan, and Rome are among the most famous and interesting. Today, we will be talking about some great budget accommodations in Rome specifically. Rome is a city of great historical significance and is a great place to visit.
However, traveling to any spot in Europe brings a significant price tag. Especially because of how popular Rome is, there are a lot of expensive options out there. If you are a budget traveler or just want to designate funds for other activities, you need to stay at an affordable hotel. So, here are the three best cheap hotels in Rome!
Hotel Virgilio
First up is the Hotel Virgilio. First and foremost, the location is what makes this hotel ring in at the top of our list. Some of the more famous spots like the Trevi Fountain, Colosseum, and Piazza di Spagna are all within a mile of your room. When you can walk to the top attractions, this will save you lots of money on transportation costs. Plus, you are very close to Rome's central train hub. So, you can be connected with all sorts of areas with ease.
When you are not out exploring, you need a clean, steady restaurant to come back to. This is exactly what the Hotel Virgilio has to offer. The rooms are basic, yet pleasant, so you will have a good spot to return to after a busy day. If you want to save the most money possible, there is the economy room. If you want some extra space, there is a superior room that can be a nice upgrade.
Finally, it is important to talk about a couple of amenities offered here. Examples include in-room breakfasts, a concierge service, free wifi, and much more. So, there is a bit of added value when staying at the Hotel Virgilio.
Hotel details
Address: 
Via Palermo 30, Rione Monti, 00184 Rome, Italy.
Guest rating:
4.3 out of 5
Price per night:
From $40
Hotel Leone
The next budget location up is Hotel Leone. This sits in the Central Station district, which is a pretty great place to stay. If you can find a budget hotel like this in that area, you are in for a treat. This hotel will be within a mile of the Colosseum, Trevi Fountain, National Museum of Rome, and so much more. Basically, you are in the heart of the action. Especially for the low price of Hotel Leone, this is a value that cannot be beaten.
The location is the biggest selling point, as the hotel itself is nice, but it does not have too many fantastic features or luxurious areas. In fact, there are only three room types. There is a small double room, double room, and triple room. The small double room will save you the most money as it has the least to offer. If you just need a bed and a clean room, this one is for you. The double room is great for two people, and the triple is for three people. If you are traveling with any more than three, you will need to book more than one room.
Hotel details
Address: 
Via Cavour, 47, Central Station, 00184 Rome, Italy.
Guest rating:
4.3 out of 5
Price per night:
From $38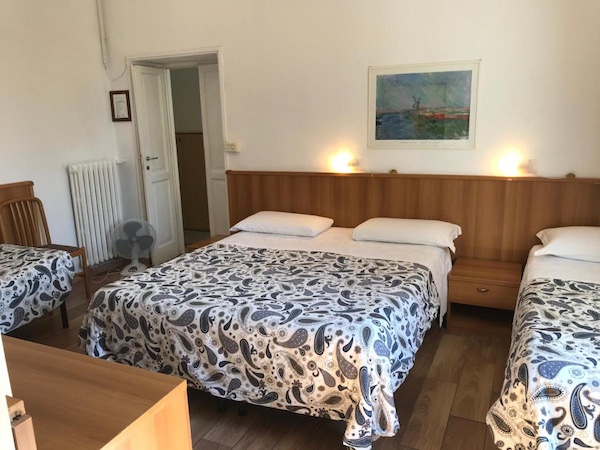 Hotel Lodi
Finally, there is the Hotel Lodi. This is a smaller hotel that has plenty of character. The two other hotels are pretty close to the touristy areas of Rome, but the Hotel Lodi is a perfect middle ground. It is located in a more residential area of Rome, so you avoid a lot of the outside traffic. Plus, this adds a slightly more "authentic" experience as the tourist areas are a bit away.
However, this hotel is still within two miles of those main attractions. So, the accommodation is in the shadow of the business while still giving you easy access to it. The Lodi Metro Station is less than a quarter-mile away, so you can be connected with ease.
There are four types of rooms, and three of them are the same as Hotel Leone. They add a quadruple room for families traveling with four people. There are also a couple of perks to staying here. There is a nice garden area, café, room service for breakfast and more offered at Hotel Lodi. There is also a really good concierge service and airport shuttle to use. The shuttle costs a little bit extra, but it makes traveling very convenient.
Hotel details
Address: 
Via Oristano 14, 00182 Rome, Italy.
Guest rating:
4.2 out of 5
Price per night:
From $35
About our budget hotel recommendations in Rome
We are a travel research company. Our team helps you discover the best cheap hotels in Rome by researching the internet for you. We have also visited some of these places. Hence, it's not just our opinion, it's the opinion of thousands of travelers who have been there before you. We make it easy for you to find out about the best budget hotels in the city.
Please note, we only list hotels that have an aggregated guest review rating of at least 4.0 out of 5. We aggregate all reviews from different booking sites and other unbiased review websites. Any hotel listed here should have a price of $50 or less per night. Hence, you can be certain all hotels listed above offer you a great and affordable stay in Rome.
Lowest price guarantee
We partner with Booking.com and Hotels.com. Both booking websites offer the lowest price guarantee, so you can be certain you will always get the best deal for the hotels above. If you have seen a better price elsewhere, all you need to do is contact the booking website, and they will refund you the difference immediately. You can price match right up until the day before check-in.
We also recommend you read our guide about how to save money on hotel bookings. It's a list of tips about when you should book a hotel, what tools you can use, and other things you can do to find your preferred hotel at an affordable price.
Top 3 budget hotels in Rome
Let's summarize this affordable travel guide. Based on thousands of guest reviews, these are the best budget hotels in Rome:
More Rome recommendations
Get to know the city even better by reading our other articles about Rome: