Rome is a beautiful city to visit and is one of the oldest cities in the world. This allows you to walk amongst ancient structures and archaeological sites that are sometimes over 2000 years old but are located just down the road from local pizzerias and gelati shops.
There is also the laid back and pleasant nature of the locals, as well the beautiful architecture and wonderfully quaint neighborhoods – this is the home of la dolce vita after all! Although the city itself is relatively small, there is so much to do and see here that you can easily spend weeks finding new and exciting places to visit as there is so much more to Rome than the Trevi Fountain and the Colosseum – although you should definitely check those out as well!
If you're looking for great affordable hostels to stay at while on your Roman holiday, have a look at our recommendation for the top five hostels in Rome below.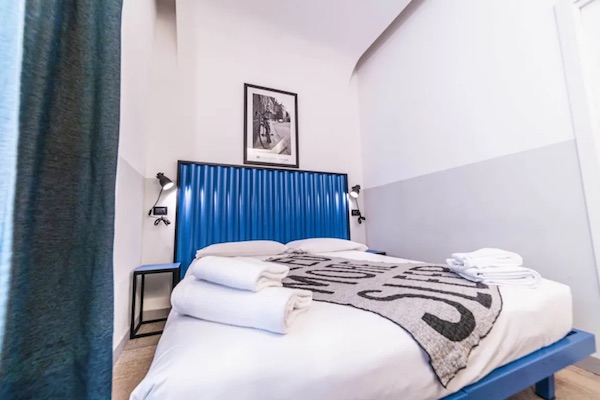 Yellowsquare Rome
Located in the heart of Rome, a short walk away from the main Roma Termini train station, in the east of the Municipio I district, Yellowsquare offers comfortable accommodation with plenty of amenities. The Metro will get you to the Colosseum in seven minutes. Wander through the streets of Rome and reach the Trevi Fountain and the Spanish steps in half an hour.
If you like to party, you will love the nightclub located right downstairs. To get your night started you can have a few drinks at the hostel bar which regularly hosts burlesque shows, live music, and karaoke nights. If you want to meet your fellow travelers but prefer something a bit more low key, The Yellow has plenty of activities to suit, such as gelato making, or yoga classes held on the rooftop terrace.
Accommodation options range from mixed or female-only dorm rooms to private rooms with their own en-suite. Wi-fi is free throughout and if you want some personalized tips on things to see and do visit the reception that's open 24/7.
Hostel details
Address: 
Via Palestro 51, Rome, Italy.
Guest rating:
4.6 out of 5.
Price per night:
from $16.
Generator Rome
Located within a beautiful 19th-century building this hostel has been renovated so that you can enjoy modern creature comforts while still feeling as though you are immersing yourself in history.
The Generator's surroundings are no different. Located within the Esquilino District known for its traditional old school vibe and being one of the oldest areas of Rome, right opposite you will find Mercado dell' Esquilino, a food market showcasing the wide variety of Italy's fresh local produce.
Set over seven floors you can choose from either private rooms or shared dorm accommodation. Within the building, there is a deli-style café, bar, and chill-out lounge. Wi-fi is included for free and reception is open 24 hours a day.
Hostel details
Address: 
Via Principe Amedeo 251, Rome, Italy.
Guest rating:
4.3 out of 5.
Price per night:
from $27.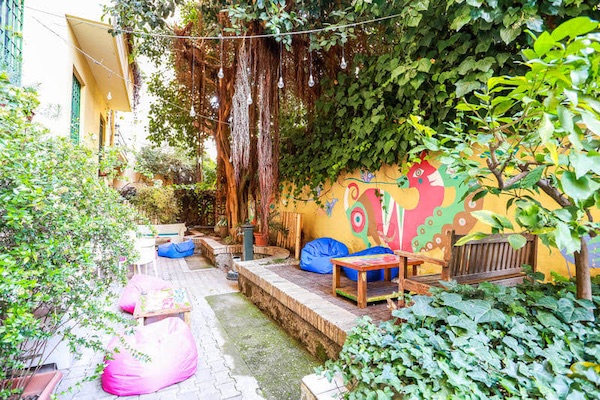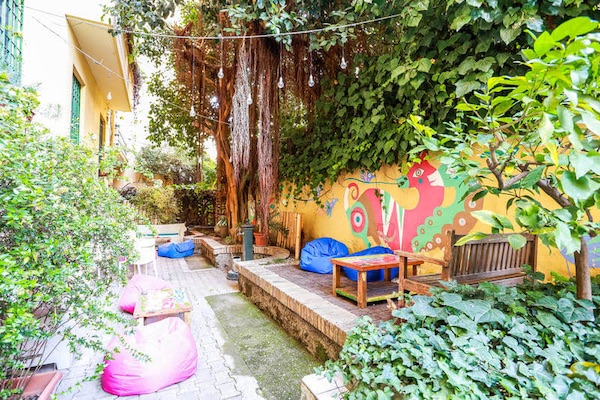 The Beehive
This cozy and welcoming hostel has been a sanctuary in the middle of the city since 1999. Located only two blocks away from Rome's central train station, Termini, making it easy to reach the hostel and get around the city.
Owned by two American's who packed up their lives to live in Rome, you are able to get a unique insight into what makes the city special to them and get some insider tips about the best things that Rome has to offer.
Inside The Beehive Hostel, you will find cozy rooms, either mixed or female-only dorm rooms, as well as private rooms, a self-catering kitchen including microwave, fridge, kettle, plates and glasses, an indoor lounge, an outdoor courtyard, and free wi-fi. Breakfast is supplied daily and twice a week you can take part in the communal dinners or weekly cooking classes.
Hostel details
Address: 
Via Marghera 8, Rome, Italy.
Guest rating:
4.6 out of 5.
Price per night:
from $34.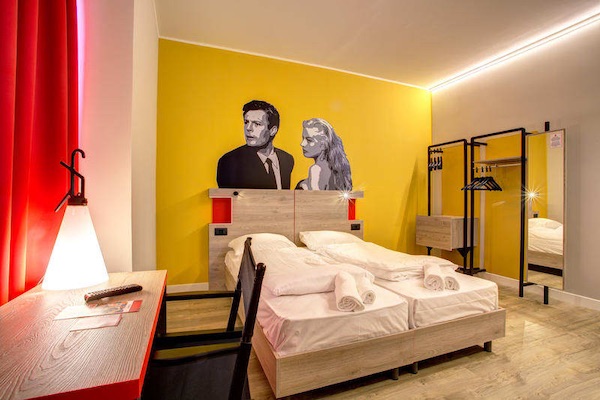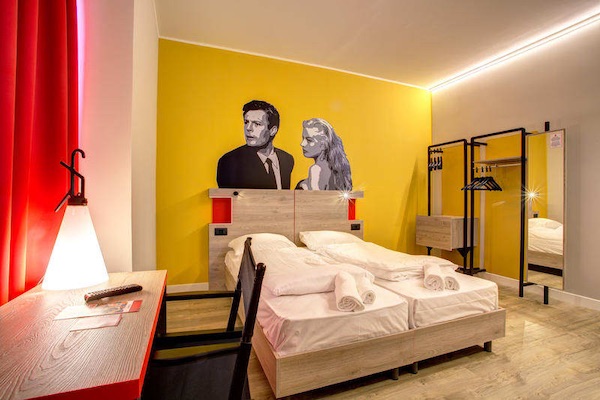 Meininger Roma Termini
This hostel is relatively new having only opened its doors in 2018, however it is housed within a historic building so you will get to experience some real Italian architectural flair. The interior décor reflects this nod to the past as it is devoted to classic movies that were set in Rome.
This unique hostel is located within an easy 30-minute walk away from the Colosseum, while the Roman Forum can be reached in under 40 minutes. You can also reach the Basilica Santa Maria Maggiore within 15 minutes. Meininger Roma Termini offers mixed and female-only dorm rooms, as well as single, twin, triple, and quad rooms that have private en-suites. A buffet breakfast is available for a small fee.
If you're in the mood for a home-cooked meal you can whip up a dish in the communal kitchen, or if you just want a quick bite to eat grab a fresh muffin or cookie from the bar. Wi-fi is free and a 24-hour reception is available.
Hostel details
Address: 
Via San Martino della Battaglia, 16 – 00185 Roma, Italy.
Guest rating:
4.7 out of 5.
Price per night:
from $19.
Hostel Mosaic Central
This clean and comfortable hostel is located within a short walk to the Colosseum and Termini central station, making sightseeing (both locally and further out) a breeze. While you're inside Mosaic Central you can enjoy free wifi, a plasma screen TV, a comfortable lounge room, and a complimentary breakfast.
The hostel has 10 rooms, so you can feel at ease knowing that you won't be trying to sleep within a crowded and noisy environment. Each room has its own en-suite.
Hostel details
Address:
Piazza del Viminale 5, Rome, Italy.
Guest rating:
4.7 out of 5.
Price per night:
from $24.
About our Rome hostel recommendations
Are you a solo traveler looking for a private room? Or a backpacker traveling around in a group wanting to stay in a cheap and cozy dorm? Above you will find the best hostels in Rome for all your needs.
Please note, we only list hostels that have an aggregated guest review rating of at least 4.0 out of 5. We aggregate all reviews from different booking sites and other unbiased review websites. Hence, you can be certain all hostels listed above offer an excellent value-for-money stay in Rome.
Best price guarantee
For our hostel recommendations, we work together with Hostelworld and Booking. These partnerships don't have any influence on the recommendations we make or on the order in which our recommended hostels are listed. The reasons why we have chosen to partner with these companies is that they're trustworthy, offer excellent service and they both apply the best price guarantee. This means you can claim a refund for the difference if you find your reservation cheaper on another website. It has to be for the same property, accommodation type, dates, cancellation policy and conditions, otherwise, you can't claim the refund for the difference. If you book through Booking.com then all you need to do is contact them at least 24 hours before your check-in date. If you book through Hostelworld you must claim the refund within 24 hours after you made the booking.
Top 5 hostels in Rome
To summarize again, based on thousands of guest reviews, these are the best hostels in Rome:
Why you should be careful when booking the cheapest hostel available
The cheapest hostels available are typically not in a great location. If you want to go sightseeing or go for a night out in central Rome, you probably end up having to pay for public transport or a taxi to get there. So your stay could end up being more expensive compared to a stay in a central location. For first-time travelers, we recommend staying central anyway, but also for frequent visitors, it's probably worth it to pay a bit more to stay in a central location.
Another reason why you shouldn't stay at the cheapest hostel is that the people staying at the cheapest hostels are often not the people that can afford to travel like you. Because a very cheap hostel is often cheaper than renting a flat, these places tend to attract migrant workers or local misfits. That's probably not the crowd you want to hang out with, especially if you're a solo traveler looking for friends.
The third reason why you should avoid the cheapest hostels is safety. Some of the cheapest hostels don't check IDs, don't ask for signatures, or only accept cash at check-in. The hostel won't know who is actually staying there.
Lastly, the service at these hostels isn't great. For instance, if you choose to store your luggage, your bags will be unattended in a public space. It won't be recorded anywhere or tagged and stored in a locked room.
Get to know the city better and check out our other articles about Rome: