One of the meccas for tourism in Europe is Rome. Rome is full of deep-rooted history that takes on a unique identity unparalleled by anywhere else in the world. If you are going around the world and trying to hit the hotspots, Rome has to be near the top of the list.
The city's identity extends far beyond the Colosseum. There is so much to unpack, so spending a good amount of time here is always a great idea.
Now, visiting Rome comes with handling some insane tourism. There are so many people packed into the streets that it can be a little overwhelming. Thankfully, there are a number of luxury hotels that can slow it down and give you a quality experience.
Here are five of the best luxury hotels located in Rome!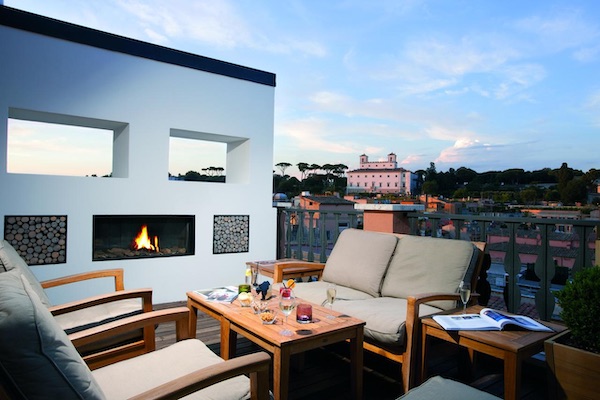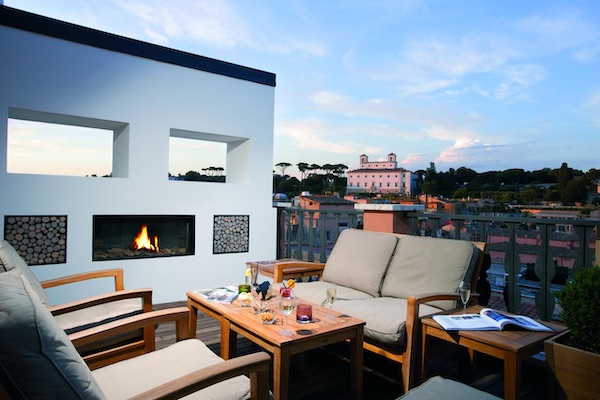 Portrait Roma
As we already mentioned, Rome has turned into a mecca for travel and millions of outsiders visit every year. So, staying in a high-quality, small location will help bring the experience to you in the best way possible. This is what the Portrait Roma helps accomplish.
With just 14 individual suites, you are getting a truly unique experience. This is an exclusive spot that can cater to whatever needs you to have. True Roman luxury is highlighted here.
One of the coolest features is the rooftop terrace that gives you incredible views of Rome and the surrounding area. Plus, the location keeps you close enough to walk to some of the coolest features in town. So, you can get a quiet experience near the hotspots.
Hotel details
Address: 
Via Bocca di Leone 23, Spagna, 00187 Rome, Italy.
Guest rating:
4.8 out of 5
Price per night:
From $540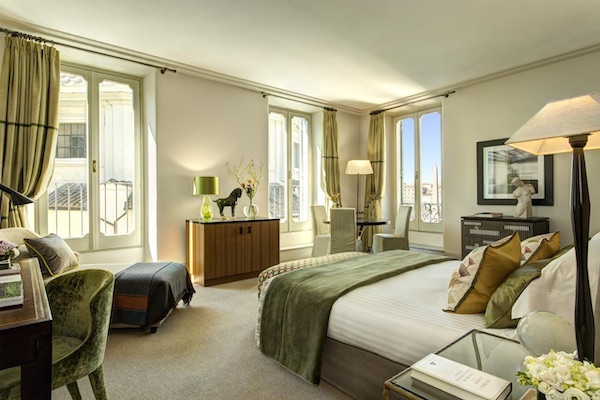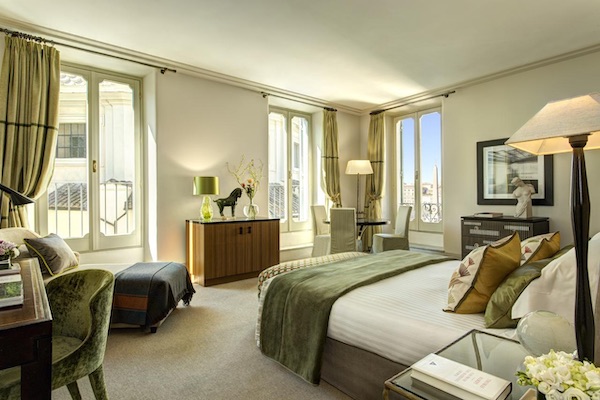 Hotel de Russie
Next up on our list is the Hotel de Russie. This is a five-star spot that converges Spanish and Italian vibes into one. This unique experience is definitely worth considering. Like the option above, the location is the focal point. You are a short walk away from some awesome sites within Rome.
Staying far away will provide a quieter experience, but if you are in Rome to see the goods, you need to be somewhat close. This is why Hotel de Russie is a top choice. You can be close enough to walk to the top spots without being overwhelmed by wandering tourists.
A cool feature of this hotel is its restaurant. Le Jardin de Russie is the on-site Mediterranean restaurant that has some incredible offerings.
Hotel details
Address: 
Via Del Babuino 9, Spagna, 00187 Rome, Italy.
Guest rating:
4.6 out of 5
Price per night:
From $570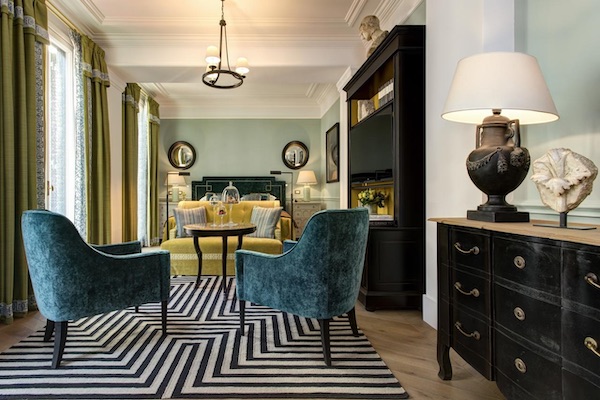 Hotel de la Ville
If you want to be among the elite that visit Rome, Hotel de la Ville is a great option. During certain times of the year, high-end businessmen and celebrities will call this hotel their temporary home.
This is also a hotel that offers some of the biggest rooms of its kind in the city. So, not only are you surrounded by beautiful decor and incredible features, you can have a room that has plenty to explore itself.
The marble and gold trim is complemented by a gorgeous courtyard that is the perfect place to grab some fresh air and relax.
Hotel details
Address: 
Via Sistina 69, Spagna, 00187 Rome, Italy.
Guest rating:
4.7 out of 5
Price per night:
From $375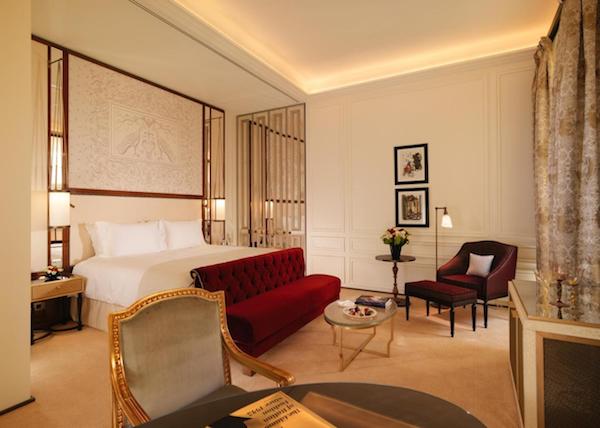 Hotel Eden Rome
Next up is the Hotel Eden Rome. If you want to experience luxury the moment you walk in, this is the place to be. Once coming in the front door, high ceilings, marble floors, and fancy furniture jump out right away. After all, if you are going to spend a lot of money on a room, you may as well feel luxurious in the process.
The biggest perk of staying here is quick access to the restaurant, Terraza. This is a Michelin-starred spot that has some of the best food offerings in the area. Rome is home to incredible cuisine, but having such a highly-regarded option in-house and with excellent views of the city is a big perk.
Hotel details
Address: 
Via Ludovisi, 49, 00187 Roma RM, Italy.
Guest rating:
4.7 out of 5
Price per night:
From $760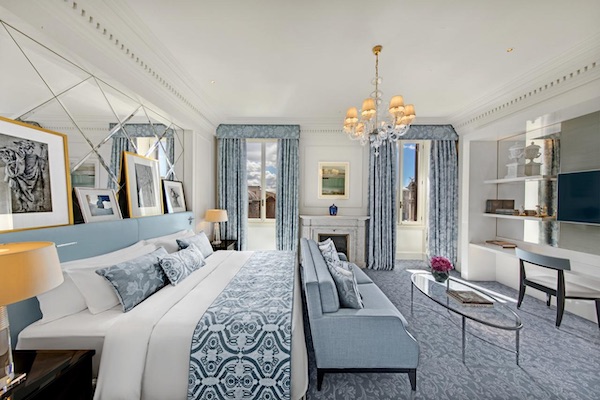 St. Regis Grand Hotel
Last, but absolutely not least, there is the St. Regis Grand Hotel. With a history that is over 120  years old, a lot of that old, luxurious charm still rings true today. Obviously, Rome is a city with deep-rooted history, but staying in a hotel that is similar takes the experience up a notch.
Similar to some others on this list, location is everything. However, being the city's first deluxe hotel gives it a prime location. It is right in the city's center. If you do not want that fast-paced vibe, you may need to look into somewhere else.
If you do want the perks of being right there, St. Regis should be your top option.
Hotel details
Address: 
Via Vittorio Emanuele Orlando 3, Central Station, 00185 Rome, Italy.
Guest rating:
4.8 out of 5
Price per night:
From $505
About our luxury hotel recommendations in Rome
We are a travel research company. Our team helps you discover the best luxury hotels in Rome by researching the internet for you. We have also visited some of these places. Hence, it's not just our opinion, it's the opinion of many travelers who have been there before you. We make it easy for you to find out about the most luxurious and exclusive 5-star hotels in the city.
Please note, we only list hotels that have an aggregated guest review rating of at least 4.0 out of 5. We aggregate all reviews from different booking sites and other unbiased review websites. Hence, you can be certain all hotels listed above offer you a great stay in Rome.
Best price guarantee
We have partnered with Booking.com and Hotels.com to offer the best price for your stay in Rome! Both sites offer price matching, so you can be sure that you are getting the cheapest rates possible for a luxury hotel in Rome. If you find an even lower rate on another site at least 24 hours before check-in, contact them to claim a refund of the difference!
Top 5 luxury hotels in Rome
Having read this guide, now let's summarize what we learned. We found the best 5-star hotels in Rome thanks to reviews and tips from thousands of guests and travel experts:
More Rome recommendations
We hope you enjoy the advice we've given to you above. If so, be sure to check out some of our other articles about Rome: