Rome is a city that should be on every traveler's bucket list, especially early on. Every year, millions of visitors go to Italy in order to see Rome's history, culture, and food.
If you find yourself in Rome one day, there are a number of things you have to see and experience. The Colosseum, St. Peter's Basilica, the Pantheon, the Sistine Chapel, and so much more make up the streets of Rome. These are just a couple of Rome's focal points, and there is so much more to explore.
Rome is a big place, so it can be stressful to battle the crowds and range of things to do. One way to counteract this is by staying in a boutique hotel. These are smaller and provide a more relaxing experience. Here are five of the best boutique hotels in Rome!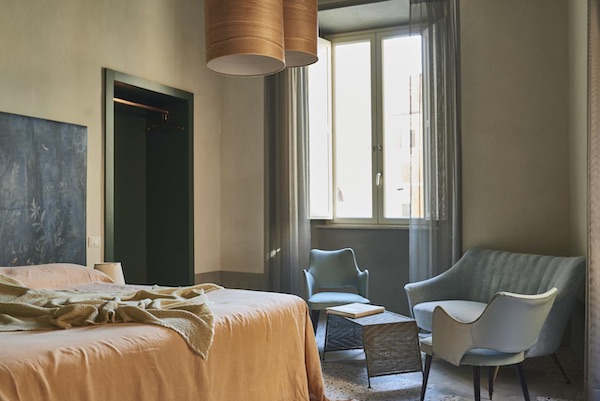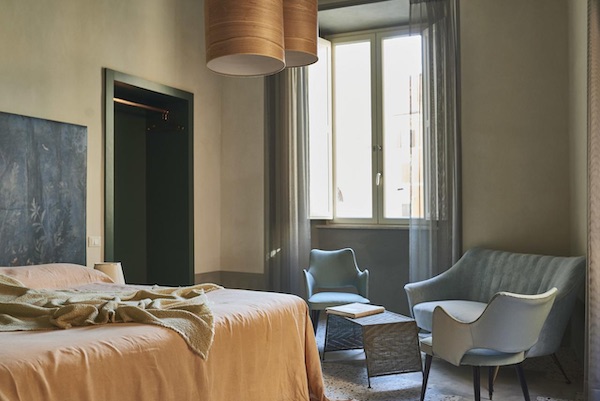 Casacau
The first boutique hotel to grace this list is the Casacau hotel. This is a building that dates back to the 1600s and, although there have been plenty of renovations since, the vibe of old times still lingers.
The biggest perk is its location. You will be just a short walk away from the Trevi Fountain, a hotspot for Roman tourism. You will also be close to a lot of great restaurants. Since the hotel does not have its own restaurant, you will have to get creative and find some excellent options out in the streets.
This is also one of the smallest boutique hotels on this list. Instead of the traditional hotel room layout, these are considered apartments with private kitchenettes. Because there are only six total rooms, you will be getting a quiet, inclusive experience here.
Hotel details
Address: 
Via In Arcione 94, Trevi, 00187 Rome, Italy.
Guest rating:
4.7 out of 5
Price per night:
From $230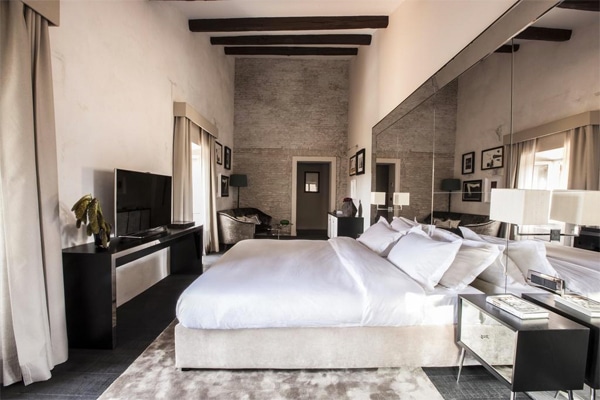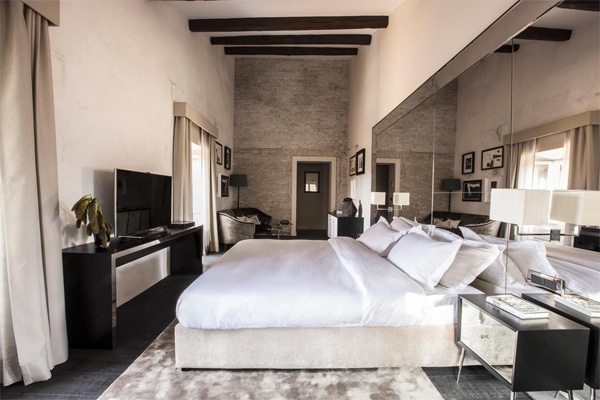 DOM Hotel
Next up, there is the DOM Hotel. With 14 rooms and four suites, this small hotel is in an interesting part of town known for its mafia-heavy history. This is also a great spot to stay in if you want to separate yourself a little bit from Rome's hot tourism spots. This gives you a more authentic, quiet experience than if you stay in the center of town.
A cool little perk is that you get breakfast included with your stay. Although it seems small, many other hotels charge you extra, so keep this perk in mind.
Overall, your stay at the DOM Hotel will come with awesome perks that set you up to make some great memories.
Hotel details
Address: 
Via Giulia, 131, 00186 Roma RM, Italy.
Guest rating:
4.4 out of 5
Price per night:
From $230
Chapter Roma
Staying at Chapter Roma will transport you into little Italy and give you an experience that is a bit disconnected from the rest of the high tourist areas. This ensures a more authentic visit, although those touristy spots are still worth checking out.
Although this spot is a bit away from some of the super busy areas, you are still within walking distance to some historical areas that are definitely worth checking out. This is one of the largest boutique hotels on this list with 42 rooms, three of which are suites. This is not very big compared to other options, so you can still get a quaint experience without too much hassle.
Hotel details
Address: 
Via Santa Maria Dè Calderari 47, Pantheon, 00186 Rome, Italy.
Guest rating:
4.6 out of 5
Price per night:
From $180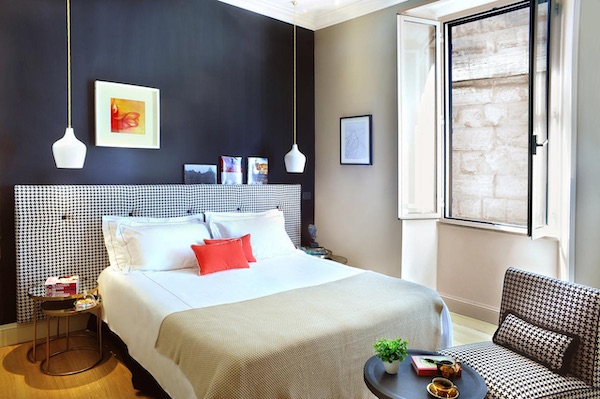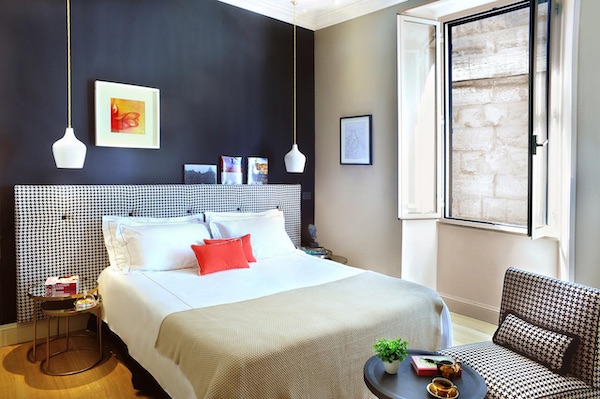 Nerva Boutique Hotel
With a grand total of 19 rooms, the Nerva Boutique Hotel is perfect for those who want to be within walking distance to the Colosseum. It is very convenient to be so close to the hotspots that you do not have to pay for transportation to and from.
Keep in mind that this area will get a bit busy, so if you don't mind some action, this is a good spot. The design really hits home on classic Italian vibes that infuse vibrance and cool attributes. Unfortunately, there is no hotel restaurant, but you are in a great area to explore and find some authentic meals.
Hotel details
Address: 
Via Tor Dè Conti 3, Rione Monti, 00184 Rome, Italy.
Guest rating:
4.7 out of 5
Price per night:
From $145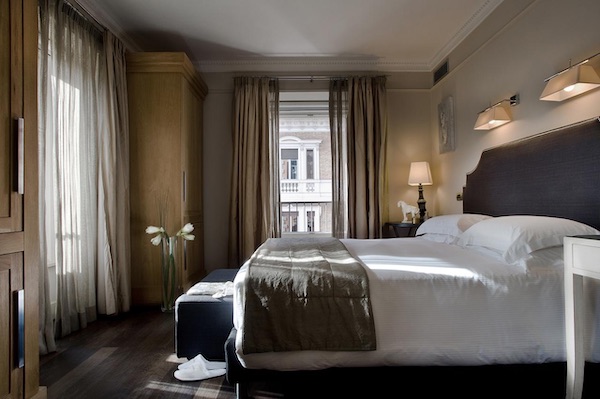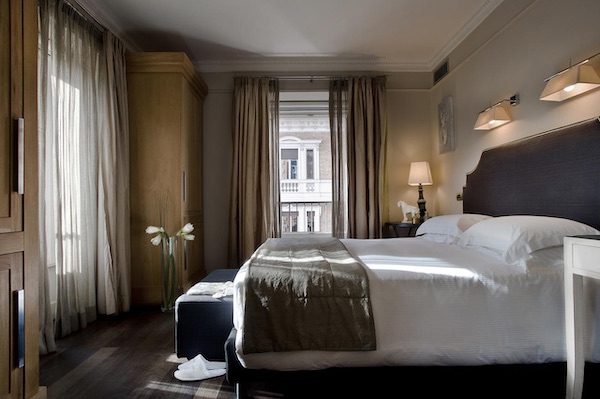 Casa Montani
If you love to keep it simple while still having great accommodations this option is for you. The final boutique hotel on our list is Casa Montani. With great views and world-class service, this hotel offers a truly unique mix of luxury and simplicity.
With just five rooms in the entire establishment, your needs are catered to. You are going to get an experience that will make memories that last a long time. Its biggest selling point is the location. This is an awesome area of Rome that has a lot to do and take in. You can spend an entire day just eating the local foods and taking in the culture.
Hotel details
Address: 
Piazzale Flaminio, 9, Villa Borghese Parioli, 00196 Rome, Italy.
Guest rating:
4.8 out of 5
Price per night:
From $100
About our boutique hotel recommendations in Rome
We are a travel research company. We help you discover the best boutique hotels in Rome by researching the internet for you. It's not just our opinion, it's the opinion of many travelers who have been there before you. We make it easy for you to find out about cool design hotels and unique design hotels in the city. Some of them might be so romantic you might not want to leave your room.
Please note, we only list hotels that have an aggregated guest review rating of at least 4.0 out of 5. We aggregate all reviews from different booking sites and other unbiased review websites. Hence, you can be certain all hotels listed above offer you a great stay in Rome.
Best price guarantee
We partner with Booking.com and Hotels.com to provide you with the lowest price guarantee on your stay in Rome! Both those websites offer price matching. That ensures that you are paying the lowest price available online. If you find a cheaper offer on another website for the same cool hotel in Rome at least 24 hours before check-in, contact them to claim a refund of the difference!
Top 5 boutique hotels in Rome
Before you go, let's summarize this guide. Based on thousands of guest reviews and tips from travel experts, these are the best boutique hotels in Rome:
More Rome tips
If you like our guide above, you should also check out our other articles about Rome: