Helsinki is the capital and largest city of Finland. It's a bustling modern city with over 600,000 inhabitants. Helsinki is always buzzing with activity. You can always find something happening in the indoor or outdoor markets, historic buildings, museums, galleries, and music venues.
Besides shopping and sightseeing, you can explore the many parks and forests that surround Helsinki or indulge in culinary delights like pastries made from rye flour. Helsinki has so much to offer travelers who are looking for an authentic experience in a Nordic country.
Whether you want to meet new people or save a few dollars, there are several benefits to staying in a hostel. Because hostels often cut back on amenities and mostly offer shared rooms, staying in a hostel is an easy way to save money while traveling.
Usually providing shared spaces and common areas, staying in a hostel is an excellent way to meet new people while traveling the world. Hostels are typically filled with young people, digital nomads, and backpackers, which are the kinds of folks who are open to making new connections and exploring the area with new friends.
Hostels may be cheap, but are usually very clean, modern, and provide complimentary perks, like snacks or WiFi. Even though hostels offer fewer amenities, that doesn't mean you have to compromise on cleanliness or quality. If you want to save money while visiting Helsinki, keep reading to discover the three best hostels in the area.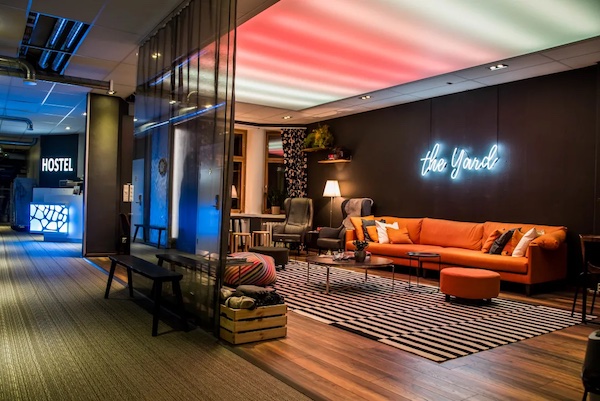 The Yard Hostel
Named the "Best Hostel" in Finland in 2018, 2019, and 2020, The Yard Hostel is located in the heart of Helsinki. Only five minutes from the Helsinki Railway Station, this hostel is next door to the Stockmann department store and is nestled on a street with plenty of cafes, bars, and shops.
This stone building was built in 1907 and still does a great job of keeping the city center noise outside, making this an ideal oasis from the bustle of the city. When you walk into the lobby, you'll be greeted with a neon "The Yard" sign, black walls, and an orange couch, creating a playful and trendy environment.
Private and shared rooms are available, and both include a shared bathroom. Private rooms range from a single room, a double twin room, or a quadruple room. Shared rooms can accommodate between four and eight guests. Many of The Yard's dorm bunk beds include a light-blocking privacy curtain and reading light.
The fully-equipped kitchen is available for guests to cook their own meals. Many spaces within this hostel feature living plants, which keep the air fresh and add to the Scandinavian environment. WiFi, housekeeping, linens, and air conditioning are included for all hostel guests.
Hostel details
Address:
Kalevankatu 3, A 45, Helsinki, Finland.
Guest rating:
4.5 out of 5
Price per night:
from $36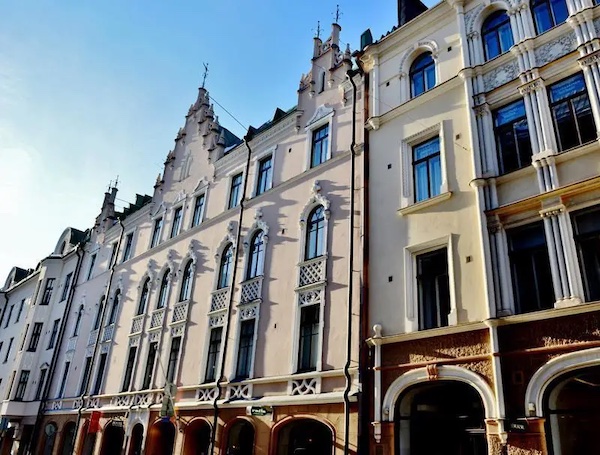 Hostel Diana Park
Nestled in the center of Helsinki, Hostel Diana Park encompasses only 15 rooms, creating an especially cozy stay. Hostel Diana Park is a ten-minute walk from the Helsinki Train Station, a 13-minute walk from Helsinki Market Square, and is close to Esplanade Park. In addition, the area features plenty of eateries, including Sandro Eira, Piece n' Love, and Bar 9.
The rooms at Hostel Diana can accommodate between one and eight guests, with each area having an in-room sink and shared bathroom facilities. All-female dorms are available for extra security. Shared dormitories range from two, three, four, five, and six-person rooms. This hostel includes free WiFi, 24 hour reception, linens, towels, a guest kitchen, and security lockers.
Situated in a historic, 110-year-old building, Hostel Diana Park has a bright and intimate atmosphere. Most rooms have plenty of natural light and are decorated in bright colors, like green, orange, blue, and yellow. A snack bar is located onsite, and in-room breakfast is available.
Hostel details
Address:
Uudenmaankatu 9, Helsinki, Finland.
Guest rating:
4.7 out of 5
Price per night:
from $32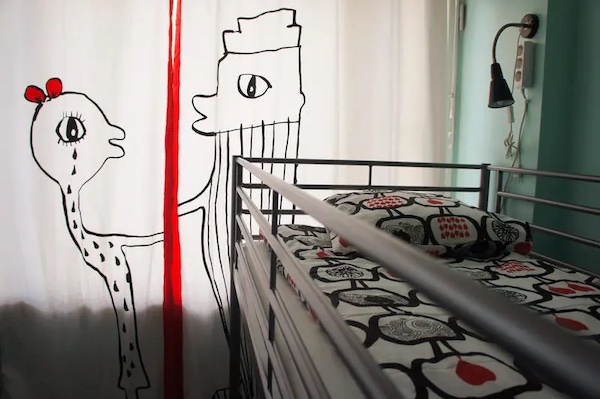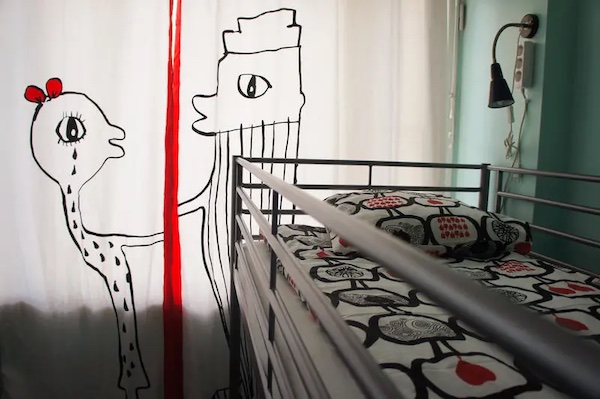 SweetDream GuestHouse
Decorated with bright colors and bold patterns, SweetDream GuestHouse feels exceptionally playful and unique. This hostel is located in central Helsinki and is only 150 meters from a bus stop, tram, and metro station, meaning the entire city is just a few minutes away. With public transport, the city center is only a five-minute ride and the airport is a 30-minute ride.
Near the hostel, you will find a 24-hour supermarket and several restaurants, such as Grillson, Picnic, and William K. There is also an onsite restaurant for added convenience.
Guests can choose from a four-person shared room, a mixed dorm room, a female-only dorm room, and a twin room. Each bed is equipped with a reading light, plug, and socket. Bathrooms and showers are located in the hallway and are shared between guests.
This hostel has two common lounge areas, a backyard, and a large kitchen that guests are welcome to use. Your stay will come with free WiFi, lockers, linens, heating, a guest computer, and a hot shower. For an upcharge, you can rent a towel, an extra blanket, and get access to the onsite sauna.
Hostel details
Address:
Hämeentie 21G, Helsinki, Finland.
Guest rating:
4.7 out of 5
Price per night:
from $29
About our Helsinki hostel recommendations
Whether you're a solo traveler looking for a private room, or a backpacker traveling around in a group wanting to stay in a cheap and cozy dorm, above you will find the best hostels in Helsinki for all your needs.
Please note, we only list hostels on our website that have an aggregated guest review rating of at least 4.0 out of 5. We aggregated all reviews from different booking sites and other unbiased review websites. Hence, you can be certain all hostels listed above offer an excellent value-for-money stay in Helsinki.
Best price guarantee
For our hostel recommendations, we work together with Hostelworld and Booking. These partnerships don't have any influence on the recommendations we make or on the order in which our recommended hostels are listed. The reasons why we have chosen to partner with these companies is that they're trustworthy, offer excellent service and they both apply the best price guarantee.
This means you can claim a refund for the difference if you find your reservation cheaper on another website. It has to be for the same property, accommodation type, dates, cancellation policy and conditions, otherwise, you can't claim the refund for the difference. If you book through Booking.com then all you need to do is contact them at least 24 hours before your check-in date. If you book through Hostelworld you must claim the refund within 24 hours after you made the booking.
Top 3 hostels in Helsinki
To summarize again, based on thousands of guest reviews, these are the best hostels in Helsinki:
Why you should be careful when booking the cheapest hostel available
The cheapest hostels available are typically not in a great location. If you want to go sightseeing or go for a night out in central Helsinki, you probably end up having to pay for public transport or a taxi to get there. So your stay could end up being more expensive compared to a stay in a central location. For first-time travelers, we recommend staying central anyway, but also for frequent visitors, it's probably worth it to pay a bit more to stay in a central location.
Another reason why you shouldn't stay at the cheapest hostel is that the people staying at the cheapest hostels are often not the people that can afford to travel like you. Because a very cheap hostel is often cheaper than renting a flat, these places tend to attract migrant workers or local misfits. That's probably not the crowd you want to hang out with, especially if you're a solo traveler looking for friends.
The third reason why you should avoid the cheapest hostels is safety. Some of the cheapest hostels don't check IDs, don't ask for signatures, or only accept cash at check-in. The hostel won't know who is actually staying there.
Lastly, the service at these hostels isn't great. For instance, if you choose to store your luggage, your bags will be unattended in a public space. It won't be recorded anywhere or tagged and stored in a locked room.
So, it's probably worth it to spend a bit more on your hostel stay in Helsinki.
And finally, a tip: always read the latest reviews of the hostel! All places have good and bad reviews, but the most recent reviews matter the most.
More Helsinki tips
Get to know the city even better and check out our other articles about Helsinki:
Best luxury hotels in Helsinki