Hamburg is the second-largest city in Germany after Berlin. Much of its economic prosperity was acquired from its history as a port city on the River Elbe, leading to the North Sea. Due to its prime import and export location, the city is nicknamed "the gateway to the world." In addition to the main river winding through Hamburg, there are several other canals that make up the unique landscape of the city.
While Hamburg is known as a major transportation hub in Europe, it's also an important cultural and commercial destination. Visitors from all around the world travel to Hamburg to enjoy its awe-inspiring cuisine and extraordinary views of medieval architecture dating all the way back to the 11th century. While much of the city's attractions focus on its influential maritime prestige, there are plenty of locations to check out around the city, like seeing the Hamburg Orchestra play at "the Elphi," viewing historic paintings at the Hamburger Kunsthalle, and the Wallringpark gardens.
Fortunately, Hamburg is also an incredibly eco-friendly city. This second most populous city in Germany is quickly becoming one of the top most sustainable cities in all of Europe. Visitors will delight to find that there are hundreds of cycle paths throughout the city's districts, dozens of green environmental projects continually taking shape, and an infrastructure that runs on sustainable energy.
Visitors will also be able to enjoy the city's eco-friendly attractions while staying in sustainable lodging. We've handpicked the following list after filtering through all of the hotels in Hamburg to find the ones that were the most sustainable, most comfortable, and had the closest proximity to major attractions. Read on to discover our handpicked list of the five best sustainable hotels in Hamburg.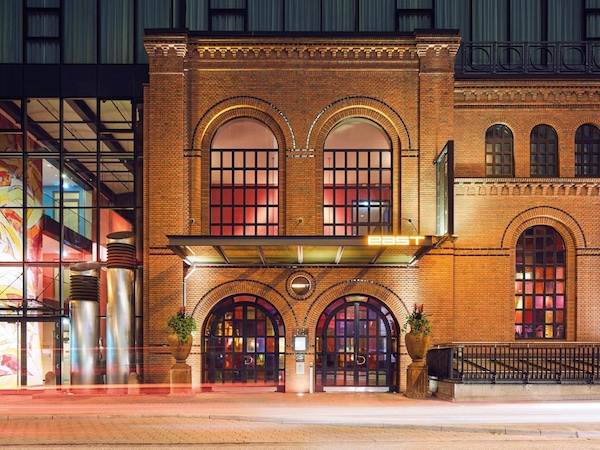 East Hotel
Situated in the historic district of St. Pauli, East Hotel Hamburg is actually located just west of the city center near the Alter Elbpark state park. The hotel's prime location makes it a fantastic option for visitors looking to enjoy several nearby attractions. For example, the East Hotel is close to the Panoptikum wax museum, the Hamburg U-Boat Museum, and the Dom festival grounds.
Since opening its doors in 2004, this 4-star hotel has provided guests with fine dining, a vibrant nightlife, and a lux aesthetic. With 172 guest rooms and suites to choose from, there is plenty of space for guests to enjoy. There is also a spa and wellness club to take advantage of, as well as a fitness center located within the hotel. For guests looking to enjoy drinks or dining within the hotel, be sure to check out either Yakishi's terrace bar, the Bombay Lounge for private dining, the Bacardi Lounge for larger gatherings, or the DEDON Island terrace lounge.
What makes East Hotel sustainable?
When it comes to sustainability, East Hotel Hamburg is consistently trying to improve its initiatives. They draw their power from renewable energy systems. They have also implemented efficient heating and cooling systems, as well as energy-efficient lighting systems. The restaurants and bars additionally source most of their ingredients from local, sustainable suppliers, and they strive to reduce any food waste. Finally, East Hotel has removed a majority of single-use plastics from the hotel to reduce their overall waste production from normal operations.
Hotel details
Address: 
Simon-von-Utrecht-Straße 31, 20359 Hamburg, Germany.
Guest rating:
4.5 out of 5
Price per night:
From $135
Raphael Hotel Wälderhaus
Located in Wilhelmsburg, an island on the River Elbe just south of the city center, Raphael Hotel Wälderhaus is a one-of-a-kind 3-star hotel. Nearby, you'll find the BallinStadt Emigration Museum to learn more about Germans who migrated to the United States in the 19th century. Just to the west, be sure to venture over to the Köhlbrand Bridge to take in the sights of this iconic bridge at night. Just across the River Elbe, you can also see the famous Elbphilharmonie Hamburg building.
Raphael Hotel Wälderhaus is one of the more unique hotels in the city, with 82 guest rooms available, each named after a different species of local trees. For guests interested in dining in, don't miss out on the Wilhems's restaurant located in the hotel for some regional and seasonal fare. There is also a small museum within the hotel that reveals much about the various tree species in the area. For larger conferences, guests can also take advantage of the Forum Wald which seats up to 150 individuals.
What makes Raphael Hotel Wälderhaus sustainable?
Raphael Hotel Wälderhaus has dozens of eco-friendly practices, but they truly shine in their hotel design. Each and every room has natural, sustainably sourced materials and ecological fixtures to match the in-room designs. Throughout the hotel, you'll also find LED lighting, and energy-efficient appliances, all of which run on power provided by renewable energy systems.
Hotel details
Address: 
Am Inselpark 19, Wilhelmsburg, 21109 Hamburg, Germany.
Guest rating:
4.1 out of 5
Price per night:
From $79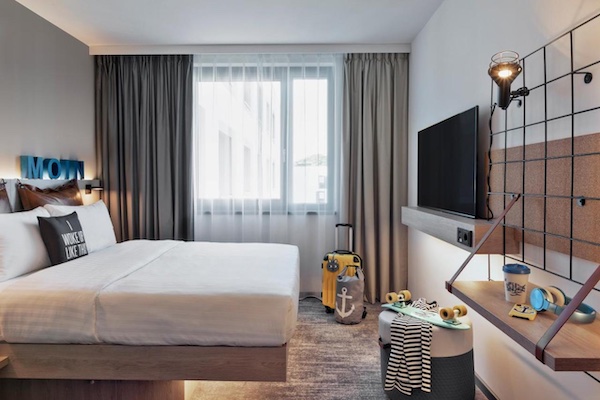 Moxy Hamburg City
To the east of the city center, you'll find the Moxy Hamburg City hotel, a funky hotel with close proximity to several popular attractions. In the area, be sure to check out the Museum für Kunst und Gewerbe Hamburg, an applied arts museum with ancient and modern artifacts. You can also check out the Hamburger Kunsthalle art museum, and Chilehaus historic 1920s impressionist-style building. Further into the city center, don't miss out on the Rathaus, a beautiful neo-Renaissance town hall with guided tours available.
The Moxy offers guests many welcoming amenities as well. There is a continental breakfast bar in the lobby that serves cappuccinos and glasses of freshly squeezed orange juice. There is also a smaller-sized fitness center for guests to take advantage of, as well as a comfortable lounge and seating area. The atmosphere of the hotel also takes avant-garde aesthetics to the next level, with a variety of colorful decorations complementing the industrial design inside.
What makes Moxy Hotel sustainable?
When it comes to sustainability, the Moxy also goes above and beyond to help conserve natural resources and preserve the environment. They have removed single-use plastics from their premises, use recycle bins in each guestroom to help with the distribution of waste, and installed water-efficient utilities to help with conservation. Most of the food provided at the hotel comes from local and sustainable suppliers and is prepared in a way that reduces waste as much as possible. There is also a rooftop green space and local artists are given opportunities to display their art within the hotel.
Hotel details
Address: 
Anckelmannstrasse 11, 20537 Hamburg, Germany.
Guest rating:
4.2 out of 5
Price per night:
From $89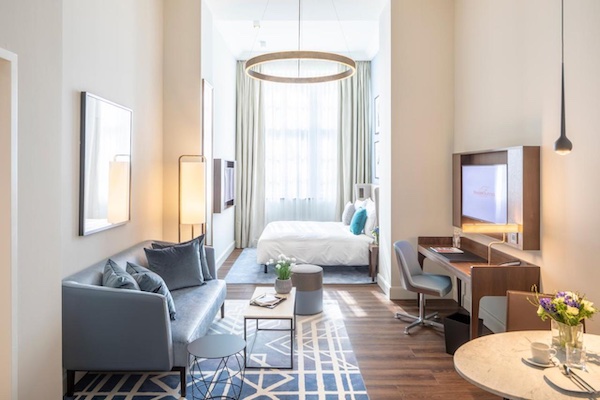 Fraser Suites
Located directly within the city center of Hamburg, Fraser Suites is a deluxe 5-star hotel with an ideal location in relation to many major attractions. In addition to its proximity to Chilehaus and Rathaus, guests can walk to the art museum, der Illusionen Hamburg, the Miniatur Wunderland museum, or the Elbphilharmonie Hamburg concert hall. However, there are dozens of additional attractions in the area, and visitors can easily walk to many of them from the Fraser Suites building.
Fraser Suites offers a beautiful juxtaposition between old and new. The building itself was erected in the early 1900s, while the interior displays charming modern amenities. There are 154 exceptional guest suites to choose from, larger sized meeting rooms for busy executives, and a fully-equipped fitness center. For guests looking to dine in at the hotel, the elegant Dining Room restaurant and bar exudes 1920s glamour and offers some of the best fare in the city.
What makes Fraser Suites sustainable?
This hotel is also a sustainable travel property, offering eco-minded guests a sustainable stay without sacrificing on comfort. Fraser Suites has removed single-use plastics from its premises, offers recycling bins in the guestrooms, and has installed energy-efficient water utilities. Most of the food provided is organic and locally sourced from sustainable suppliers. For guests interested in touring around the city, there are also bicycles for rent at the front desk.
Hotel details
Address: 
2 Rödingsmarkt, Hamburg City Center (Old Town), 20459 Hamburg, Germany.
Guest rating:
4.5 out of 5
Price per night:
From $158
25Hours Hotel HafenCity
Just south of the city center, in the Hafencity district, 25Hours Hotel is a cozy and beautiful hotel located beside the River Elbe. Nearby, you'll find the International Maritime Museum, "the Elphi" concert hall, the Deichtorhallen Hamburg modern art museum, and the Miniatur Wunderland exhibit. Be sure to head down to the docks as well to enjoy the waterfront views of the city.
25Hours Hotel was inspired by the scenery of Hamburg, with much of the interior design taking themes from the harbor and sea nearby. Guests can enjoy the garden courtyard on the roof of the building while also enjoying scenic views of the city. The front desk also offers Schindelhauer bicycle rentals, allowing guests to explore the city in an easy and environmentally friendly way. For food and drinks, be sure to stop in at the Boilerman Bar, the Heimat Restaurant, or the Neni Hamburg restaurant.
What makes 25Hours HafenCity sustainable?
Regarding its sustainability practices, 25Hours Hotel strives to maintain an eco-friendly atmosphere with various practices and initiatives. They have LED lighting throughout the hotel and offer recycling bins in each guest room. They also offer a percentage of their revenue back into community-led projects, many of them focusing on sustainability practices.
The hotel also sponsors tours provided by local businesses and similarly offers space for artists to display art within the hotel. Finally, there is the option for guests to opt out of room cleaning and towel replacement. All of this and more makes 25Hours Hotel another excellent option for guests looking to stay in a sustainable hotel.
Hotel details
Address: 
Überseeallee 5, HafenCity, 20457 Hamburg, Germany.
Guest rating:
4.1 out of 5
Price per night:
From $120
How we select the best eco-friendly hotels in Hamburg
We are a travel research company. We check a lot of details and guest reviews before making a selection. First, we check which hotels follow eco-travel principles. Are they recycling their waste? Do they work with local communities? Are they using renewable energy? Are they not using single-using plastics?
Secondly, we check guest reviews across multiple websites and only list hotels with an aggregated review rating of at least 4 out of 5. So you can be confident you will stay at an excellent eco-friendly hotel in Hamburg.
More and more people recognize the importance of sustainable travel. Not only is it better for the environment and our planet, but it also often leads to more meaningful experiences. If you're interested in learning more about eco-tourism, here are some eco-friendly travel tips to get you started.
More Hamburg guides
Get to know the city even better by reading our other articles about Hamburg: