Buenos Aires is the fascinating and colorful capital of Argentina, situated on the coast of this remarkable country. There is plenty of history within Buenos Aires, as well as countless pastimes to enjoy during your stay here.
When in Buenos Aires, you will not want to miss out on strolling through the neighborhood of Palermo, ambling through the serene rose gardens, experiencing the National Museum of the Fine Arts, and seeing El Zanjón de Granados and its captivating history for yourself.
If you happen to be visiting during the soccer season, you will definitely not want to skip the opportunity to see one of the most exciting sporting events that exist in the world.
Buenos Aires will likely capture your heart in no time, and the five boutique hotels that we are going to discuss today will ensure your stay in this enchanting city is as magical as can be.
Palo Santo Hotel
The Palo Santo Hotel is a spot with a simplistic, clean, and fresh décor. Located in the Palermo region, you are close to many phenomenal places within Buenos Aires. Plants and pops of color can be found all throughout Palo Santo Hotel, creating a calming sense for everyone that wanders in. Grab an a la carte breakfast in the mornings before heading out on your adventures.
There are numerous room styles to choose from here, though you truly cannot go wrong. Plush beds and large televisions are within all of the rooms, and others have balconies, dining areas, and jacuzzi bathtubs provided. Cool off in the refreshing pool at Palo Santo Hotel after long days under the hot Buenos Aires sun.
Hotel details
Address: 
Bonpland 2275, Palermo, C1425 FWC Buenos Aires, Argentina.
Guest rating:
4.5 out of 5
Price per night:
From $90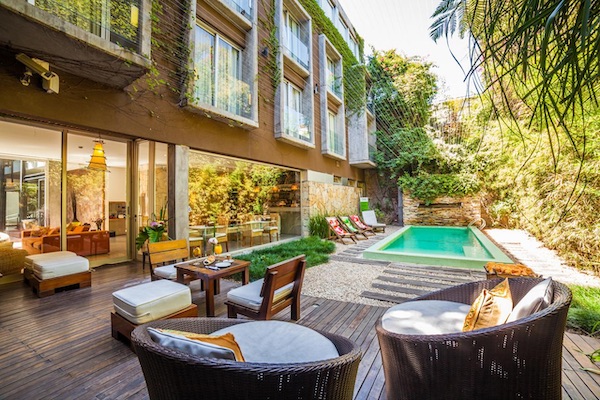 Mine Hotel Boutique
Up next, we have Mine Hotel Boutique, which is a pleasant space in the ideal location of Palermo. The interior is accented with wood, giving it a warm and extra cozy feel. There is a beautiful outdoor pool, as well as a delicious breakfast that is complimentary during your stay here. Swing by the coffee bar if you need a pick me up at any point of the day.
The rooms are sizable, and are set up with televisions, DVD players, and offer stunning views of the garden and other lovely sights that surround Mine Hotel Boutique. There is a relaxing lounge area that has several books and a large television set up for guests to enjoy during those times you just want to unwind.
Hotel details
Address: 
Gorriti 4770, Palermo, C1414BJL Buenos Aires, Argentina.
Guest rating:
4.7 out of 5
Price per night:
From $160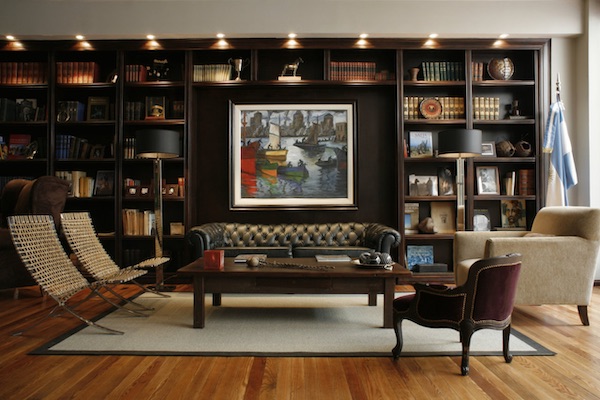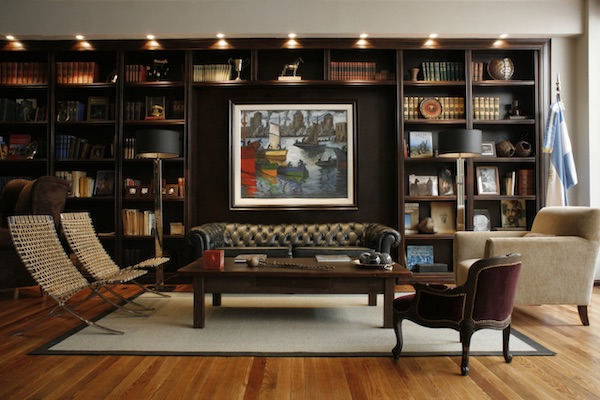 Legado Mítico
At Legado Mitico, guests are welcomed by the unbelievably warm ambiance that permeates the whole interior of this hotel. Legado Mitico is in a prime location within Palermo, with many trendy spots all around. The design here has been carefully thought out, with many pieces of furniture and art that represent this extraordinary city's past. The service here is known for being top-notch and worth the stay alone.
There are eleven rooms at Legado Mitico that all vary in their themes, and they are all phenomenally cozy with large bathrooms. Warm-up next to the fireplace in the lounge, take a dip in the jacuzzi, or sip some tea on the terrace on a sunny afternoon.
Hotel details
Address: 
Gurruchaga 1848, Palermo, C1414DIB Buenos Aires, Argentina.
Guest rating:
4.7 out of 5
Price per night:
From $125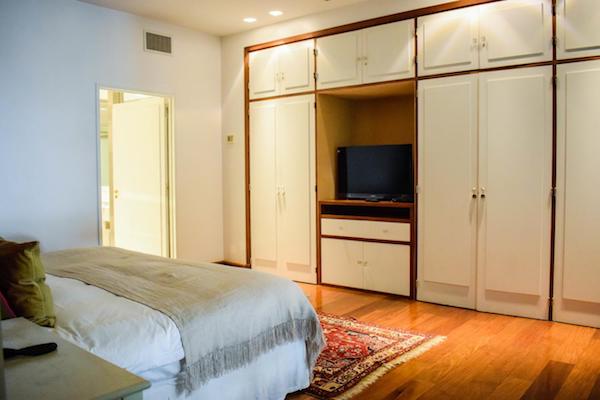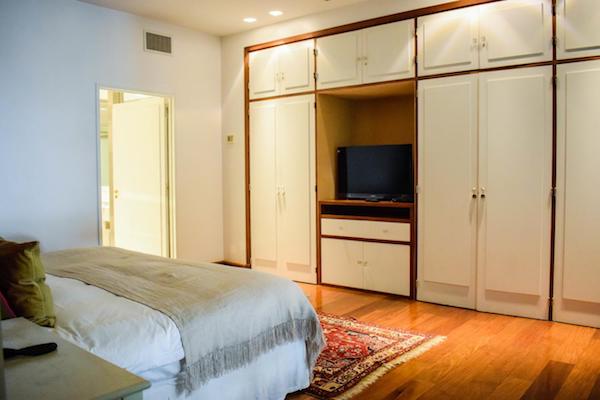 Hub Porteño
Hub Porteno captures the essence of Buenos Aires perfectly, with their wooden touches, bursts of color, and numerous plants all around the common spaces. The hotel is in the Recoleta district in this city, near many of the best sights available. Head to the outdoor terrace for a breath of fresh air on a beautiful Buenos Aires morning.
The eleven rooms in Hub Porteno will undoubtedly make you feel right at home, with their simple-yet-elegant furnishings and design. Some of the rooms have whirlpool tubs, views of the serene gardens outside, and they all have high-quality televisions and soft bathrobes. If you love a great sauna or steam room moment, these amenities can be found within Hub Porteno, as well.
Hotel details
Address: 
Rodríguez Peña 1967, C1021ABO CABA, Argentina.
Guest rating:
4.7 out of 5
Price per night:
From $192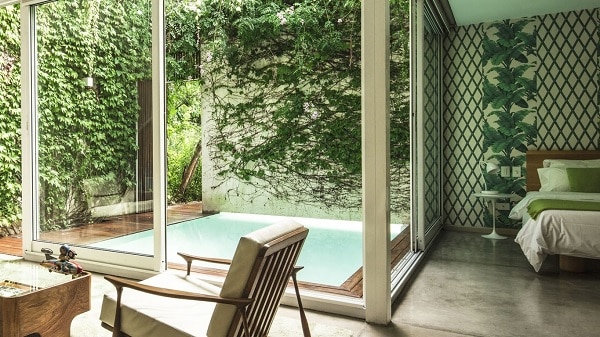 Home Hotel
Finally, we have Home Hotel, which is nestled right in Palermo Hollywood, where many of the best Buenos Aires attractions can be found. The interior theme here is light, tranquil, and brimming with lush, green plants. The pool at Home Hotel is perfect for the days that it gets extra toasty in Buenos Aires and a fabulous restaurant that helps make dinner plans easy.
When it comes to the rooms at Home Hotel, they are all provided with televisions, minibars, and deluxe bedding. Some of the higher-end rooms have soothing terraces, jacuzzi tubs, and garden spaces. Unwind in total peace and quiet when you reside at Home Hotel during your visit to lovely Argentina.
Hotel details
Address: 
Honduras 5860, C1414 CABA, Argentina.
Guest rating:
4.6 out of 5
Price per night:
From $150
Buenos Aires, Argentina is honestly a city like none other that quickly becomes the favorite among many who travel here. These boutique hotels in our guide ensure that your trip will be as splendid as can be.
About our boutique hotel recommendations in Buenos Aires
We are a travel research company. We help you discover the best boutique hotels in Buenos Aires by researching the internet for you. It's not just our opinion, it's the opinion of many travelers who have been there before you. We make it easy for you to find out about cool design hotels and unique design hotels in the city. Some of them might be so romantic you might not want to leave your room.
Please note that we only list hotels with an aggregated guest review rating of at least 4.0 out of 5. We aggregate all reviews from different booking sites and other unbiased review websites. Hence, you can be certain all hotels listed above offer you a great stay in Buenos Aires.
Best price guarantee
Get the best deals and prices for your stay in Buenos Aires with Booking.com and Hotels.com! They offer price matching, which means you'll be getting the lowest price available online, guaranteed! If you find a cheaper offer on another website for the same hotel room at least 24 hours before check-in, contact them to claim a refund of the difference.
Top 5 boutique hotels in Buenos Aires
Let's quickly summarize this guide. Based on thousands of guest reviews and tips from travel experts, these are the best boutique hotels in Buenos Aires:
More Buenos Aires tips
Get more great content like the guide above! Check out these other articles about Buenos Aires:
Best luxury hotels in Buenos Aires
Best cheap hotels in Buenos Aires