Hamburg, both a city and a state, is one of Germany's most visited tourist destinations. It's a multicultural port city along the Elbe river filled with dazzling contrasts. Expansive green spaces and waterways balance the urban sprawl. Buildings juxtapose industrial brick with modern glass. Traditional architecture stands beside ultramodern designs. It is truly a fascinating city!
This destination has plenty to offer visitors. It's a thriving metropolis with an appealing culture, cuisine, and lifestyle. You can visit world-class museums and explore the city's rich music tradition (the Beatles spent their first years in Hamburg). The food scene in Hamburg also has contrast and variety. There are modern, traditional, and international eateries all over. The city is vibrant, with bustling streets and exciting festivals happening throughout the year.
Hamburg has excellent accommodations for those who visit. Here's a list of the five best hostels to stay at while in Hamburg:
Pyjama Park Schanzenviertel
The Pyjama Park Schanzenviertel hostel has a central location in the Sternschanze district, a young and trendy destination. This area, known as Hamburg's "hipster" neighborhood, has no shortage of bars, restaurants, and shops to entertain visitors. Sternschanze is a very bike-friendly place with built-in lanes for cyclists. The hostel is just 5-minutes by foot from the metro, making it a convenient location for exploring all of Hamburg.
Pyjama Park Schanzenviertel is charming, clean, and comfortable. Its dorm-style rooms can accommodate up to eight guests each, and the hostel can house up to 17 guests in total. Services offered include housekeeping, televisions, Wi-Fi, and showers.
Guests have rated this hostel highly because of its trendy location, friendly staff, and modern amenities.
Hostel details
Address:
Bartelsstrasse 12, Hamburg, Germany.
Guest rating:
4.6 out of 5.
Price per night:
from $29.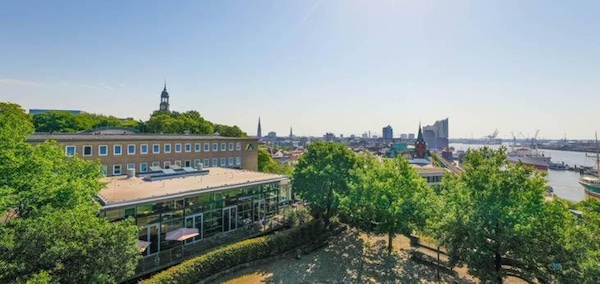 Jugendherberge Hamburg-Auf Dem Stintfang
The Hamburg-Auf Dem Stintfang youth hostel is centrally located, making it perfect for sightseeing. It is located directly across the city's harbor near Reeperbahn (the red-light district) and the Schanzenviertel neighborhood, a popular shopping destination. Hamburg's Fish Market, galleries, shops, and nightlife are all within reach of the hostel.
The youth hostel has a modern design and stunning terrace views of the city's harbor. This fully-staffed facility can house up to 357 people and includes amenities such as a 24/7 reception desk, TV, kitchen, free breakfast, a bar, and laundry rooms. Staff members are eager to help out with recommendations and insider tips.
Guests love this hostel because it is clean, in a prime location, and has a welcoming staff.
Hostel details
Address:
Alfred-Wegener Weg 5, Hamburg, Germany.
Guest rating:
4.6 out of 5.
Price per night:
from $30.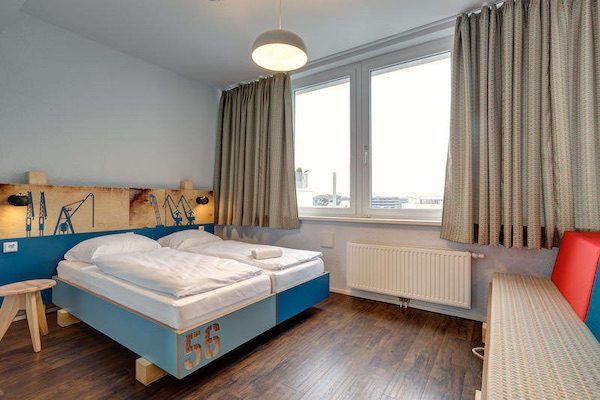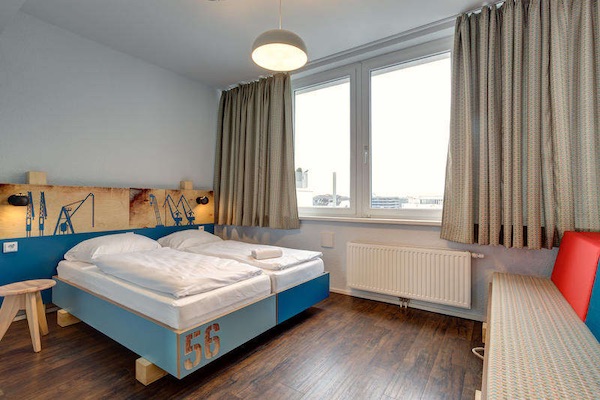 Meininger Hamburg City Center
This well-located hostel is a five-minute walk from Altona Station, making it a convenient starting place for exploring all of Hamburg. It is between Sternschanze and Ottensen, two trendy districts famous for entertainment, nightlife, and retail. You can walk to the Reeperbahn, St. Pauli, and the fish market from Meininger Hamburg City Center.
This hostel is spacious, comfortable, and contemporary. There are 116 guest rooms with 423 beds, a bar, a game room, and a guest kitchen. Included amenities are Wi-Fi service and a 24/7 reception desk. You can rent bikes and lockers, eat at the breakfast buffet, and use the washing and drying facilities for a nominal fee.
Guests love the hostel's amenities, atmosphere, and proximity to Altona station.
Hostel details
Address:
Goetheallee 3-11, Hamburg, Germany.
Guest rating:
4.4 out of 5.
Price per night:
from $15.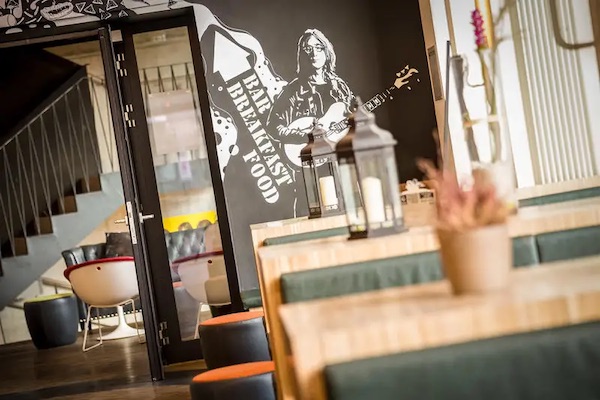 Generator Hamburg
Generator Hamburg is a hostel located in St. Georg next to the Hauptbahnhof train station. St. Georg is Hamburg's gay district, known for cafés, bars, art studios, and design shops. The Deichtorhallen Art Center, the St. Pauli Landungsbruekcken pontoon facility, Harbour City, the Speicherstadt warehouse district, and Reeperbahn are easy to visit from this hostel.
The hostel's building is a part of the Beatles' history. John, Paul, George, and Ringo recorded at this location before becoming famous. Today, it's a cozy and modern 200-room hostel with a café, bar, and art gallery. Amenities include private and shared rooms, all-female dorms, free Wi-Fi, bike hire, and laundry facilities.
Guests enjoy its easy access to public transportation, responsive staff, and overall value.
Hostel details
Address:
Steintorplatz 3, Hamburg, Germany.
Guest rating:
4.3 out of 5.
Price per night:
from $18.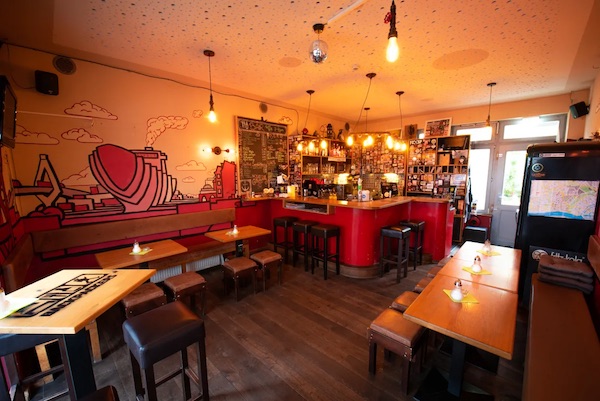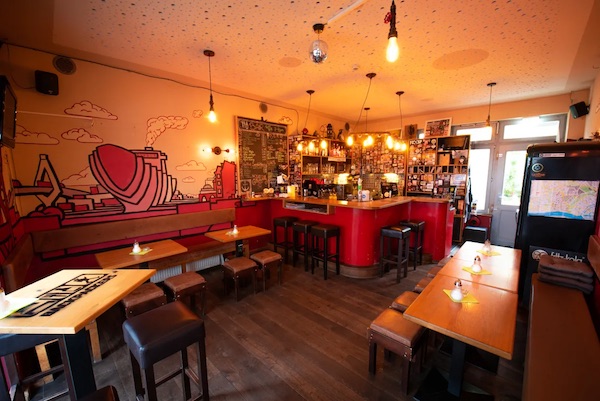 Backpackers St. Pauli  
Backpackers St. Pauli is located in the charming St. Pauli district.  This neighborhood has plenty of excellent cafés, restaurants, and pubs for visitors to enjoy.  St. Michael's Church, St. Pauli Piers, and Millerntor Stadium are only a short distance away. The hostel is a 10-minute walk from Reeperbahn and about a 30-minute metro ride and walk from Hamburg Hauptbahnhof train station.
It's a homey hostel with a relaxed atmosphere and colorful décor. There is a café/bar, barbeque, and terrace on the grounds. Amenities included at the hostel are city maps, Wi-Fi access, linens, bicycle parking, and housekeeping. The hostel also holds daily happy hours where you can meet other guests.
Guests like the laid-back atmosphere, hip location, and helpful staff.
Hostel details
Address:
Bernstorffstrasse 98, Hamburg, Germany.
Guest rating:
4.2 out of 5.
Price per night:
from $17.
About our Hamburg hostel recommendations
Whether you're a solo traveler looking for a private room, or a backpacker traveling around in a group wanting to stay in a cheap and cozy dorm, above you will find the best hostels in Hamburg for all your needs.
Please note, we only list hostels on our website that have an aggregated guest review rating of at least 4.0 out of 5. We aggregated all reviews from different booking sites and other unbiased review websites. Hence, you can be certain all hostels listed above offer an excellent value-for-money stay in Hamburg.
Best price guarantee
For our hostel recommendations, we work together with Hostelworld and Booking. These partnerships don't have any influence on the recommendations we make or on the order in which our recommended hostels are listed. The reasons why we have chosen to partner with these companies is that they're trustworthy, offer excellent service and they both apply the best price guarantee. This means you can claim a refund for the difference if you find your reservation cheaper on another website. It has to be for the same property, accommodation type, dates, cancellation policy and conditions, otherwise, you can't claim the refund for the difference. If you book through Booking.com then all you need to do is contact them at least 24 hours before your check-in date. If you book through Hostelworld you must claim the refund within 24 hours after you made the booking.
Top 5 hostels in Hamburg
To summarize again, based on thousands of guest reviews, these are the best hostels in Hamburg:
Why you should be careful when booking the cheapest hostel available
The cheapest hostels available are typically not in a great location. If you want to go sightseeing or go for a night out in central Hamburg, you probably end up having to pay for public transport or a taxi to get there. So your stay could end up being more expensive compared to a stay in a central location. For first-time travelers, we recommend staying central anyway, but also for frequent visitors, it's probably worth it to pay a bit more to stay in a central location.
Another reason why you shouldn't stay at the cheapest hostel is that the people staying at the cheapest hostels are often not the people that can afford to travel like you. Because a very cheap hostel is often cheaper than renting a flat, these places tend to attract migrant workers or local misfits. That's probably not the crowd you want to hang out with, especially if you're a solo traveler looking for friends.
The third reason why you should avoid the cheapest hostels is safety. Some of the cheapest hostels don't check IDs, don't ask for signatures, or only accept cash at check-in. The hostel won't know who is actually staying there.
Lastly, the service at these hostels isn't great. For instance, if you choose to store your luggage, your bags will be unattended in a public space. It won't be recorded anywhere or tagged and stored in a locked room.
So, it's probably worth it to spend a bit more on your hostel stay in Hamburg.
And finally, a tip: always read the latest reviews of the hostel! All places have good and bad reviews, but the most recent reviews matter the most.
More Hamburg tips
Get to know the city even better and check out our other articles about Hamburg:
Best boutique hotels in Hamburg