While Helsinki is relatively smaller and newer than other European cities, this capital city abounds in incredible culture, history, and attractions. This vibrant coastal town boasts several trendy and playful neighborhoods, ranging from the city center to residential areas.
With so much to do, Helsinki is well worth a visit. From bohemian alleyways featuring stunning architecture to artsy neighborhoods brimming with museums and art galleries, there is a neighborhood for every kind of traveler in the capital of Finland.
You may have some trouble deciding where to stay, as Helsinki's districts are all as equally impressive as the last. Although each neighborhood is similarly fantastic, they each have pros and cons. Some areas have wild nightlife, with vibrant clubs and bars, while others are better for children or families, with plenty of museums and parks.
If you are planning a trip to Helsinki and deciding where to stay, look no further. From Kamppi to Kallio, read on to discover the best areas to stay in during your vacation to Helsinki, Finland.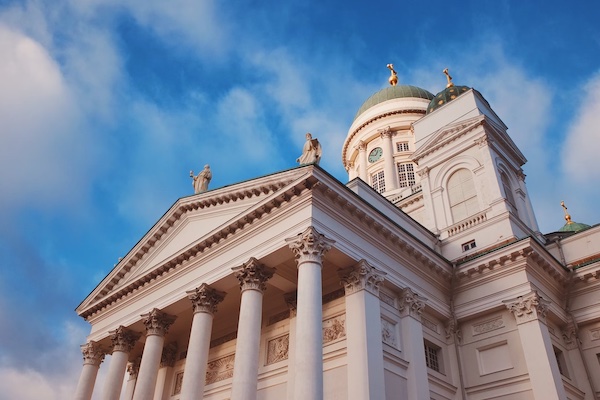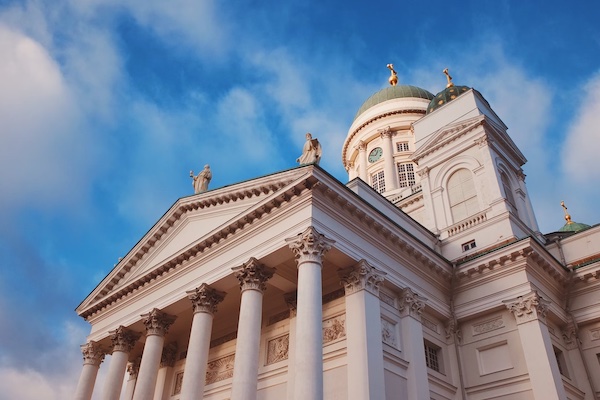 City Center
Perfect for first-time visitors of Helsinki, the city center offers plenty of attractions within a small area, creating a very walkable neighborhood. The most famous sight in this neighborhood is likely the Helsinki Cathedral, a Finnish Evangelical Lutheran church that showcases impressive architecture and several zinc sculptures. This church has become an icon of Helsinki.
However, you can find several other attractions here, like Stockmann (a large shopping mall), the Kiasma Museum of Contemporary Art, Senate Square, Uspenski Cathedral, and the Helsinki Music Centre. You can also take a boat ride to Suomenlinna, a maritime fortress from the city center.
If you're an art connoisseur, check out the Ateneum Art Museum, boasting the country's most extensive collection of art and paintings. For traditional Finnish food, visit Restaurant Savotta, serving dishes with reindeer and venison. As the city's central hub, you can find several hotels, hostels, and rental apartments in this area.
Best place to stay in Helsinki City Center
Hotel Kämp. Address: Pohjoisesplanadi 29, Kluuvi, 00100 Helsinki, Finland.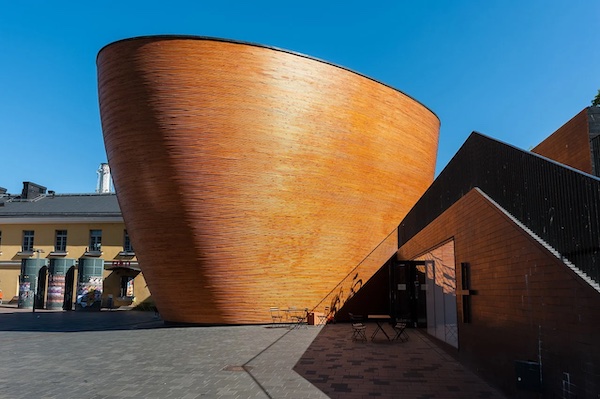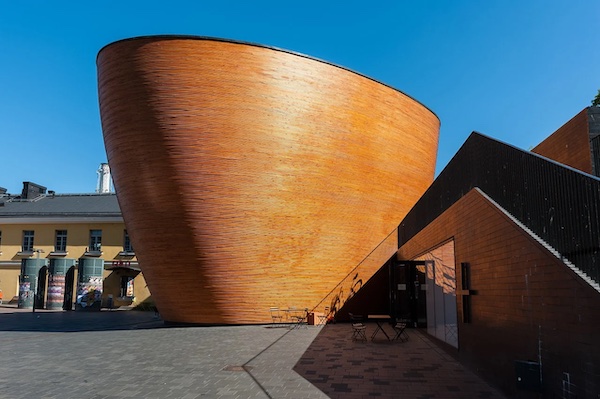 Kamppi
If you're a fan of bustling neighborhoods, Kamppi is perfect for your next visit to Helsinki. As the most crowded area in the city, Kamppi is bordered by the Cable Factory and the Central Railway System. The Central Business District is a significant portion of this lively neighborhood. Home to the main bus station, the rest of Helsinki is easily accessible in Kamppi.
In this area, you will be able to admire some of the oldest wooden buildings in Helsinki, including the Wooden Kamppi Chapel. In addition to the Helsinki Art Museum, Linnemaki Theme Park, and the National Museum of Finland, you can find several local art galleries in this area. Because Kampii is so close to the city center, it has several cafes, restaurants, shops, and bars.
Kamppi is just as lively at night as it is during the day. With several trendy bars, LGBT clubs, and live music joints, nightlife abounds in this neighborhood. For those who love to shop, Kampii has several large malls, independent boutiques, and the famous Hietalahti Flea Market. Kluvvi, another bustling area, is just a short distance from Kamppi. Filled with even more eateries and bars, you will never be bored or hungry in this corner of the city.
Best place to stay in Kamppi
GLO Hotel Art. Address: Lönnrotinkatu 29, Kamppi, 00180 Helsinki, Finland.
Kallio
Situated in eastern Helsinki, Kallio is a hipster's paradise. Kallio has a liberal-minded and bohemian atmosphere, and is home to many college students, local artists, and immigrants. Many years ago, the Pitkäsilta Bridge served as a divide between rich and poor, and this neighborhood was strategically planted on the poor side of the bridge. However, Kallio has evolved into one of the city's most unique and trendy areas. Today, it boasts a bustling nightlife scene and an impressive arts culture.
While you're here, visit the Hakaniemi Market Hall, selling various local crafts and delicacies. You can also wander through the many independent shops, which offer vintage clothes, records, or old maps. Kallio Church, showcasing organ recitals and concerts, is also worth visiting. Kallio's food scene is just as unique as its attractions and atmosphere. Enjoy one of the many vegan cafes, eclectic bars, or craft coffee shops.
Kallio is Helsinki's main red-light district, so you can expect to see many signs advertising saunas and massage parlors. While Kallio is somewhat of a hike from the City Center and is primarily a residential area, its eccentric vibe and unique attractions make it worth a visit during the day or night.
Best place to stay in Kallio
Hilton Hotel Strand. Address: John Stenbergin ranta 4, Kallio, 00530 Helsinki, Finland.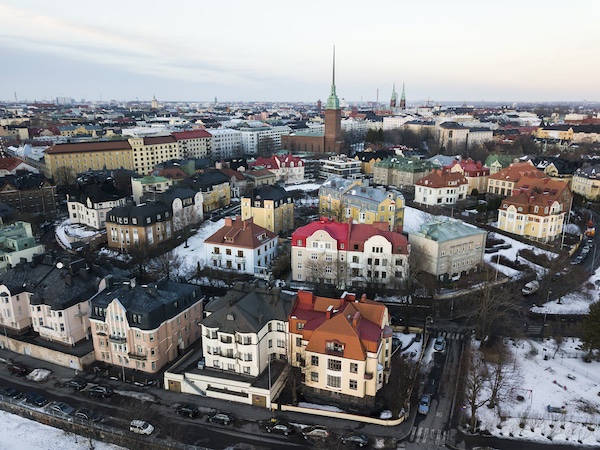 Punavuori
Part of the Design District, Punavuori is a fantastic place to stay in Helsinki. Located in the southwestern section of downtown, Punavuori has a dense population and is popular with young adults and families with small kids.
This neighborhood's architecture is very diverse. As you are wandering through the community, you will notice old industrial buildings containing renovated apartments and lofts, Art Nouveau stone castles, new office buildings, neo-Rennaisance homes, and some of the original wooden structures of old Helsinki. Several fashion boutiques, cafes, bars, and restaurants have made their home in the Punavuori area, which is one reason this neighborhood is so coveted.
Even though this neighborhood has only 13 streets, this area likely has the most art galleries in the city, like Art Salon Piirto, Galleria Artika, and Galleria Sinne. An iconic area in Punavuori is Iso Roobertinkatu, a 500-meter pedestrian-only street, nicknamed "Roba." As you stroll along the lively sidewalk, you will see popular sights such as Mikael Agricola Church, Sinebrychoff Park, and Sinebrychoff Art Museum.
This neighborhood is renowned for its thriving food scene. It is home to restaurants like Yes Yes Yes, an ideal spot for summer al fresco dining, and Levant Bulevardi, an extremely popular joint serving authentic Middle Eastern street food.
Best place to stay in Punavuori
Original Sokos Hotel Albert. Address: Albertinkatu 30, Punavuori, 00120 Helsinki, Finland.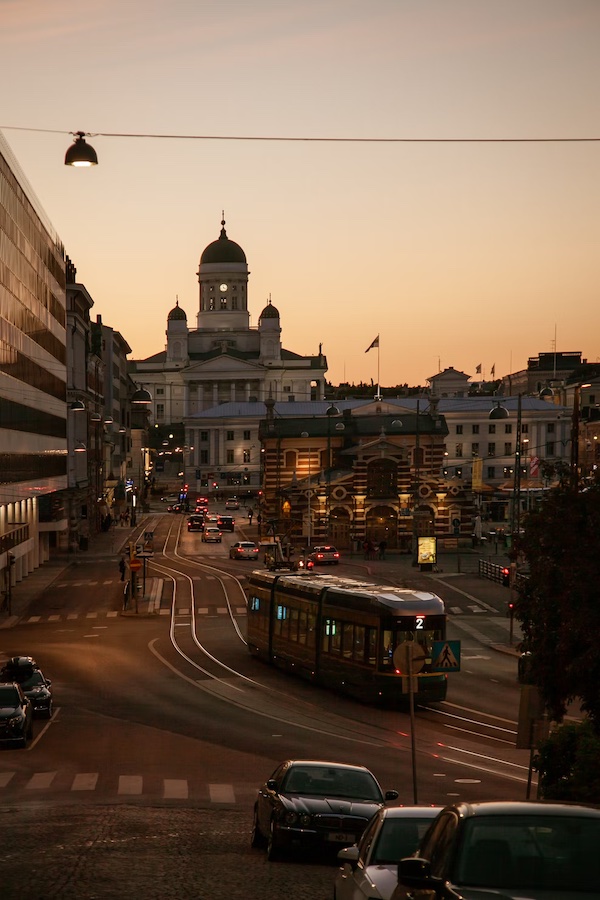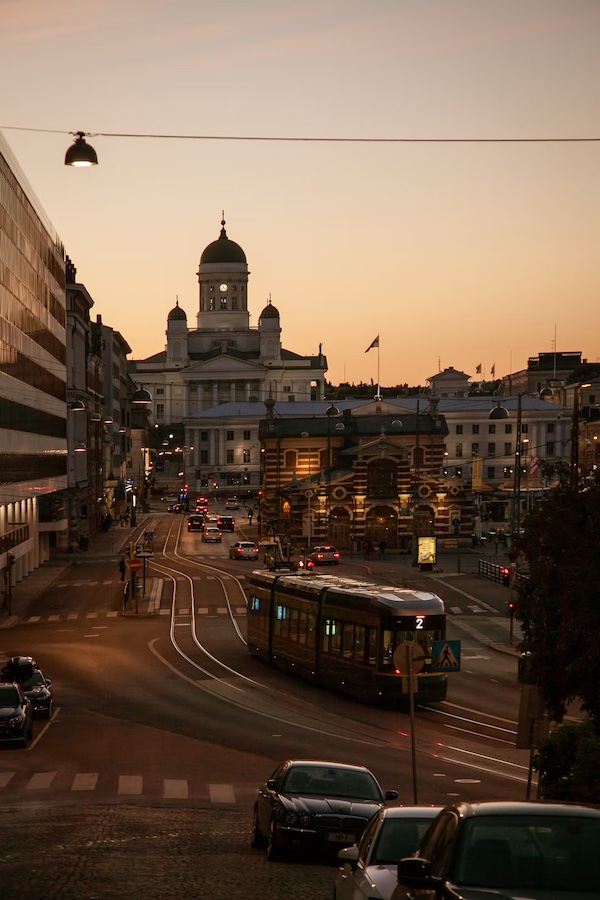 Kaartinkopunki
As a quiet and residential area, Kaartinopunki is ideal for families visiting Helsinki. Even though this is a calmer neighborhood, there is still plenty to do in the area. Located on the waterfront in the southern downtown area, Kaartinkopunki is home to some of the top hotels and restaurants in the city. Plenty of museums, parks, and walking paths mean there is a ton to do with the kids.
Old Market Hall, the oldest indoor market in Finland selling many local goods, is a must-visit in this neighborhood. The Market Square is an excellent area to walk around, and Esplanade Park is another lovely outdoor area, perfect for picnicking. At Christmas time, this park is ideal for viewing holiday lights.
The Errotaja Rescue Station in Kaartinopunki has been dubbed the most beautiful fire station in the country and was built in 1891. Another lovely structure in the area, Rikhardinkatu Library, features Rennaisance Revival architecture. You can also visit the Museum of Finnish Architecture and the Design Museum, which are next door to one another.
Pieni Roobertinkatu, one of the most notable streets in the area, is an excellent place to find several restaurants, hotels, and live music venues. Restaurant Pastis, nestled on this lively street, offers seafood, beef, and plenty of desserts. Restaurant Vinkkeli is also worth visiting; this eatery serves delicious and traditional Scandinavian cuisine.
Best place to stay in Kaartinopunki
Hotel F6. Address: Fabianinkatu 6, Kaartinkaupunki, 00130 Helsinki, Finland.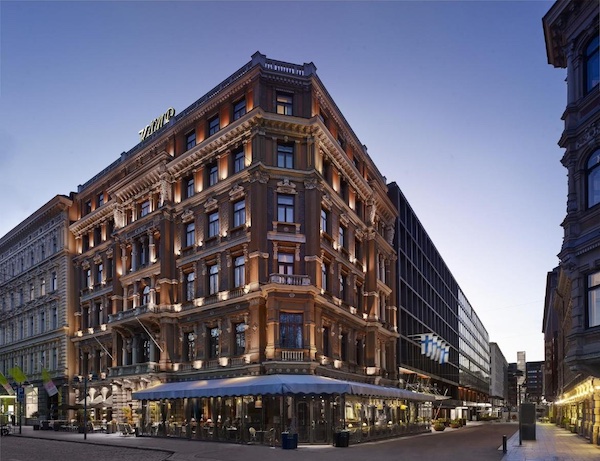 Where travel critics stay in Helsinki
Want to know where travel critics from publishers like The New York Times, Frommer's, Fodor's and Lonely Planet stay in Helsinki? Check out our overview of all recommended hotels and accommodations in Helsinki.
Budget
"Opened in 2015, the 120-room Hotel Indigo Helsinki is in the central Design District and features made-in-Helsinki details ranging from decorative murals painted by local artists to the Pelago bikes available for guests to ride around town." – New York Times.
Mid-range
"On a quiet side street, this small luxury hotel distinguishes itself through a rare combination of character, consistency, and service. The front section is a handsome 1903 stone castle with wood-beam, medieval-style restaurants, lounges, conference rooms, and a cavernous banquet hall." – Fodor's.
Luxury
"The building is magnificent: a former printing and publishing house from the 1920s. It was reborn as a hotel in 2018, thanks to the homegrown Kamp group, which has a collection of smart hotels in the city." – CN Traveler.
FAQ: Helsinki hotel tips
Looking for the best budget, boutique, or luxury hotel in Helsinki? Or maybe you're a backpacker looking for an excellent hostel? Want to know which Helsinki hotel serves a great breakfast? Here are the answers to all those and other questions about where to stay in Helsinki.
What is the best affordable hotel in Helsinki?
If you're looking for an affordable hotel, then book Noli Sörnäinen. It's an excellent budget hotel offering great value for money. It's in a good location, it's been recommended by travel experts and the hotel has excellent customer reviews. Also check out our list of the best cheap hotels in Helsinki.
What is the best boutique hotel in Helsinki?
You like some luxury but don't like the famous chain hotels. If you're looking for the best boutique hotel in Helsinki, you should check out  Hotel F6. It's a very cool hotel that has been highly recommended by travelers and experts. For more cool hotels, check out our list of the best boutique hotels in Helsinki.
What is the best luxury hotel in Helsinki?
If money isn't a problem and you're looking for a luxury hotel in Helsinki, then go for Hotel Kämp. The hotel offers excellent service, it's in a top location, it has been rated very highly by previous guests and renowned travel critics have recommended it. For more 5-star hotels, check out our list of the best luxury hotels in Helsinki.
What is the best hostel in Helsinki?
Looking for a good and affordable private room or cozy dorm in Helsinki? Check out The Yard Hostel. The hostel has been highly rated by backpackers. Also check out our shortlist of the best hostels in Helsinki, it's based on thousands of reviews from backpackers.
How much does it cost to stay in a Helsinki hotel?
For a 3-star hotel, you have to pay around $110 per night and for a 4-star hotel, you would be looking at $150 per night. If you're after a luxury 5-star Helsinki hotel then you can expect to pay around $220 per night.
Which Helsinki hotel serves great breakfast?
Let's start the day with some good food. The Hilton Helsinki Kalastajatorppa is an excellent option if you're looking for a Helsinki hotel offering a great breakfast. Recent guests have given great ratings for the breakfast service at this hotel.
What is the best Helsinki hotel for couples?
If you're looking for a romantic hotel in Helsinki, then check out Hotel St. George. The hotel has great reviews by couples and has been recommended by leading travel experts
Which hotel in Helsinki offers a great view?
If you're looking for a room with a view in Helsinki, then check out Hilton Helsinki Kalastajatorppa. Recent guests have been giving great reviews about the views from their rooms.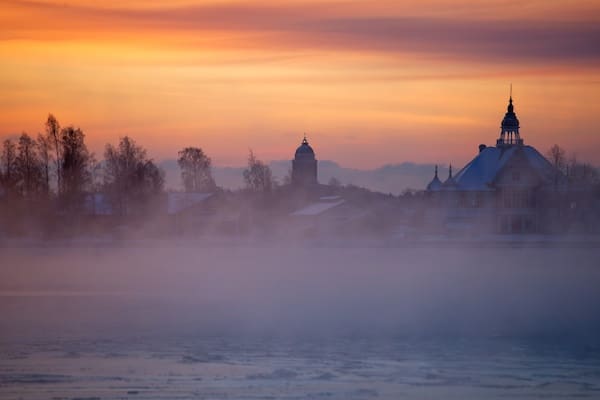 Best time to visit Helsinki
The best time to visit Helsinki is during the summer months of June, July, and August. During this time, the city experiences its warmest and sunniest days, with temperatures hovering around a comfortable 20°C (68°F). Not only is the weather absolutely delightful, but with up to 19 hours of daylight, there's plenty of time to explore all that Helsinki has to offer!
Let's dive into the exciting events and festivities during the summer. Kicking off the season is the vibrant Helsinki Day, celebrated annually on the 12th of June. This city-wide party offers a variety of cultural events, live music, and performances that showcase the rich and diverse heritage of the Finnish capital.
Next up is the much-anticipated Helsinki Pride Week, an important event that promotes equality, inclusivity, and love for all. With colorful parades and inspiring speeches, it's a celebration not to be missed!
If you're an arts enthusiast, you're in for a treat! Summer in Helsinki is jam-packed with music and arts festivals. Experience the magic of the Helsinki Festival, an annual multi-arts event where you can enjoy everything from contemporary dance performances to avant-garde theater. And if you're a jazz aficionado, the Helsinki Jazz Festival is an absolute must-attend, showcasing both local and international talent.
Best things to do in Helsinki
There are a lot of things to do in Helsinki and surrounding areas, including day trips, attractions, museums, sightseeing tours and many other activities. Here's our list of 3 things you should definitely do when you're in Helsinki:
Helsinki Private Tour with a Local Guide
Explore Helsinki with a friendly local who is passionate about the city and eager to share all the tips and hints that will help you make the most of your trip. Choose from 2-6 hour private tour options. Price: $49. More info.
Helsinki and Suomenlinna 5-Hour Sightseeing Tour
See the sights of Helsinki on a 5-hour guided tour and marvel at attractions such as the Sibelius Monument and Esplanade Park. Take the ferry to Suomenlinna and explore the islands of the sea fortress on foot. Price: $154. More info.
90-minute Helsinki Boat Sightseeing on Beautiful Canal Route
Enjoy a cruise along Helsinki's beautiful canal and take in the sights along the shores, including city highlights such as the historic Suomenlinna Maritime Fortress, the Helsinki Zoo, and the fleet of icebreakers. Price: $27. More info.
Deciding where to stay in Helsinki
As a closing note, let's summarize this travel guide. We covered the best areas of Helsinki so you can decide which part of town you want to stay in.
Top 5 areas to stay in Helsinki
City Center
Kallio
Punavuori
Kamppi
Kaartinopunki
As you have seen in this article, there are a lot of things to explore, and deciding where to stay in Helsinki is important. Whether you stay in Kaartinopunki, City Center, Kallio, Punavuori or Kamppi, all those neighborhoods are great areas for your stay.
The atmosphere of the area, whether you travel for leisure or business, whether you travel with your family or friends, and proximity to the attractions you prefer to visit should probably be the deciding factors. Either way, you'll have a great time in Helsinki!
More Helsinki guides
Get to know the city even better by reading our other articles about Helsinki: