Helsinki, Finland's capital, has earned a reputation for being the ideal blend of unique urbanity and nature in its purest form. Visiting this city transports you to a whole other world.
If you want to hear the whispers of nature, this tourist destination is the place for you. Helsinki is the place to go if you want to enjoy nature while learning about culture, architecture, and art.
In addition to having 300 islands, it is the most forested city in Europe. But besides allowing you to enjoy icy dips in the water and seal sightings, this city has much more to offer. You can explore more of Helsinki via ferries.
Dubbed the "Pearl of the Baltic Sea," Helsinki serves as the cultural bridge between the East and West. There are plenty of places to see, foods to sample, and cultures to appreciate. And with its significant role in information technology and financing, Helsinki's thriving and developing economy promises progress as a city.
You can take in Helsinki's vibrant energy without the crowds because it is a cozy, smaller city. Walking around the town and along its coastline is a treat. The city is frequently referred to as the "Daughter of the Baltic" because it is a maritime city.
An underground, one-of-a-kind subculture of dance parties and techno music prevails. You can enjoy these get-togethers by the beach and in parks, where everyone's welcome to have a great time. What's more, staying in Helsinki is a seamless experience with many hotels and smaller properties that offer great deals!
It is not surprising that Helsinki has numerous sustainable hotels, given its proximity to and integration with nature.
These properties and businesses all understand their role in reducing their negative impact on the environment as much as possible. From cutting down on the facilities' water usage to saving energy, you can count on these eco-friendly hotels to do their part in helping the environment.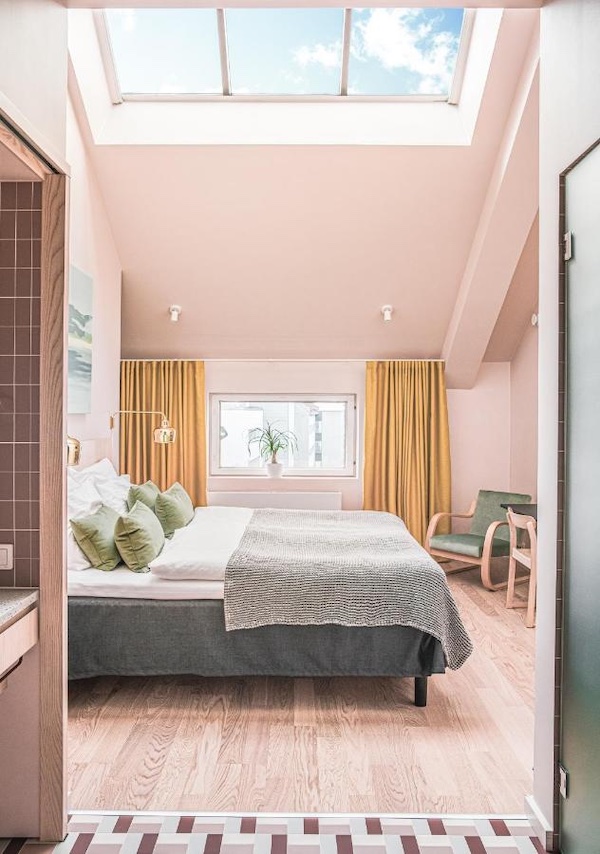 Hotel Helka
When you enter this hotel, you'll notice a rack of umbrellas showcasing the colors of the rainbow. This indicates that the hotel is a safe space for everyone, regardless of cultural background, gender, and sexual orientation.
The message that Hotel Helka is a discrimination-free sanctuary is one that is conveyed throughout the entire establishment, as seen in the walls.
The Young Women's Christian Association (YWCA), Finland's oldest women's advocacy group, serves as the hotel's ownership base, which greatly contributes to the inclusivity this establishment promotes and upholds. The hotel seeks to bridge differences in beliefs, cultures, experiences, and interactions.
Additionally, while the hotel has its supported advocacy program, Hotel Helka has long followed the EcoCompass system. It currently complies with the Green Key certification criteria, such as using renewable energy sources within the property.
Even the hotel's restaurant closely monitors its food supplies, and guests are constantly reminded to take only what they can eat from the free Scandinavian breakfast buffet. These two guidelines significantly help reduce food waste. Also, the restaurant only uses local and mostly organic food resources, with generous vegan selections.
The quiet and cozy hotel is conveniently located near the Kamppi Shopping Centers. It's only a 5-minute walk from the Kampin Metro Station and less than 15 minutes from the Ateneum Art Museum. It is practically within walking distance of the popular attractions in Helsinki. The Linnanmaki Amusement Park is 3 kilometers away from the property.
Hotel details
Address: 
Pohjoinen Rautatiekatu 23, Etu-Töölö, 00100 Helsinki, Finland.
Guest rating:
4.4 out of 5
Price per night:
From $95
Hotel Kluuvi
The Hotel Kluuvi is an urban hotel that gives you easy access to all the city's major transportation hubs and allows you to travel around Helsinki easily.
It is just next to the city's historic main road, several hundred meters from the central railway station and the University of Helsinki metro station. Taxis and trams are also within easy reach, and most event venues are only a few minutes away. Shops, galleries, and some of Helsinki's top restaurants are also within reach of the Hotel Kluuvi.
And as part of the GLO hotels, Hotel Kluuvi has also been awarded a Green Key eco-label. This means this business is dedicated to minimizing the environmental waste of its operations. It does this without compromising the quality of its hospitality and service.
As part of its commitment to making the most of the hotel's current resources, Hotel Kluuvi makes it a practice to refrain from acquiring new furniture. Instead, they renovate their existing furniture to revamp the look or use it for another purpose.
Additionally, they take pride in using only 100% green electricity, which uses lighting and water at the ecologically soundest levels.
Hotel Kluuvi is also always up for doing more and becoming an eco-friendly hotel in even the most minor aspects. For instance, all the cleaning agents and solutions they use on the property have environmental labels. This ensures that they use harmful chemicals only when absolutely necessary.
Hotel Kluuvi has also partnered with SOL Cleaning Services to provide chemical-free cleaning of the rooms, linens, and the entire hotel.
Hotel details
Address: 
Kluuvikatu 4, Kluuvi, 00100 Helsinki, Finland.
Guest rating:
4.3 out of 5
Price per night:
From $115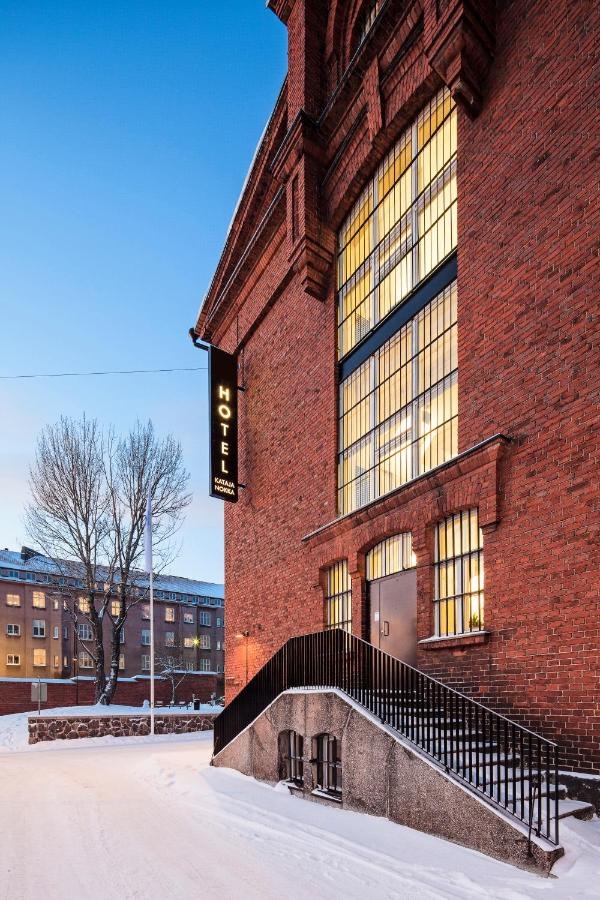 Hotel Katajanokka
Hotel Katajanokka's unique history is highly intriguing. And staying in this former Helsinki Prison County Prison and investigative penitentiary is a one-of-a-kind Helsinki experience.
The hotel's main building has been up since 1888, with the oldest parts dating back to 1837. The prisoners stayed on this property until 2002. In May 2007, the old prison house transformed into a high-class, luxury hotel under the protection of the Finnish National Board of Antiquities.
This tribute portfolio hotel is a 10-minute walk away from Uspenski Cathedral and a 15-minute walk from Helsinki Cathedral. Guests of this hotel seldom have thoughts of escaping, as this prison-themed hotel offers ample entertainment and activities!
Hotel Katajanokka is also Green Key certified, so you can expect it to be in strict compliance with the ecolabel's sustainability standards.
For starters, most of the hotel's original structure is intact. Yes, renovations were made, but the prison cells remained intact and have been converted into hotel rooms.
The idea is to renovate a space if possible rather than tearing it down and starting from scratch. This way, the original materials can be preserved but reinforced.
For example, the old prison canteen was the hotel's current Linnankellari Restaurant. It was improved to ensure that the existing pipelines and other facilities are still in tip-top shape for their purposes. Additionally, the Finno-Scandinavian cuisine served in this hotel uses only locally grown, largely organic ingredients.
Hotel details
Address: 
Merikasarminkatu 1 A, Katajanokka, 00160 Helsinki, Finland.
Guest rating:
4.6 out of 5
Price per night:
From $135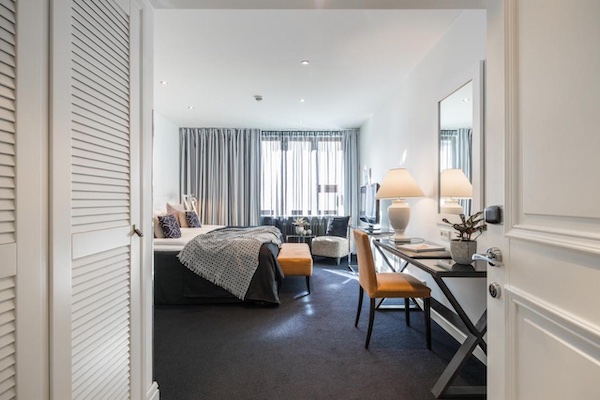 Hotel Fabian
Hotel Fabian has been hailed as Trip Advisor's Traveler's Choice for 2020. This 58-room boutique hotel is located in the heart of the city. The hotel boasts a lush courtyard where you can bask in natural light.
A short walk from the hotel allows you to venture into the Esplanadi Gardens, Market Square, and the Museum of Finnish Architecture.
Despite being in the center of Kasarmintori, the hotel still provides a quiet space where you can rest and enjoy your surroundings. Besides the hotel's amenities and superb service, one aspect that distinguishes it from other hotels is its green values.
Hotel Fabian has always been an avid promoter of green-friendly accommodations. What's impressive is every hotel employee is involved and supportive of the property's continuous efforts to reduce the hotel's carbon footprint.
For starters, their breakfast buffet spread features plenty of organic produce sourced locally. And the baked goods of the in-house and legendary Kanniston Leipomo Bakery are all made sans any additives.
Hotel Fabian strictly prohibits the use of unnecessary plastic products because they understand how tons of plastic end up in oceans and do not want this to disturb Helsinki's marine life.
As a bonus, the hotel offers free bike rentals—their chief recommendation for guests to explore the city!
Hotel details
Address:
Fabianinkatu 7, Kaartinkaupunki, 00130 Helsinki, Finland.
Guest rating:
4.6 out of 5
Price per night:
From $120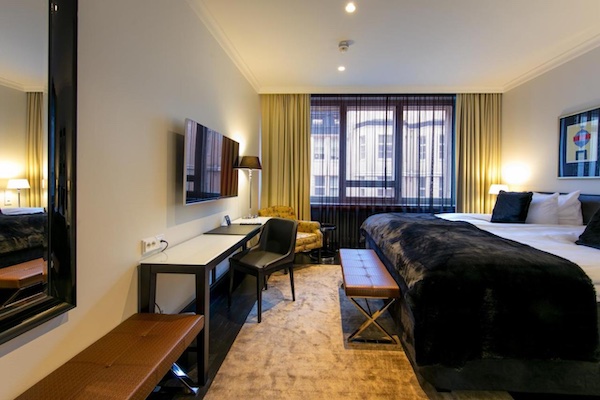 Hotel Lilla Roberts
Hotel Lillia Roberts is located in the Etelainen District and is a throwback to the 1930s. This is one of the city's neighborhoods, between the upscale residential area and the commercial centers. This hotel is an excellent choice, especially for those visiting Helsinki for business and leisure.
Located in Kaartinkaupunki, the hotel is by the sea and near the metro station. Local landmarks, including the Old Church of Helsinki, St. John's Church, Löyly Helsinki, and Helsinki Olympia Terminal, are all within easy reach.
You can easily make an afternoon day trip to the Linnanmaki Amusement Park and Finnish Museum of Natural History from the hotel.
The hotel's history is worth learning so that you can better appreciate its character. One of Hotel Lilla Roberts' proud moments was when it became a member of the Green Key program. This is a global and voluntary commitment to promote eco-friendly initiatives to manage day-to-day hotel operations.
The lighting fixtures in the hotel have the highest energy-saving ranking, and most electrical devices also have a high energy-saving ranking.
Hotel Lilla Roberts offers a generous serving of gluten-free products and vegetarian meals. It sources ingredients locally to support its community.
Hotel details
Address:
Pieni Roobertinkatu 1-3, Kaartinkaupunki, 00130 Helsinki, Finland.
Guest rating:
4.6 out of 5
Price per night:
From $160
Enjoy a worthwhile and memorable stay in Helsinki. While you're taking in the city, you'll feel gratified knowing that your choice of hotel is also contributing to its beauty and serenity.
How we select the best eco-friendly hotels in Helsinki
We are a travel research company. We check a lot of details and guest reviews before making a selection. First, we check which hotels follow eco-travel principles. Are they recycling their waste? Do they work with local communities? Are they using renewable energy? Are they not using single-using plastics?
Secondly, we check guest reviews across multiple websites and only list hotels with an aggregated review rating of at least 4 out of 5. So you can be confident you will stay at an eco-friendly hotel in Helsinki.
More and more people recognize the importance of sustainable travel. Not only is it better for the environment and our planet, but it also often leads to more meaningful experiences. If you're interested in learning more about eco-tourism, here are some eco-friendly travel tips to get you started.
More Helsinki recommendations
Get to know the city even better by reading our other articles about Helsinki: