When people think about visiting Canada, they instantly think of Vancouver, Toronto, and some other huge cities. A city that should be on this list is Ottawa. The capital of Canada is one of the best cities to visit in the entire country. There is a rich culture here that offers a fantastic time for all visitors.
From the hustling businessman to the family of four, Ottawa is a city that has a little bit of everything. Since it is the capital of Canada, there is a fantastic mix of contemporary and historical sites and attractions. No matter what you crave, there is a good chance Ottawa has it.
So, you need to figure out where to stay and what there is to do in that area. Picking the right spot allows you to make the most out of your time in the city. Here are five of the best areas to stay while visiting Ottawa!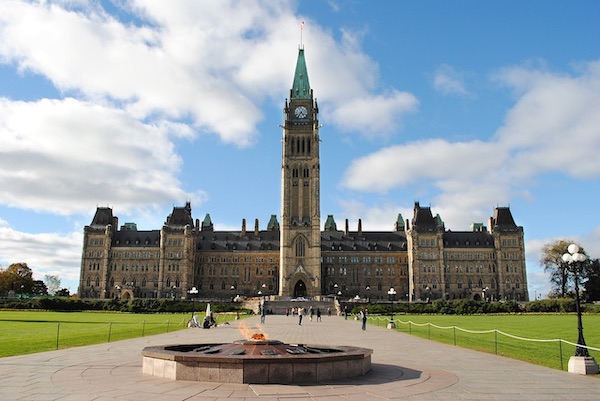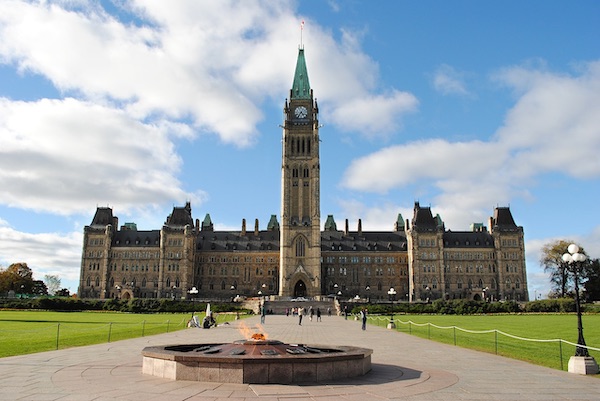 Downtown
Downtown is a fantastic place to stay for all types of visitors. Because it is in the middle of the city, you will have access to all of the best attractions. Downtown has an interesting mix of old traditional architecture and modern skyscrapers. This is a unique feature that really can't be found anywhere else in Ottawa.
One of the most popular areas in the entire city is Downtown. Sparks Street is the social hub of Ottawa and is home to tons of restaurants, bars, and cafes. They take on an open concept as eating outside is very popular and enjoyable. The overall vibe is very open and positive which is something that can be hard to find in big cities.
On the historical side, there are enough attractions to spend a whole day or more visiting. Some of the top spots include Parliament Hill, the National War Memorial, Rideau Canal, and so many more. Exploring Ottawa and seeing all of the historical focal points is a fantastic way to get to know the city.
Best place to stay in Downtown Ottawa
ALT Hotel. Address: 185 Slater St, Ottawa, ON K1P 0C8, Canada.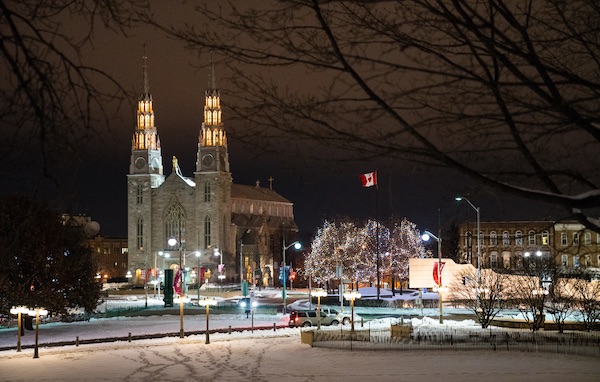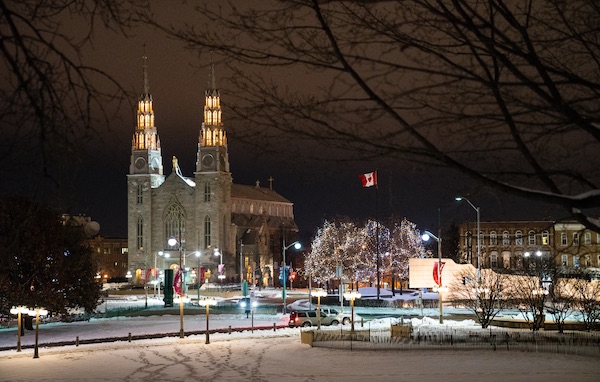 ByWard Market
Although there are some great bars and restaurants Downtown, ByWard Market is the place to be to engage in nightlife. This is Ottawa's home to the top nightclubs and bars. A great perk of ByWard Market is its proximity to Downtown and a couple of the other neighborhoods. Even if you do not decide to stay here, this is a hotspot for having fun.
The name comes from the central market where all of the bars and restaurants surround. From the moment you enter the neighborhood, you can tell this is the hopping place to be. If you are saving the partying for the evening, be sure to see some of the local sites during the day.
These include the market itself, Major Hill's Park, and the National Gallery of Canada. These are all within walking distance of the main drag and are cool excursions to kill some time and see the culture.
Best place to stay in ByWard Market
Château Laurier Fairmont Hotel. Address: 1 Rideau St, Ottawa, ON K1N 8S7, Canada.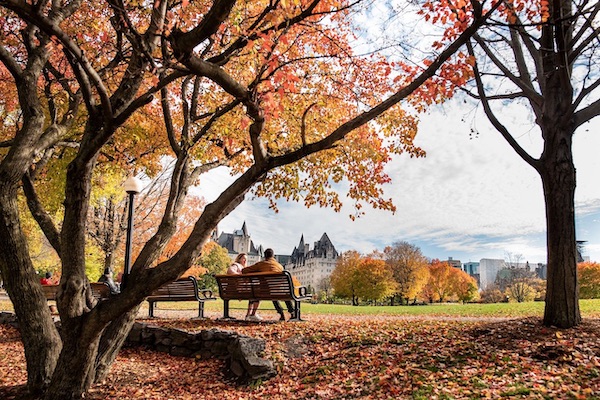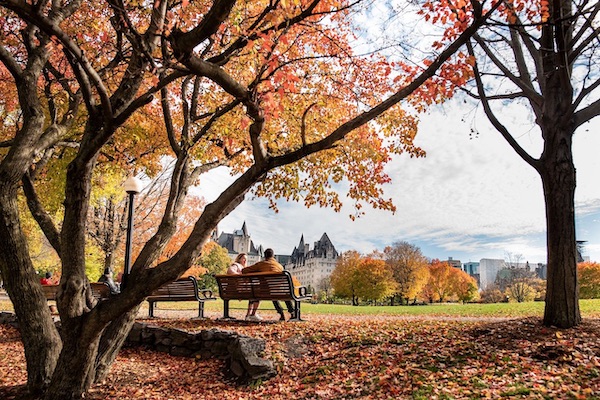 The Glebe
Your escape from the hustle and bustle of city life can be found in The Glebe. When staying here, there is no need for a car as you can walk to a lot of points of interest quite quickly.
More specifically, you are about a 30-minute walk from the Downtown area. If this is a bit too ambitious for you, the public transit systems in Ottawa are easy to maneuver and quite cheap.
Staying here is also a fantastic way to save some money. You can be close enough to the action to access it easily but far enough away to save on accommodations. Because of the residential presence, this is also a very safe area, which makes it perfect for families who want a great vacation.
A big subculture that thrives in The Glebe is the bed and breakfast scene. Yes, there are some fantastic hotels here, but The Glebe has a knack for great hospitality. Slow down your city stay and reside in The Glebe!
Best place to stay in The Glebe
Ashbury House Bed & Breakfast. Address: 303 First avenue, K1S 2G7 Ottawa, Canada.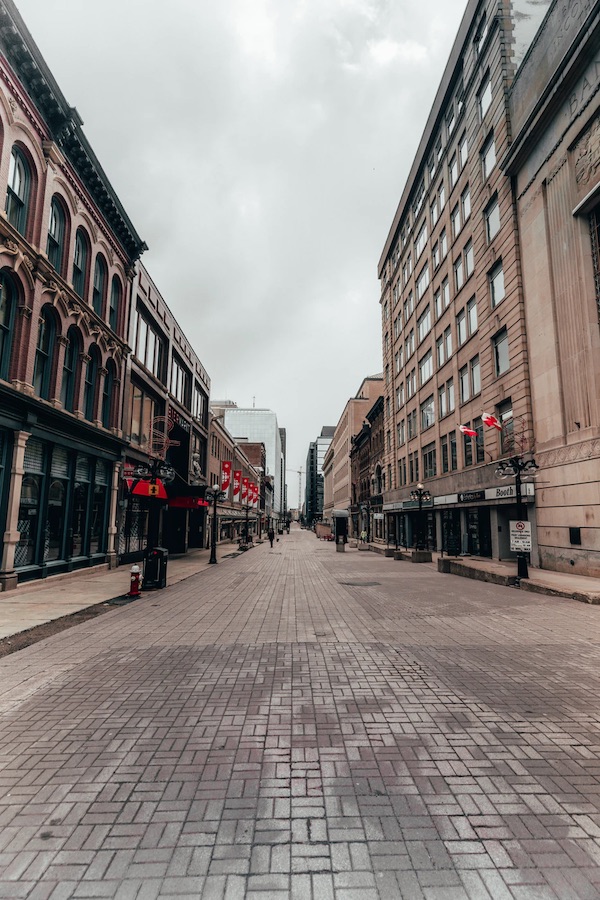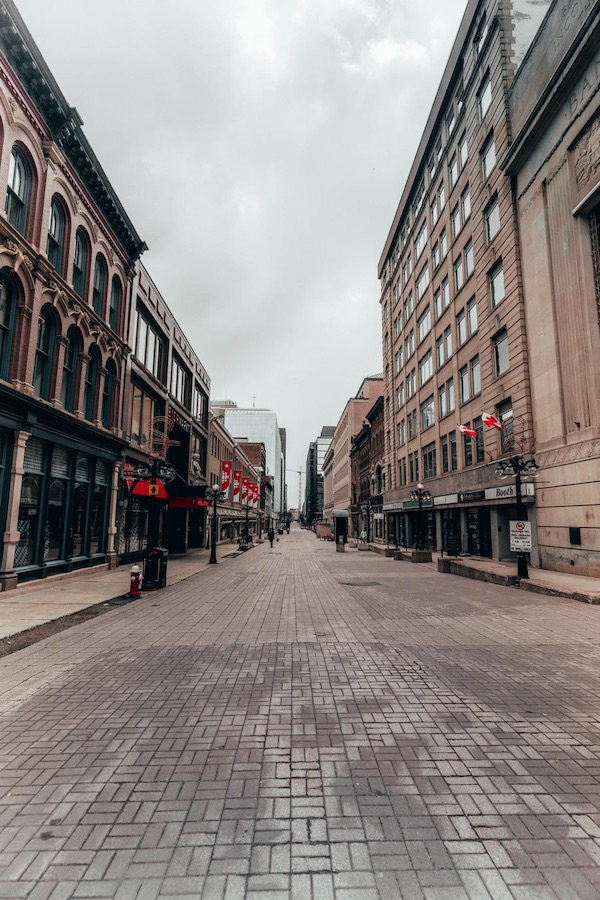 Centretown
A similar spot to ByWard Market is Centretown. The difference is Centretown is far more residential and a bit quieter. ByWard Market can be far rowdier than Centretown, but it is still an awesome, social spot.
There are plenty of cafes and restaurants that line the streets. Centretown is where you can find an interesting mix of fun, lively vibes, and a calm relaxation sprinkled throughout.
The Rideau Canal runs right through the neighborhood and is surrounded by beautiful green spaces. The mixture of water and lush forests provides a great perspective on the city. Walking around the neighborhood and taking in nature can be a very healthy break from the busy city life.
There aren't a ton of museums or proper attractions In Centretown, so eating, drinking, and relaxing are the top activities here. The museum in the neighborhood is the Canadian Museum of Nature, which ties in with the area.
Best place to stay in Centretown
SOHO Residences Lisgar. Address: 300 Lisgar Street, K2P 1T6 Ottawa, Canada.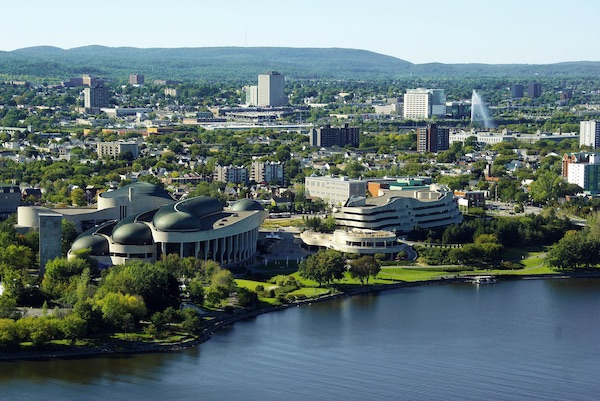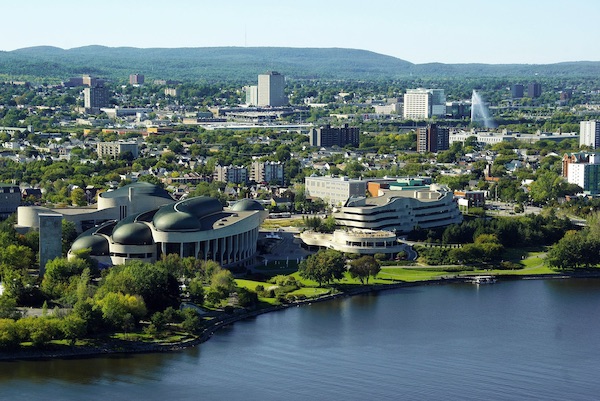 Gatineau, Quebec
Finally, we have Gatineau, Quebec. You may be thinking, "Ottawa isn't in Quebec" and you are correct! However, Gatineau is just a short drive across the Ottawa River away from the Capital city. Thankfully, you do not need a passport to cross the board into Ontario, so you can move freely between the two provinces.
Various bridges cross the Ottawa River and provide you with either a long walk or a short Uber ride to Ottawa. In the summer, you can even take a water taxi which provides incredible views of the Ottawa skyline.
This is a great way to experience two different cities on your trip to Canada. This city is also connected to Hull Island, and the entire area is beautiful and offers a unique perspective of the region.
The biggest attraction in the area is the Canadian Museum of History and is a great place to spend an entire day learning about history. In the winter, be sure to attend the Winterlude which is one of Canada's largest winter festivals.
Best place to stay in Gatineau
Four Points by Sheraton Gatineau-Ottawa. Address: 35 Laurier Street, Hull, J8X 4E9 Gatineau, Canada.

Where travel critics stay in Ottawa
Want to know where travel critics from publishers like The New York Times, Frommer's, Fodor's and Lonely Planet stay in Ottawa? Check out our overview of all recommended hotels, hostels and B&Bs in Ottawa.
Budget
"Owner Sabina's Swiss heritage is reflected in everything from the luxuriant buffet breakfast ($15) to the rooms' design-savvy stencil decor. The 22 stylish rooms all have appliances such as espresso machines and iPads." — Lonely Planet.
Address: 89 Daly Ave, Ottawa, ON K1N 6E6, Canada.
Mid-range
"ALT Ottawa, opened this year with 148 rooms is an affordable, minimalist chic offering in the downtown business district, a few blocks from Parliament Hill. Unfinished concrete and high ceilings lend a stylish, industrial vibe to rooms." — New York Times.
Address: 185 Slater St, Ottawa, ON K1P 0C8, Canada.
Luxury
Château Laurier Fairmont Hotel.
"Named after Canada's seventh prime minister Wilfrid Laurier, Fairmont Château Laurier has dominated the Ottawa skyline since opening in 1912. Its elegant corridors and grand ballrooms witness countless international events and celebrity guests, and the hotel is almost as recognizable as its neighbor, Parliament Hill." — Telegraph.
Address: 1 Rideau St, Ottawa, ON K1N 8S7, Canada.
FAQ: Ottawa hotel recommendations
If you're looking for a budget, boutique, or luxury hotel in Ottawa-or maybe your travel plans require an excellent hostel? Want to know which hotel serves the best breakfast? Here are all those answers and more about where to stay in Ottawa.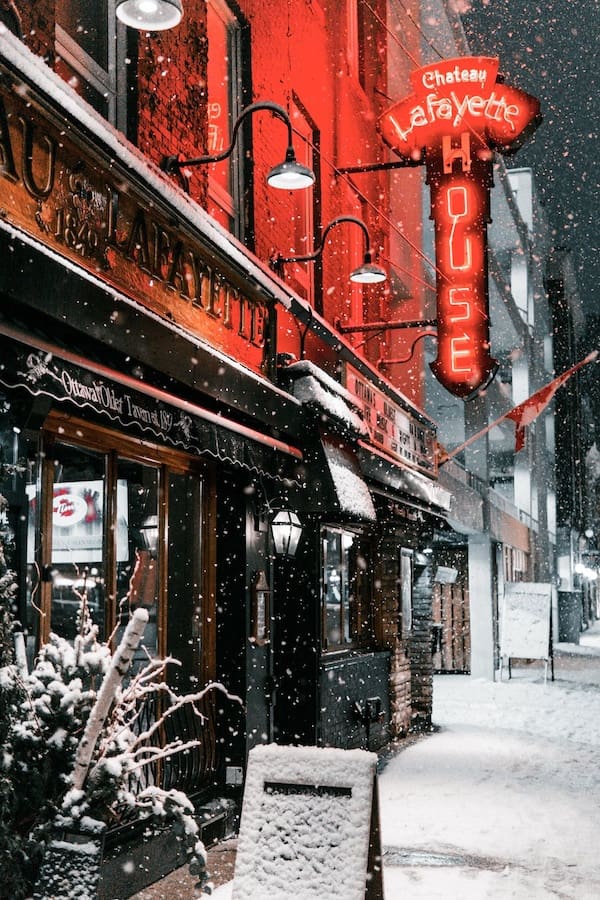 Best time to visit Ottawa
If you are an enthusiast of outdoor activities and festivals, then the summer months from June to August would be an excellent choice.
During this period, Ottawa is vibrant with numerous events such as Canada Day celebrations, music festivals, and outdoor exhibitions. The weather is also warm and pleasant, making it ideal for sightseeing and exploring the city's iconic landmarks such as the Parliament Hill and Rideau Canal.
However, if you are a fan of winter sports or want to witness the famous Winterlude festival, then the best time to visit Ottawa would be during the colder months of January and February.
Despite the chilly weather, the city comes alive with winter activities including ice skating on the world's largest outdoor skating rink – the Rideau Canal Skateway, snow sculpture competitions, and various cultural events.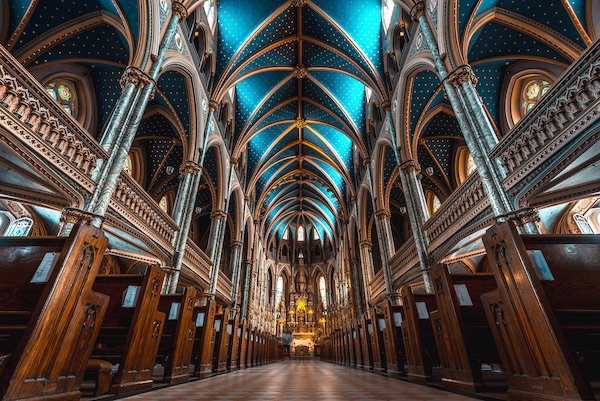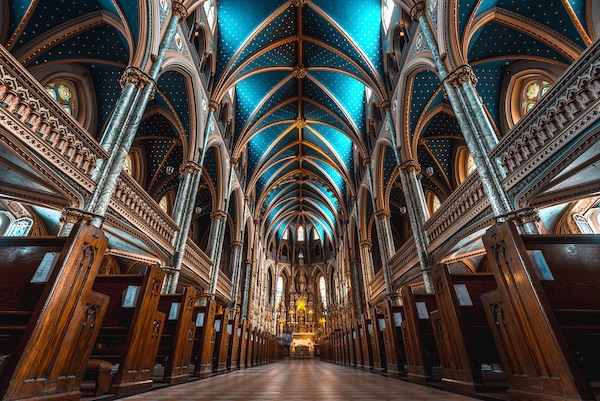 Best things to do in Ottawa
There are a lot of things to do in Ottawa and surrounding areas, including day trips, attractions, museums, sightseeing tours and many other activities. Here's our list of 3 things you should definitely do when you're in and around Ottawa:
2-Hour Ottawa Express City Bike Tour
See Rideau Hall, cycle the Rideau Canal path, plus see the War Memorial, Byward Market and more. Stop along the way to learn more about certain locations and get local tips from your guide. Price: $36. More info.
Ottawa: Sightseeing River Cruise
See Ottawa's famous landmarks and enjoy entertaining commentary in both English and French on a must-do sightseeing river cruise. Learn fun facts from your bilingual and knowledgeable guide, and choose whether to begin your cruise in Ottawa or Gatineau. Price: $25. More info.
Ottawa Private Tour with a Local
Explore Ottawa with a passionate local who will show you all the hidden gems of the city and help you experience the city like a real local. Price: $27. More info.
Deciding where to stay in Ottawa
To summarize, this travel guide has covered the best areas of Ottawa, as well as some hotel tips and things you can do. It's now up to you to decide which area you prefer.
Top 5 neighborhoods to stay in Ottawa
Old Town
Centretown
The Glebe
ByWard Market
Gatineau
As you have seen in this article, there are a lot of things to explore, and deciding where to stay in Ottawa is important. Whether you stay in Old Town, Centretown, The Glebe, ByWard Market or Gatineau, all those neighborhoods are in good locations.
The atmosphere of the area, whether you travel for leisure or business, whether you travel with your family or friends, and proximity to the attractions you prefer to visit should probably be the deciding factors. Whatever your preference is, you'll have a great time in Ottawa.
Check out our other guides about the best places to stay in Ottawa: