Zurich, Switzerland is a city of culture and tradition. As one of the wealthiest cities in the world, it's a cosmopolitan destination for tourists from all over the world. It has a bustling nightlife scene, amazing shopping opportunities, and some of the best views in Europe. Zurich is home to many historical landmarks such as the Zurich Opera House and Fraumünster Church. Did you know that Zurich was also where Albert Einstein developed his theory of relativity?
When you don't have the budget to splurge on a luxury hotel, but don't want to stay in a hostel, a boutique hotel is an excellent compromise. While there are no set guidelines for what a boutique hotel includes, they usually have a few defining characteristics.
First, boutique hotels are generally smaller and more intimate, traditionally comprised of under 100 rooms, if not fewer. These hotels also typically pay more attention to design, giving them a little more character than chain hotels or hostels. Normally, boutique hotels are found in trendy and centrally located areas near several attractions, restaurants, and cafes.
With an intimate size and close attention to detail, boutique hotels typically offer excellent, more personalized service. If you are looking for a unique and detail-oriented hotel, nearby many things to do in Zurich, staying in a boutique hotel will be the right choice for you.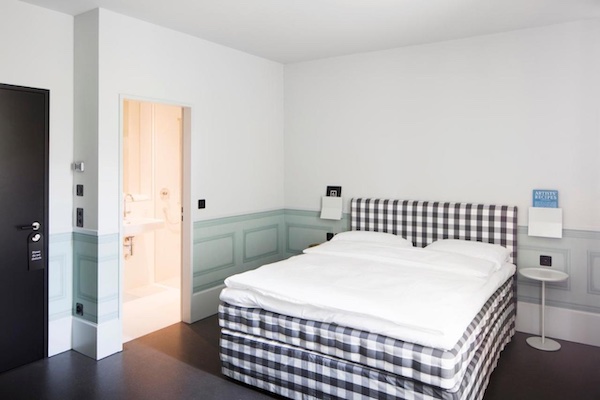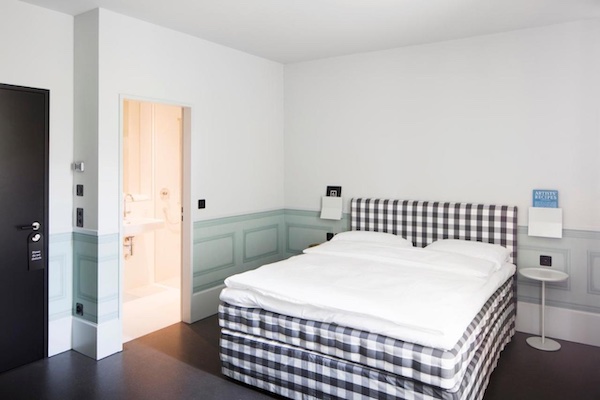 Hotel Helvetia Zurich
Full of personality, Hotel Helvetia Zurich is set in a historic 19th-century building, located in Zurich's fourth district. The hotel is comprised of 14 guest rooms and two luxury apartments, creating an environment of intimacy. Apartments feature kitchenettes and day beds, while standard guest rooms are clean, simple, and are decorated with striped wallpaper and a neutral palette.
While accommodations are simplistic, the rest of the hotel is bold and charming. This historic building is well-preserved, but has encountered some renovations to keep up with modern times. As you walk through the halls, you will see bright colors, mosaic floors, and lively patterns, creating an atmosphere with lots of character. The historic bar onsite serves handcrafted cocktails, and the outdoor patio is equally playful and charming. The hotel restaurant is always busy and for a good reason. An incredibly delicious menu means that you will need to make a reservation.
With your stay at Hotel Helvetia Zurich, you will receive access to Indigo Fitness Club, home to a sauna and steam bath. This hotel's District 4 location offers a minute's walk to the Zurich Selnau Train Station, access to the nearby Sihl River, and a short distance to the Swiss National Museum.
Hotel details
Address:
Stauffacherquai 1, Aussersihl, 8004 Zurich, Switzerland.
Guest rating:
4.4 out of 5
Price per night:
From $170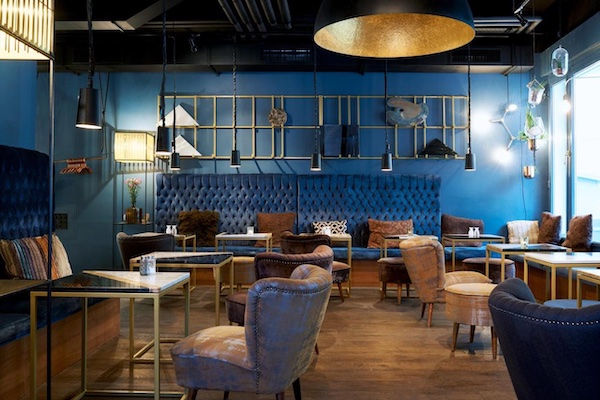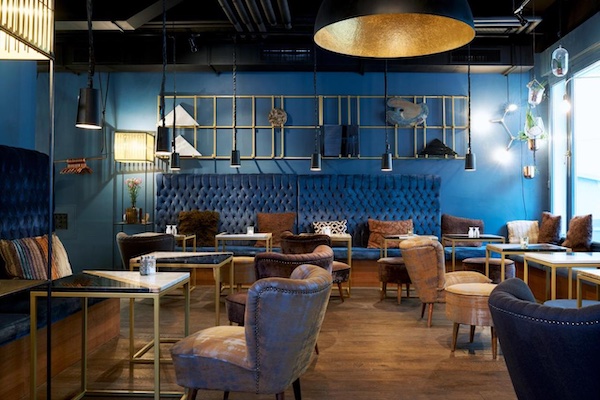 Townhouse Boutique Hotel
With only 23 guest rooms and three suites, Townhouse Boutique Hotel Zurich provides a homey and charming oasis on your next Zurich getaway. Living up to the name, this boutique hotel is based around the design of an English townhouse. Guest rooms feature vintage wallpaper created by Designer's Guild. These patterns occasionally match the antique furniture around the unit. Unique art, fresh flowers, and ornate chandeliers around this hotel only add to the European charm and elegance.
Breakfast, available for an upcharge, is served in the hotel's trendy lounge, and a casual cafe is also located on the premises. Restaurant Pallete, the hotel restaurant, serves a variety of breakfast options, coffee drinks, salads, and sandwiches.
Situated in the desirable Bahnhofstrasse neighborhood, Townhouse Boutique Hotel couldn't be in a better location. Only a one-minute walk from Zurich's central train station, you can access the rest of the city in a matter of minutes. If you love vintage features, contemporary amenities, and an intimate atmosphere, Townhouse Boutique Hotel Zurich is sure to be the right choice for you.
Hotel details
Address: 
Schützengasse 7, 1. Zurich Old Town – City Center, 8001 Zurich, Switzerland.
Guest rating:
4.2 out of 5
Price per night:
From $140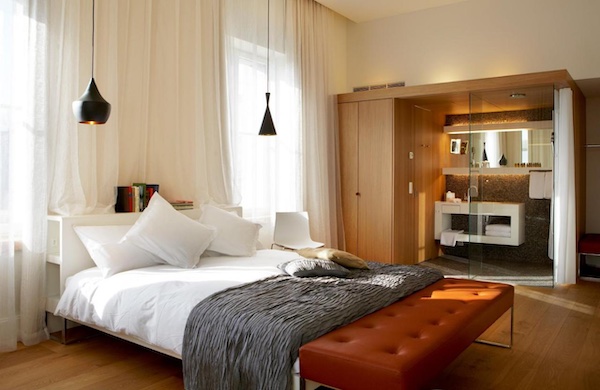 B2 Boutique Hotel
Formerly known as the Hurlimann Brewery, B2 Boutique Hotel allows you to sleep where beer used to be brewed. B2 stands for "bookmark and boutique," which is a small group of independent urban hotels that create modern accommodations within historic buildings. B2 Boutique Hotel is the perfect blend of historical and contemporary. High arched windows and vaulted ceilings combine perfectly with modern design, clean lines, and unique furniture. Beautiful white linens, eclectic light fixtures, and flat-screen TVs create stylish, comfortable rooms.
While B2's guest rooms are top-notch, the real highlight of this hotel is its common spaces, such as the library lounge and spa. The Thermal Bath & Spa Zurich, the hotel spa, is located in the former barrel filling wing of the brewery. Brick walls, stone features, and vaulted cellars give the spa a historic and serene environment. The rooftop pool, thermal bath, and Roman-Irish spa ritual are just a few of this section's amenities. B2's Wine Library is one of the most impressive and elegant spaces in Zurich.
Hotel details
Address: 
Brandschenkenstrasse 152, Enge, 8002 Zurich, Switzerland.
Guest rating:
4.5 out of 5
Price per night:
From $340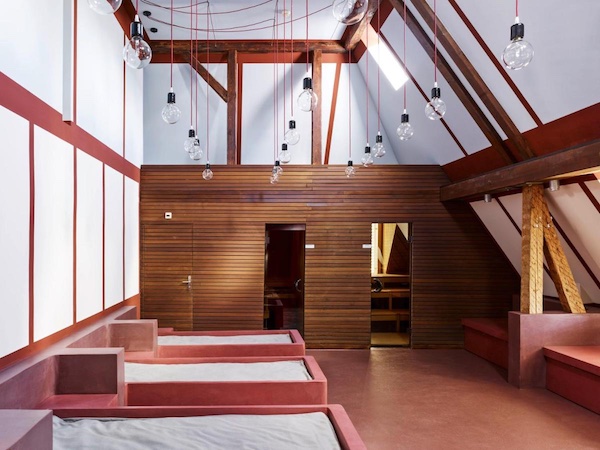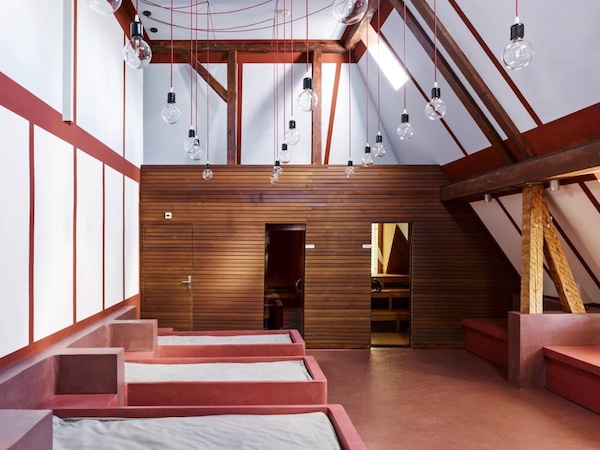 Alma Hotel
Located in a 19th century home, Alma Hotel truly lives up to its name. While both men and women are welcome here, an onsite women's wellness area really does put ladies first. Featuring a sauna, steam bath, solarium, recreation room, massage services, cosmetic treatments, and a rooftop terrace, this area is the perfect place for Zurich's female travelers to unwind after a long day of sightseeing.
This property has 16 unique rooms, which were all individually and thoughtfully decorated. Architect Pia Schmid carefully renovated this building, and you could say that she succeeded. Throughout the rooms and common areas, you will notice high ceilings, neutral colors, and parquet floors create an atmosphere of simple elegance. The lobby's fireplace area, the onsite rose garden, and the hotel bar are beautiful and relaxing corners to rest and recharge. All four floors of this hotel are accessible via the staircase and elevator. Although Alma Hotel does not have a restaurant, it does serve a complimentary breakfast, and room service offering Italian cuisine is available.
This property is situated in the Seefeld area of Zurich, providing an abundance of outdoor spaces and activities. While staying here, you can enjoy the promenade along Lake Zurich, visit the Chinese Garden, or the annual Christmas market.
Hotel details
Address: 
Mainaustrasse 24, Seefeld, 8008 Zurich, Switzerland.
Guest rating:
4.8 out of 5
Price per night:
From $220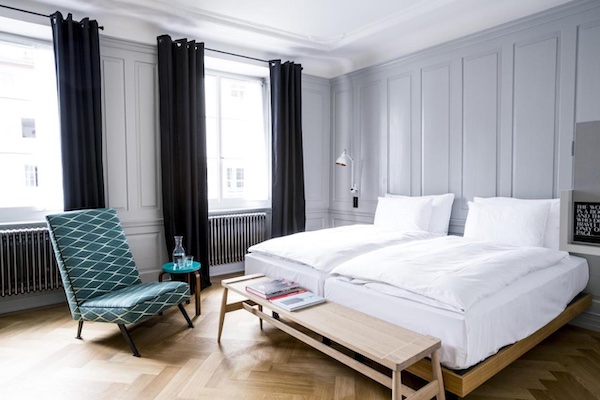 Marktgasse Hotel
Situated in the heart of the Altstadt, the Marktgasse Hotel couldn't be in a better location. Within walking distance of Grossmunster Church, Lake Zurich, the train station, the opera, Bahnhofstrasse, and so many other attractions, getting around will be a breeze. This 15th-century building has been updated to include modern amenities. Guest rooms are simple, yet comfortable. White linens, Scandinavian furniture, wood floors, and earthy tones create a calm and serene atmosphere. Room sizes vary from a single bed to extra-large beds with a sitting room.
This hotel's other charming features include a library, a café, and a restaurant and bar with an outdoor terrace overlooking the Old Town. The hotel restaurant, IGNIV by Andreas Caminada, serves a gourmet tasting menu, and the adjoining cocktail bar has received the "Best Newcomer Bar" award from the Swiss Bar Awards.
Hotel details
Address: 
Marktgasse 17, City Centre, 8001 Zürich, Switzerland.
Guest rating:
4.3 out of 5
Price per night:
From $170
About our boutique hotel recommendations in Zurich
We are a travel research company. We help you discover the best boutique hotels in Zurich by researching the internet for you. It's not just our opinion, it's the opinion of many travelers who have been there before you. We make it easy for you to find out about cool design hotels and unique design hotels in the city. Some of them might be so romantic you might not want to leave your room.
Please note, we only list hotels that have an aggregated guest review rating of at least 4.0 out of 5. We aggregate all reviews from different booking sites and other unbiased review websites. Hence, you can be certain all hotels listed above offer you a great stay in Zurich.
Best price guarantee
We partner with Booking.com and Hotels.com to provide you with the lowest price guarantee on your stay in Zurich! Both those websites offer price matching. That ensures that you are paying the lowest price available online. If you find a cheaper offer on another website for the same cool hotel in Zurich at least 24 hours before check-in, contact them to claim a refund of the difference!
Top 5 boutique hotels in Zurich
Before you go, let's summarize this guide. Based on thousands of guest reviews and tips from travel experts, these are the best boutique hotels in Zurich:
More Zurich tips
If you like our guide above, you should also check out our other articles about Zurich: