The Bahamas is a beautiful tropical getaway, spread over several stunning islands, it attracts many people to its white sandy beaches and crystal clear waters. Due to its popularity, there is a vast array of accommodation options available for people traveling there on vacation.
Staying in a boutique hotel can be a great choice for travelers and give you the very best out of your trip to the Bahamas. Boutique hotels offer a personalized service with smaller, more intimate accommodations.
They may not offer the same facilities as the sprawling luxury resorts do, however, they do offer guests a more personable experience, with activities tailored to guests' preferences, that will create unforgettable memories.
To make things easier for you we have chosen the best five boutique hotels in the Bahamas, so all you need to do is choose one from the list below, book it, and look forward to unwinding in style.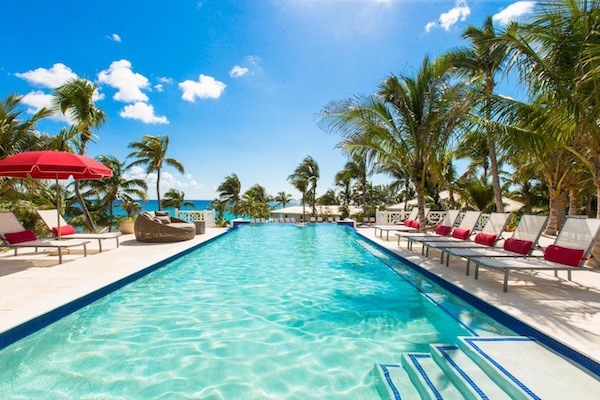 Coral Sands, Dunmore Town
Coral Sands is a luxury boutique hotel located in Dunmore Town, which is the main town on the island of Harbour Island in the Bahamas. The hotel is situated on the beautiful Pink Sands Beach, considered one of the most beautiful beaches in the world, and offers guests stunning views across the ocean.
The hotel is intimate with only 38 rooms and suites that are beautifully decorated with tropical-inspired decor and modern amenities. All of the rooms have private balconies or terraces, which offer guests beautiful views of the ocean or over the hotel's lush gardens.
The hotel has an excellent restaurant that serves fresh seafood and other traditional Bahamian dishes, and guests can also enjoy cocktails at the hotel's beachfront bar.
With its beachfront location, guests can enjoy a range of activities, including swimming, and snorkeling or just unwinding on the idyllic beach listening to the waves lap.
In addition to the beach, Harbour Island has a range of activities and attractions which visitors can enjoy. In the main town, there are plenty of historic landmarks and attractions to explore such as the St. John's Anglican Church and the Dunmore Town Museum.
There are also plenty of shops, restaurants, and bars to enjoy when you are not relaxing on the beach.
Hotel details
Address:
Chapel Street, Harbour Island, Bahamas.
Guest rating:
4.5 out of 5
Price per night:
From $360
Sandyport Beach Resort, Nassau
The picturesque Sandyport Resort enjoys a prime position at the Old Town Marina, featuring a magnificent private beach adorned with immaculate white sands and clear azure waters. The resort is remarkable, offering top-notch guest amenities like three lagoon-style swimming pools, a tennis court, and numerous nearby dining options.
This hotel exudes a laid-back and serene atmosphere, characterized by charming pastel-hued buildings along the beachfront. A variety of lodging choices are available, including breezy studio hotel rooms, king-size hotel rooms, or roomy deluxe suites.
The rooms are thoughtfully designed to promote relaxation and comfort, with the turquoise and white color scheme reminding visitors of the beach's close proximity. Naturally, each room comes equipped with air-conditioning, private restrooms, and high-end features such as flat-screen televisions and suite or studio room kitchen facilities.
Hotel details
Address:
Sandyport Marina Village West Bay Street, Nassau, Bahamas.
Guest rating:
4.0 out of 5
Price per night:
From $295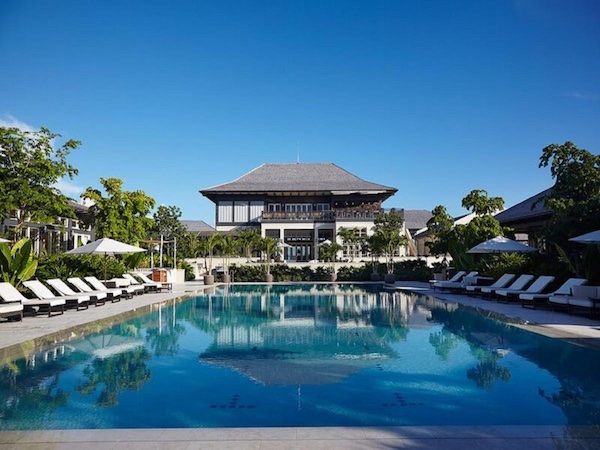 The Island House, Nassau
Nest we have The Island House. This is a luxury hotel and resort located on the western side of the island in Nassau, the capital city of the Bahamas. The hotel has an enviable location, situated only a few minutes away from the beautiful Cable Beach.
The Island House offers guests a range of luxurious accommodations, including rooms, suites, and villas. The rooms are decorated beautifully with a light contemporary aesthetic, with natural wood details.
Each room is appointed with modern amenities, including flat-screen TVs, iPod docking stations, and complimentary Wi-Fi. The hotel also features several restaurants and bars, including the Mahogany House, which is known for its delicious steaks and seafood.
There is plenty for guests to get involved in at The Island House, including an excellent fitness center, a full-service spa, a cinema, and a 25-meter-long swimming pool.
The hotel also has a yoga and pilates room and squash and padel courts to keep guests fit and entertained. However, for those looking for a quieter activity, the hotel also has its own art gallery, which showcases the work of local Bahamian artists.
For those looking to explore the island, The Island House is located a short drive away from the city center of Nassau. Here guests can explore historic landmarks such as Fort Charlotte and Government House, and wander around the many shops, restaurants, and bars.
Hotel details
Address:
Mahogany Hill, Western Road PO Box N-7776-78, Nassau, Bahamas.
Guest rating:
4.5 out of 5
Price per night:
From $335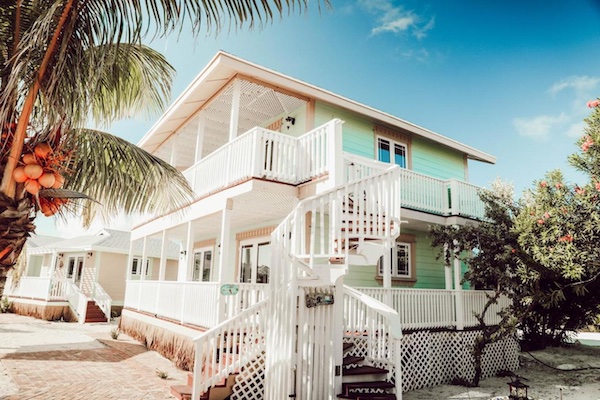 Embrace Resort, Staniel Cay
The Embrace Resort is located on the private island of Staniel Cay, which is part of the Exuma Cays in the Bahamas. The resort offers a secluded Bahamas experience, with luxurious accommodations, white sandy beaches, and crystal clear waters surrounding the resort.
The resort has been expertly designed to provide each guest with an exclusive and unique stay, with a range of luxurious villas and suites which look out across the ocean to the surrounding islands.
The pastel-colored villas offer guests a cozy and comfortable stay, with spacious rooms decorated with warm-toned furnishings. Each villa is appointed with air-conditioning, a food-prep and kitchen area, including a refrigerator, and complimentary wi-fi.
Guests at the resort can enjoy a range of activities, including snorkeling, diving, and kayaking, however, the main attraction in Staniel Cay comes from the famous swimming pigs. A group of friendly pigs lives on a nearby uninhabited island, Big Major Cay, and the resort offers guests a discount on tours to go see these charismatic pigs.
The Embrace Resort offers guests an exclusive stay with many activities available in the resort. Due to its secluded location, guests can relax and unwind and detach from the hectic world outside of the beautiful Bahamas.
Hotel details
Address:
B&G Highway, Staniel Cay, Bahamas.
Guest rating:
4.1 out of 5
Price per night:
From $210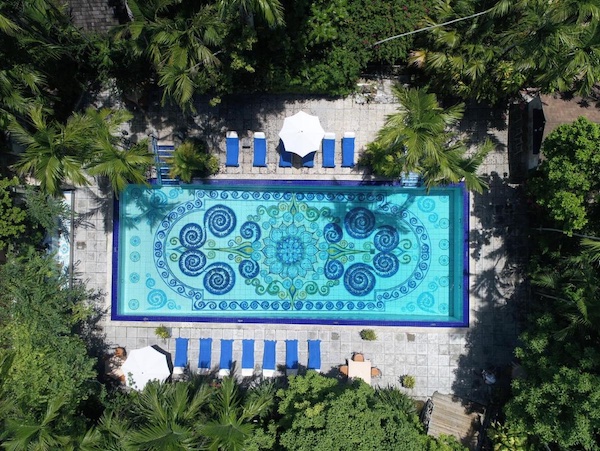 Graycliff Hotel, Nassau
The magnificent Graycliff Hotel can be found on New Providence island, within Nassau town, just a short distance from the gorgeous white sandy shores. This historic hotel is housed in a beautifully restored 18th Century mansion, which showcases its lavish design.
Upon entering the hotel, you are greeted with a classic elegance combined with all the contemporary conveniences you would anticipate from a 5-star establishment. The Graycliff hotel exudes refinement, featuring cozy, candlelit tables and a chic colonial design throughout the property.
The guest rooms boast four-poster beds, complete with exquisite draped curtains and luxurious upholstered furnishings. Rooms are generously sized, and the majority provide stunning views of the hotel's gardens.
The hotel also features two swimming pools and a pair of outstanding restaurants. The Graycliff restaurant offers both traditional Bahamian and modern cuisine, while the Piazza houses a pizzeria and a Brazilian steakhouse to appease guests' appetites.
Hotel details
Address:
West Hill Street P.O. Box N-10246, 0000 Nassau, Bahamas.
Guest rating:
4.0 out of 5
Price per night:
From $320
About our boutique hotel recommendations in the Bahamas
We are a travel research company. We help you discover the best boutique hotels in the Bahamas by researching the internet for you. It's not just our opinion, it's the opinion of many travelers who have been there before you. We make it easy for you to find out about cool design hotels and unique design hotels on the island. Some of them might be so romantic that you might not want to leave your room.
Kindly note that we only list hotels with an aggregated guest review rating of at least 4.0 out of 5. We aggregate all reviews from different booking sites and other unbiased review websites. Hence, you can be certain all hotels listed above offer you a great stay in the Bahamas.
Best price guarantee
Get the best deals and prices for your stay in the Bahamas with Booking.com and Hotels.com! They offer price matching, guaranteeing you'll get the lowest online price. If you find a cheaper offer on another website for the same hotel room at least 24 hours before check-in, contact them to claim a refund of the difference.
Top 5 boutique hotels in the Bahamas
Let's quickly summarize this guide. Based on thousands of guest reviews and tips from travel experts, these are the best boutique hotels in the Bahamas:
More tips for the Bahamas
Get more great insights like the guide above! Take a look at these other articles about the Bahamas: