Miami is a one of a kind city found in Florida that is known worldwide for its beautiful beaches and glamorous nightlife! There are many fun activities and things to see during your visit to Miami, besides soaking in the sun at the iconic Miami Beach. Jungle Island, the Art Deco District, Bayside Marketplace, the Vizcaya Museum and Gardens and the Miami Zoo are just a few of many popular tourist attractions.
What makes Miami unique from other American cities is its Cuban influence. Stop by Little Havana to experience the real culture of Miami. With lively music and beautiful art at every turn, you won't believe that you're in the United States!
When planning your visit, choosing the right place to stay can make or break your experience.
Browse through the 3 best hostels in Miami and see which one fits your personality. Each hostel offers a unique place to call home while you're off exploring Miami.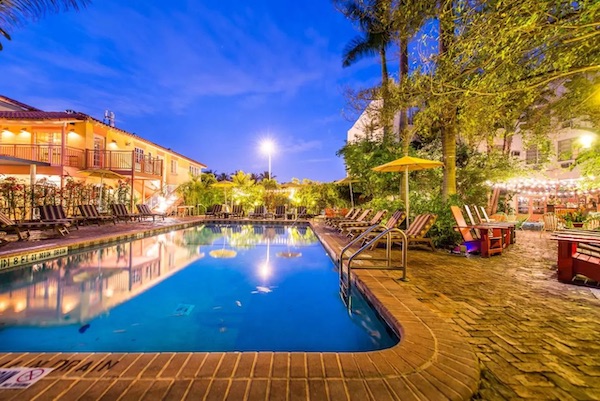 Freehand Miami
Freehand Miami can be found at Mid-Beach, which is a trendy part of Miami Beach with a variety of sophisticated shops and restaurants. Situated just a 5-minute walk from the beach and less than 2 km from the nightlife of South Beach, this hostel is in the perfect location!
All dorm rooms include a private bathroom, lockers and a seating area with a desk if you need a place to get some work done. When you're ready to kick back and relax, the property has an outdoor pool, two bars and a restaurant at your disposal! The Broken Shaker is a specialty cocktail bar that is sure to impress, and the restaurant features a wide range of items to choose from. Head down to the bar and you'll meet plenty of other travelers.
Freehand Miami offers a high-end hostel experience to enjoy a luxurious stay while staying on top of your budget!
Hostel details
Address:
2727 Indian Creek Drive, Miami Beach, FL 33140, United States of America.
Guest rating:
4.0 out of 5.
Price per night:
from $26.
Generator Miami
If you're after another hostel in Mid-Beach, Generator Miami is a go-to! This hostel is unique in that it was previously home to the Atlantic Princess Condominium from the 1940s. The building has been remodeled ever since, offering bright and modern rooms while still maintaining certain elements from the original structure. The new design is rich in elegance, so much so that you may even forget it's a hostel!
With the ability to host over 300 guests, you're sure to meet new people and make friends during your stay at Generator Miami. There are many activities that take place around the pool, providing you with many opportunities to start a conversation with a stranger. If you don't feel like venturing outside of the hostel for meals, the food options are fantastic.
With a strong atmosphere and incredible taste, it's no wonder why Generator Miami is a fan favorite!
Hostel details
Address:
3120 Collins Avenue, Miami, USA.
Guest rating:
4.3 out of 5.
Price per night:
from $21.
Rock Hostel Miami
Rock Hostel Miami is right in the heart of South Beach, Miami – more specifically, the Art Deco District! The hostel has an on-site bar and restaurant, but it's also within walking distance of many shops and the harbor with endless restaurants if you'd like to venture out on your own.
Towels and breakfast are included in your stay at Rock Hostel Miami. The dorm rooms are a generous size with air conditioning to help you escape the Miami heat! Ensuite bathrooms, storage lockers and reading lights and plugs are all available within the rooms.
The best part of Rock Hostel Miami is the insane atmosphere! If you're looking for a fun getaway where you can meet new people and have fun, then look no further. The facilities are great but the people are what makes Rock Hostel Miami amazing!
Hostel details
Address:
1351 Collins Avenue, Miami, USA.
Guest rating:
4.1 out of 5.
Price per night:
from $21.
About our Miami hostel recommendations
Whether you're a solo traveler looking for a private room, or a backpacker traveling around in a group wanting to stay in a cheap and cozy dorm, above you will find the best hostels in Miami for all your needs.
Please note, we only list hostels on our website that have an aggregated guest review rating of at least 4.0 out of 5. We aggregated all reviews from different booking sites and other unbiased review websites. Hence, you can be certain all hostels listed above offer an excellent value-for-money stay in Miami.
Best price guarantee
For our hostel recommendations, we work together with Hostelworld and Booking. These partnerships don't have any influence on the recommendations we make or on the order in which our recommended hostels are listed. The reasons why we have chosen to partner with these companies is that they're trustworthy, offer excellent service and they both apply the best price guarantee. This means you can claim a refund for the difference if you find your reservation cheaper on another website. It has to be for the same property, accommodation type, dates, cancellation policy and conditions, otherwise, you can't claim the refund for the difference. If you book through Booking.com then all you need to do is contact them at least 24 hours before your check-in date. If you book through Hostelworld you must claim the refund within 24 hours after you made the booking.
Top 3 hostels in Miami
To summarize again, based on thousands of guest reviews, these are the best hostels in Miami:
Why you should be careful when booking the cheapest hostel available
The cheapest hostels available are typically not in a great location. If you want to go sightseeing or go for a night out in central Miami, you probably end up having to pay for public transport or a taxi to get there. So your stay could end up being more expensive compared to a stay in a central location. For first-time travelers, we recommend staying central anyway, but also for frequent visitors, it's probably worth it to pay a bit more to stay in a central location.
Another reason why you shouldn't stay at the cheapest hostel is that the people staying at the cheapest hostels are often not the people that can afford to travel like you. Because a very cheap hostel is often cheaper than renting a flat, these places tend to attract migrant workers or local misfits. That's probably not the crowd you want to hang out with, especially if you're a solo traveler looking for friends.
The third reason why you should avoid the cheapest hostels is safety. Some of the cheapest hostels don't check IDs, don't ask for signatures, or only accept cash at check-in. The hostel won't know who is actually staying there.
Lastly, the service at these hostels isn't great. For instance, if you choose to store your luggage, your bags will be unattended in a public space. It won't be recorded anywhere or tagged and stored in a locked room.
So, it's probably worth it to spend a bit more on your hostel stay in Miami.
And finally, a tip: always read the latest reviews of the hostel! All places have good and bad reviews, but the most recent reviews matter the most.
More Miami tips
Get to know the city even better and check out our other articles about Miami: