Marrakech is a vibrant city in Morocco well-known for its rich history and strong cultural traditions. What was once a critical imperial center is now a bustling Northern African city that is a beloved travel destination. People worldwide adore Marrakech because of its intriguing souks (street markets), mouthwatering cuisine, and beautiful gardens.
This marvelous city will captivate you from the moment you step foot there. Everywhere you go, there are delicious aromas and lively colors. Its medina is the peak of this sensory explosion. The Marrakech medina is jam-packed with souks selling leather products, clothing, spices, and snacks. You could spend your entire trip getting lost in this part of town. Don't forget to check out other wonders in Marrakech. Must-see landmarks are El Badi Palace, Kokudobia Mosque, and the Majorelle Gardens.
If you plan on traveling to this bustling city, these are the five best luxury hotels in Marrakech.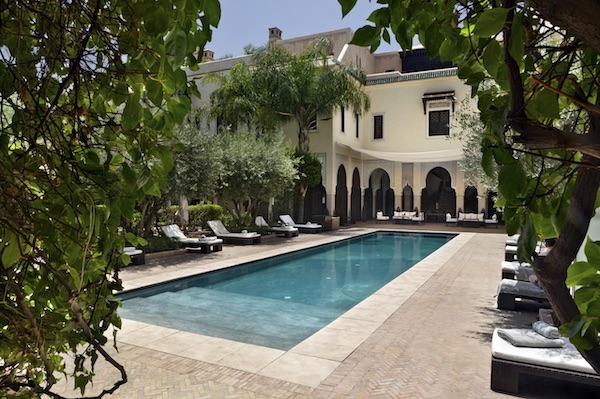 La Villa des Orangers
A beautiful oasis in the heart of the Marrakech medina is Villa des Orangers. This luxurious retreat has the perfect location between Jemaa El Fna Square and the Royal Palace. While it is in the middle of everything, it preserves a sense of calm and tranquility that is hard to come by in such a boisterous atmosphere.
Everything about this place centers around relaxation and harmony. Its color scheme is light and natural. There are many details at the hotel that make it unique. They use high-quality fabrics and sculptured wood in their design. Rooms have a contemporary Moroccan style with courtyard, garden, or mountain views.
This hotel has high ratings because of its overall atmosphere, outstanding service, and attention to detail.
Hotel details
Address: 
6 Rue Sidi Mimoune, 40000 Marrakesh, Morocco.
Guest rating:
4.7 out of 5
Price per night:
From $370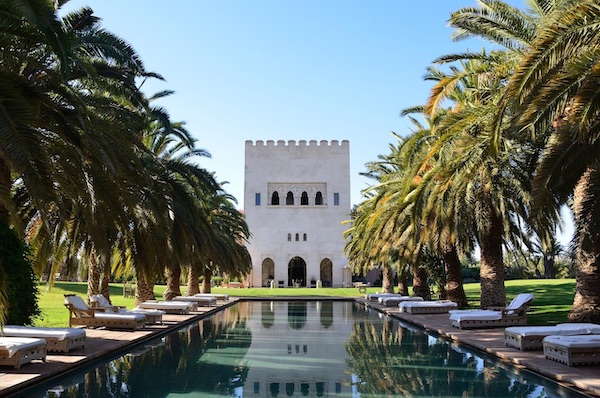 Ksar Char-Bagh
Ksar Char-Bagh is an excellent choice for travelers who crave something more intimate over a grand palatial hotel. It is a spectacular palace with beautiful water features and a 14th-century Moorish-inspired design. This fifteen-suite hotel offers all of the bells and whistles you need to feel like Moroccan royalty.
You'll know right away that your stay here is going to be extraordinary. The entrance is an Alhambra-style patio with a spectacular pool that reflects the stunning architecture behind it. Your private suite is just as impressive, with thoughtful touches such as fresh fruits and chocolates to indulge you. At night, you can dine under the stars in their beautiful gardens.
Travelers loved Ksar Char-Bagh's intimate atmosphere, Alhambra-inspired design, and attentive staff.
Hotel details
Address: 
Djnan Abiad, La Palemeraie Route de Fes BP 12478, 40000 Marrakesh, Morocco.
Guest rating:
4.7 out of 5
Price per night:
From $290
Royal Mansour
Travelers who love the grand palatial hotel experience will enjoy the Royal Mansour. The hotel pulls out all of the stops in terms of providing a luxurious experience. However, this isn't any grand hotel. Some of the best and brightest Moroccan talents came together to lend a hand in designing this masterpiece.
While the hotel is just off the Jemaa El-Fna square in the heart of Marrakech, it doesn't feel like it. This place feels like a secluded getaway fit for royalty. The hotel has 53 individual riads with private courtyards, rooftop terraces with outstanding views, and fireplaces. Onsite, Michelin-starred chef Yannick Alléno serves up mouthwatering meals to guests.
Highlights here include its private riads, outstanding dining, and jaw-dropping aesthetic.
Hotel details
Address: 
Rue Abou Abbas El Sebti, Medina, 40000 Marrakesh, Morroco.
Guest rating:
4.8 out of 5
Price per night:
From $799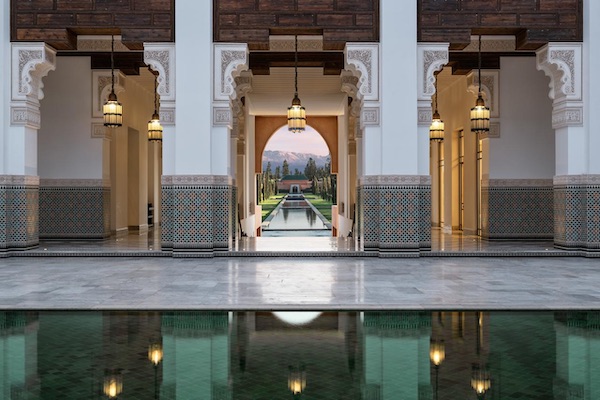 The Oberoi, Marrakech
The Oberoi, Marrakech is a stunning retreat that resides outside the medina walls. There's a reason why the hotel is slightly outside the city. It has 28-acres of Mediterranean orchards and idyllic olive groves.
This hotel is one of the newest in town, opened in early 2020. The Oberoi hotel group has many stunning places under their belt, but this might be their best work yet. You know your stay is going to be memorable when you walk through its 20-foot engraved cedar doors into its gilded lobby with impressive chandeliers. Rooms come beautifully designed with private pools, terraces, and well-curated furniture. On its grounds, there are outstanding restaurants and facilities.
Guests adored its unique architecture and stunning grounds.
Hotel details
Address: 
BP 22788 – Route de Ouarzazate 40000 Marrakech, Morocco.
Guest rating:
4.6 out of 5
Price per night:
From $565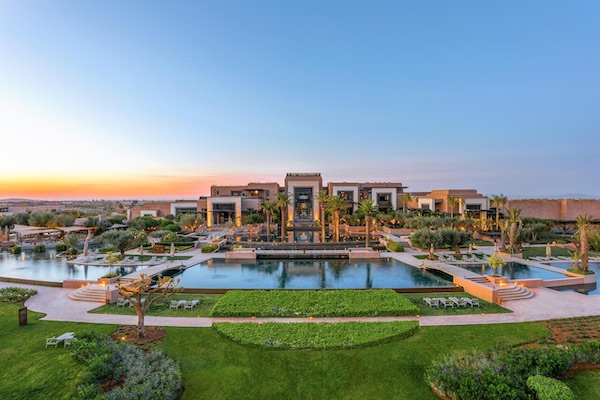 Fairmont Royal Palm Marrakech
The Fairmont Royal Palm Marrakech hotel feels like a destination on its own. Its 531-acre property will make you feel like you're in another world. Here, time seems irrelevant because everything is relaxing and rejuvenating.
Everything at the Fairmont Royal Palm is on a different scale. The pool seems more like a lake than a meager lap pool. Golf lovers will find a tremendous 18-hole course to keep them entertained. In addition to golf, there are tennis courts, a fitness center, and various spa treatments. The hotel's rooms and suites are Moroccan-inspired and contemporary. Each space has outstanding views of the property and the Atlas mountains.
The hotel's best qualities include its personable staff, spectacular views, and relaxing atmosphere.
Hotel details
Address: 
Domaine Royal Palm Km 12 Route d'Amizmiz, 24700 Marrakech, Morocco.
Guest rating:
4.5 out of 5
Price per night:
From $350
About our luxury hotel recommendations in Marrakech
We are a travel research company. Our team helps you discover the best luxury hotels in Marrakech by researching the internet for you. We have also visited some of these places. Hence, it's not just our opinion, it's the opinion of many travelers who have been there before you. We make it easy for you to find out about the most luxurious and exclusive 5-star hotels in the city.
Please note, we only list hotels that have an aggregated guest review rating of at least 4.0 out of 5. We aggregate all reviews from different booking sites and other unbiased review websites. Hence, you can be certain all hotels listed above offer you a great stay in Marrakech.
Best price guarantee
We partner with Hotels.com and Booking.com to make sure you get the best price for your stay in Marrakech! Both sites offer price matching. That means you pay the lowest prices for your stay. If you find a cheaper offer on another website for the same luxury hotel in Marrakech at least 24 hours before check-in, contact them to claim a refund of the difference!
Top 5 luxury hotels in Marrakech
Now that you've gone over this guide, let's summarize it. We got to know what the best 5-star hotels in Marrakech are thanks to thousands of guest reviews and tips from travel experts:
More Marrakech guides
If you like the advice we've given you above, make sure to check out some of our other articles about Marrakech:
Best cheap hotels in Marrakech