Florence is an astounding destination in Italy with incredible culture, architecture, and cuisine. There is so much to do here and so much beauty to experience. We are going to let you in on some of the best hostels you will be able to find in lovely Florence.
Florence is in the Tuscany region of Italy, and it is home to some of the most stunning views all throughout its borders. The Duomo, or Florence Cathedral, is located here and is an absolute must-see while in the region. The sheer size of it and detailed architecture will take your breath away. Even if you do not set out to explore specific architectural wonders, just roaming the cobblestone streets and meandering through the palazzos is always a phenomenal time.
One of the most infamous statues in the whole world can be found in Florence. It's the Statue of David, which was sculpted by Michelangelo. You can find the statue of David in the Academia Gallery, and there are of course numerous other remarkable exhibits here, as well. If you crave being outside, do not hesitate to tour one of the many outstanding vineyards that exist in Florence.
Leonard House
Up first on our list is the Leonard House, a cozy space that is within walking distance to some of the best sights in all of Florence. You can get to the Duomo as well as Ponte Vecchio, which is a famous bridge here in Florence. There is a café available, and the staff here can provide tours and travel information upon request.
The hostel offers several private room options for guests to choose from at Leonard House, so that is handy when you desire some peace and quiet. There are shared female-only and mixed dorms to choose from, as well. All of the rooms come with fresh bed linens, so you can ensure a relaxing night of sleep.
Hostel details
Address:
Via Trebbio 4, Florence, Italy.
Guest rating:
4.6 out of 5.
Price per night:
from $21.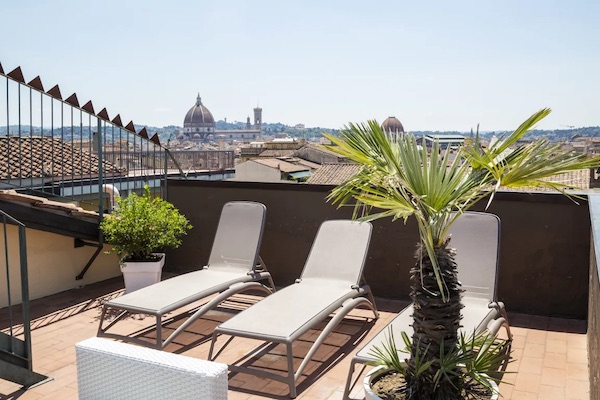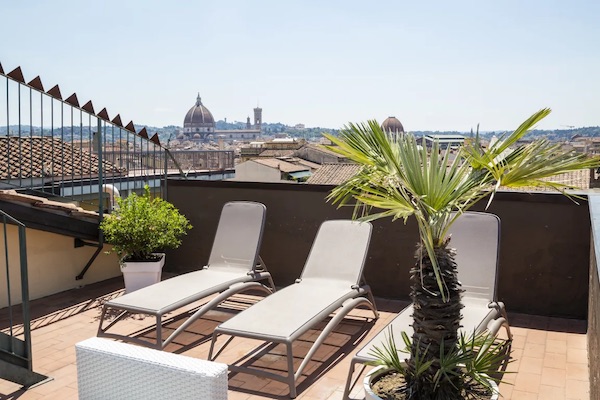 PLUS Florence
PLUS Florence is the next hostel, and you are promised fun as well as true comfort here. There are indoor and outdoor swimming pools, a spa complete with a sauna, a pool table, a restaurant, a café, and a bar all on-site. You can easily walk to and from many nearby Florence attractions here, and the train station is only about 15 minutes away, too.
Each room style, regardless if it is private or shared, comes with a television and a bathroom inside. You can count on there being bed linens, reading lights, and storage lockers in all of the dorms, as well. There are mixed, female-only, and private rooms to take your pick from at PLUS Florence.
Hostel details
Address:
Via Santa Caterina d'Alessandra 15, Florence, Italy.
Guest rating:
4.5 out of 5.
Price per night:
from $15.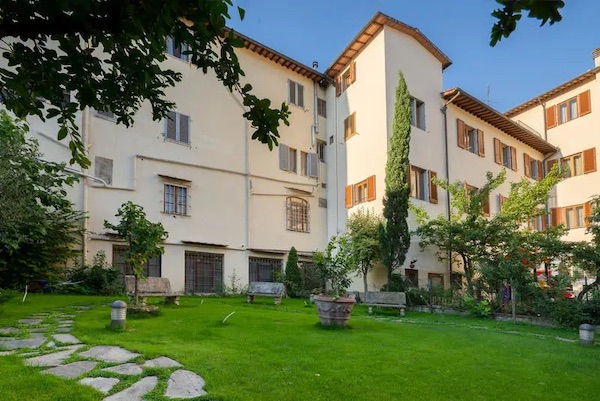 Archi Rossi Hostel
The Archi Rossi Hostel is our next hostel. It happens to be very conveniently located super close to the main train station in Florence, Firenze Santa Maria Novella. Archi Rossi Hostel kindly provides guests who book here with a free breakfast each morning, as well as walking tours and affordable dinners. There are laundry facilities conveniently on the property if you are in a pinch and need access to a washing machine.
There are many private room options at Archi Rossi Hostel, as well as female-only and mixed dorms. You can expect to be provided with clean bed linens and a storage locker for any personal items in your room, too. Make sure you take advantage of the tranquil garden and terrace if you do opt to stay here, also.
Hostel details
Address:
Via Faenza, 94R, 50123, Florence, Italy.
Guest rating:
4.5 out of 5.
Price per night:
from $23.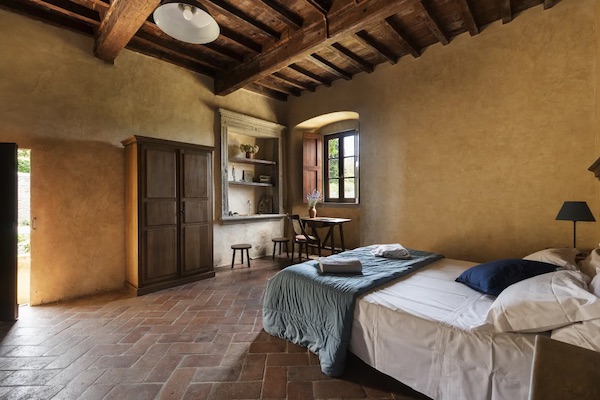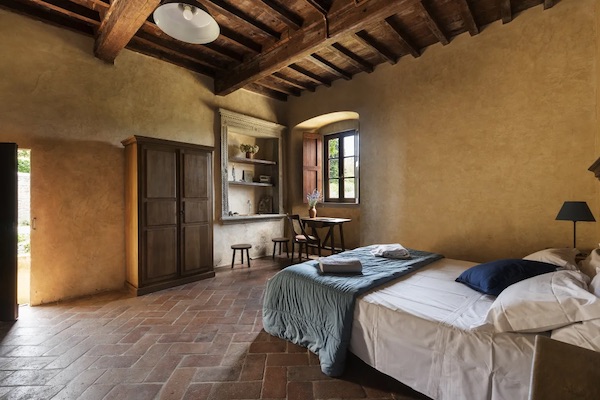 Ostello Del Bigallo (Bigallo Hostel)
The Ostello Del Bigallo, also known as the Bigallo Hostel is unique due to the fact that it used to be a monastery back in the 13th century! This is a large hostel with many room options, so there should be a style that suits your preferences. The rooms at Bigallo Hostel are rustic and cozy, and throughout the grounds, you will receive stunning sights of the Italian countryside.
There are multiple private rooms at Bigallo Hostel that include double beds, and even more dorm-style rooms that sleep between 5 and 8 guests. All of the rooms are provided with complimentary linens. You will be greeted each morning with a free breakfast to start your days here in Florence, too.
Hostel details
Address:
Via Bigallo e Apparita, 14 Bagno a Ripoli, Florence, Italy.
Guest rating:
4.8 out of 5.
Price per night:
from $22.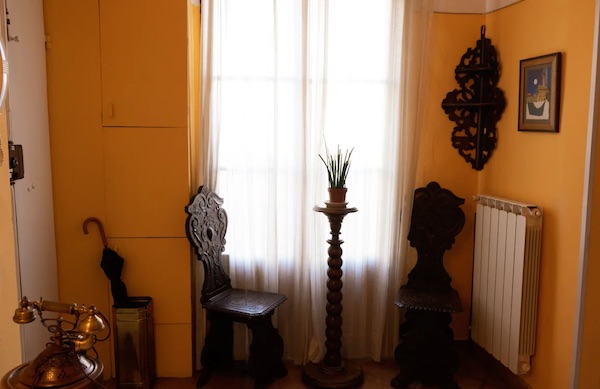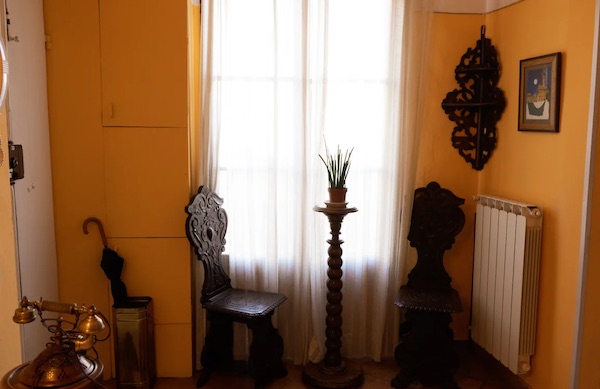 Emerald Fields
Lastly, the Emerald Fields Hostel is a spot that is in close proximity to the majority of must-see attractions in Florence. You can get to the train station after a quick walk, and the Piazza della Repubblica is just around the corner, too. The piazza is the perfect place to check out some tasty local cuisine and people watch if you enjoy that.
Private rooms with either double beds or twin beds are offered at Emerald Fields, as well as superbly clean shared dorms. All of the rooms have bed linens that are included, so that is one less thing you need to worry about. You will be able to get your day started with a free breakfast at this hostel. Plus, you can spend any extra free time lounging on the terrace.
Hostel details
Address:
Via Dell'Ariente 2, Florence, Italy.
Guest rating:
4.4 out of 5.
Price per night:
from $43.
This concludes our guide to the best hostels you can find in Florence, Italy. Hostels continue to be the very best way to keep with your budget, while also reaping the rewards of some phenomenal amenities.
About our Florence hostel recommendations
Are you a solo traveler looking for a private room? Or a backpacker traveling around in a group wanting to stay in a cheap and cozy dorm? Above you will find the best hostels in Florence for all your needs.
Please note, we only list hostels that have an aggregated guest review rating of at least 4.0 out of 5. We aggregate all reviews from different booking sites and other unbiased review websites. Hence, you can be certain all hostels listed above offer an excellent value-for-money stay in Florence.
Top 5 hostels in Florence
To summarize again, based on thousands of guest reviews, these are the best hostels in Florence:
Why you should be careful when booking the cheapest hostel available
The cheapest hostels available are typically not in a great location. If you want to go sightseeing or go for a night out in central Florence, you probably end up having to pay for public transport or a taxi to get there. So your stay could end up being more expensive compared to a stay in a central location. For first-time travelers, we recommend staying central anyway, but also for frequent visitors, it's probably worth it to pay a bit more to stay in a central location.
Another reason why you shouldn't stay at the cheapest hostel is that the people staying at the cheapest hostels are often not the people that can afford to travel like you. Because a very cheap hostel is often cheaper than renting a flat, these places tend to attract migrant workers or local misfits. That's probably not the crowd you want to hang out with, especially if you're a solo traveler looking for friends.
The third reason why you should avoid the cheapest hostels is safety. Some of the cheapest hostels don't check IDs, don't ask for signatures, or only accept cash at check-in. The hostel won't know who is actually staying there.
Lastly, the service at these hostels isn't great. For instance, if you choose to store your luggage, your bags will be unattended in a public space. It won't be recorded anywhere or tagged and stored in a locked room.
So, it's probably worth it to spend a bit more on your hostel stay in Florence.
And finally, a tip: always read the latest reviews of the hostel! All places have good and bad reviews, but the most recent reviews matter the most.
More Florence tips
Get to know the city even better and check out our other articles about Florence:
Best boutique hotels in Florence
Best luxury hotels in Florence