Florence's history, art, and architecture attract millions of visitors to the Italian city each year. Every year around 16 million travelers visit the Renaissance city for its amazing sights and sounds.
Florence is not the first city that travelers to Italy think of. Rome, Naples, and Milan are often the destinations travelers visit. However, Florence shouldn't be overlooked as its history, art, and architecture trump much of what can be found in Italy's other major cities.
If you want to find the heart of Italy's Renaissance art and architecture, don't miss out on Florence and these best areas to stay in the city.
San Marco
San Marco is Florence's budget-friendly neighborhood. Situated just a short walk away from the city center, you will find a vibrant area with an incredible atmosphere. San Marco may be budget-friendly, but it is filled with history, culture, and can't miss landmarks.
The area was once a poorer part of Florence. However, it has been transformed into a nicer neighborhood over the years. San Marco is a place to go for great food. If you want something unique and tasty, then head to the neighborhood and explore its food stalls. The Mercato Centrale is the place to start for some traditional foods and incredible authentic pizzas.
Culture vultures should head over to the Galleria dell'Accademia to see the works of Fra Angelico and Michelangelo's David. History lovers can see the burial site of the Medici at Capelle Medicee. Around these great landmarks, you will find some high-end accommodation. Travelers on a budget and backpackers can book hostel accommodation and Airbnb properties.
San Marco receives backpackers, creative types, and individuals passing through Florence. The constant flow of young people provides a vibrant, young atmosphere to the neighborhood.
Best place to stay in San Marco
Hotel Orto de' Medici. Address: Via S. Gallo, 30, 50129 Firenze FI, Italy.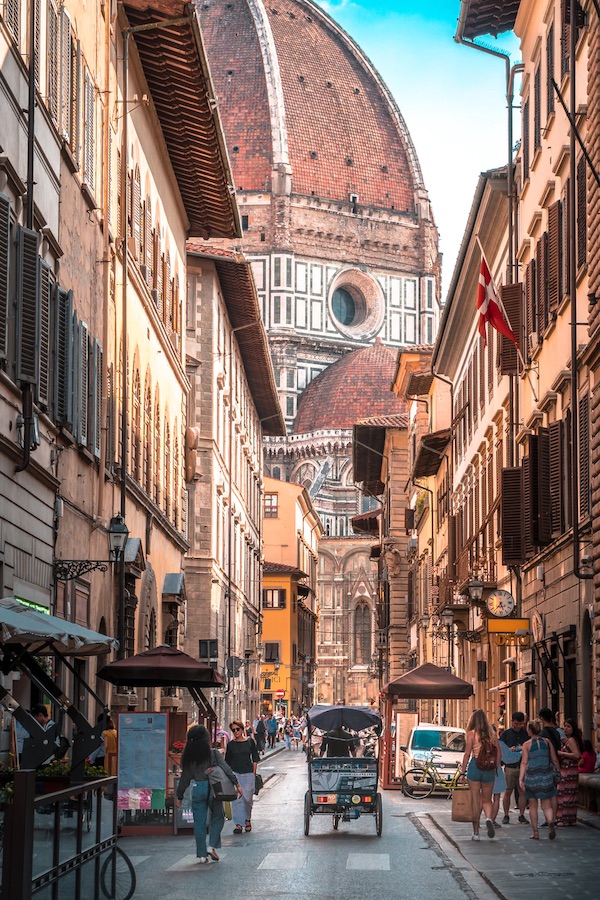 Duomo
Duomo is the heart of the city. The architecture in the city center around the Duomo is incredible and a real treat for culture vultures. If you love culture and history, then you must go to Florence; and if you want to be surrounded by it, then stay around the Duomo.
The city center is home to some of Florence's best landmarks including the Duomo, Museo Nazionale del Bargello, and Giotto's Campanile. The legendary Galleria Degli Uffizi can also be found in the Duomo neighborhood.
The area is a perfect place to wander just to look at the historical architecture. You can soak up the sights and sounds of the Duomo exploring its cobblestone streets. Have a seat in the piazzas or sip coffees at street-side cafes. The beauty and charm of the area can be found around every twist and turn. If you are a first-time visitor to Florence, the Duomo area is the place to stay to experience the best of the city.
Best place to stay in Duomo
Rocco Forte Hotel Savoy Florence. Address: Piazza della Repubblica, 7, 50123 Firenze FI, Italy.
Cheaper alternative:
Hotel del Corso. Address: Via del Corso, 1 nero/black, Uffizi, 50123 Florence, Italy.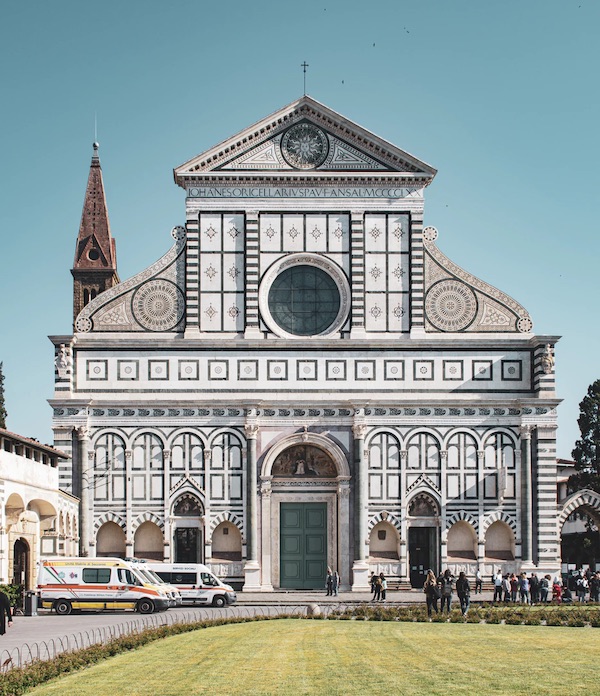 Santa Maria Novella
Families looking for a great place to stay should base themselves in Santa Maria Novella. Florence's main station is located in the area and travelers who arrive in the city via train will most likely begin their holiday in the neighborhood. The portion of Florence immediately next to the train station isn't very nice, as in most major European cities, so move away from the station to book your accommodation in Santa Maria Novella.
History buffs shouldn't miss the Piazza di Santa Maria Novella. It is a lovely area to sit and watch the crowds. The piazza is a great site for a small picnic lunch before entering the church located in the square to explore.
It won't be long while walking the streets of Santa Maria Novella that you will run into great boutiques. There are high-end boutiques selling the latest designer fashions as well as vintage stores. Why not grab yourself some vintage Italian-made clothes to take home with you? Scattered amongst the boutiques are cafes and little bars. Many of these have sidewalk seating allowing you to watch the world go by as you relax.
Restaurants in Florence specialize in Tuscan cuisine, which may be slightly different than the Italian food you have had back home. If you want a five-star hotel situated near other parts of Florence, then Santa Maria Novella is certainly the place to stay. Staying in the area also means you have access to Parc Delle Cascine, a glorious green space to jog, walk, or simply relax in.
Best place to stay in Santa Maria Novella
J.K. Place Hotel. Address: Piazza Santa Maria Novella 7, Santa Maria Novella, 50123 Florence, Italy.
Cheaper alternative:
Grand Hotel Minerva. Address: Piazza Santa Maria Novella 16, Santa Maria Novella, 50123 Florence, Italy.

Santa Croce
Santa Croce is the hip place to stay in Florence. It is located just north of the Arno River, which passes through the Italian city. The area is popular with locals as it receives fewer tourists than other parts of Florence.
Keep in mind that Florence is a very touristy town. Although the money that flows into the historic city earns residents a living, the mass amounts of tourism do get old. Therefore, citizens attempt to find a place to go to get away from the crowds.
The area is laidback and a relaxing place to visit. The neighborhood is the old Jewish quarter and it boasts a number of must-see attractions. Don't miss the Museo Nazionale del Bargello and Basilica di Santa Croce, which both house some of the most famous Renaissance sculptures and works by Italian masters in the world.
Although Santa Croce is a very cool place to go, accommodation remains reasonably priced. The bars and restaurants are a great place to spend an evening. You can get a well-priced hotel or Airbnb and spend evenings in the great bars and restaurants that dot Santa Croce.
Best place to stay in Santa Croce
Plaza Hotel Lucchesi. Address: Lungarno della Zecca Vecchia 38, Santa Croce, 50122 Florence, Italy.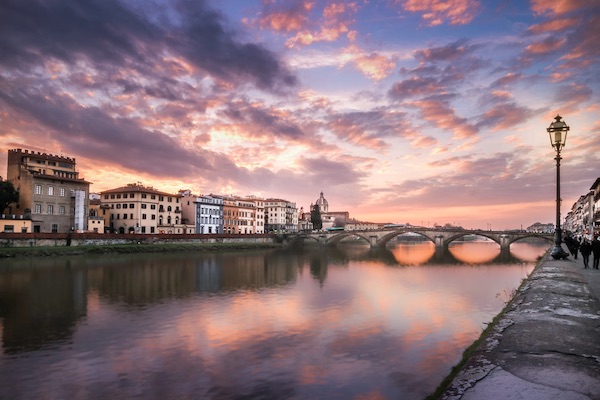 San Spirito and San Frediano
San Spirito and San Frediano are two Florence neighborhoods that combine to make one brilliant area to stay. The area has Florence's best nightlife. The bars and restaurants are top-notch and attract visitors from all over the Renaissance city.
You will find San Spirito and San Frediano on the southside of the Arno River. The area is vibrant and is off the beaten path for most tourists unless they know about the area before arriving. The two neighborhoods have gone through gentrification over the past few years. The money has made San Spirito and San Frediano cool with vintage shops, cool cafes, art galleries, and clothing boutiques.
High-end hotels and Airbnb accommodation can be found in the area. The district also has a variety of architectural must-sees and historic landmarks. The Basilica di Santo Spirito is well worth a stop by to explore.
Best place to stay in San Spirito and San Frediano
Hotel Palazzo Guadagi. Address: Piazza Santo Spirito 9, Santo Spirito, 50125 Florence, Italy.

Where travel critics stay in Florence
Want to know where travel critics from publishers like The New York Times, Frommer's, Fodor's and Lonely Planet stay in Florence? Check out our overview of all recommended hotels, hostels and B&Bs in Florence.
Budget
"Wedged between designer boutiques on Florence's smartest shopping strip, this hidden pensione is a fabulous mix of old-fashioned charm and value for money." — Lonely Planet.
Address: Via de' Tornabuoni, 7, 50123 Firenze FI, Italy.
Mid-range
"An elegant, unfussy hotel for people who want to see the cooler side of Florence. This renovated historic 'palazzetto' in the less-touristed Oltrarno neighborhood has just seven rooms, each decorated with different floral and botanical printed fabrics, antique decor, and funky-cool furniture." — CN Traveler.
Address: Via dei Serragli, 88, 50124 Firenze FI, Italy.
Luxury
"Michele Bönan, a Florentine architect, used midcentury furnishings and original photographs from the Ferragamo archives to create gorgeous 1950s-era interiors. The result is 34 rooms and suites worthy of interior design awards, and a lobby that feels like a sophisticate's living room." — New York Times.
Address: Lungarno degli Acciaiuoli, 4, 50123 Firenze FI, Italy.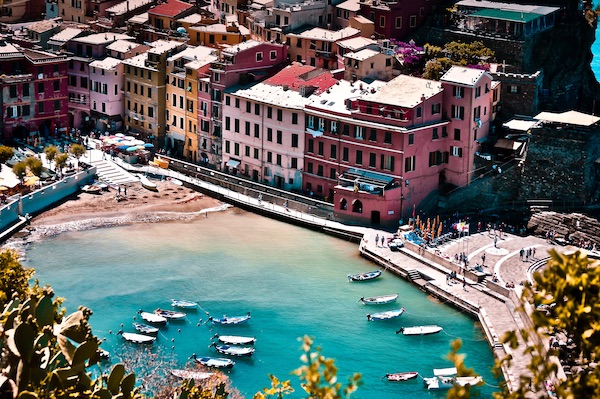 Best things to do in Florence
There are a lot of things to do in Florence and the surrounding areas, including day trips, attractions, museums, sightseeing tours and many other activities. Here's our list of 3 things you should definitely do when you're in and around Florence:
Florence: Uffizi Gallery Timed Entrance Ticket
Enjoy priority entry to Italy's greatest art treasures with a reserved entrance ticket to the Uffizi Gallery in Florence. See masterpieces by Michelangelo, Da Vinci, and Giotto, and spend as much time as you like gazing at Botticelli's "Birth of Venus." Price: $24. More info.
Cinque Terre Day Trip from Florence
Experience the UNESCO-listed Cinque Terre in one day with a guided tour through the five idyllic fishing villages of old-world Italy. Following the walking trails along the cliffs of the national park, you will see glorious views of this unspoiled stretch of the Italian Riviera. Price: $66. More info.
Florence: Timed Entrance Ticket to Michelangelo's David
Enjoy priority entry to one of Italy's top attractions with a reserved entrance ticket to the Accademia Gallery in Florence. Price: $24. More info.
Deciding where to stay in Florence
As you can see, there are a lot of things to explore, and deciding where to stay in Florence is important. Whether you stay in Duomo, San Marco, San Spirito & San Frediano, Santa Maria Novella or Santa Croce, all those neighborhoods are in good locations.
The atmosphere of the area, whether you travel for leisure or business, whether you travel with your family or friends, and proximity to the attractions you prefer to visit should probably be the deciding factors. Whatever your preference is, you'll have a great stay in Florence.
Check out our other guides about the best places to stay in Florence: