Athens is the ideal location for any eco-conscious traveler looking for a European city destination that is rich in ancient culture, has some of the best restaurants and bars, and is packed with exciting attractions and excursions. Athens is the beautiful historic capital of Greece and is known for its famous ancient Greek archaeological sites such as the Acropolis and the Temple of Olympian Zeus.
It has a stunning selection of eco-friendly hotels within its city center, allowing travelers to explore this precious city and enjoy wonderful Greek culture while staying in an environmentally-conscious hotel.
Read on to discover the top 5 sustainable hotels in Athens. These hotels are passionate about sustainability while offering comfort and luxury in one of the most invigorating cities in Europe.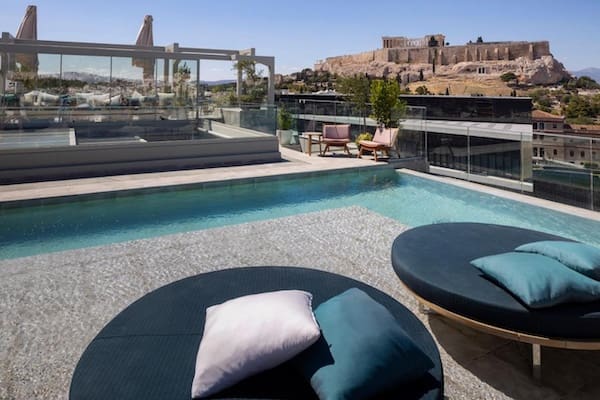 Coco-Mat Athens BC
Located in the high-end Kolonaki district, Coco-Mat Athens is a beautifully designed boutique hotel, situated near many wonderful bars and restaurants and a short distance to many of the famous tourist attractions, such as the Acropolis of Athens, and the National Museum of Contemporary Art.
The stylish aesthetic of the area is reflected within the decor of the hotel, which was designed by architect Emmanuel Lazarides, with simple yet elegant furnishings within all the rooms. Guests at the hotel can enjoy the Coco-Mat roof garden with spectacular views across the Athens skyline or take a stroll through the hotel's herb garden and marvel at the fresh produce and aromatic herbs.
The hotel also offers a brilliant breakfast buffet, perfect for fuelling up before a long day of sightseeing and shopping, and the in-house chefs prepare fantastic homemade Greek meals for lunch and dinner if you choose to dine at the hotel.
What makes Coco-Mat Athens sustainable
Coco-Mat is a holder of the Green-Key award, an award that recognizes excellence in the field of environmental and sustainable operations in the tourism industry, and is a sign that the hotel has made a significant commitment to follow the strict criteria set out by the Foundation for Environmental Education. The hotel is very conscious of the guest experience and its philosophy details how the hotel wishes to celebrate nature and authenticity.
Coco-Mat does this by furnishing all rooms with naturally made, vegan, and metal-free bedding and pillows, which guests can purchase to take home. Coco-Mat has removed all single-use plastics, replacing them with reusable glassware and any waste is correctly separated and recycled. The hotel actively reduces food waste and also grows its own produce in its herb garden. Coco-Mat also has a range of eco-friendly wooden bicycles, which guests can rent from the hotel to help reduce their carbon footprint as they take in the sights of the city.
Hotel details
Address: 
5 Falirou, Αθήνα, Athens, 11742, Greece.
Guest rating:
4.6 out of 5
Price per night:
From $125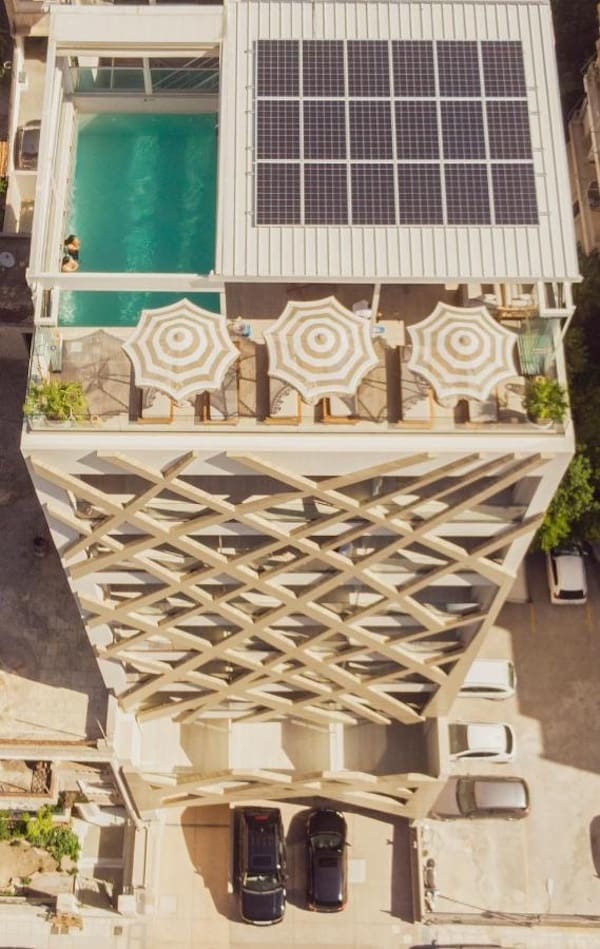 Green Suites Boutique Hotel
Green Suites Boutique Hotel is located approximately 15 minutes from the city center of Athens near many of the city's amazing tourist attractions. A quick journey on the public train line will take you directly into the historical center of Athens, where you can explore many of the popular sites such as the Acropolis Museum and the ancient sites of Greece.
The hotel has been decorated beautifully with sumptuous fabrics in neutral colors, allowing guests to relax in ultimate luxury. Larger rooms and suites offer guests private balconies or terraces and spectacular views of the city. Guests can also enjoy the rooftop bar and seasonal swimming pool, the stunning garden where you can enjoy breakfast, and the fully equipped gym, or a treatment at the spa. The hotel is near some great local restaurants and bars and the city center is a short journey away.
What makes Green Suites Boutique sustainable
The idea behind Green Suites Boutique was to create the most eco-friendly and environmentally conscious hotel in Athens and they fulfill this pledge by incorporating environmental practices into the hotel management and considering the environment within every detail.
The hotel has been built to conserve energy with double-glazed windows, carbon dioxide sensors, and LED lights throughout. An insulation layer was built into the building exterior to conserve heat, and the hotel uses photovoltaic systems such as solar panels to convert energy from the sun into electricity. Single-use plastic has been removed from the hotel, food waste is reduced, and all rooms have water-conserving toilets and showers.
Hotel details
Address: 
Mak Milan 8, Ano Patissia, Athens, 11144, Greece.
Guest rating:
4.5 out of 5
Price per night:
From $98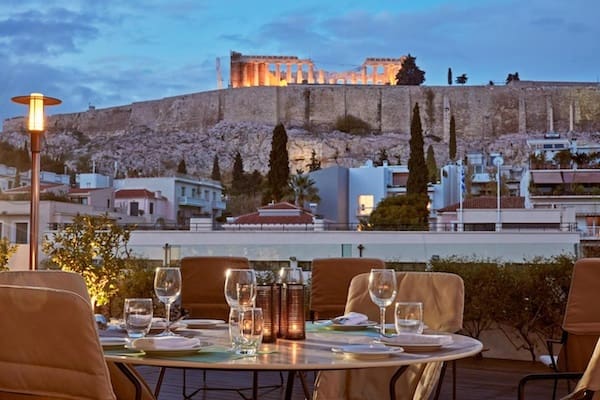 Herodion Hotel
Situated at the very foot of the Acropolis, the Herodion Hotel is a welcome retreat for anyone wishing to explore the city. With an attractive roof garden that boasts two hot tubs and a central location, close to the main tourist attractions and historic sites of Athens, the Herodian hotel is a perfect place for a Greek getaway.
Rooms at the Herodian are elegant, decorated with French fabric, and spacious with a minimalistic style. Guests can choose from double rooms with views over the Acropolis, exclusive suites with garden patios, or family-size apartments which are perfect for larger groups. The central location among many of Athens finest bars and restaurants makes a stay at this hotel very attractive, especially considering the sustainable efforts the hotel has made.
What makes Herodion Hotel sustainable
The Herodian hotel has made excellent efforts towards sustainability and creating an eco-friendly environment for its guests. Single-use plastic stirrers, straws, and bottles have been removed from the hotel and replaced with reusable alternatives. Toilets and showers throughout the rooms are water efficient and the hotel has its own green spaces such as the rooftop terrace and garden.
Within the rooms, ambient low-voltage lighting is used and bed linen is made from natural materials such as cotton and wool. The windows of the hotel are double-glazed to conserve heat and electronic technologies are used to reduce energy consumption. The hotel makes great use of natural lighting where possible, and energy-efficient LED bulbs are used everywhere else. The Herodian also ensures that locally sourced produce is used within the hotel's bars and restaurants supporting the local community and providing guests with an authentic Greek cuisine experience.
Hotel details
Address: 
4 Rovertou Galli Street, Athens, 11742, Greece.
Guest rating:
4.4 out of 5
Price per night:
From $95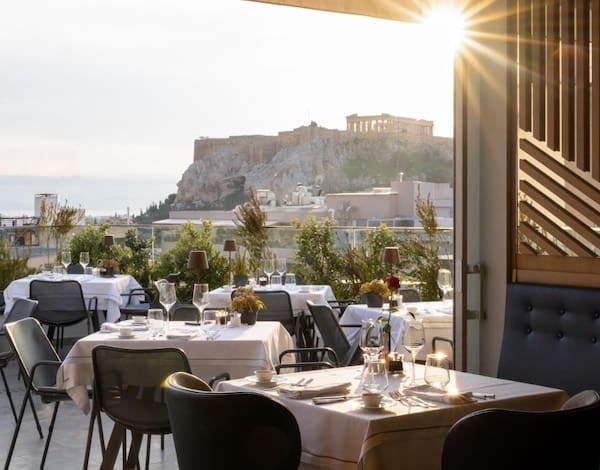 Electra Hotel
Excellently located between the Acropolis and the botanical National Garden lies the Electra Hotel. Surrounded by some of Athens's finest restaurants, bars, and shopping, you can see why the Electra Hotel is so popular with travelers looking to explore the ancient city of Athens.
The Electra Hotel was designed in 1959 by the modernist architect Patroklos Karantinos and has been renovated to include many modern amenities whilst retaining its glamorous aesthetic. Rooms in the hotel are spacious and decorated classically with dark wood furniture and thick draping curtains. The marble bathroom adds a sophisticated feel to this iconic hotel in the middle of the city.
One of the main attractions of this beautiful hotel is the expansive rooftop bar and restaurant area, which includes a small swimming pool and dramatic views over Athens. It is the perfect place to enjoy an evening cocktail whilst viewing the Acropolis lit up at night. Guests can also make use of the wonderful spa and sauna, hammam, steam room, and fitness center. The hotel also has two dining areas both located on the roof terrace as well as a ground-floor bistro which is great for grabbing a coffee before a day of sightseeing.
What makes Electra Hotel sustainable
Sustainability is at the heart of the Electra Hotel group and the Electra has been awarded the Green Key award and has signed the UNESCO sustainable travel pledge to make commitments to preserving and protecting the environment. Recycling and reducing waste are very important at the Electra hotel, which recycles cooking oil, paper, and any other recyclable waste while encouraging its guests to recycle where possible by providing appropriate recycling bins.
The hotel does not use single-use plastics such as stirrers, straws, or water bottles and these have been replaced by reusable eco-friendly alternatives. The hotel uses electronic technologies throughout such as motion-controlled sensors to reduce energy consumption and has installed LED energy-saving light bulbs in all its rooms.
Hotel details
Address: 
5 Ermou, Athens, 105 63, Greece.
Guest rating:
4.4 out of 5
Price per night:
From $120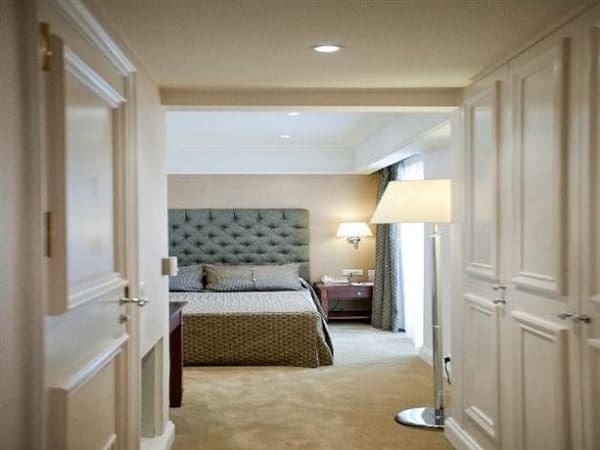 Hera Hotel
The splendid Hera Hotel is located in the heart of Athens very close to the Acropolis and within walking distance from archaeological sites such as The Temple of Olympian Zeus, and the Temple of Kronos and Rhea. This cozy Hotel only has 38 rooms spread over five floors and is decorated classically with dark wood furniture, warm-toned decor, and modern amenities. Rooms vary from cozy deluxe doubles to larger junior suites with a view across the city to the famous Acropolis.
The Peacock restaurant, located on the roof garden, offers excellent fine dining with idyllic views over the city, and also serves an excellent breakfast buffet for guests preparing for a day exploring the cultural sights and attractions that surround the hotel. The hotel exudes a sense of sophistication and elegance and offers a calming escape from the hustle and bustle of the city of Athens outside.
What makes Hera Hotel sustainable
Sustainability has always been an important factor in the business strategy of Hera hotels, with the hotel group planning its activities to ensure the hotel is eco-friendly and mindful of the environment. The hotel has made excellent progress in becoming a sustainable and eco-friendly hotel by removing the use of plastics where possible and replacing them with reusable alternatives, reducing food waste within the hotel complex, and recycling any non-food waste, such as paper and plastics where possible.
Hotel details
Address: 
Falirou 9 Acropoli, Athina 117 42, Greece.
Guest rating:
4.5 out of 5
Price per night:
From $112
How we select the best eco-friendly hotels in Athens
We are a travel research company. We check a lot of details and guest reviews before making a selection. First, we check which hotels follow eco-travel principles. Are they recycling their waste? Do they work with local communities? Are they using renewable energy? Are they not using single-using plastics?
Secondly, we check guest reviews across multiple websites and only list hotels with an aggregated review rating of at least 4 out of 5. So you can be confident you will stay at an excellent eco-friendly hotel in Athens.
Sustainable travel is the key to enjoying a responsible and meaningful trip. You can make a difference in the environment and the communities you visit with the right sustainable travel tips. From packing light to choosing eco-friendly transportation and accommodations, there are plenty of ways to reduce your environmental impact.
More Athens guides
Get to know the city even better by reading our other articles about Athens: