Singapore is an enchanting and modernized city, bustling with colorful lights, century-old temples, and luscious green gardens. It has emerged to become one of the world's most prosperous countries, and a model for developing and striving nations. Whether you are coming to experience the nightlife, indulge in luxurious shopping opportunities, or step into an exciting new world of experiences, Singapore is the perfect destination.
Singapore has gone to great lengths to adapt and maintain a sustainable city. Over 95% of the city is generated by natural gas and is ranked as the most sustainable city in Asia. Between a large amount of green space, clean air, a hospitable living environment, and a diversified water supply, it's no surprise the tourism and hotel industry has hopped on the eco-friendly trend as well.
Environmentally friendly hotels and accommodation options are located all over the city of Singapore. Travelers who wish to respect the environment and reduce their carbon footprint as much as possible can be rest assured, knowing Singapore will have ideal sustainable hotel options.
Here are 5 of the most sustainable and eco-friendly hotels located in the heart of Singapore.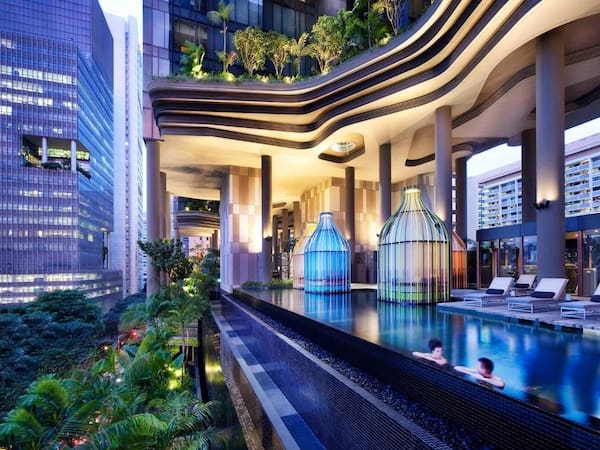 Parkroyal on Pickering
The Parkroyal on Pickering is an ideal accommodation choice for luxury, sustainability, and convenience. Sitting in the vibrant district of Chinatown. The property features a rejuvenating escape away from all the action and excitement happening around the corner. Sustainability and well-being and prime focus on Parkrpyal Pickering, giving guests an overall relaxing, reassuring, and hospitable stay during their time n Singapore.
Located in Chinatown, Parkroyal Pickering is sitting on a street bursting with colors and cultures. Boutique shops and cafes, colonial-style houses, and an array of dining options surround the area, in addition to Sri Mariamman Temple, the oldest Hindu temple in Singapore. At night, head to the waterfront at Clarke Quay and Boat Quay for a host of entertainment. The hotel features an onsite wellness facility, restaurants, and lounge areas. Rooms come fully stocked with amenities and personal catering services if requested, large windows and terraces, stocked private bathrooms, work, and seating areas, and hospitable staff, blended with a modern and homey atmosphere.
What makes Parkroyal on Pickerington sustainable?
Known as Asia's "Leading Green Hotel,' Parkroyal on Pickering is a concept of a hotel within a garden. Every inch the open and airy with greenery, including mini-waterfalls. The hotel harvests rainwater for water conversation, in addition to having open windows allowing more sunlight, so less use of energy. The restaurant onsite has a fully plant-based menu and has eliminated the use of all single-use plastic products.
Hotel details
Address: 
3 Upper Pickering Street, Chinatown, 058289 Singapore, Singapore.
Guest rating:
4.4 out of 5
Price per night:
From $250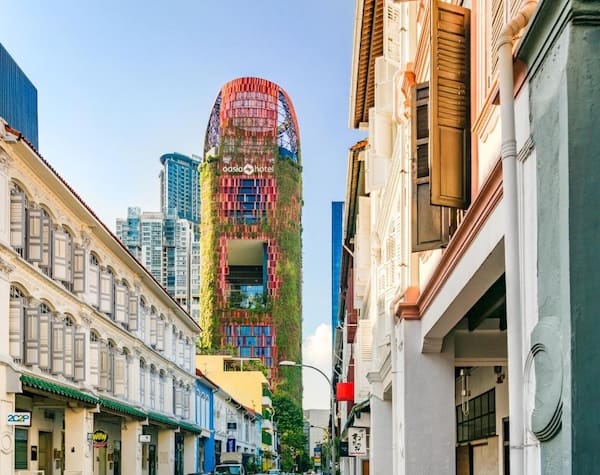 Oasia Hotel Downtown
Oasia Hotel Downtown in Singapore offers guests a chance to unwind from their travels and feel the day's stress melt away. Begin your journey to wellness at Oasia, with everything needed to completely refresh. Escape the hectic city life the moment you set foot in Oasia's peaceful and rejuvenating surroundings. Have a moment to yourself and experience a stay that truly invigorates you.
Located in the center of Singapore, Oasia Hotel Downtown takes you away from the hectic city life, but never too far away from the city's conveniences. It is within walking distance of the Singapore Flyer, Gardens by the Bay, MRT train station, and various shopping and dining opportunities. From rooftop pools to gyms, spas, restaurants, and exclusive lounges, there are always perfect spots for relaxation, exercise, or work in Oasia Hotel. Rooms feature all amenities and services featured in luxury hotels, in addition to spacious bathrooms with tubs and lounge areas for exclusive guests.
What makes Oasia Hotel Downtown sustainable
The Oasia Hotel Downtown is eco-friendly and sustainable, and has been named the "Best Tall Building Worldwide." The hotel connects the green to the cityscape, reduces the use of energy with open spaces and big windows, and is cooled by an efficient chilled water system. Additionally, a large green lawn is on-site for guests to relax, meditate and practice well-being rituals.
Hotel details
Address: 
100 Peck Seah Street, Chinatown, 079333 Singapore, Singapore.
Guest rating:
4.2 out of 5
Price per night:
From $190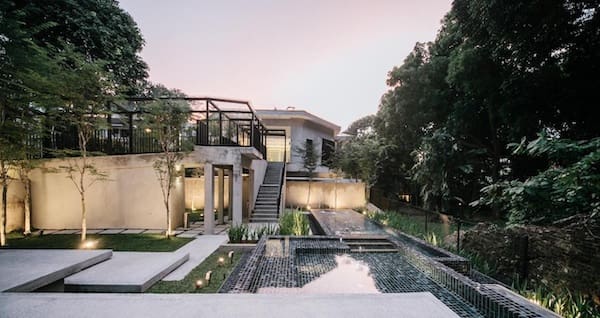 Lloyd's Inn
Lloyd's Inn is where nature and architecture merge to form a timeless, underrated space, with an alluring and inviting atmosphere. The boutique hotel offers guests a tranquil experience, acknowledging that all travelers are different, but that we all respect the same space, light, texture, and convenience. Sitting in the heart of the city surrounded by exciting action, serenity and rejuvenation await within the walls of the charming Lloyds Inn.
Located in Somerset, Lloyds Inn is conveniently located within walking distance of public transportation systems that can take you anywhere in the city, as well as various restaurants, attractions, and a lot of shopping facilities. The Inn features various amenities onsite, including a relaxing garden and dipping pool, rooftop bar and terrace, 24/7 hospitality, and outdoor lounge. The design is minimal and sleek, offering a modern and sharp image. Rooms are fully air-conditioned with private bathrooms, a patio/terrace, smart TV, high-speed internet, and complimentary breakfast each morning.
What makes Lloyd's Inn sustainable
Lloyds Inn is sustainable by promoting the practice of minimalizing and respecting what nature has to offer. Plants are scattered along the site, and large airy windows allow for east admiring. The windows and open spaces allow for solar energy usage and the reduction of light bulbs, as well as a cooling system onsite for reduced chilling.
Hotel details
Address: 
2 Lloyd road, 239091 Singapore.
Guest rating:
4.0 out of 5
Price per night:
From $150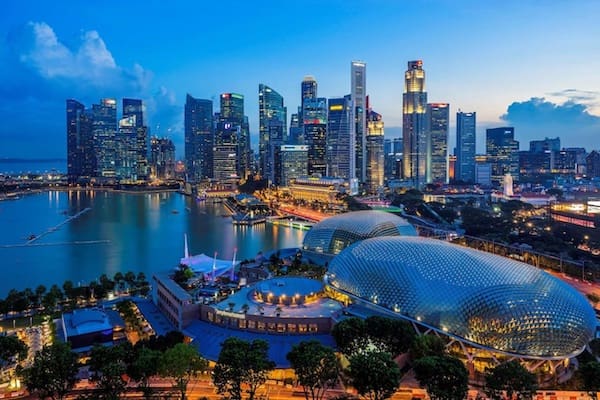 Grand Hyatt Singapore
The Grand Hyatt is a luxury 5-star accommodation in Singapore, and an ideal place to rest your head after a busy day in the city. The hotel takes pride in being a natural and sustainable oasis, offering fine dining, rejuvenation, and upscale services and hospitality. Certified a GBAC STAR, the Grand Hyatt is the ideal place to maximize your Singapore experience.
Located in the center of entertainment on Orchard Road, shopping centers line the surrounding streets, in addition to restaurants, attractions, and some of Singapore's best sights. The Grand Hyatt features everything the luxury facility is known for; Michelin-style restaurants, elegant bars and cafes, a fitness center, spa, and massage services, personal in-room services, swimming pools, lounge areas, and private areas for supreme Grand Hyatt guests. Rooms can be skyline, garden, or pool views with selected balconies, large windows, and spacious areas. They come equipped with fully stocked private bathrooms with amenities, free wifi, television, work areas, and classy designs.
What makes the Grand Hyatt sustainable
The Grand Hyatt is sustainable for being a world leader in vegan and plant-based foods and recipes. The house Beyond Burger and Justeggless Eggs, for a new and improved spin of=n the vegan diet. Additionally, all food waste is 100% recycled and converted into electricity, paper, and energy.
Hotel details
Address: 
10 Scotts Road, Orchard, 228211 Singapore.
Guest rating:
4.2 out of 5
Price per night:
From $220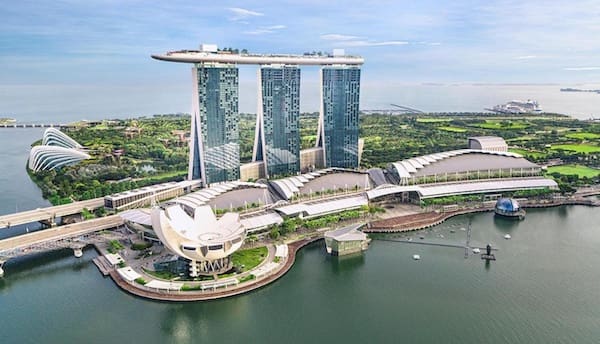 Marina Bay Sands
Marina Bay Sands allows guests to luxuriate in excellence and experience the influence of the city. The hotel offers unparalleled views and unforgettable sensory experiences, lighting every aspect of your trip. Marina Bay Sands illuminates the magic and luxury of Singapore with elegance, style, and sustainability.
Located in the heart of the city, Marina Bay Sands is a destination in itself. Almost anything you can find in Singapore, you can find in Marina Sands. Indulge in cuisine at over a dozen bars and restaurants, party the night away on the roof and in discos and nightclubs, and relax in a luxury onsite spa with body and massage services. Guests can experience an observation deck, museum, luxurious shopping facilities, fitness center, infinity pool, lounges, casinos, and special features and attractions. Rooms are equipped with skyline views, seating areas with workspace and free wifi, private bathrooms fully stocked, flat screens televisions, and in-door dining services. Suites are also available to upscale your stay even more.
What makes Marina Bay Sands sustainable
Marina Sands isn't just luxurious, but also sustainable. The biggest infinity pool in the world conserves and saves the waste of water, and large windows have eliminated the use of single lightbulbs. The hotel boasts an Intelligent Building Management System, controlling and conserving, lighting, heating, and water. All lifts on the property are able to save 40% of energy by using regenerated drives.
Hotel details
Address: 
10 Bayfront Ave, Singapore 018956.
Guest rating:
4.6 out of 5
Price per night:
From $358
How we select the best eco-friendly hotels in Singapore
We are a travel research company. We check a lot of details and guest reviews before making a selection. First, we check which hotels follow eco-travel principles. Are they recycling their waste? Do they work with local communities? Are they using renewable energy? Are they not using single-using plastics?
Secondly, we check guest reviews across multiple websites and only list hotels which have an aggregated review rating of at least 4 out of 5. So you can be certain you will be staying at an excellent eco-friendly hotel in Singapore.
Sustainable travel is becoming increasingly popular and important as we strive to reduce our carbon footprints. There are many easy ways to reduce your impact while traveling, from choosing eco-friendly accommodations to respecting the local wildlife. Here are some of the most important tips for sustainable travel.
More Singapore recommendations
Get to know the city even better by reading our other articles about Singapore: