Singapore is an exciting city-state located at the end of the Malay Peninsula. It has 64 different islands, but most of the population is concentrated in the city on its largest island's southern end. It has a very diverse population with Chinese, Malay, and Indian cultural influences.
The city is a trendy tourist destination, attracting over 18.5 million travelers annually. People love its slightly futuristic feel, world-class shopping and dining, and beautiful sights. Wandering around Singapore, you'll see impressive architecture like the unique Helix Bridge over Marina Bay or Chinatown's traditional buildings. Singapore is also very well-known for its iconic gardens and the world's largest indoor waterfall. The best places to soak up all of these views are at the world's largest observation wheel and the SkyPark Observation Deck at the Marina Sands Resort Complex.
If you plan on visiting Singapore, here are the five best hostels to stay at.
Backpacker's Hostel at the Little Red Dot
The Backpacker's Hostel at the Little Red Dot is located between two famous tourist districts, Kampong Glam and Little India. The bus station is only a minute away, and the subway station is only 5-7 minutes away. You can even walk to the beautiful Marina Bay Sands within 30 minutes.
Rooms here are dorm-style, and there is a large common room for guests. The facilities are air-conditioned, which helps in the hot and humid climate. The hostel has complimentary Wi-Fi, airport shuttle service, coffee and tea, bed linens, adapters, and maps. If you need help planning your visit, the staff are happy to help and can offer discounted tickets.
Visitors love the attentive staff, airport shuttle service, and convenient location.
Hostel details
Address: 125 Lavender Street, Singapore.
Guest rating: 4.3 out of 5.
Price per night: from $12.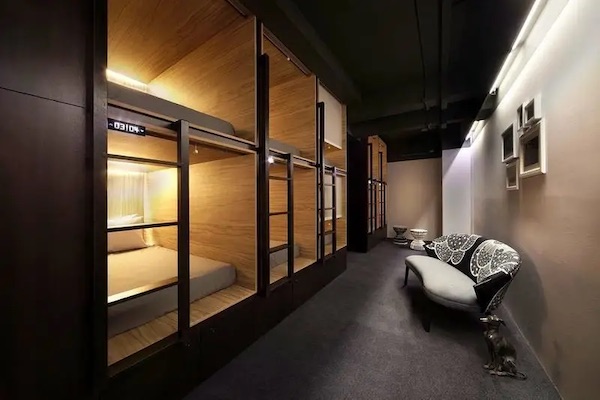 The Pod Boutique Capsule Hostel
The Pod Boutique Capsule Hostel is located at the edge of the Singapore Central Business district. Its location in the historic quarter, Kampong Glam, is filled with boutiques, cafes, and dining. You can easily access Hajji Lane, one of Singapore's best shopping districts, from this hostel.
The air-conditioned facilities at this hostel are sleek and ultramodern. Accommodations are pod-style, and there are female-only rooms. Each pod has a reading light, folding table, clothing rack, duvet, luxurious sheets, and power socket. Toilets and bathrooms are self-contained in cubicles for maximum privacy. A hot breakfast, beverages, dry cleaning, and self-service laundry are all complimentary. Local calls and Wi-Fi are also free.
Guests are impressed by the prime location, delicious breakfast, and cleanliness.
Hostel details
Address: 289 Beach Road 03-01, Singapore.
Guest rating: 4.4 out of 5.
Price per night: from $33.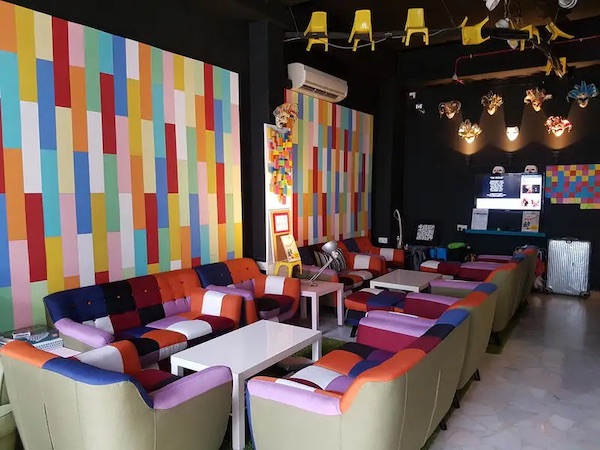 The Bohemian Chic Hostel
The Bohemian Chic Hostel is located in Chinatown within walking distance of Clarke Quay, Boat Quay, and the Marina Sands. It is also minutes away from the Singapore City Gallery and Buddha Tooth Relic Temple. This hostel offers free walking tours for visitors or city maps for independent travelers.
The hostel's décor is modern and artsy. Guests can enjoy the common room and use the meeting facilities. The air-conditioned rooms are either mixed or female-only-style dorms. Bunks include a safe, reading light, linens and towels, and blackout curtains. Breakfast, Wi-Fi, and airport transfers are complimentary for guests. Other services offered include a 24/7 reception desk, laundry facilities, and housekeeping.
Visitors enjoy the exciting neighborhood, welcoming staff, and spacious rooms.
Hostel details
Address: 40 Mosque Street, China Town, Singapore.
Guest rating: 4.4 out of 5.
Price per night: from $19.
Tree in Lodge
The Tree in Lodge is a centrally located hostel in the Kampong Glam or the Malay Muslim district. You can easily access all of Singapore's sights from this hostel. It is an environmentally-friendly hostel that has won the "HOSCAR Award" twice for Best Hostel in Singapore.
Its air-conditioned rooms are equipped with curtained bunk beds. Each guest has a reading light and locker. Females can also stay in female-only dormitories if they prefer to. There is a common area on-site with internet access and books. Amenities include free Wi-Fi, city maps, linens, city-tours, and breakfast. Guests have access to the washing machines, fridge, and freezer.
This hostel's high ratings are due to its friendly owners, excellent value, and comfortable facilities.
Hostel details
Address: 5 Jalan Pinang, Singapore.
Guest rating: 4.6 out of 5.
Price per night: from $24.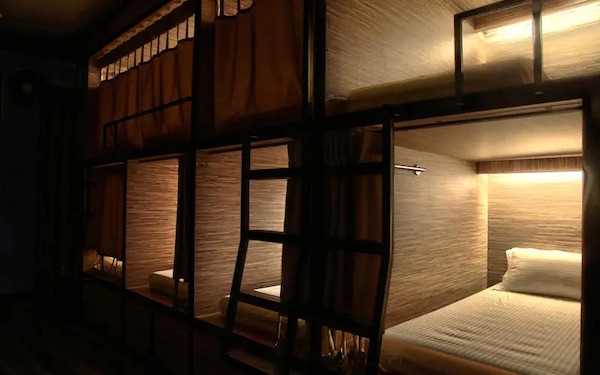 Dream Lodge
The Dream Lodge is on the outskirts of the Central Business District on Lavender Street. There are three MRT stations within walking distance of the hostel that can take you anywhere in town. You can find trendy cafés and historically and culturally significant sights in the hostel's vibrant neighborhood.
The hostel has a cozy and modern design. Sleeping arrangements are pod-style in air-conditioned rooms. Each pod has a curtain, reading light, two pillows, a clothing rack, an international power socket, and lockers. Guests can enjoy the communal area and participate in the hostel's book exchange. The Dream Lodge offers a complimentary breakfast, Wi-Fi, and vending machines.
Guests enjoyed their stay because of the great location, spotless rooms, and comfortable pods.
Hostel details
Address: 172 Tyrwhitt Road, Singapore.
Guest rating: 4.7 out of 5.
Price per night: from $23.
About our Singapore hostel recommendations
Whether you're a solo traveler looking for a private room, or a backpacker traveling around in a group wanting to stay in a cheap and cozy dorm, above you will find the best hostels in Singapore for all your needs.
Please note, we only list hostels on our website that have an aggregated guest review rating of at least 4.0 out of 5. We aggregate all reviews from different booking sites and other unbiased review websites. Hence, you can be certain all hostels listed above offer an excellent value-for-money stay in Singapore.
Check out our other articles about Singapore:
Best boutique hotels in Singapore