Florence, the heart of Tuscany, Italy, is jam-packed with architectural wonders, art, and cuisine. It houses some of the most famous museums and galleries globally. The city has no shortage of architectural wonders, art, and traditional cuisine.
Visitors flock to Florence because of its cultural significance. Just walking around the city, you might stumble upon the iconic Duomo at the Cathedral of Santa Maria del Fiore and the Baptistery. You might even hike up the towering Campanile (bell tower) for some superb views.
Other significant sights you might see include the Ponte Vecchio (Old Bridge) and the Boboli Gardens. Art lovers marvel at the collections housed within the Uffizi Gallery and the Galleria dell' Accademia. Of course, you'll have to try a delicious Tuscan steak and a scoop of gelato (which originated there) while you're there.
If you want to visit, here are the five best boutique hotels in Florence.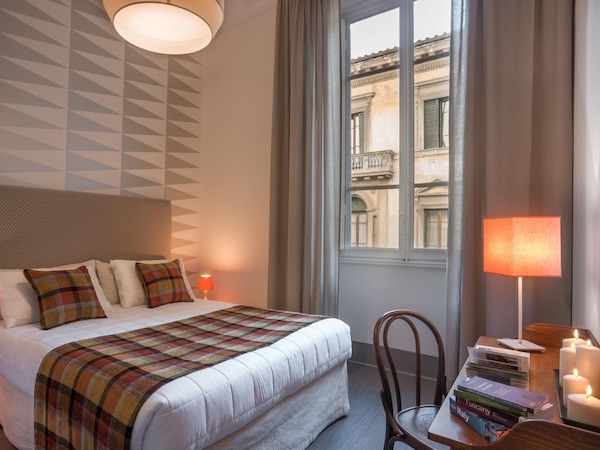 Alfieri9
For an intimate hotel with a 19th-century flair, stay at Alfieri9. It has an excellent location in the Sant'Ambrogio district of Florence. The Museo dell' Accademia, Uffizi Galleries, and the Palazzo Vecchio are only a short walk from the hotel.
This eight-room hotel successfully manages to be fresh, elegant, and homey at the same time. Alfieri 9 has three types of accommodations, including classic, superior, and junior suites. All rooms have excellent attention to detail in their design, with thoughtful decorative touches in every space. There's a flat-screen TV, WiFi, an air conditioner, and a minibar to make guests feel at home and comfortable.
This hotel has high ratings due to its new facilities, helpful staff, and accessibility to attractions.
Hotel details
Address: 
Via Vittorio Alfieri 9, San Marco – Santissima Annunziata, 50121 Florence, Italy.
Guest rating:
4.6 out of 5
Price per night:
From $124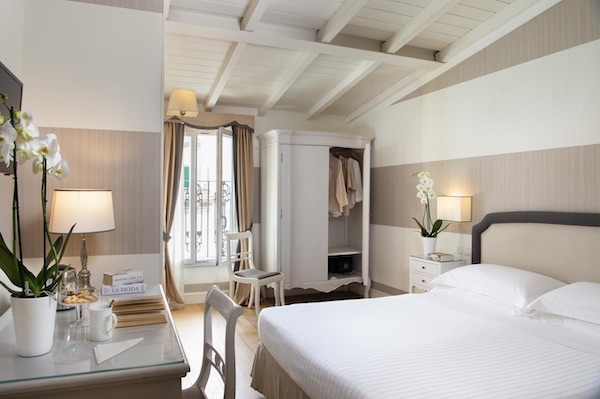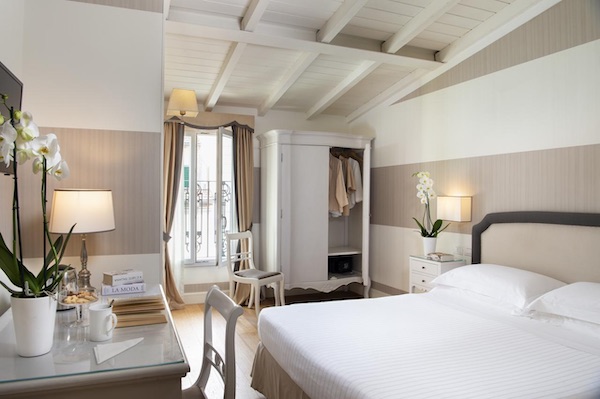 Hotel Rapallo
Hotel Rapallo is a simple and elegant boutique hotel, offering a beautiful view of Florence and its surroundings. You can discover it in the heart of the historic center, just 15-minutes on foot from the Duomo and other major attractions.
The hotel has 26 chic rooms and suites that are well-designed and spacious. Rooms are sound-proofed and air-conditioned for maximum comfort. Some rooms even have private balconies or access to terraces for some unparalleled views of the Fiesole hills and Florence's rooftops. Just downstairs from the rooms are the breakfast parlor and hotel bar. If you need help arranging your visit, the concierge can reserve museum and art gallery visits and private tours.
Guests love its location, hospitality, and elegance.
Hotel details
Address: 
Via Santa Caterina d'Alessandria 7, 50129 Florence, Italy.
Guest rating:
4.5 out of 5
Price per night:
From $90

Ad Astra
Located in the ultra-Florentine Oltrarno district, this 18th-century palazzo is the perfect Italian getaway. You don't need to leave your accommodation for stunning views. Europe's most extensive private garden is in your backyard!
This small fourteen room hotel has plenty of old-world charm. You can find chandeliers, frescoed ceilings, and glossy wooden floors throughout the Ad Astra. After an exhausting day of exploration, you can soak your tired feet in the freestanding claw-foot bathtub that every room offers.  Breakfast is downstairs on the terrace. You can find an honesty bar in the salon with excellent wine and spirits. You take these drinks out to the balcony and enjoy the breathtaking views.
Visitors enjoy the spectacular gardens, gorgeous rooms, and relaxing tub.
Hotel details
Address: 
Via del Campuccio, 53, 50125 Firenze FI, Italy.
Guest rating:
4.9 out of 5
Price per night:
From $178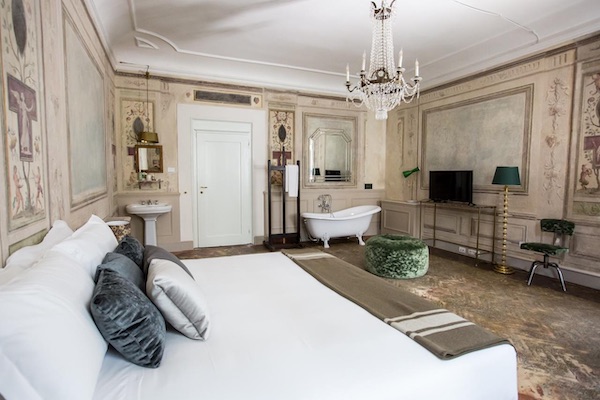 Oltrarno Splendid
This ornate bed and breakfast boutique hotel offers visitors a unique Florentine experience. Its location is in a charming artistic neighborhood by the River Arno. While its setting skews more local, all of the major attractions are just a stone's throw away.
Each of its fourteen rooms is unique at Oltrarno Splendid. A local design team thoughtfully curated everything in the rooms, incorporating pieces from frequent antique-market visits into the decoration. Breakfast is a delicious spread of croissants, cakes, and charcuterie served in the main salon. There is an honesty bar in the breakfast room to order Tuscan wine, drink coffee and tea, or enjoy the complimentary cake.
Aspects guests love about this hotel include the restored decor, cool neighborhood, and unique experience.
Hotel details
Address: 
7 Via dei Serragli, 50125 Florence, Italy.
Guest rating:
4.7 out of 5
Price per night:
From $145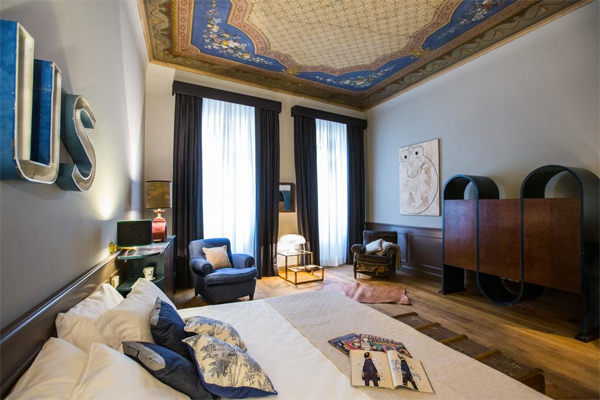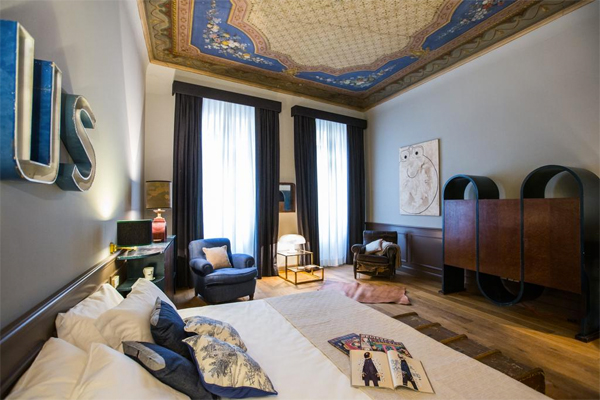 Soprarno Suites
In the heart of the historic neighborhood in Florence is a small boutique guest house called the Soprarno Suites. If you want to reach all of Florence's top sights while enjoying a beautiful hotel, this is a great choice. The Ponte Vecchio is just around the bend within five minutes of this accommodation.
This spectacular 16th-century palazzo has ten stylish rooms. Each room is unique – full of character and artistic details.  In the open kitchen, you'll find a delicious breakfast spread each morning before you set out on your adventure. If you need help with your itinerary, staff members are happy to point out hidden gems and popular sites.
The incredible design, central location, and friendly staff are guest favorites.
Hotel details
Address: 
Via Maggio, 35, 50125 Firenze FI, Italy.
Guest rating:
4.8 out of 5
Price per night:
From $178
About our boutique hotel recommendations in Florence
We are a travel research company. We help you discover the best boutique hotels in Florence by researching the internet for you. It's not just our opinion, it's the opinion of many travelers who have been there before you. We make it easy for you to find out about cool design hotels and unique design hotels in the city. Some of them might be so romantic you might not want to leave your room.
Please note that we only list hotels with an aggregated guest review rating of at least 4.0 out of 5. We aggregate all reviews from different booking sites and other unbiased review websites. Hence, you can be certain all hotels listed above offer you a great stay in Florence.
Best price guarantee
Get the best deals and prices for your stay in Florence with Booking.com and Hotels.com! They offer price matching, which means you'll be getting the lowest price available online, guaranteed! If you find a cheaper offer on another website for the same hotel room at least 24 hours before check-in, contact them to claim a refund of the difference.
Top 5 boutique hotels in Florence
Let's quickly summarize this guide. Based on thousands of guest reviews and tips from travel experts, these are the best boutique hotels in Florence:
More Florence tips
Get more great content like the guide above! Check out these other articles about Florence: