Seattle, Washington is one of the most beautiful and iconic cities in all of the United States. It grows in popularity among travelers each year. If you are thinking of visiting Seattle, a hostel might be a great option to consider staying in when booking your trip. Today, we are going to learn a bit about Seattle and a few of the very best hostel accommodations in this area.
Seattle is located on what is known as the Puget Sound in Washington. The city is encircled by glistening water, hordes of pine forests, and towering mountains in the distance. Mount Rainier is one of the most profound mountains in the entire Pacific Northwest. It can easily be seen from Seattle on a nice clear day.
While Seattle does have its fair share of rainy days and gloomy weather, the city is also known for having some of the most gorgeous weather in the late spring and summer months. Another main reason so many individuals love Seattle is due to the fact that it is such an inclusive and friendly place. It's also extremely dog-friendly.
The city of Seattle is home to an exquisite food scene. You can rest assured that you will have no issues finding some delightful places to eat during your trip. Seattle is also famously known for its countless phenomenal coffee shops. The first Starbucks ever can be found here in this lovely city.
Lastly, do not forget to get a good glimpse of the iconic Space Needle. It's arguably one of the most well-known landmarks in the entire country.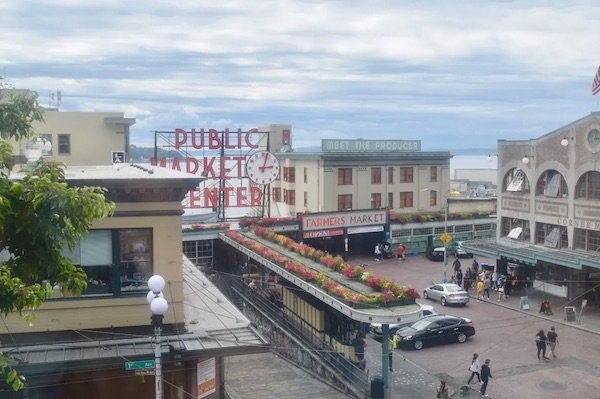 Green Tortoise Seattle Hostel
The next hostel on our list is the Green Tortoise Seattle Hostel, which is located in one of the very best spots possible in all of Seattle. The Green Tortoise is found right next to the Pike Place Market, which is a must-see place when you are spending any time in this city. This hostel is able to provide free breakfasts consisting of oatmeal, fruit, eggs, and coffee to its guests.
You have the choice at the Green Tortoise to opt for a shared room with bunk beds, or private rooms are offered here as well. Linens for your bed are kindly provided, and you will be set up with a reading lamp, outlet, fan, and privacy curtain to keep you as comfortable as possible here.
Hostel details
Address:
105 1/2 Pike Street, Seattle, USA.
Guest rating:
4.6 out of 5.
Price per night:
from $33.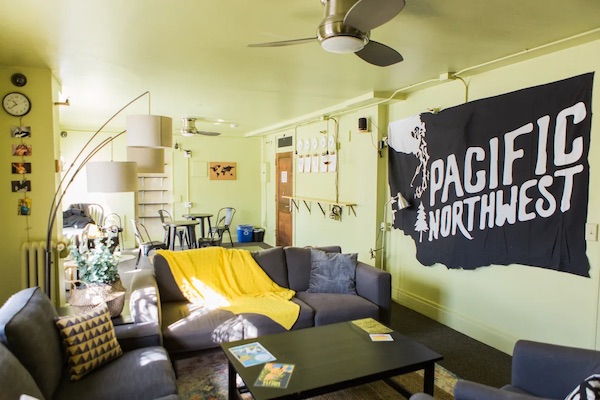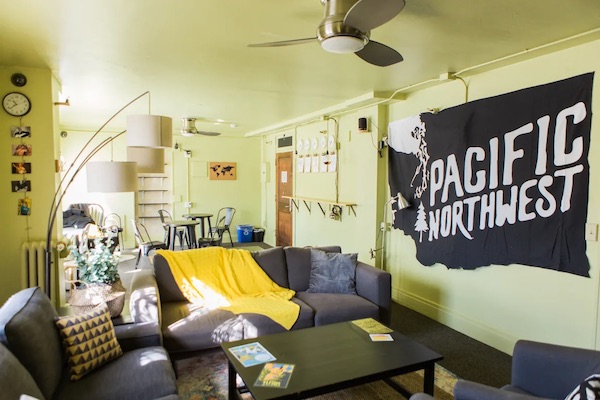 HI Seattle at the American Hotel
The first hostel worth checking out in Seattle is the HI Seattle at the American Hotel. This spot has been around for over 90 years, but it has everything you could ever need in order to have a comfortable stay. When it comes to the location of this hostel, it can be found in the Seattle International District. Guests should have no issues finding public transport from here, and you are situated just minutes away from the main downtown portion of Seattle.
The hostel provides tea and coffee stations, and it has ample communal kitchen and dining space for guests to cook any meals. HI Seattle also offers very clean and cozy shared rooms, or you can choose to book your own private room if you are more comfortable with that.
Hostel details
Address:
520 S. King St., Seattle, USA.
Guest rating:
4.4 out of 5.
Price per night:
from $35.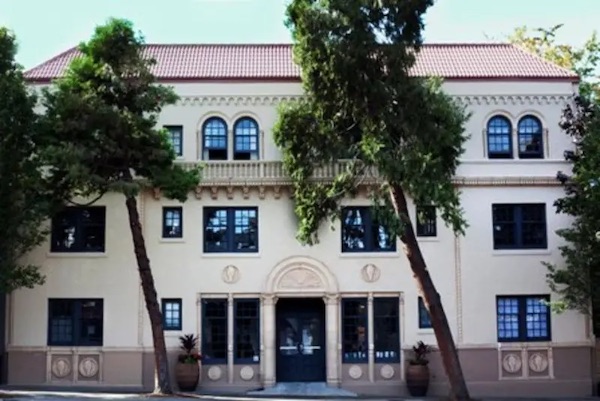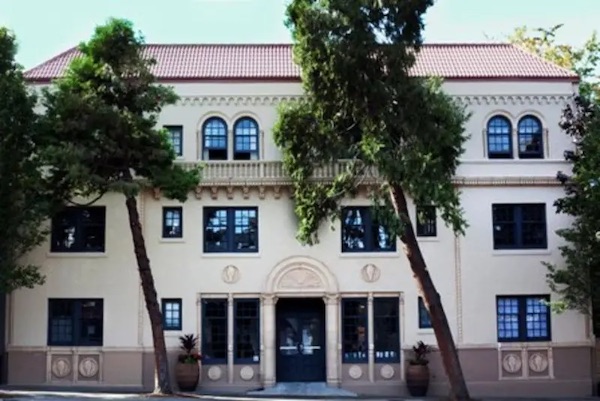 City Hostel Seattle
Last up on our list is City Hostel Seattle. This hostel is a colorful and cozy place to unwind after long days spent exploring Seattle. You can find this hostel in the heart of downtown, making it super convenient to walk to many various attractions. There is a kitchen facility, a lounge area, and a washer and dryer all available to guests residing here. If you need a relaxing evening in, there are games and movies for visitors to enjoy in the common area.
Like the other hostels, City Hostel Seattle is able to provide both private rooms and shared rooms, so you are able to choose based on your needs. The cleanliness is top-notch, and the staff is known for always being friendly and helpful.
Hostel details
Address:
2327 2nd ave., Seattle, Seattle, USA.
Guest rating:
4.5 out of 5.
Price per night:
from $25.
This concludes our list of three of the best hostels you can find in Seattle. Hostels are truly a great option when you are traveling. It gives you the opportunity to meet new people and even save some money.
About our Seattle hostel recommendations
Whether you're a solo traveler looking for a private room, or a backpacker traveling around in a group wanting to stay in a cheap and cozy dorm, above you will find the best hostels in Seattle for all your needs.
Please note, we only list hostels that have an aggregated guest review rating of at least 4.0 out of 5. We aggregate all reviews from different booking sites and other unbiased review websites. Hence, you can be certain all hostels listed above offer an excellent value-for-money stay in Seattle.
Best price guarantee
For our hostel recommendations, we work together with Hostelworld and Booking. These partnerships don't have any influence on the recommendations we make or on the order in which our recommended hostels are listed. The reasons why we have chosen to partner with these companies is that they're trustworthy, offer excellent service and they both apply the best price guarantee. This means you can claim a refund for the difference if you find your reservation cheaper on another website. It has to be for the same property, accommodation type, dates, cancellation policy and conditions, otherwise, you can't claim the refund for the difference. If you book through Booking.com then all you need to do is contact them at least 24 hours before your check-in date. If you book through Hostelworld you must claim the refund within 24 hours after you made the booking.
Top 3 hostels in Seattle
To summarize again, based on thousands of guest reviews, these are the best hostels in Seattle:
Why you should be careful when booking the cheapest hostel available
The cheapest hostels available are typically not in a great location. If you want to go sightseeing or go for a night out in central Seattle, you probably end up having to pay for public transport or a taxi to get there. So your stay could end up being more expensive compared to a stay in a central location. For first-time travelers, we recommend staying central anyway, but also for frequent visitors, it's probably worth it to pay a bit more to stay in a central location.
Another reason why you shouldn't stay at the cheapest hostel is that the people staying at the cheapest hostels are often not the people that can afford to travel like you. Because a very cheap hostel is often cheaper than renting a flat, these places tend to attract migrant workers or local misfits. That's probably not the crowd you want to hang out with, especially if you're a solo traveler looking for friends.
The third reason why you should avoid the cheapest hostels is safety. Some of the cheapest hostels don't check IDs, don't ask for signatures, or only accept cash at check-in. The hostel won't know who is actually staying there.
Lastly, the service at these hostels isn't great. For instance, if you choose to store your luggage, your bags will be unattended in a public space. It won't be recorded anywhere or tagged and stored in a locked room.
So, it's probably worth it to spend a bit more on your hostel stay in Seattle.
And finally, a tip: always read the latest reviews of the hostel! All places have good and bad reviews, but the most recent reviews matter the most.
More Seattle tips
Get to know the city even better and check out our other articles about Seattle:
Best boutique hotels in Seattle