Marrakech combines history, luxury, and culture into one exciting package. It is one of Morocco's imperial cities and a cultural hub. Known as the Red City, Marrakech is an enchanting holiday destination.
Traditional accommodation, known as riads, are plentiful, giving you the chance to live like a local. If you fancy a more upscale experience, Marrakech is home to high-end hotels. Modern-day Marrakech has been influenced by Europe and the west. Nights out at clubs, pubs, and restaurants offer a blend of local and international charm.
If you are ready to book a trip to Marrakech, then reserve your stay in one of the following areas.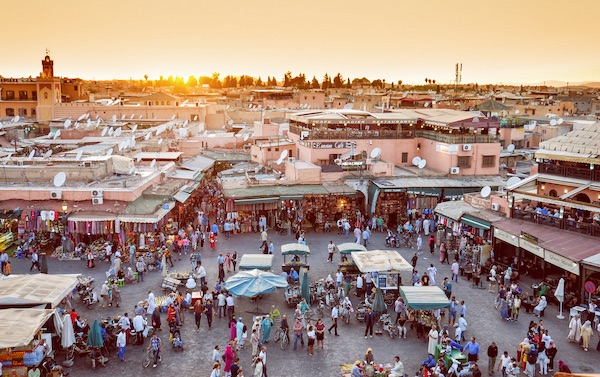 Medina
Marrakech's Medina area is iconic. If you want a truly unique travel experience, there is no better location to base your Marrakech stay than in Medina, the heart and soul of the Moroccan city. Medina offers an array of interesting things to see and do. Every twist and turn has something special, from local food stalls serving Moroccan delicacies to shops selling cool artesian products.
Two of Medina's must-see sites are the souk and Djemaa el-Fna Square. The souk is a heaving marketplace where locals go to buy and sell their wares. It is an incredible sight and something far different than most western travelers have ever seen – as long as they not traveled to north Africa or the Middle East prior. Djemaa el-Fna Square is the ideal spot for culture vultures seeking Marrakech's unique traditions. You can get traditional henna art completed or watch a snake charmer from close proximity.
Once you have wandered the souk and square, head over to Marrakech Museum to visit more cultural elements of the city. You will find a host of artifacts, books, paintings, sculptures, and jewelry on display. Airbnb properties and hotels are available in the Media neighborhood. You won't be far from the action when staying in the area.
Best place to stay in Medina
Riad ILayka. Address: 78 Derb El Hammam Quartier Mouassine, Medina, 40000 Marrakesh, Morocco.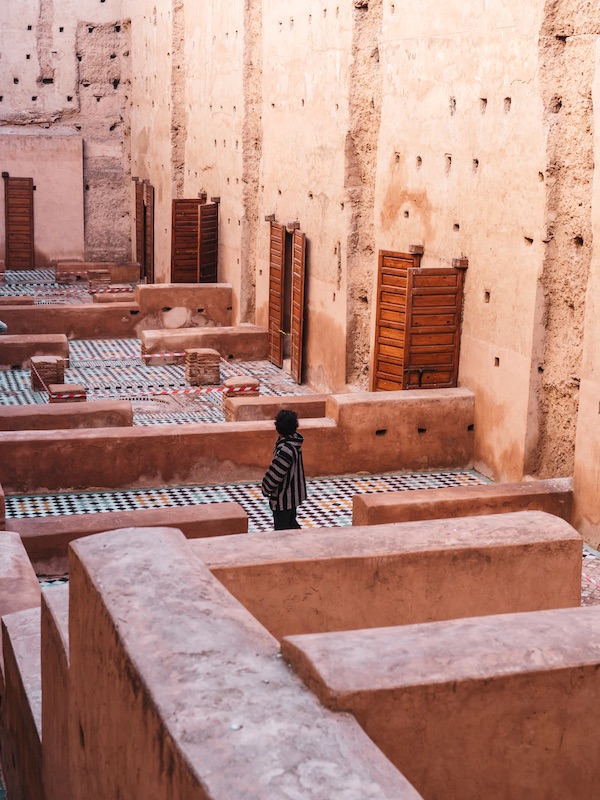 Kasbah
Kasbah is just outside the Medina neighborhood, so staying in either place allows you easy access to the other. One of the biggest differences between the two areas is that the Kasbah region has fewer options when it comes to accommodation. If you want to stay in the area, then you may have to book well in advance. One of the key accommodation choices in Kasbah is riads. These are townhouses that surround a central garden area. Riads are a typical type of accommodation found in Marrakech.
History buffs shouldn't miss the Saadian Tombs, which honor the Saadian Dynasty. The tombs were found in 1917 after they were covered up and forgotten about by locals. The Saadian Tombs are made of Italian Carrara marble and gold, a truly extravagant set of materials for the ruling family.
The area's location makes it possible to walk to many of the must-see sites. You are not far from the Medina, so it is easy to stroll to the souk or the other famous attractions. There is no metro system in Marrakech. Walking is a simple way to travel, but more adventurous tourists may choose to ride the local bus.
Best place to stay in Kasbah
Riad Nirvana. Address: Quartier Dabachi Derb El Hajra N11, 40000 Marrakesh, Morocco.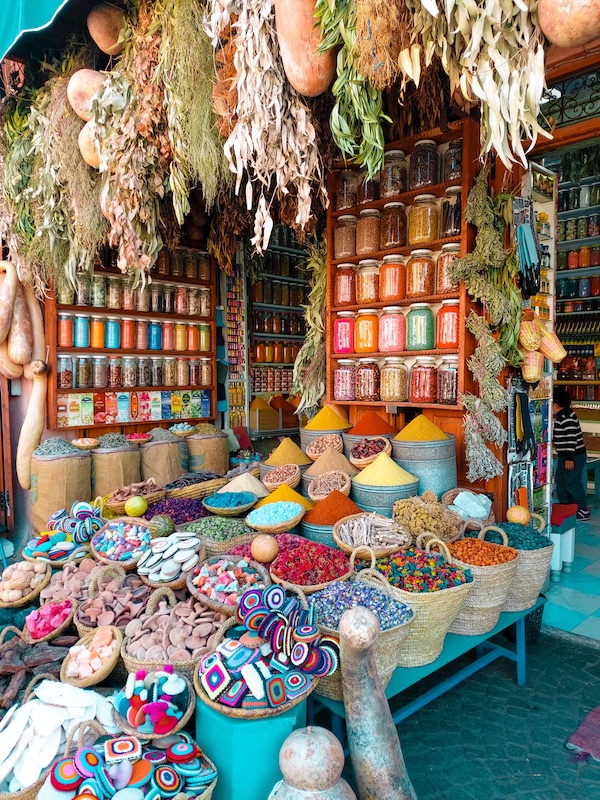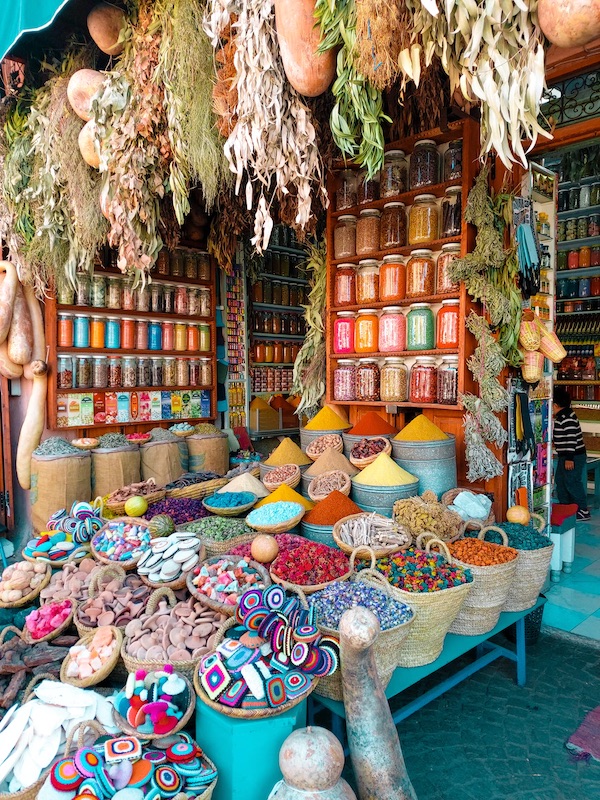 Mellah
Mellah is a delightful place to base your stay. It is Marrakech's old Jewish quarter and is a view into the melting pot of cultures found in the city. Outside of Mellah, you will mostly find Islamic architecture dominating the skyline. In Mellah, it is completely different with synagogues and other buildings lining the streets.
Mellah has wooden-built buildings compared to the brick-built structures in other neighborhoods. It is a truly historic area and ideal to see just how Jewish and Islamic peoples lived side by side for centuries.
For more history and culture, the Marrakech Heritage Museum is a great building to explore. Built in the 1600s, the museum's building was restored and displays relics such as tribal Jewelry, Andalusian embroidery, and Jewish artifacts. It is a walk into Marrakech's past.
The area is located southeast of the Medina and accommodation is more plentiful here. It may be more cost-effective to stay in Mellah and walk to the other top-rated regions of Marrakech.
Best place to stay in Mellah
Riad Azoulay. Address: 3 Derb Jamaa El Kbir, Hay Essalam، Marrakesh 40000, Morocco.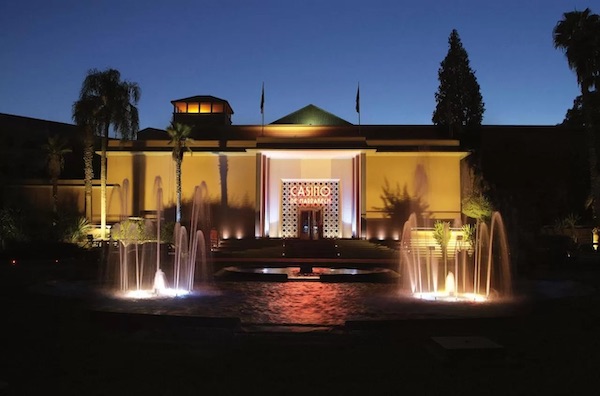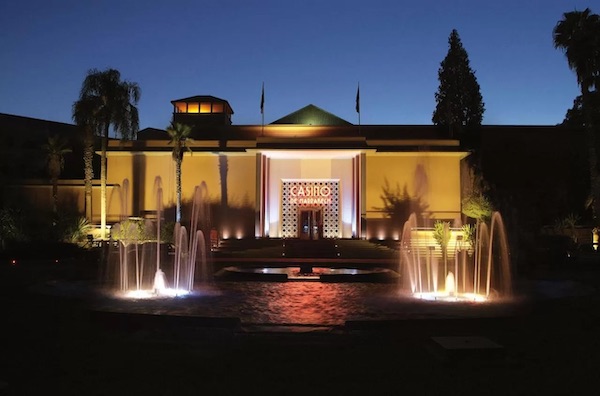 Hivernage
Hivernage has the reputation of Marrakech's cool, hip neighborhood to live and stay in. It is home to upscale restaurants and bars that are ideal for a night on the town. Hivernage has long been the high-end part of the city. You will see young, well-off Moroccans enjoying the finer things of life.
Exploring Hivernage in the day should give you plenty of space to wander around. Once the sunsets, it becomes an entirely new place. Hivernage thrives at night as its hip restaurants open up. While Medina, Kasbah, and Mellah offer you the chance to learn about Marrakech's history and culture, Hivernage provides you with a lesson on Moroccan life in the 21st century.
Casino de Marrakech is one of the most popular ports of call in the evening. After placing a few bets, head over to one of the city's top-rated nightclubs, Theatro. Cyber Park Arsat Moulay Abdeslam is one of the most unique parks in the world. It is an open-air space with trees, grass and paths complete with free WiFi.
Best place to stay in Hivernage
Es Saadi Resort Hotel. Address: Rue Ibrahim El Mazini Hivernage, Hivernage, 40000 Marrakesh, Morocco.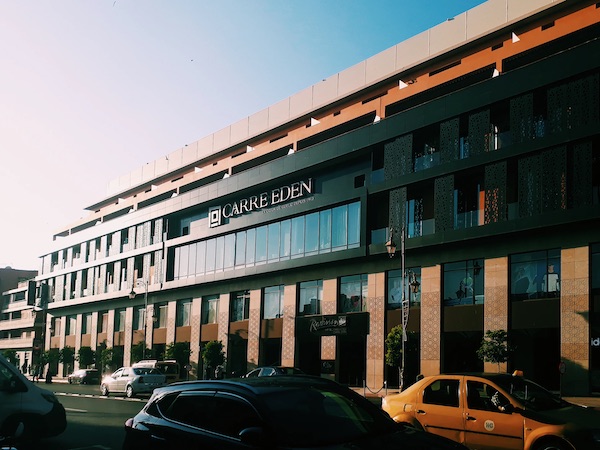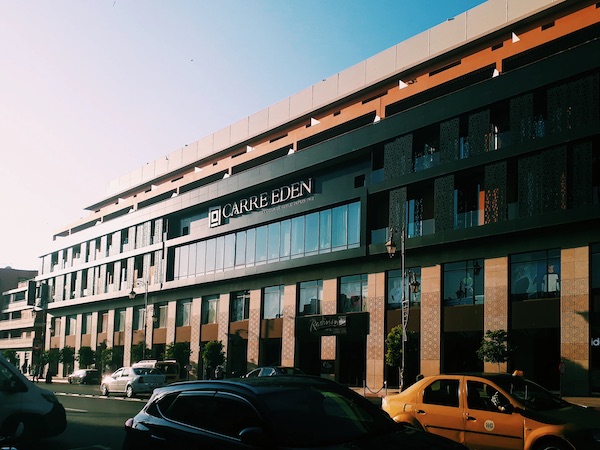 Gueliz
Gueliz is hipster central in Marrakech. It is situated in what is called the city's "New European" section. Like Hivernage, Gueliz has upscale shopping, cool restaurants, and more modern sites to see.
Compared to other Islamic nations, Morocco does allow the sale of alcohol. However, places that sell drinks must not be in view of a mosque. If you want to grab a cold beer or intoxicating cocktail on your holiday, then visit Gueliz, where there is an abundance of bars and restaurants that serve drinks.
Gueliz has a variety of clubs and bars for a night out. It is a neighborhood that displays modern Morocco. There are fewer historical locations to visit and more trendy places for people seeking something a bit more western.
The MACMA Museum of Marrakech is a can't miss gallery. It displays local and regional artists' work along with exhibitions. You shouldn't struggle to find hotels or Airbnbs in Gueliz. These accommodation types are prevalent, giving you a chance to live like a modern-day Moroccan.
Best place to stay in Gueliz
Radisson Blu Hotel Carre Eden. Address: 166, 176 Avenue Mohammed V, Marrakech 40000, Morocco.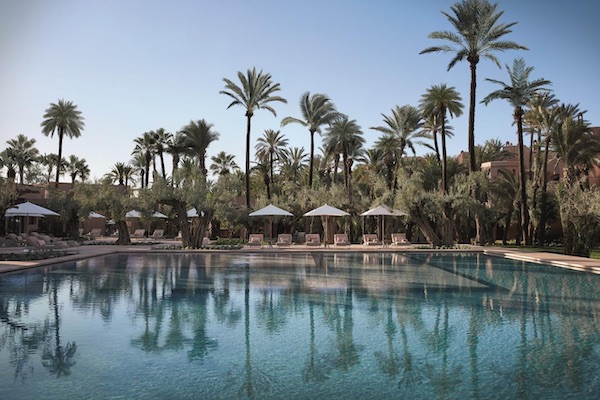 Where travel critics stay in Marrakech
Want to know where travel critics from publishers like The New York Times, Frommer's, Fodor's and Lonely Planet stay in Marrakech? Check out our overview of all recommended hotels, hostels and B&Bs in Marrakech.
Budget
"A winning hostel with a wide choice of private and dorm rooms, a large pool, restaurant, hammam and a huge roof terrace, all set in a series of traditional houses in the heart of the medina. It offers a mix of dorms and private bedrooms, all nicely decorated and well maintained." — Telegraph.
Address: 80, Derb El Hammam Mouassine Marrakech Medina, Medina, 40034 Marrakesh, Morocco.
Mid-range
"What do you get if you cross Italian furniture designers with Marrakshi craftsmanship? An achingly cool hideaway where art deco Mamounia mirrors meet silk kaftans hung as art, and zouak (painted wood) ceilings merge with retro lamps." — Lonely Planet.
Address: 67 Derb El Hammam, Marrakech 40000, Morocco.
Luxury
"At the Royal Mansour Marrakech, located inside the medina, the draw is privacy—its beautifully tiled riads have their own pools dotting lush gardens that are made for afternoon strolls. It's a swoon-worthy showpiece of Moroccan decorative art." — CN Traveler.
Address: Rue Abou Abbas El Sebti, Medina, 40000 Marrakesh, Morocco.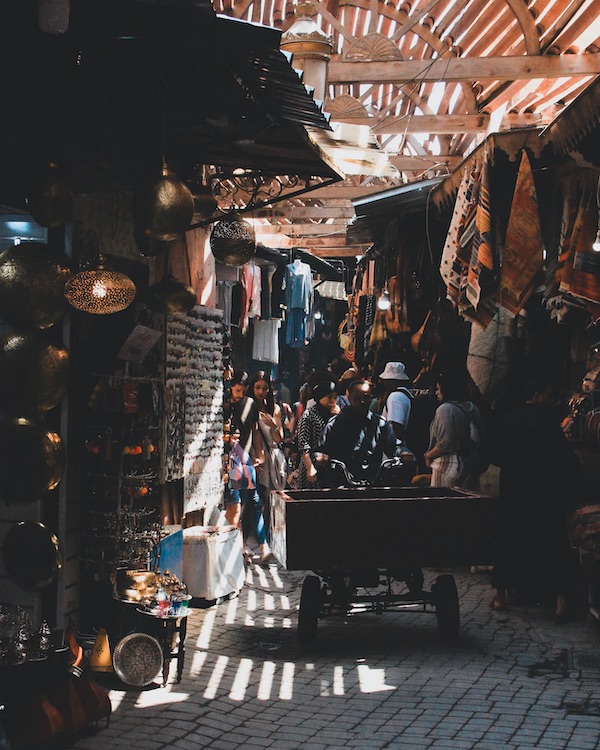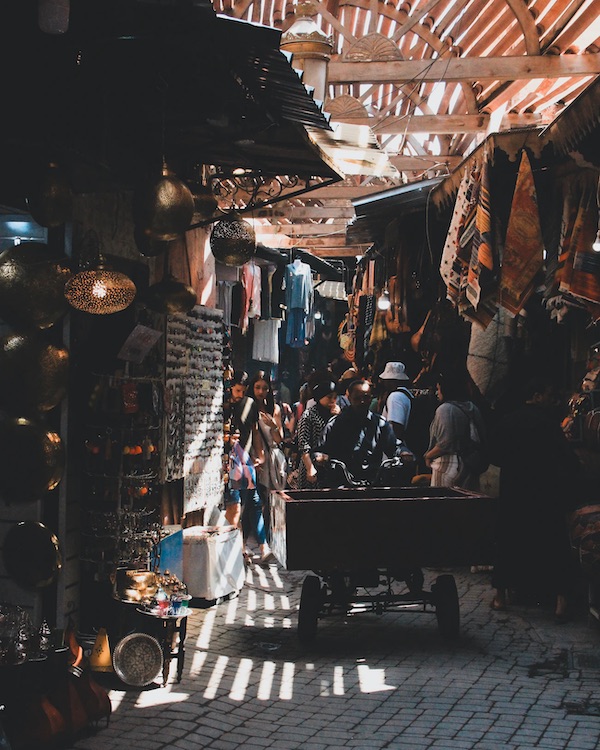 FAQ: Marrakech hotel tips
Looking for the best budget, boutique, or luxury hotel in Marrakech? Or maybe you're a backpacker looking for an excellent hostel? Want to know which Marrakech hotel serves a great breakfast? Here are the answers to all those and other questions about where to stay in Marrakech.
Which Marrakech hotel offers a great rooftop terrace?
Looking for a great view while having a drink? Riad Star Hotel or Hôtel Le Gallia, both have excellent rooftop terraces with views of Marrakech.
What is the best budget hotel in Marrakech?
If you're looking for a cheap hotel in Marrakech, then book Hotel Ibn Batouta. It's an excellent budget hotel offering great value for money. It's in a good location, it's been recommended by travel experts and the hotel has excellent customer reviews. Also check out our list of the best cheap hotels in Marrakech.
What is the best boutique hotel in Marrakech?
You like some luxury but don't like the famous chain hotels. If you're looking for the best boutique hotel in Marrakech, you should check out Les Deux Tours. It's a very cool hotel that has been highly recommended by travelers and experts. Also check out our list of the best boutique hotels in Marrakech, it's a manually curated list of the most unique and romantic hotels in the city.
What is the best luxury hotel in Marrakech?
If money isn't a problem and you're looking for a luxury hotel in Marrakech, then go for Hotel Royal Mansour. The hotel offers excellent service, it's in a top location, it has been rated very highly by previous guests and renowned travel critics have recommended it. Also check out our list of the best luxury hotels in Marrakech, it's a manually curated list of the most exclusive 5-star hotels in the city.
What is the best hostel in Marrakech?
If you're looking for a great hostel in Marrakech, then you should check out Rodamon Riad Hostel. The hostel has magnificent reviews by backpackers, it has been recommended by well-known travel experts and it's in a good location. Also check out our list of the best hostels in Marrakech.
What is the best riad in Marrakech?
Looking for a cozy place to stay in Marrakech that serves you handmade and fresh breakfast in the morning? Go and check out Riad Le J. The riad has been recommended by well-known travel experts and recent guests have given it top ratings.
How much does it cost to stay in a Marrakech hotel?
For a 3-star hotel, you have to pay around $60 per night and for a 4-star hotel, you would be looking at $100 per night. If you're after a luxury 5-star Marrakech hotel then you can expect to pay around $260 per night.
Which Marrakech hotel serves great breakfast?
Try Radisson Blu Hotel Carré Eden if you're looking for a delicious breakfast at a hotel in Marrakech. They all have excellent customer review ratings for breakfast.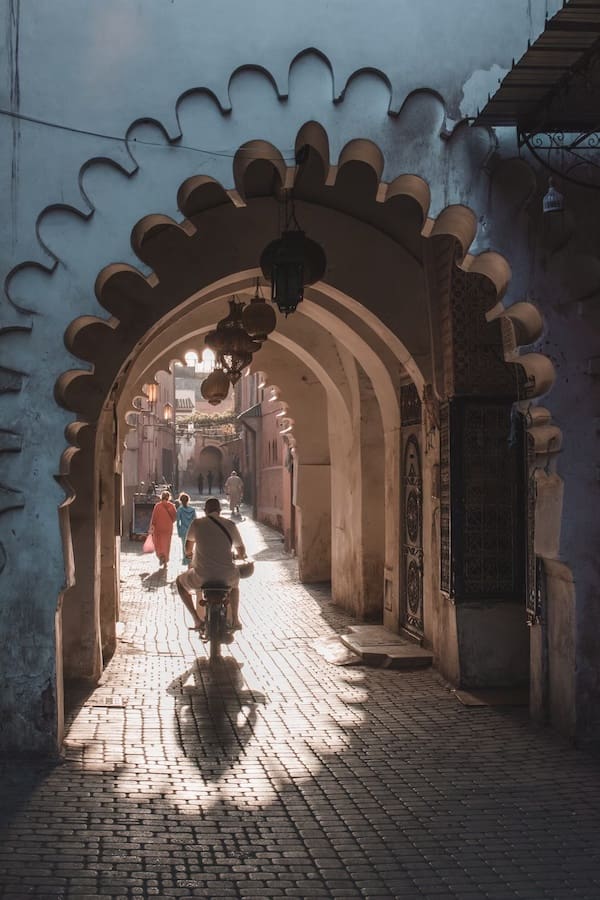 Best time to visit Marrakech
The best time to visit Marrakech is during the months of March to May and September to November, when the weather is most pleasant and the tourist crowds are less overwhelming. These periods offer the perfect balance of comfortable temperatures and exciting events, ensuring that your visit to the Red City is nothing short of magical!
During the spring months (March to May), Marrakech is at its most beautiful, with warm days and cool evenings. This is the ideal time to wander through the city's famous souks, marvel at the stunning palaces, and explore the lush gardens. Spring is also the season of various colorful festivals, such as the Marrakech International Film Festival and the Rose Festival, which celebrate Morocco's rich cultural heritage.
If you prefer to visit during the autumn months (September to November), you're in for a real treat! The weather is still pleasantly warm, but the intense heat of summer has subsided, making it the perfect time to explore Marrakech's many attractions.
The city is also less crowded during this time, giving you the opportunity to truly appreciate its beauty, history, and charm. Autumn in Marrakech is also a time of celebration, with the vibrant Marrakech International Film Festival and the delicious Food Festival taking place in these months.

Best things to do in Marrakech
There are a lot of things to do in Marrakech and surrounding areas, including day trips, attractions, museums, sightseeing tours and many other activities. Here's our list of 3 things you should definitely do when you're in and around Marrakech:
Marrakech: Ouzoud Waterfalls Day Trip & Optional Boat Ride
See picturesque Berber villages and the dramatic Ouzoud Falls on a full-day sightseeing tour from Marrakech. Dive into the inviting waters of the Al Abid River for a swim in wild nature. Meet the local monkeys of the Grand Atlas and more. Price: $26. More info.
Atlas Mountains and Three Valleys & Waterfalls – Camel ride Day Trip Marrakech
Journey to Morocco's Atlas Mountain area and spend the day exploring the Three Valleys with this private, full-day tour. Price: $33. More info.
Marrakech: Half-Day Desert Quad & Dromedary Tour
Experience vast desert landscapes on this half-day dromedary and quad bike tour. First, discover authentic Moroccan culture on a dromedary tour leading to a Berber village. Then, after a tea break, speed through the desert on your quad bike. Price: $56. More info.
More things to do in Marrakech
Deciding where to stay in Marrakech
As a closing note, let's summarize this travel guide. We covered the best areas of Marrakech so you can decide which part of town you want to stay in.
Top 5 areas to stay in Marrakech
Medina
Kasbah
Hivernage
Gueliz
Mellah
As you have seen in this article, there are a lot of things to explore, and deciding where to stay in Marrakech is important. Whether you stay in Medina, Kasbah, Hivernage, Gueliz or Mellah, all those neighborhoods are in good locations.
The atmosphere of the area, whether you travel for leisure or business, whether you travel with your family or friends, and proximity to the attractions you prefer to visit should probably be the deciding factors. Whatever your preference is, you'll have a great stay in Marrakech.
More Marrakech tips
Check out our other guides about the best places to stay in Marrakech: