As one of the more affordable European cities to visit, Amsterdam has so much to be explored and experienced. Whether you are a college student looking for a good time, a parent with a family, or a business person looking to make deals, this city is a mecca to good times.
Located in the Netherlands, this capital city has architectural beauty, plenty of party opportunities, and many historical landmarks. So, it really does have a little bit for everyone.
Now, traveling throughout Europe is not a cheap endeavor. Although Amsterdam is fairly affordable, there are still ways to save money along the ride. Saving money on hotel expenses allows you to have more money to be allocated for other activities. Here are three of the best cheap hotels located in Amsterdam!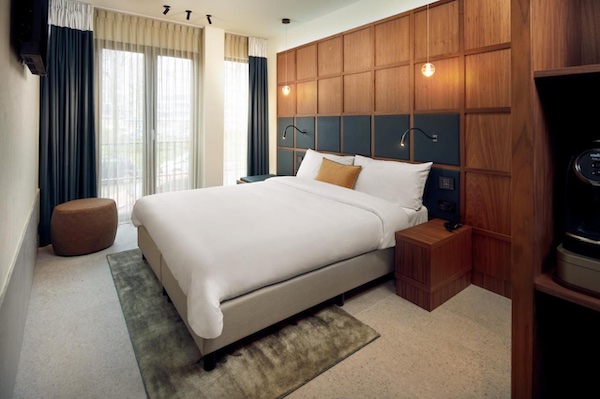 Met Hotel Amsterdam
To kick off our list, we have the Met Hotel Amsterdam. This is a steady, modern hotel that is very consistent and clean. Although it is considered a budget hotel, it does not feel like it. When you walk in, the lobby is very impressive, and the bar is a fantastic place to take a load off.
You will be a couple of miles away from the main Amsterdam attractions, so a short cab ride away is all that it will take. Part of the reason as to why it is a budget hotel is that you will not be on the main drag. But, with a bit of extra cash that you did save, you can get taxis or rent bikes to experience it all.
The rooms are also great. Every room has a coffee maker and a nice TV. So, you are taken care of and residing in a good place. If you need a touch of more room, you should upgrade to a junior suite. If space is not the issue, you can upgrade to a room with an awesome view. This will add a ton of value to your stay.
Overall, the Met Hotel is a great option if you do not mind being off the main drag.
Hotel details
Address: 
Marius Bauerstraat 401, Slotervaart, 1062 AP Amsterdam, The Netherlands.
Guest rating:
4.5 out of 5
Price per night:
From $75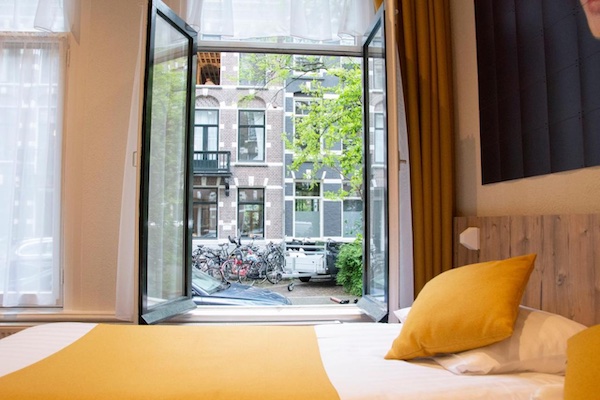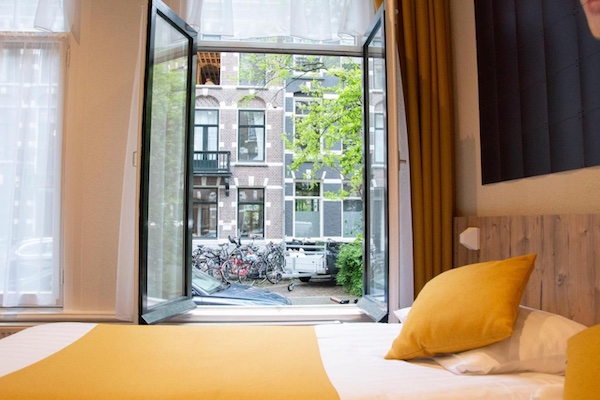 Hotel Asterisk
If you are one that wants to be in the middle of the action, the Hotel Asterisk may be your best budget option. It sits in the center of Amsterdam and is a short walk from some of the top attractions. This will save on transportation costs and make everything more convenient.
The hotel itself is 3 stars and has some really nice perks. Firstly, it is a part of Amsterdam's history. The hotel is made up of two buildings built in the 1800s that have been fully restored to fit the modern age. Rooms are comfortable and cozy. The hotel blends right into the street, and the rooms have great views of an area that almost seems residential. So, you nearly feel at home while staying at the hotel Asterisk.
One cool aspect when it comes to room availability is the budget option. Obviously, this is a budget hotel, but they even have a budget single room for those who do not need a lot of room and want to save the most money possible.
Some of the other features included are airport shuttles, discounted tickets to attractions, and free Wi-Fi.
Hotel details
Address: 
Den Texstraat 16, Amsterdam City Center, 1017 ZA Amsterdam, Netherlands.
Guest rating:
4.6 out of 5
Price per night:
From $76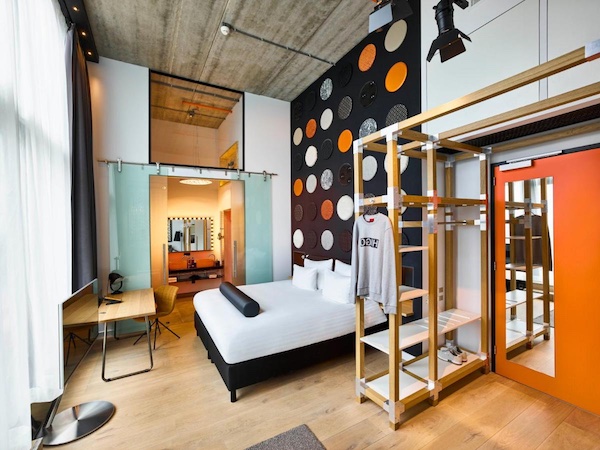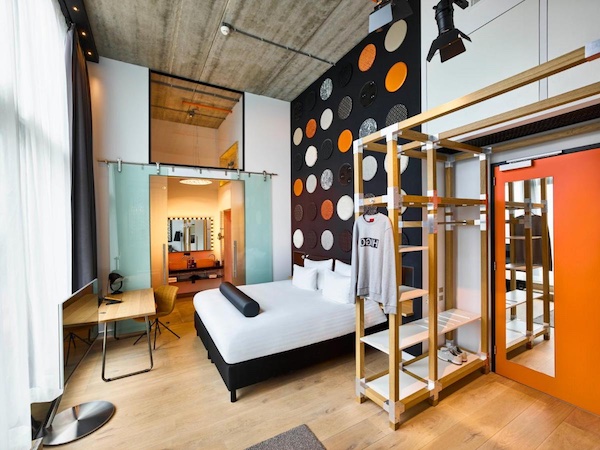 Jaz in the City Amsterdam
Jaz in the City Amsterdam is the final cheap hotel on our list. This is a modern hotel that keeps you real close to a few hotspots. Plus, you are close to the metro system which can connect you with the rest of the city and eventually the rest of Europe. However, a lot of the museums and popular destinations are a couple of miles away. This will require you to seek alternate transport.
If you are cool with being in a clean and quiet spot, this is a great option. Rooms are clean and actually spacious for a budget option. So, if you want a bit of extra room while keeping costs low, Jaz in the City can get your fix. The best way to do this is to upgrade to the junior suite. This gives you a better view and more room.
One of the unique factors of staying at this hotel is the Love is in the Air package. This includes a private dinner, Prosecco, a romantic breakfast, and a room with a great view. All of this comes together at one price, so you can make excellent memories right at the hotel.
Hotel details
Address: 
De Passage 90 / Noord Holland, Zuidoost, 1101 AX Amsterdam, Netherlands.
Guest rating:
4.5 out of 5
Price per night:
From $85
About our budget hotel recommendations in Amsterdam
We are a travel research company. Our team helps you discover the best cheap hotels in Amsterdam by researching the internet for you. We have also visited some of these places. Hence, it's not just our opinion, it's the opinion of thousands of travelers who have been there before you. We make it easy for you to find out about the best budget hotels in the city.
Please note, we only list hotels that have an aggregated guest review rating of at least 4.0 out of 5. We aggregate all reviews from different booking sites and other unbiased review websites. Any hotel listed here should have a starting price of $100 or less per night. Hence, you can be certain all hotels listed above offer you a great and affordable stay in Amsterdam.
Lowest price guarantee
We partner with Booking.com and Hotels.com. Both booking websites offer the lowest price guarantee so you can be certain you will always get the best deal for the hotels above. If you have seen a better price elsewhere, all you need to do is contact the booking website and they will refund you the difference immediately. You can price match right up until the day before check-in.
We also recommend you read our guide about how to save money on hotel bookings. It's a list of tips about when you should book a hotel, what tools you can use, and other things you can do to find your preferred hotel at an affordable price.
Top 3 budget hotels in Amsterdam
Let's summarize this affordable travel guide. Based on thousands of guest reviews, these are the best budget hotels in Amsterdam:
More Amsterdam guides
Get to know the city even better by reading our other articles about Amsterdam:
Best boutique hotels in Amsterdam
Best luxury hotels in Amsterdam
Sustainable hotels in Amsterdam