The thriving capital city of the Netherlands is Amsterdam, which is truly one of the most unique and exciting cities in the world that someone can have the great opportunity of visiting. The Netherlands is one of the smallest countries, yet it is known for so many different things all throughout the world. Amsterdam is recognized for its many miles of canals, for being the tulip capital of the world, for the infamous Red Light District, its bicycles, and of course for its countless windmills.
There is an abundance of history and culture within this city, and this can be learned about and appreciated in the many museums, such as the Rijksmuseum, the Anne Frank House, and the Van Gogh Museum.
If you are planning a visit to this charming city, without a doubt consider staying in one of the several boutique hotels to ensure your stay is as fantastic as can be.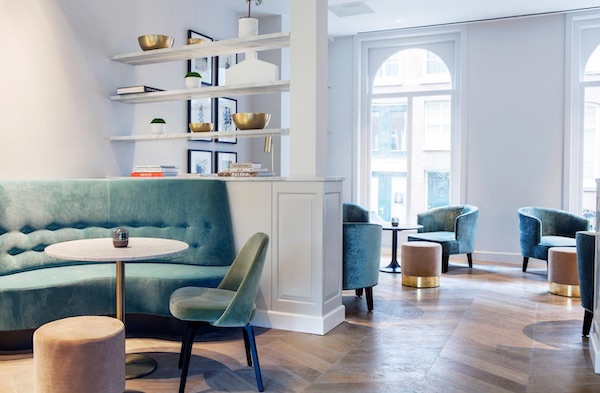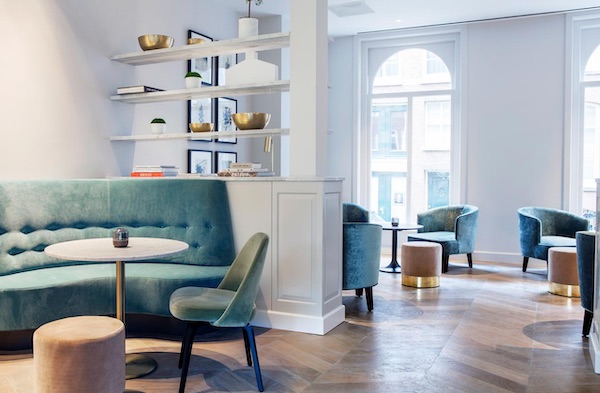 Pillows Anna van den Vondel
Pillows Anna van den Vondel is a supremely cozy spot that is in a quiet neighborhood and only minutes from Vondelpark and the Canal District. Guests can enjoy the peaceful terrace, the spacious lounge areas, and 24/7 dining availability at this hotel. Room service is also offered any time of day, which is perfect for those late-night cravings.
There are 30 rooms that come in various sizes at Pillows Anna van den Vondel, and they are all equipped with televisions, sound systems, a station for making tea and coffee, a minibar, and luxurious bath products. Some of the rooms have pleasant views of the garden on the property, as well. The beds are seriously cozy that will easily lull any guest to sleep after exciting days exploring the city.
Hotel details
Address: 
Anna van den Vondelstraat 6, Oud West, 1054 GZ Amsterdam, Netherlands.
Guest rating:
4.7 out of 5
Price per night:
From $140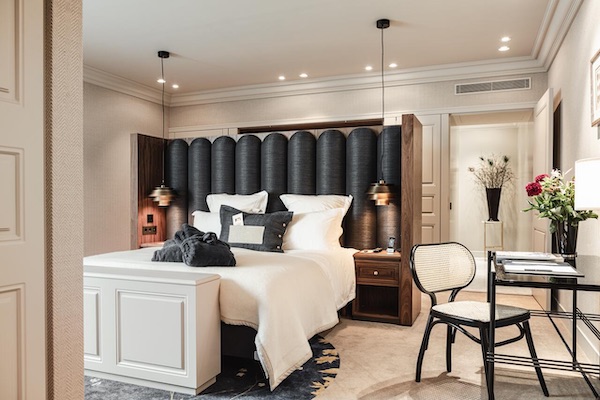 Hotel Seven One Seven
At Hotel Seven One Seven, there is absolutely no shortage of extravagance or comfort. The exterior is unassuming, but as soon as you walk inside you will undoubtedly be impressed by the warm, homey design. There is a library section on the main floor and an abundance of inviting couches and chairs to relax in. The hotel doesn't have a restaurant, but breakfast is served and can be enjoyed outside if the weather is nice enough.
There are nine different rooms at Hotel Seven One Seven that are all considerably sized, and they all come with televisions, minibars, and a selection of CDs and DVDs to enjoy. Some of the rooms have peaceful vistas of the canals below, as well.
Hotel details
Address: 
Prinsengracht 717, Amsterdam City Center, 1017 JW Amsterdam, Netherlands.
Guest rating:
4.4 out of 5
Price per night:
From $130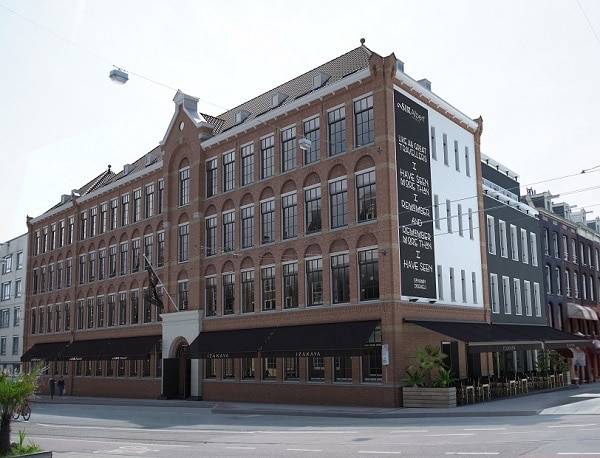 Sir Albert
Sir Albert is on the swanky side when it comes to atmosphere, but it is nonetheless welcoming and brimming with amenities. Guests are in the heart of Amsterdam at Sir Albert, which also happened to be a diamond factory back in the day. The hotel has an expansive library section, bike rentals, and a remarkable Japanese restaurant that is absolutely worth a visit.
The rooms at Sir Albert range in size, but none of them lack comfort and style. The 90 rooms all come with televisions, work desks, coffee stations, and minibars. A variety of the rooms offer views of the bustling streets below, and some even have a unique open-concept bathroom and sizable tubs that are perfect for unwinding in.
Hotel details
Address: 
Albert Cuypstraat 2-6, 1072 CT Amsterdam, The Netherlands.
Guest rating:
4.4 out of 5
Price per night:
From $125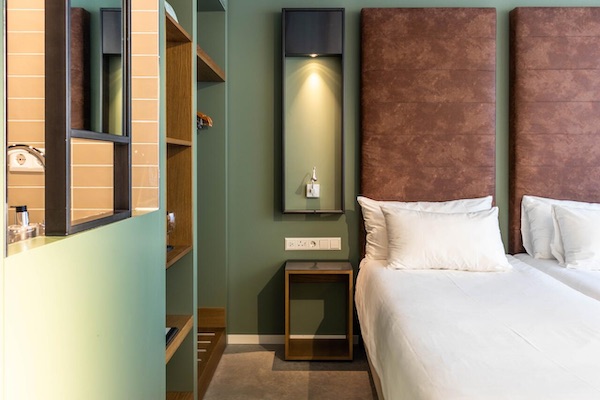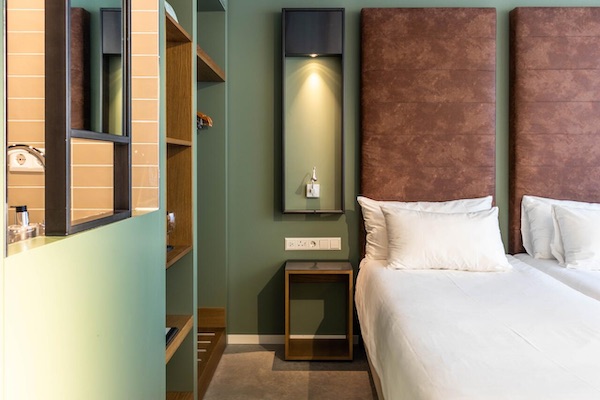 Hotel de Hallen
Next, we have Hotel de Hallen, a positively unique accommodation due to the fact that it has been transformed from an early 20th-century tram station. The region is in is certainly up-and-coming, with trendy bars and restaurants popping up all over the place. There is ample lounge space open to guests, as well as a sunny terrace and delectable restaurant.
The 55 modern rooms here are simple yet extraordinarily peaceful with their earth tones and minimalistic design. Deluxe beds, large bathrooms, mini-fridges, coffee and tea stations, and televisions are all provided in the rooms at Hotel de Hallen. If you want to go the extra mile, the suites are equipped with jacuzzi tubs for ultimate relaxation.
Hotel details
Address: 
Bellamyplein 47, Oud West, 1053 AT Amsterdam, Netherlands.
Guest rating:
4.3 out of 5
Price per night:
From $70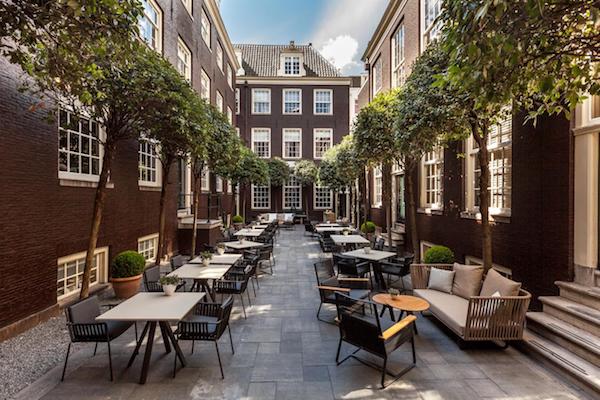 The Dylan Amsterdam
The Dylan Amsterdam is a fashionable spot located centrally in Amsterdam's historic district. The establishment is complete with a fabulous courtyard area, bar, and a truly sensational and award-winning French-inspired restaurant you will not want to miss out on. Bikes are the way to get around in Amsterdam, and The Dylan has a collection for guests to utilize during their stay.
The rooms come in an array of styles that are each uniquely styled, from interiors that are adorned with bursts of color to rustic and wood-accented quarters that induce a deep sense of peace. Expect luxurious bedding, bathrobes, deluxe shower products, and views of either the canals, garden, or atrium in the selection of 40 rooms here.
Hotel details
Address: 
Keizersgracht 384, 1016 GB Amsterdam, The Netherlands.
Guest rating:
4.6 out of 5
Price per night:
From $350
Amsterdam is a favorite destination among so many, and for a wonderful reason. A place that is filled with so much culture and beauty is perfectly complemented by the various boutique hotels within it, and they will certify that your visit here is nothing short of perfect.
About our boutique hotel recommendations in Amsterdam
We are a travel research company. We help you discover the best boutique hotels in Amsterdam by researching the internet for you. It's not just our opinion, it's the opinion of many travelers who have been there before you. We make it easy for you to find out about cool design hotels and unique design hotels in the city. Some of them might be so romantic you might not want to leave your room.
Please note, we only list hotels that have an aggregated guest review rating of at least 4.0 out of 5. We aggregate all reviews from different booking sites and other unbiased review websites. Hence, you can be certain all hotels listed above offer you a great stay in Amsterdam.
Best price guarantee
We partner with Booking.com and Hotels.com to provide you with the lowest price guarantee on your stay in Amsterdam! Both those websites offer price matching. That ensures that you are paying the lowest price available online. If you find a cheaper offer on another website for the same cool hotel in Amsterdam at least 24 hours before check-in, contact them to claim a refund of the difference!
Top 5 boutique hotels in Amsterdam
Before you go, let's summarize this guide. Based on thousands of guest reviews and tips from travel experts, these are the best boutique hotels in Amsterdam:
More Amsterdam tips
If you like our guide above, you should also check out our other articles about Amsterdam:
Best cheap hotels in Amsterdam
Best luxury hotels in Amsterdam