The huge city of San Diego is located in warm and sunny southern California, right on the coast of the enchanting Pacific Ocean. The activities in San Diego are endless, from strolling the breathtaking shoreline of La Jolla, saying hi to the various animals at the world-famous zoo and aquarium here, or experiencing beautiful Balboa Park for yourself.
San Diego is just north of the border of Mexico, so you should not have any issues finding scrumptious fares such as tacos, burritos, and enchiladas here. If you are feeling especially adventurous, rent a surfboard and wetsuit and try your hand at this exhilarating sport, as San Diego is known for some of the best surfing in the entire country.
There are many fantastic hotels throughout this city, and today we are going to cover 5 of the best boutique ones available and absolutely worth a stay.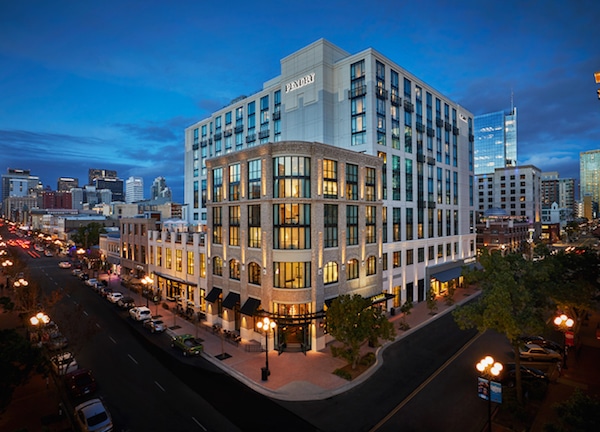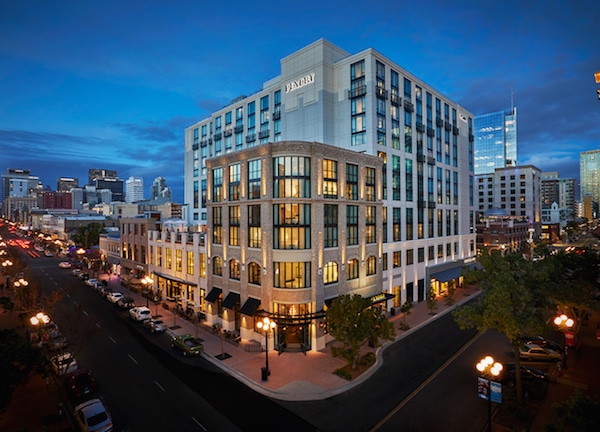 Hotel Pendry
Hotel Pendry welcomes guests with its luxurious interior and bountiful amenities, and it is perfectly located in La Jolla. Enjoy the pool, hot tub, and lounge area that hover a few stories up above the street below, the large spa, and world-class restaurant here at the Pendry San Diego. There is a full gym that patrons can utilize whenever here, as well.
There are plenty of rooms here at the Pendry, which are all impressively spacious and complete with things like flat-screen televisions, elegant bath products, and sizable windows that allow abundant natural lighting into the rooms. Do not worry, there are high-quality curtains on the windows for when you want to crash early or sleep in late.
Hotel details
Address: 
550 J St, San Diego, CA 92101, USA.
Guest rating:
4.7 out of 5
Price per night:
From $230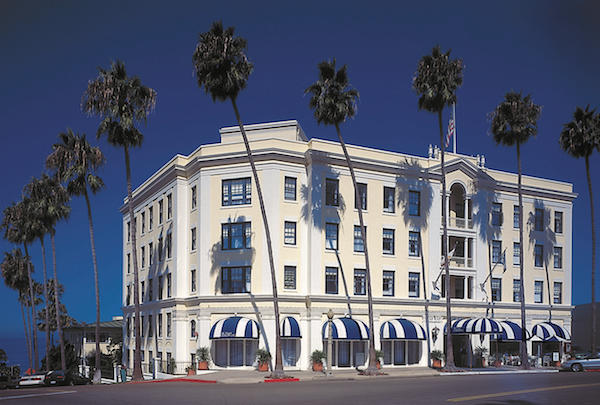 Grande Colonial La Jolla
At Grande Colonial La Jolla, you are only steps away from one of the best beaches in the whole state of California. The thoughtful interior of Grande Colonial La Jolla is comforting and has a European flair to it. This establishment has been around since the early 1900s, although it has undergone quite a few changes. The pool and outdoor lounge area are perfect for lazing under the sun with a captivating book.
The restaurant on the property here is a favorite among many in San Diego, and the bar is well-stocked with plenty of impressive wines. The rooms display neutral tones with pops of blue that remind you even more of the seaside setting you are in, and several rooms have stunning views of the ocean that is right nearby.
Hotel details
Address: 
910 Prospect St, La Jolla, CA 92037, USA.
Guest rating:
4.4 out of 5
Price per night:
From $289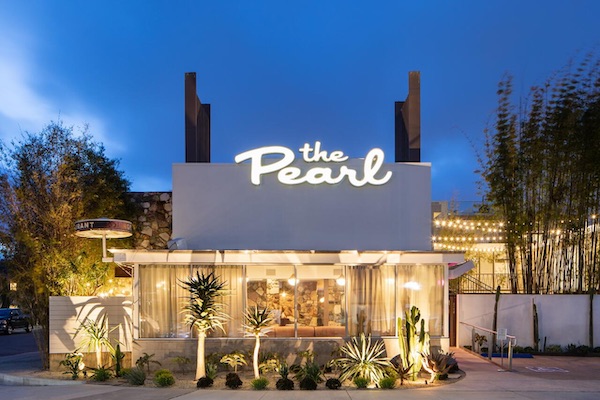 The Pearl
The Pearl is a charming boutique hotel with a retro feel to it. The hotel can be found in La Jolla in the Gaslamp District, not far from the San Diego Bay. Guests are welcome to enjoy the pleasant outdoor pool area on those hot California days, as well as the hip bar and restaurant that is on-site here.
The rooms graciously combine modern and vintage pieces to give them a unique feel. Some of the rooms here do have balconies if you prefer that, and desk space if you need to get some work done during your stay. If you are opting for a night in, head to the lounge area for some entertaining board games or a movie on the big screen.
Hotel details
Address: 
1410 Rosecrans Street, Point Loma, San Diego, CA 92106, United States of America.
Guest rating:
4.2 out of 5
Price per night:
From $129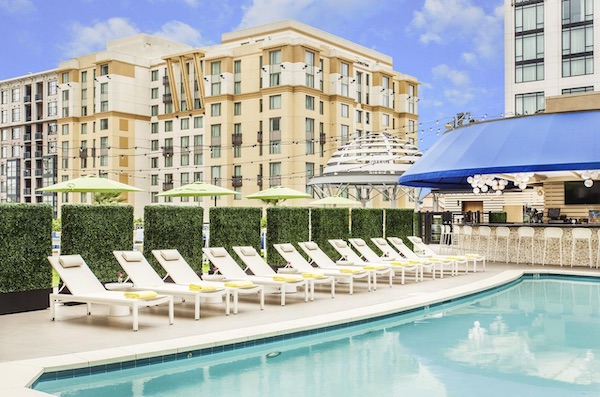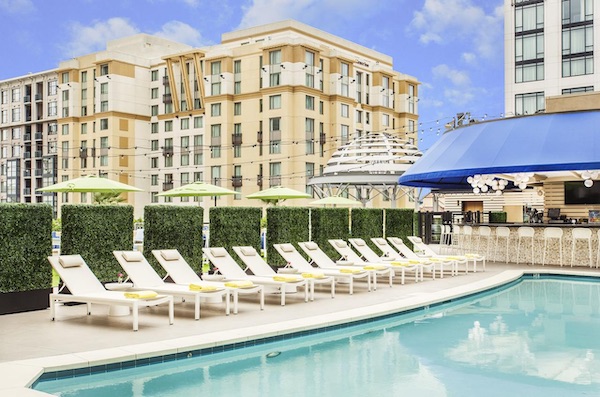 Solamar San Diego
Next, we have Solamar San Diego, a stunning spot right near the San Diego Bay that is perfect for those that love to lounge in an outdoor setting as much as possible. There is a massive rooftop terrace with a bar and an abundance of seating options available. On the ground level, there is a large pool to cool off in.
The rooms are nice and spacious, with bursts of color and funky designs. The bathrooms within the rooms are sizable, and some have big bathtubs that overlook San Diego below. The restaurant on the property serves classic Californian plates, and the bar has expertly crafted cocktails. If you are traveling with your pet, Solamar will gladly welcome them with open arms.
Hotel details
Address: 
435 Sixth Avenue, Downtown San Diego, San Diego, CA 92101, United States of America.
Guest rating:
4.2 out of 5
Price per night:
From $150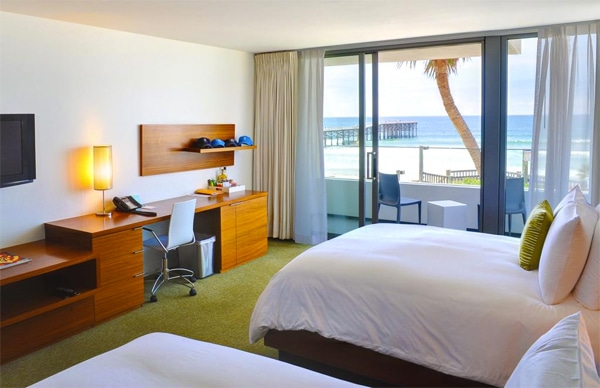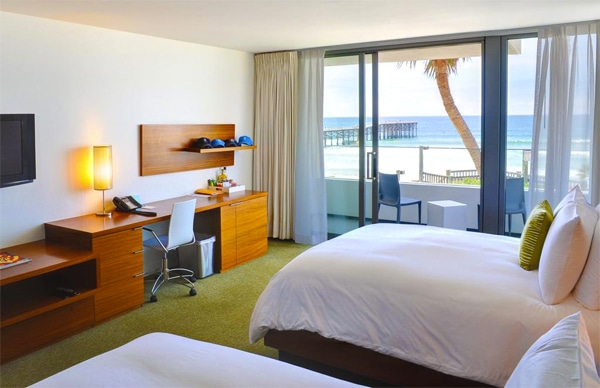 Tower 23 Hotel
The Tower 23 Hotel is a modern sanctuary located right on the Pacific Ocean, on San Diego Beach. The interior displays sleek and inviting lounge areas, as well as an opulent restaurant and bar. Outside you will find a gorgeous terrace with a pool, plenty of lounge chairs, and sweeping views of the ocean.
The rooms here range from spacious standard rooms to extravagant suites, so there is definitely a style for every traveler to take their pick from. The rooms come with televisions, bathrooms of a substantial size, and many offer astonishing ocean views. Drift off to sleep after a long day at the beach in the high-quality bedding provided in every room, as well.
Hotel details
Address: 
723 Felspar St, San Diego, CA 92109, USA.
Guest rating:
4.6 out of 5
Price per night:
From $229
This concludes our guide to the five best boutique hotels throughout San Diego. All of these accommodations allow for an ideal seaside getaway that will leave you with memories that will last a lifetime.
About our boutique hotel recommendations in San Diego
We are a travel research company. We help you discover the best boutique hotels in San Diego by researching the internet for you. It's not just our opinion, it's the opinion of many travelers who have been there before you. We make it easy for you to find out about cool design hotels and unique design hotels in the city. Some of them might be so romantic you might not want to leave your room.
Please note that we only list hotels with an aggregated guest review rating of at least 4.0 out of 5. We aggregate all reviews from different booking sites and other unbiased review websites. Hence, you can be certain all hotels listed above offer you a great stay in San Diego.
Best price guarantee
Get the best deals and prices for your stay in San Diego with Booking.com and Hotels.com! They offer price matching, which means you'll be getting the lowest price available online, guaranteed! If you find a cheaper offer on another website for the same hotel room at least 24 hours before check-in, contact them to claim a refund of the difference.
Top 5 boutique hotels in San Diego
Let's quickly summarize this guide. Based on thousands of guest reviews and tips from travel experts, these are the best boutique hotels in San Diego:
More San Diego tips
Get more great content like the guide above! Check out these other articles about San Diego:
Best cheap hotels in San Diego
Best luxury hotels in San Diego