Amsterdam is one of the most beloved cities in Europe and has been a hotspot for travelers and tourists for decades. It is rich in history and culture, loaded with things to see and do, holds amazing views, and has some of the best cuisines in the country. Whether you are looking to cycle around the city, indulge in the artistic and cultural aspects, or relax on a trip down one of the hundreds of canals, a trip to Amsterdam is never disappointing.
Not only is the city of Amsterdam fun and exciting, but the Dutch capital is also now ranked as one of the world's most eco-friendly and sustainable cities in the world. Featuring vegan and vegetarian restaurants all over the city, and having more bicycles per square mile than residents, it goes above and beyond to be an environmentally friendly city. Its goal is to reduce CO2 admissions by 55% within the next 10 years, and so far it's doing a fine job at doing so.
For some of the best sustainable hotels in the city of Amsterdam, check out some of these great options that focus on minimizing and reducing waste, being eco-friendly, and focusing heavily on health and wellness.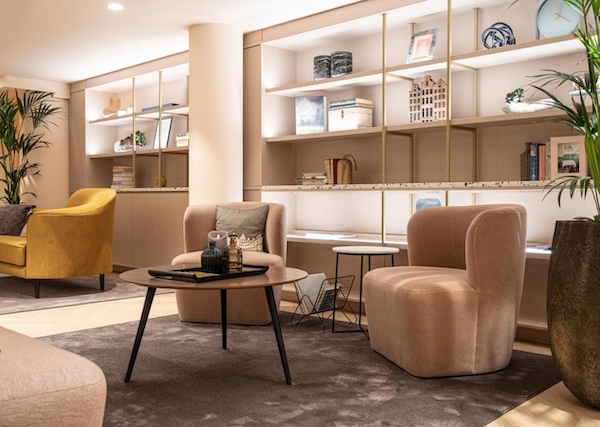 Eden Hotel
The Eden Hotel is a perfect mixture of tranquility, culture, and energy. Between its ideal location, breathtaking views, and abundance of amenities, it's one of the best sustainable hotels in the city. The hotel sits in a hub for digital nomads and tourists, with the convenience and comfort of everything you might need.
Located in the beating heart of Amsterdam, Eden Hotel is centrally located, close to all the action and entertainment that the city holds. The newly renovated 4-star hotel is situated within the theater district, surrounded by restaurants, cafés, shops, and landmarks beloved in Amsterdam. Rembrandt Square is right around the corner and is within walking distance of the Jewish Historical Museum and the Van Gogh Museum.
Rooms at the Eden Hotel overlook the famous Amsterdam canals, and all are unique and different from one another. They come with fully loaded private bathrooms, a television, free wifi, and a cozy warm-colored atmosphere. Ticket services for attractions around the city are available at the front desk, in addition to complimentary concierge services.
What makes Eden Hotel sustainable
The Eden Hotel focuses on the health and well-being of all guests. Fresh produce and foods are available 24/7 in the onsite market and restaurant, with in-room healthy breakfast and daily meals filled with organic vitamins and nutrients. Yoga mats are free and available for all guests to use for a peaceful moment of zen or meditation.
Hotel details
Address: 
Amstel 144, Amsterdam City Center, 1017 DA Amsterdam, Netherlands.
Guest rating:
4.1 out of 5
Price per night:
From $170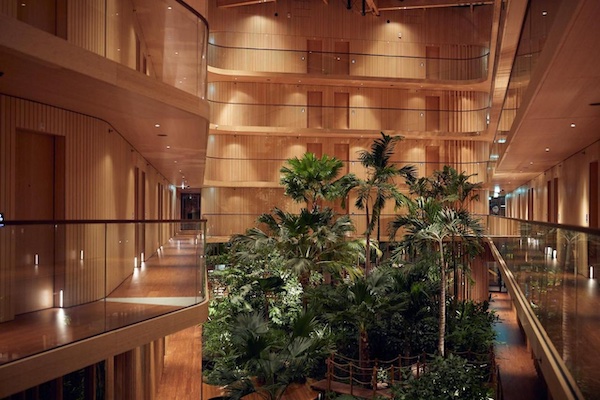 Hotel Jakarta
Hotel Jakarta is a unique and luxurious sustainable hotel option in the beloved city of Amsterdam. Centrally situated to easily access everything the city has to offer and to make the most of your time during your stay. Spend your time in a wellness oasis with more than enough amenities to keep you comfortable.
Located in the former place where ships would set sail for Jakarta, Hotel Jakarta is conveniently located in the middle of the city, overlooking the river IJ on one side and the north center of Amsterdam on the other. It is less than a mile away from Central Station and within walking distance from Dam Square and the Royal Palace. The hotel is inspired by Indonesian design and style, with over 200 luxurious suites with balconies and breathtaking views. Cafe Jakarta is onsite serving breakfast, lunch, and dinner.
What makes Hotel Jakarta sustainable
Hotel Jakarta offers visitors a green and environmentally friendly oasis in the center of Amsterdam. Healthy fresh meals are available every day, in addition to a wellness lounge for staying fit and healthy during your time away from home.
Hotel details
Address: 
Javakade 766, Zeeburg, 1019 SH Amsterdam, Netherlands.
Guest rating:
4.5 out of 5
Price per night:
From $230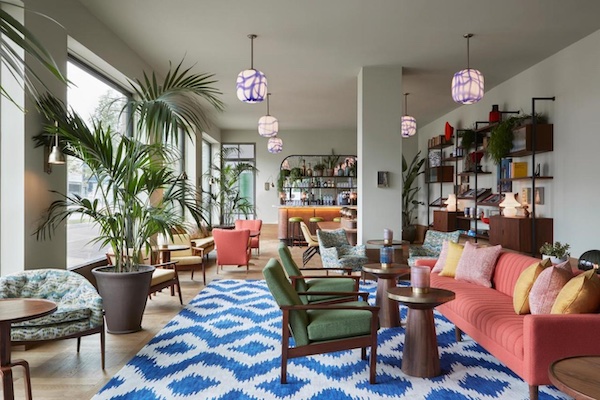 Hotel Twenty Eight
Known as one of the finest sustainable boutique apartments in Amsterdam, Hotel Twenty-Eight is your home away from home in the city. Style and hospitality come hand in hand, with all the comforts of home you left behind. Life like a local during your stay, being surrounded by urban delights and the real Dutch culture.
Located in an upscale neighborhood in the South of Amsterdam, it is close enough to be convenient, but for enough away from the hustle and bustle. It's very close to the Schiphol Airport and the charming Vondelpark. The hotel features an onsite restaurant, sauna, bicycle rentals, and fitness facilities. Rooms are fully furnished and equipped will all the appliances and amenities needed, a private bathroom with a rainmaker, and high-speed internet. The staff at reception are happy to help you with any tours or transportation you may need throughout your stay.
What makes Hotel Twenty Eight sustainable
Hotel Twenty Eight goes to great lengths to minimize its ecological footprint through construction, maintenance, and design. The building is able to generate a lot of its own energy and has an integrated system for heating, cooling, and water preservation. Hotel Twenty-Eight has been recognized as a Golden Green Key, for encouraging eco-friendly values and traditions.
Hotel details
Address: 
260 Stadionplein, Oud Zuid, 1076 CK Amsterdam, Netherlands.
Guest rating:
4.6 out of 5
Price per night:
From $235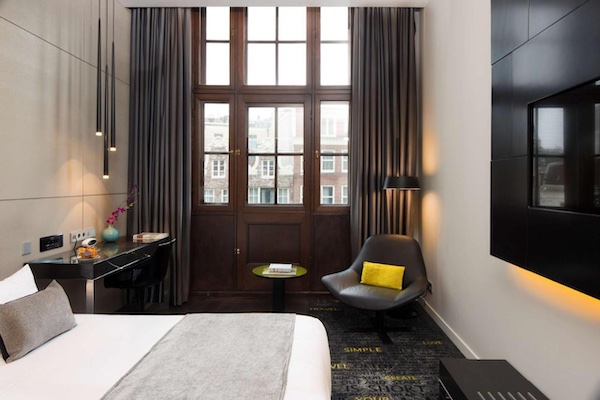 Art'otel
Art'otel is a culturally curated and sustainable hotel situated in the city, just opposite Central Station. An on-site art gallery allows guests to immerse themselves in culture and gaze upon modern artwork and design from local artists. A slice of heaven and eclectic comfort turns a simple stay into a dream come true.
Located in the heart of the city, Art'otel is surrounded by Amsterdam's main attractions, restaurants, cafes and shops in every direction. The Anna Frank House, Jordaan, Negen Straatjes, and Dam Square are all within walking distance, and the train station can take you anywhere else in the city. Rooms come decked out in modern art and mood lighting for the perfect vibe. Amenities include private bathrooms, televisions, free wifi, robes and slippers, a mini fridge, and an espresso machine. Breakfast is served each morning buffet style, and the ARCA bar and restaurant offers a blend of Asian and Portuguese dishes and exciting live events on the weekends.
What makes Art'otel sustainable
Art'otel stays sustainable by keeping guests happy, healthy, and everything as convenient as possible. Paper waste is eliminated by going fully digital, wellness and fitness facilities are provided on-site at the hotel, and fresh meals packed with vitamins and nutrients are served in the room or at the ARCA restaurant. Additionally, bike rentals are provided for eco-logical convenience and preservation.
Hotel details
Address: 
Prins Hendrikkade 33, Amsterdam City Center, 1012 TM Amsterdam, Netherlands.
Guest rating:
4.3 out of 5
Price per night:
From $270
Conservatorium Hotel
The iconic Conservatorium Hotel offers guests a hospitable and sustainable stay in the center of Amsterdam. The building itself is an architectural masterpiece, blended with historical heritage, culture, and a contemporary design. The crown jewels and hotspots of the city are close by, and it's a location convenient for comfort, culture, and business.
Locate in Amsterdam's museum district, it is situated for easy access to famous attractions, restaurants, shops, and cafes. Van Gogh Museum, Concert Hall, Vondelpark, and the luxurious PC Hooftstraat shopping district are all within walking distance, and the Schiphol Airport is less than 30 minutes away. All 129 rooms are equipped with luxurious amenities like high-quality linens, spacious stocked bathrooms, brushed oak furniture, private bars, and high-speed internet. Additionally, a swimming pool, Watsu pool, sauna, and relaxation area are available for all guests of the Conservatorium Hotel.
What makes Conservatorium Hotel sustainable
The Conservatorium Hotel is home to the Akasha Holistic Wellbeing Center. It focuses on the health and well-being of guests in an all-natural and holistic approach. Over 1000 yards are sustained for fitness practices, sauna, oriental massages, meditation practices, Hammam, and relaxation spaces. Additionally, design and interior pieces are made from all-natural materials in as many aspects of the building as possible.
Hotel details
Address: 
Van Baerlestraat 27, Oud Zuid, 1071 AN Amsterdam, Netherlands.
Guest rating:
4.6 out of 5
Price per night:
From $350
How we select the best eco-friendly hotels in Amsterdam
We are a travel research company. We check a lot of details and guest reviews before making a selection. First, we check which hotels follow eco-travel principles. Are they recycling their waste? Do they work with local communities? Are they using renewable energy? Are they not using single-using plastics?
Secondly, we check guest reviews across multiple websites and only list hotels which have an aggregated review rating of at least 4 out of 5. So you can be certain you will be staying at an excellent eco-friendly hotel in Amsterdam.
Sustainable travel is becoming increasingly popular and important as we strive to reduce our carbon footprints. There are many easy ways to reduce your impact while traveling, from choosing eco-friendly accommodations to respecting the local wildlife. Here are some of the most important tips for sustainable travel.
More Amsterdam guides
Get to know the city even better by reading our other articles about Amsterdam: