Lisbon is the charming capital city of Portugal, located along the banks of the Tagus river. It is well-known for having intriguing neighborhoods embedded in hills and pristine sandy beaches. Lisbon is a bustling port city with booming commerce and a thriving culture.
Visitors love to visit the city's many sights. Much of the center is relatively "new" compared to other European capitals because an earthquake destroyed it in 1755. However, many historic architectural styles still exist after being rehabilitated.
Places like the stunning plaza and gate at Praça do Comércio (Commerce Square) welcome Lisbon's guests. Rua Garret in the Chiado district has endless unique boutiques, bookstores, cafés, and silver and porcelain shops to explore. There are Moorish castles and stunning palaces mixed in with colorful narrow alleys.
If you want to visit this vibrant city, there are many accommodation options. Here are the top five hostels in Lisbon, Portugal: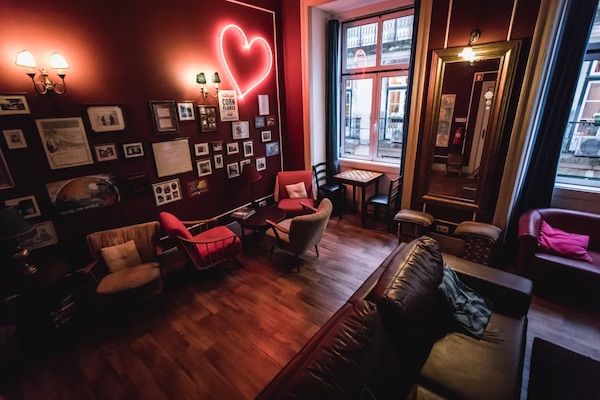 Home Lisbon Portugal
You can find the Home Lisbon hostel in the charming Baixa neighborhood in the heart of the city. This district was redesigned from scratch after an earthquake in the 18th century destroyed the center. Just outside the hostel, you can find cute outdoor cafés in iconic yellow buildings and river views.
The hostel is in a 200-year-old building and offers mixed or female-only dorms with an attached bathroom. Guests can relax in the outdoor patio and lounge area. During the day, they plan immersive history and cultural events. If you want to sample Portuguese cooking, the owner's mother serves nightly dinners. At night, there are pub crawls to experience Lisbon's nightlife.
Guests love the homecooked dinners, family atmosphere, and central location.
Hostel details
Address:
Rua de Sao Nicolau, 13, 2E, Lisbon, Portugal.
Guest rating:
4.7 out of 5.
Price per night:
from $13.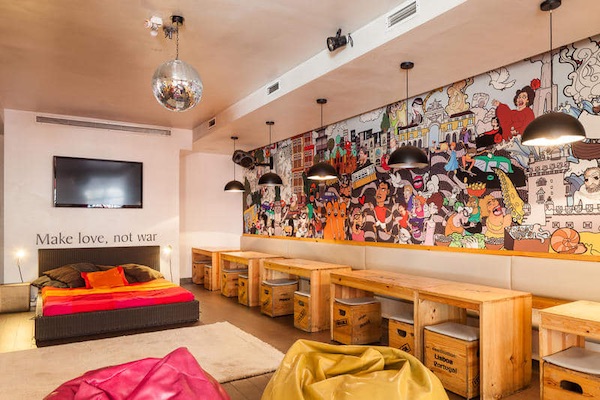 Yes! Lisbon Hostel
You don't need public transportation to get around at the Yes! Lisbon Hostel. It's just a 2-minute walk from the Praça do Comércio and downtown area. Steps away from the hostel is the famous No. 28 tram, which drives past many iconic Lisbon sights. Only 15 minutes away is the old quarter, Alfama.
Yes! Lisbon offers guests mixed or female-only dorms and private rooms. For some extra privacy, you can book custom-made bunk beds with a curtain. The facilities have a kitchen, elevator, and onsite bar. Guests can enjoy free tea, coffee, and chocolates, as well as delicious dinners. You can book day trips to Sintra through the hotel reception.
Its cleanliness, great vibe, and value are this hostel's highlights.
Hostel details
Address:
Rua de Sao Juliao 148, Lisbon, Portugal.
Guest rating:
4.7 out of 5.
Price per night:
from $15.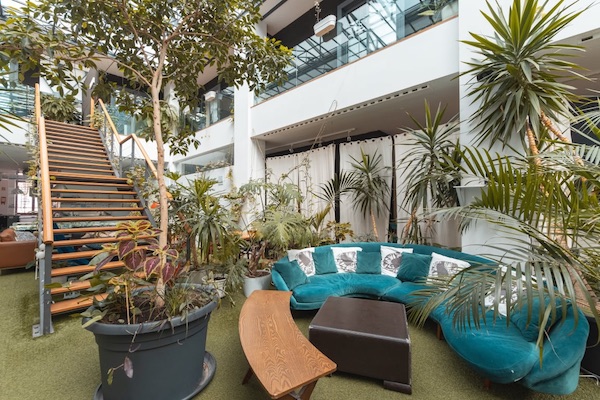 Lisbon Destination Hostel
Have you ever wondered what it's like to stay in a train station? Even if you haven't, you'll find out at the Lisbon Destination Hostel. You can find this hostel housed in one of the most iconic Lisbon sights, the Rossio Train Station. All of Lisbon's famous attractions are within steps of the train station.
Visitors can choose between private and shared rooms in their renovated 19th Century Romantic building. There are large windows for majestic city views and a second-floor winter garden. Guests can enjoy hammocks, pool and ping-pong tables, and Netflix movies. Digital nomads can also enjoy coworking spaces. There are complimentary guided tours and cheap meals here.
Guests love the friendly staff, unbeatable location, and social atmosphere.
Hostel details
Address:
Rossio Train Station, Second Floor, Lisbon, Portugal.
Guest rating:
4.8 out of 5.
Price per night:
from $16.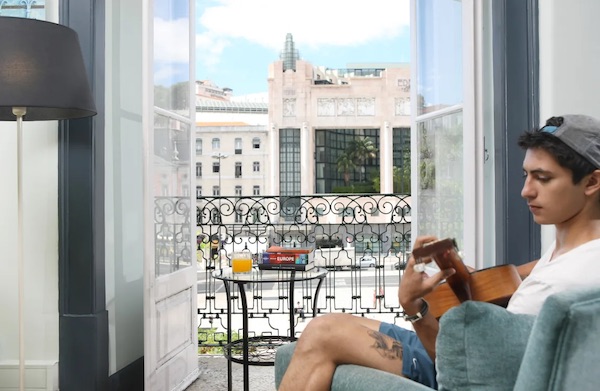 Goodmorning All-Inclusive Hostel
This hostel's location is in the vibrant Bairro Alto district. The area is well-known for its exciting nightlife, complete with clubs and bars. Just steps away from the hostel is the Rossio tram stop, where you can get to the Cascais beaches and UNESCO World Heritage Site, Sintra.
You can choose from private double or twin rooms, as well as mixed or female-only dorm rooms. Each bed has a night light and storage locker. The hostel offers guests common areas to participate in the book exchange and cook a meal in the kitchen. Every night, the Goodmorning Hostel has homemade dinners and "Power Hours" with free beer and sangria.
The delicious food, welcoming staff, and excellent accommodations are a hit here.
Hostel details
Address:
Praca dos Restauradores, n. 65, 2º, Lisbon, Portugal.
Guest rating:
4.8 out of 5.
Price per night:
from $18.
This is Lisbon Hostel
This is Lisbon Hostel is the perfect place to stay if you want to be in Lisbon's old-town, Alfama. Everything is within walking distance of this traditional neighborhood, including the tram, Rossio Square, and the flea market.
The hostel's building is a renovated 19th-century structure with a rooftop terrace. Guests can choose from seven rooms that have heaters and free lockers. Each day, there are inexpensive breakfasts, free walking tours, homemade dinners, and Portuguese lessons. If you want to go on a day trip, there are organized visits to Sintra and Caparica Beach. There are even Yoga and surfing lessons organized by the hostel.
This is Lisbon has high ratings because of its stunning views, central location, and delicious meals.
Hostel details
Address:
Costa do Castelo 63, Lisbon, Portugal.
Guest rating:
4.7 out of 5.
Price per night:
from $18.
About our Lisbon hostel recommendations
Are you a solo traveler looking for a private room? Or a backpacker traveling around in a group wanting to stay in a cheap and cozy dorm? Above you will find the best hostels in Lisbon for all your needs.
Please note, we only list hostels that have an aggregated guest review rating of at least 4.0 out of 5. We aggregate all reviews from different booking sites and other unbiased review websites. Hence, you can be certain all hostels listed above offer an excellent value-for-money stay in Lisbon.
Best price guarantee
For our hostel recommendations, we work together with Hostelworld and Booking. These partnerships don't have any influence on the recommendations we make or on the order in which our recommended hostels are listed. The reasons why we have chosen to partner with these companies is that they're trustworthy, offer excellent service and they both apply the best price guarantee. This means you can claim a refund for the difference if you find your reservation cheaper on another website. It has to be for the same property, accommodation type, dates, cancellation policy and conditions, otherwise, you can't claim the refund for the difference. If you book through Booking.com then all you need to do is contact them at least 24 hours before your check-in date. If you book through Hostelworld you must claim the refund within 24 hours after you made the booking.
Top 5 hostels in Lisbon
To summarize again, based on thousands of guest reviews, these are the best hostels in Lisbon:
Why you should be careful when booking the cheapest hostel available
The cheapest hostels available are typically not in a great location. If you want to go sightseeing or go for a night out in central Lisbon, you probably end up having to pay for public transport or a taxi to get there. So your stay could end up being more expensive compared to a stay in a central location. For first-time travelers, we recommend staying central anyway, but also for frequent visitors, it's probably worth it to pay a bit more to stay in a central location.
Another reason why you shouldn't stay at the cheapest hostel is that the people staying at the cheapest hostels are often not the people that can afford to travel like you. Because a very cheap hostel is often cheaper than renting a flat, these places tend to attract migrant workers or local misfits. That's probably not the crowd you want to hang out with, especially if you're a solo traveler looking for friends.
The third reason why you should avoid the cheapest hostels is safety. Some of the cheapest hostels don't check IDs, don't ask for signatures, or only accept cash at check-in. The hostel won't know who is actually staying there.
Lastly, the service at these hostels isn't great. For instance, if you choose to store your luggage, your bags will be unattended in a public space. It won't be recorded anywhere or tagged and stored in a locked room.
So, it's probably worth it to spend a bit more on your hostel stay in Lisbon.
And finally, a tip: always read the latest reviews of the hostel! All places have good and bad reviews, but the most recent reviews matter the most.
More Lisbon tips
Get to know the city even better and check out our other articles about Lisbon:
Best boutique hotels in Lisbon