Lisbon is a thriving port city along the banks of the Tagus River in Portugal. This charming capital is well-known for pristine beaches, fascinating neighborhoods, and beautiful architecture. People from around the world flock to Lisbon to experience this vibrant destination.
Compared to other European locations, its historic center is relatively "new" due to an earthquake that destroyed most of the city in 1755. There are many things to do and see in Lisbon. One of its most iconic sights is the Praça do Comércio (Commerce Square), a large square that welcomes guests to the city.
Rua Garret in the Chiado district is a bustling retail corridor with bookstores, cafés, boutiques, and silver and porcelain shops. Around the city, there are Moorish castles, stunning palaces, and intriguing narrow alleyways to explore.
If you plan on visiting this beautiful place, here are the five best luxury hotels in Lisbon.
Bairro Alto Hotel
The Bairro Alto Hotel is a one-of-a-kind experience that you could only have in Lisbon. Most newer hotels don't have the same level of attention to detail as this place. This hotel's tiles are from Morocco, and their walls come hand-painted.
The façade of this ornate 19th-century building is a beautiful yellow shade. Inside, the décor is a mix of historic features and modern design. It has an iconic blue, yellow, and ivory color palette reflective of its setting. On the hotel's fifth floor, there is an outstanding restaurant with breathtaking river and city views. It is one of Lisbon's best places to relax and enjoy some beautiful sunsets.
Guests love the hotel's charming décor, outstanding service, and rooftop terrace.
Hotel details
Address: 
Praça Luis De Camões 2, Misericordia, 1200-243 Lisbon, Portugal.
Guest rating:
4.7 out of 5
Price per night:
From $250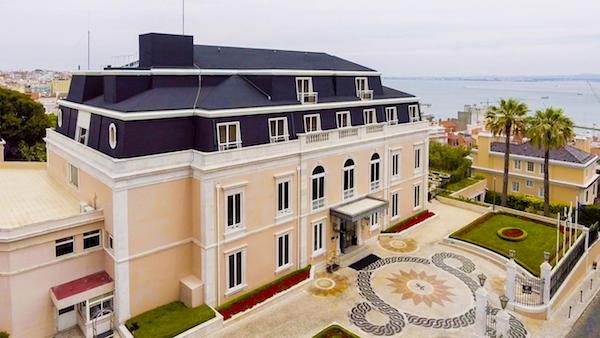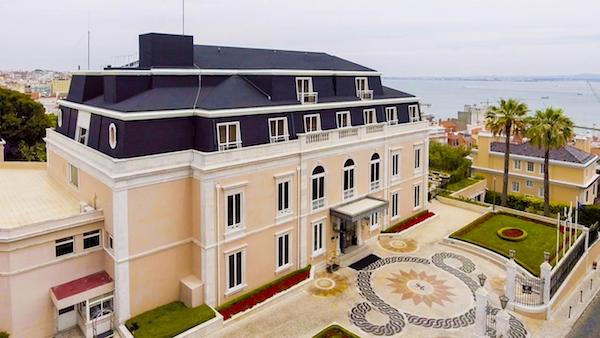 Olissippo Lapa Palace
You can feel like Portuguese royalty while staying at the Olissippo Lapa Palace. This stunning retreat is a real-life 19th-century palace that exudes elegance and class. It is a favorite destination amongst business execs, A-listers, and groups alike.
Travel here, and you'll understand why this hotel is so well-loved. You'll find a variety of different architectural styles represented here that will please any visitor. Four designers collaborated to create this masterpiece of a hotel. Rooms have Louis XV, Orientalist, and Art Deco themes. Each of these rooms has a balcony with superb views of the city. Downstairs, its restaurant attracts locals and hotel guests with its mouthwatering Italian cuisine.
Travelers enjoy the hotel's luxurious amenities, exceptional service, and peaceful location.
Hotel details
Address: 
Rua do Pau de Bandeira 4, 1249-021 Lisboa, Portugal.
Guest rating:
4.6 out of 5
Price per night:
From $400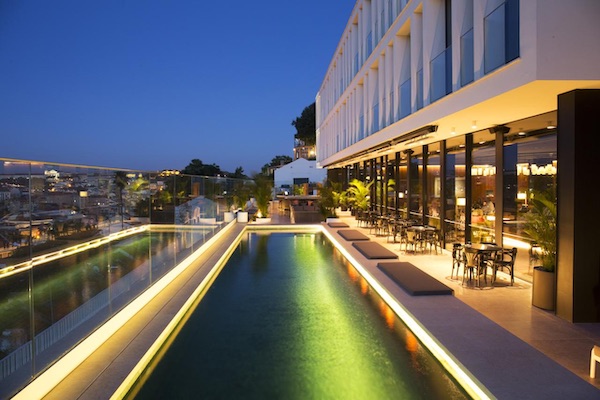 Memmo Príncipe Real Hotel
The Memmo Príncipe Real Hotel is a place that sits in Lisbon's off-the-beaten-path Príncipe Real neighborhood. It's one of the best-kept local secrets that blends historic charm with modern luxury. Memmo Príncipe stands out among the sea of old-fashioned buildings. The hotel itself is very hip, stylish, and extravagant.
The interior is worthy of its royal name. Each of its forty-one guest rooms is fit for a prince, outfitted with balconies, fireplaces, and outstanding views. Throughout the property, there are characteristic blue-and-white Portuguese tiles and calming earthy tones. You'll find a delicious restaurant where you can dine al fresco overlooking the city and pool.
Visitors were most impressed by the Memmo Príncipe's exciting location, scenic views, and attentive staff.
Hotel details
Address: 
Rua D. Pedro V 56J, Santo Antonio, 1250-094 Lisbon, Portugal.
Guest rating:
4.6 out of 5
Price per night:
From $175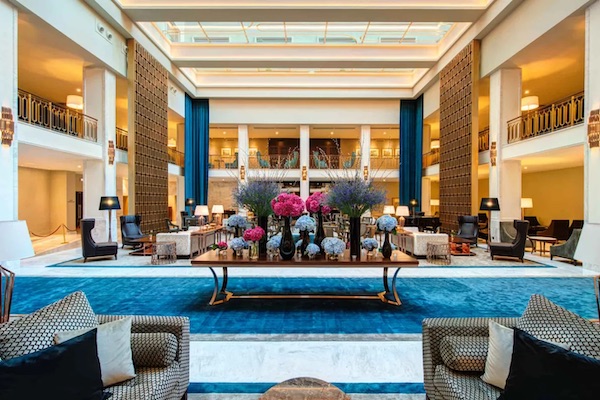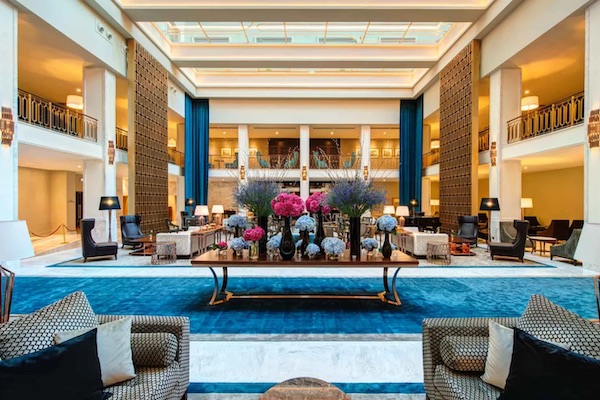 Tivoli Avenida Liberdade
There are plenty of new hotels to stay at in Lisbon, but there's no resisting Tivoli Avenida Liberdade's old-world charm. This hotel has been going strong since its establishment in 1933. While it is very historic, it is by no means dated. Its property successfully blends its classical setting with contemporary elegance.
There are 285 rooms at this hotel that come adorned with luxurious linens, walk-in showers, and bathtubs. These spaces are simple yet opulent. On the property, there are two outstanding restaurant choices and three bars. You can kick back and relax at the pool or the spa. The hotel has a very central location should you desire to explore your surroundings.
Guests enjoy the rooftop bar, outstanding service, and delicious food.
Hotel details
Address: 
Avenida da Liberdade, 185, Santo Antonio, 1269-050 Lisbon, Portugal.
Guest rating:
4.6 out of 5
Price per night:
From $180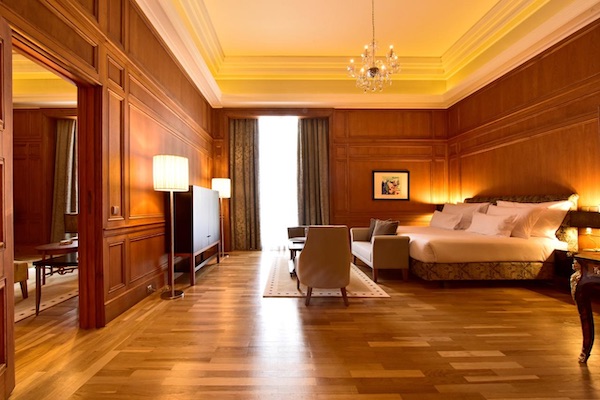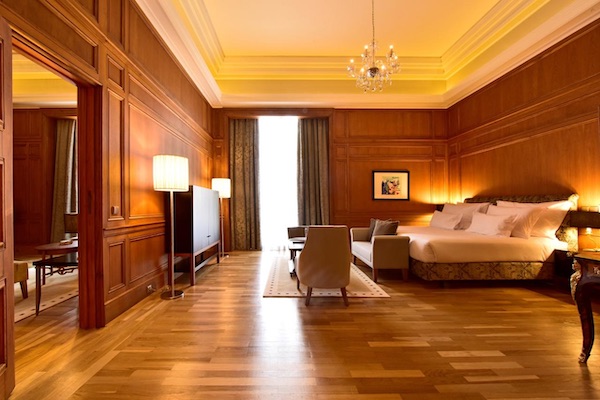 Pousada de Lisboa, Praça do Comércio
In Portugal, Pousadas are historic buildings transformed into luxury hotels by the government. The government no longer owns them, but they still house guests and provide memorable experiences. This Pousada housed in a converted ministry building in the Praça do Comércio is no exception.
You can't get any more central than this hotel, located right in one of Lisbon's most visited squares. There's no question that its surrounding area is incredible, and the hotel's interior matches its glory. Its spaces blend vintage government building features with refreshingly contemporary design. There are outstanding public areas, including a restaurant, bar, and ballroom. In the morning, there's a delicious breakfast for guests.
Highlights include the unbeatable location, comfortable rooms, and tasty dining options.
Hotel details
Address: 
Praça do Comércio 31-34, Santa Maria Maior, 1149-018 Lisbon, Portugal.
Guest rating:
4.6 out of 5
Price per night:
From $230
About our luxury hotel recommendations in Lisbon
We are a travel research company. Our team helps you discover the best luxury hotels in Lisbon by researching the internet for you. We have also visited some of these places. Hence, it's not just our opinion, it's the opinion of many travelers who have been there before you. We make it easy for you to find out about the most luxurious and exclusive 5-star hotels in the city.
Please note, we only list hotels that have an aggregated guest review rating of at least 4.0 out of 5. We aggregate all reviews from different booking sites and other unbiased review websites. Hence, you can be certain all hotels listed above offer you a great stay in Lisbon.
Best price guarantee
We partner with Hotels.com and Booking.com to make sure you get the best price for your stay in Lisbon! Both sites offer price matching. That means you pay the lowest prices for your stay. If you find a cheaper offer on another website for the same luxury hotel in Lisbon at least 24 hours before check-in, contact them to claim a refund of the difference!
Top 5 luxury hotels in Lisbon
Now that you've gone over this guide, let's summarize it. We got to know what the best 5-star hotels in Lisbon are thanks to thousands of guest reviews and tips from travel experts:
More Lisbon guides
If you like the advice we've given you above, make sure to check out some of our other articles about Lisbon:
Best boutique hotels in Lisbon