Prague is the capital city of the Czech Republic and has been given the nickname the "City of a Hundred Spires" which it certainly lives up to with the many spires, towers, turrets and steeples that adorn its historical buildings and churches. Regularly featuring on travel lists of the most romantic cities in the world, Prague has an old-world charm about it with its spectacular architecture that is predominantly in the baroque, gothic, and medieval styles.
The city is actually relatively small for a capital city with a total population of around 1.3 million people but there is certainly no shortage of things to do while on your trip to Prague.
The city is bisected by the Vltava River, which runs through a large majority of Prague and serves as an important landmark in the capital and helps to divide the popular tourist regions, which are divided into areas 1 through to 10.
There are many reasons you would want to visit Prague – for example, its beautiful scenery both natural and architectural, the local music and arts scene, the buzzing nightlife.
You may even want to visit to find out more about its famous beer, Pilsner Beer which originated in the town of Pilsen which is only an hour train ride away from the capital – making for a fun day trip.
There are many great areas to stay in Prague so take a look at these top five neighborhoods to help you plan the perfect trip to this magical city.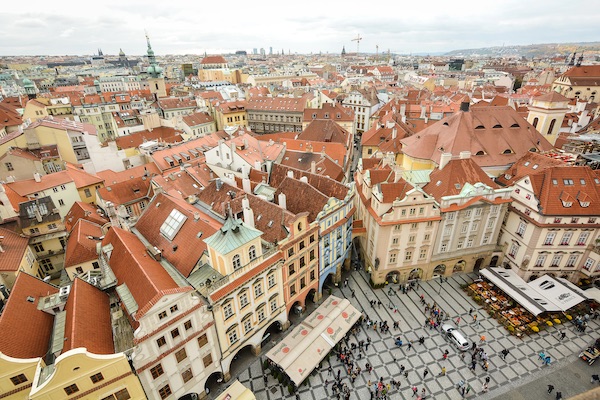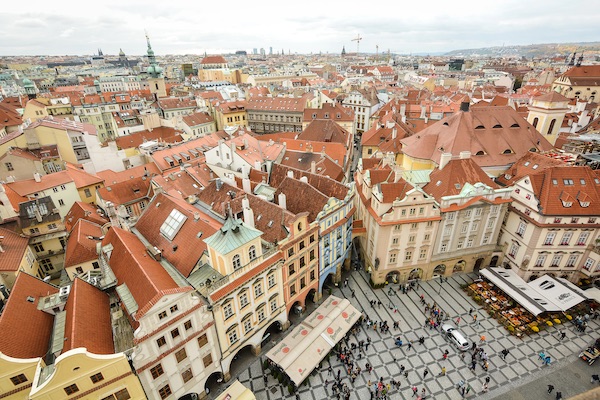 Old Town
Prague's Old Town is the geographical center of the city and is the perfect place to stay if it is your first time visiting Prague.
It is also a great area to consider for those who are visiting for only a short amount of time and want to visit the most iconic landmarks and favorite tourist hotspots while not having to travel very far from your accommodation to get there.
There is also an abundance of restaurants available so that you never have to travel very far for a bite to eat when you're feeling peckish. As this is the most popular place to stay in the city, accommodation and restaurants can be a little pricier but the central location of the walkability of your surroundings will be worth the extra cash.
Marking the border of Old Town is the Powder Tower. The structure, which was built in 1475, was home to gunpowder storage in the 17th century – hence its name. You can climb up to the top of the tower in just under 200 steps, and once you reach the top, you'll be greeted with beautiful sweeping views of the city below.
Venturing further into Old Town you will find Old Town Square. The square contains many of the city's main attractions such as The Astronomical Clock, Old Town Hall, and the Church of Our Lady Before Tyn (which was the inspiration for the Sleeping Beauty Castle at Disneyland!).
Additionally, If you're visiting during December you can't miss the beautiful Christmas Market that takes place in the square.
Best place to stay in Old Town
Hotel Rott. Address: Male Namesti 4/138, Prague, 110 00, Czech Republic.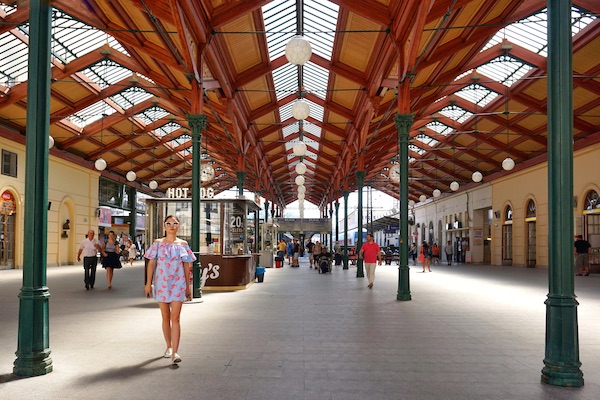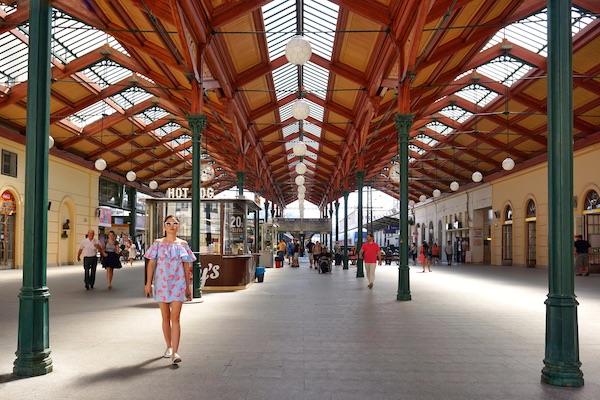 Nové Město (New Town)
Contrary to its name, Nové Město (which is located right next to Old Town) mostly consists of buildings that are around 700 years old! Like its close neighborhood Old Town, Nové Město is also full of history and grand and ornate buildings.
However, if Old Town is the cultural and historical heart of Prague New Town is its main commercial district sporting many hotels, department stores, and small shopping malls.
One of the areas main attractions (and indeed one of Prague's main attractions) is the "Dancing House". This office building's contemporary and eye-catching design is in stark contrast to the rest of its surroundings.
Another contrasting piece of architecture that resides in Nové Město is the Jubilee Synagogue. With its bright colors and Art Nouveau décor, the Synagogue is the perfect place for a photo opportunity.
Best place to stay in New Town
BoHo Hotel. Address: Senovážná 1254/4, 110 00 Nové Město, Czech Republic.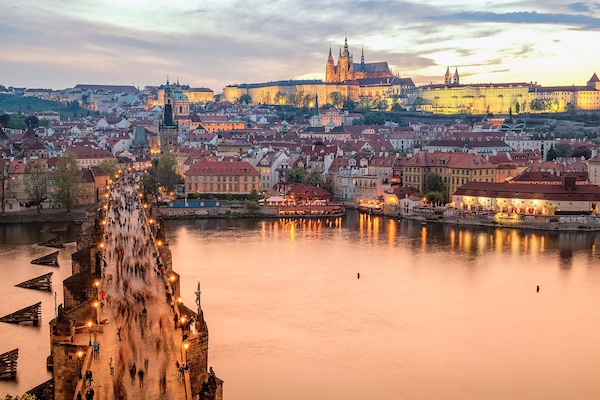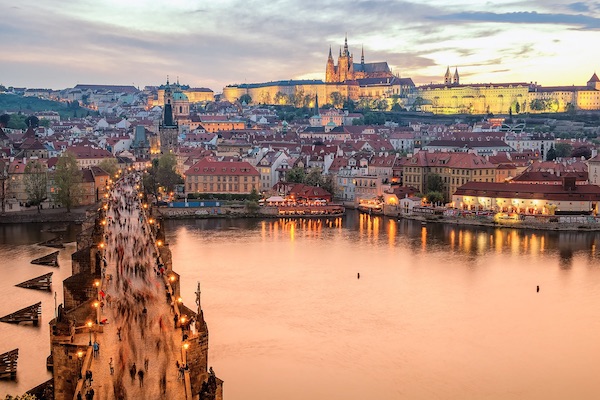 Malá Strana
Malá Strana, also known as The Lesser Town, is located on the foothills of Prague Castle, on the opposite side of the river to the Old Town. Its location really leads to its fairytale-like charm, that transcends time.
As such, Malá Strana is greatly picturesque and if you're looking for a quieter place to stay then this will be your perfect spot. Even though the area is much quieter than the previous two areas that were mentioned, it is located only an 8-minute walk from the Old Town so it is hugely convenient.
One of its most iconic sights is the Charles Bridge. This medieval bridge built in the 1300s allows people to cross the Vltava river and connects Malá Strana to the Old Town. If you're looking for some greenery, then you must check out Wallenstein Garden.
This 17th-century Italian style garden leads you to the Senate palace, complete with baroque-style statues and pools and ponds.
Because this area of Prague is not as full of bars and late-night spots as others are, you can walk the streets later in the evening and really feel as though you have stepped back in time and have entered the old world version of the country.
Best place to stay in Malá Strana
Hotel Mandarin Oriental Prague. Address: Nebovidská 459/1, 118 00 Malá Strana, Czech Republic.
Cheaper alternative:
Hotel Kampa Garden. Address: U Sovových Mlýnů 9, Prague, 11000, Czech Republic.

Vinohrady
If you still want to experience the historical charm of Prague, but stay in a hip and trendy neighborhood, then Vinohrady is where you will want to be. Located in Prague 2, the neighborhood consists of lovely pastel-colored art deco buildings and is heavily populated by ex-pats and young professionals.
Contrasting its cool and contemporary vibe, the Church of the Most Sacred Heart of Our Lord is one of the most famous buildings in the area.
The interior of the church has a surprisingly somber feel that is quite different from most other churches you will see in the country, with its flat wooden ceiling as opposed to most that are greatly adorned with complex designs and paintings. It boasts the biggest clock face in Central Europe!
Because of the area's varied and hip inhabitants, you will find many different restaurants and bars here so it's a perfect place if you like to have many international foods close by and beer readily available at a host of different bars and beer gardens.
Best place to stay in Vinohrady
Hotel Royal Court Legerova. Address: Tourist Information Center, Legerova 48, Prague, 12000, Czech Republic.

Zizkov
Sometimes when traveling it can be easy to get so wrapped up in the tourist lifestyle that you forget the city that you are visiting has local residents that live there. If you've visited Prague before and want to see a new side to the city, or simply wish to get a taste of what life is like for the locals, Zizkov is the perfect area for you.
Although Zizkov is a mainly residential area, there are still many things to see and do, and it's a great place to base yourself for your stay in Prague. One such place that represents the vibe of the area really well is Nákladového nádraží Žižkov.
This art space and café combination sits behind a train station and serves as a gathering spot for the community. You'll also want to take a trip to the TV tower where you can admire the sculptures that adorn the walls and take a trip up to the observatory deck for some drinks and a beautiful view.
Best place to stay in Zizkov
Hotel Theatrino. Address: Borivojova 53, Prague, 13000, Czech Republic.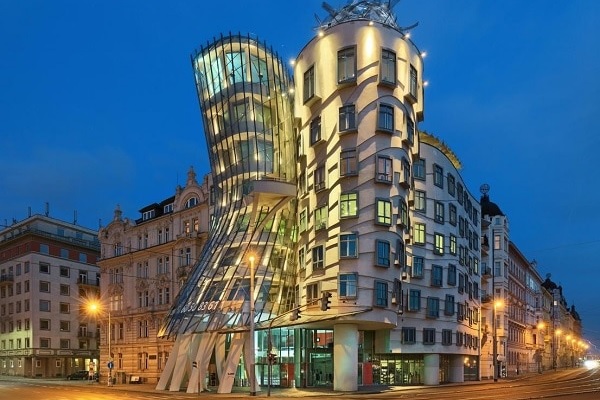 Where travel critics stay in Prague
Want to know where travel critics from publishers like The New York Times, Frommer's, Fodor's and Lonely Planet stay in Dublin, Prague? Check out our overview of all recommended hotels, hostels and B&Bs in Prague.
Budget
"This upbeat hostel enjoys a fairly convenient location in Vinohrady, a quasi-boutique aesthetic, and a unique mix of dorms, private rooms and apartments that are dotted with designer furnishings and generally devoid of drunken backpacker groups." — Telegraph.
Address: Melounova 2, Prague, 120 00, Czech Republic.
Mid-range
"Last year also saw the arrival of a new Dancing House Hotel. The location along the river and south of Old Town is excellent, though the real pleasure comes from getting to stay inside the landmark riverside building by architects Frank Gehry and Vlado Milunic." — New York Times.
Address: Jiráskovo nám. 1981/6, 120 00 Nové Město, Czech Republic.
Luxury
"Consistently rated one of Prague's best boutique hotels, the Golden Well is hidden away at the top of a narrow side street in Malá Strana. Effectively built into the side of a hill below Prague Castle, the location affords spectacular views of the city." — Fodor's.
Address: U Zlaté studně 166/4, Malá Strana, 118 01 Praha 1, Czech Republic.
FAQ: Prague hotel tips
Looking for the best budget, boutique, or luxury hotel in Prague? Or maybe you're a backpacker looking for an excellent hostel? Want to know which Prague hotel serves a great breakfast? Here are the answers to all those and other questions about where to stay in Prague.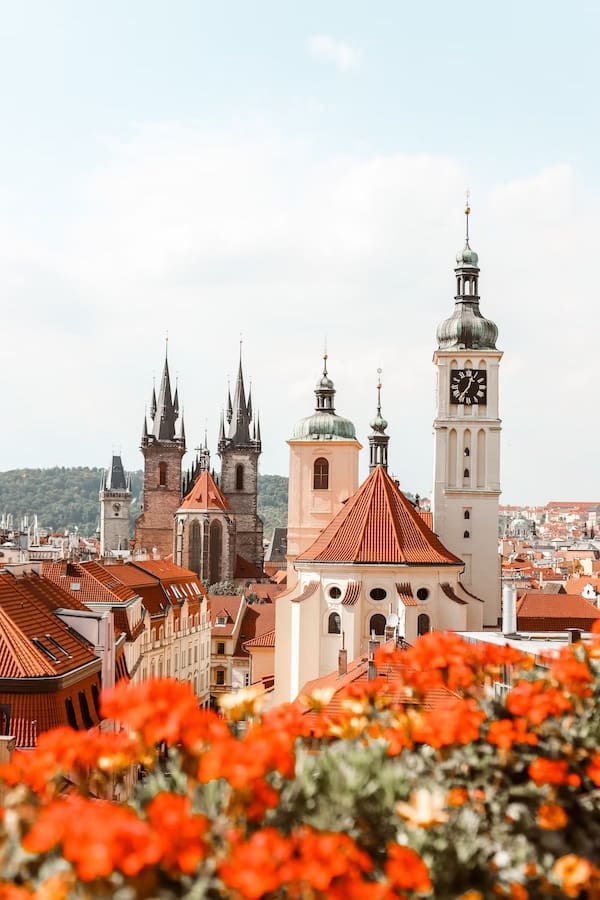 Best time to visit Prague
The best time to visit Prague is in the spring (April to June) and fall (September to October) when the weather is mild and the city is less crowded with tourists. During these periods, you can enjoy the city's architectural beauty, historical sites, and cultural festivals in a more relaxed atmosphere.
Spring is particularly enchanting as the city blooms with cherry blossoms and vibrant greenery, providing perfect conditions for sightseeing and outdoor activities.
Fall offers a picturesque view of Prague with its stunning autumn foliage, making a walk across Charles Bridge or through the Old Town a truly memorable experience.
If you are a fan of Christmas markets, December would be the best time to visit Prague. Despite the cold weather, the festive atmosphere with beautifully decorated streets, traditional Czech food and drinks and the sound of Christmas carols make it a magical experience.
Summer can also be an exciting time to visit Prague. The city hosts various music and cultural festivals which attract a lot of tourists. However, it is also the peak tourist season and can be quite crowded.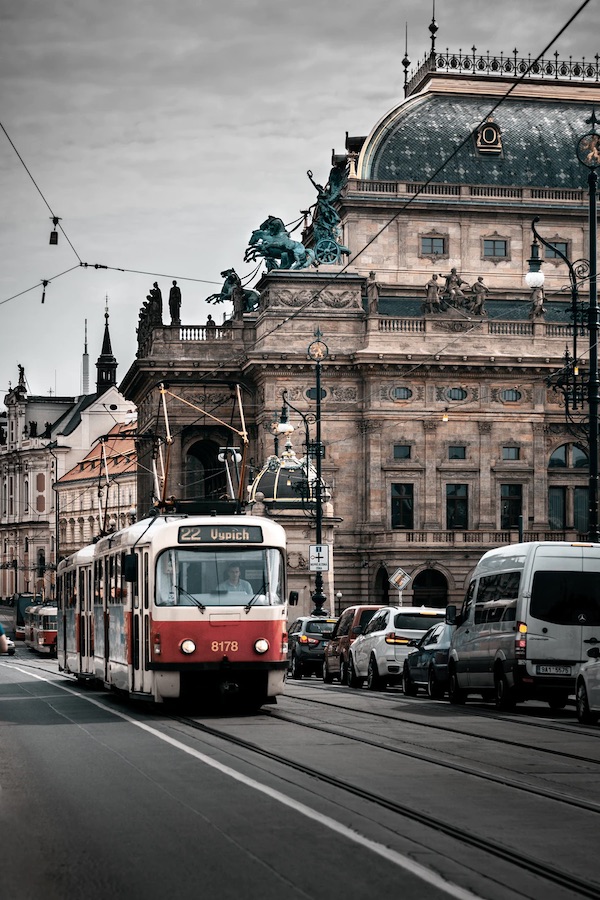 Best things to do in Prague
There are a lot of things to do in Prague and the surrounding areas, including day trips, attractions, museums, sightseeing tours and many other activities. Here's our list of 3 things you should definitely do when you're in and around Prague:
Prague: Medieval Dinner with Unlimited Drinks
Spend an evening in the heart of Prague enjoying a 3 or 5-course medieval dinner with unlimited drinks. You'll be entertained by a special medieval performance, in a show that includes swordsmen, jugglers, and belly dancers, all accompanied by music. Price: $49. More info.
Small-Group or Private City Walking Tour Including Vltava River Cruise and Lunch
Explore must-sees such as Old Town Square, Wenceslas Square and the Jewish Quarter as your guide recounts their histories, and savor a hearty Czech lunch at an Old Town restaurant. Price: $89. More info.
Prague: Ghosts and Legends 1.5-Hour Walking Tour
Discover the myths and legends of Prague on a 1.5-hour ghost tour. Go to some of the city's most mysterious alleys, and hear stories that will make you pray for the daylight! Learn the story behind the skeleton on the Astronomical Clock, and more. Price: $20. More info.
Deciding where to stay in Prague
Let's recap what we just learned in this article. We've covered the best areas of Prague above. Now you can decide where to stay while visiting!
Top 5 neighborhoods to stay in Prague
Zizkov
Vinohardy
Malá Strana
Old Town
Nové Město
As you have seen in this travel guide, there are a lot of things to explore, and deciding where to stay in Prague is important. Whether you stay in Zizkov, Vinohardy, Malá Strana, Old Town or Nové Město, all those neighborhoods are in good locations.
The atmosphere of the area, whether you travel for leisure or business, whether you travel with your family or friends, and proximity to the attractions you prefer to visit should probably be the deciding factors. Whatever your preference is, you'll have a great stay in Prague.
Check out our other guides about the best places to stay in Prague: