Istanbul is one of the most beautiful cities in all of Turkey. The city is also one of the few places in the world where you can visit two continents at once. Split down the middle by the Bosphorus River, Istanbul allows guests to visit Europe or Asia simply by crossing a bridge. Taksim Square, the downtown core of Istanbul, is located just west of the Bosphorus River and it's where most of the well-known attractions can be found.
In recent years, the Turkish Lira, the country's native currency, has been subject to hyper-inflation. Therefore, visitors who are looking to transfer Euros or US dollars into Turkish Lira will find that many of the goods around Istanbul are extremely affordable. This also means that you can visit the Grand Bazaar, one of Istanbul's most famous attractions while stretching your spending power as far as possible as you roam through the 5,000 shops and restaurants in the bazaar.
For eco-friendly travelers hoping to visit the city sustainably, you're in luck! There are many hotels in Istanbul that make sustainability practices a priority. While there are hundreds of hotels to choose from, we've hand-picked the most comfortable and eco-friendly options, allowing you to book your stay in confidence. We've also included mention of where they're located in the city, some of the things you can expect during your stay, and why they're sustainable.
Read on to learn what our five top picks were for sustainable hotels in Istanbul.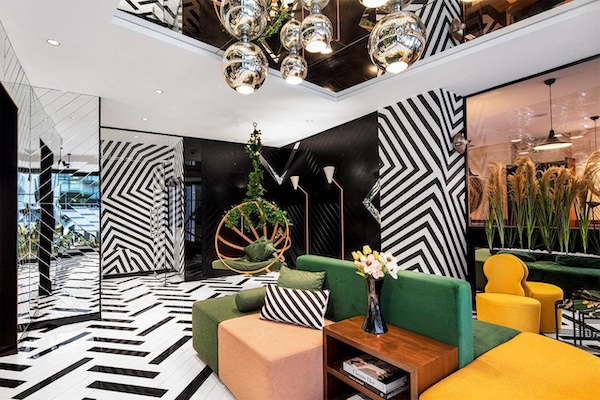 The Westist Hotel & Spa
The Westist is located in the Beyoğlu district, just west of the Bosphorus River. This hotel allows guests to stay in one of the most popular parts of Istanbul, with nearby access to many well-known attractions. The Blue Mosque and Hagia Sophia are just a short walk or bus ride away. The hotel is also located near a metro station, so hopping on public transit to reach one of the nearby attractions is especially easy. You'll also find several museums, historical landmarks, and delectable restaurants all within walking distance.
While this quarter of Istanbul is recognized as the heart of the city, it is also one of the most compact, so space comes at a premium. For that reason, the hotel rooms inside the Westin may be relatively smaller than what you're used to. That doesn't mean you have to sacrifice on luxury though. The Westist does things differently than the usual Ottoman style decorations, instead choosing to focus on an art deco theme influenced by a contemporary minimalist look.
Why is the Westist Hotel sustainable?
As for its sustainability practices, the Westist has several ongoing initiatives. They have energy-efficient lighting, heating, and cooling. They also don't use single-use plastics anywhere throughout the hotel. Furthermore, they stock eco-friendly shampoos and soaps, and clean with eco-friendly products. In addition, their restaurant sources ingredients from local, sustainable suppliers, and they strive to reduce and compost any food waste produced. Finally, the Westist also focuses on training its staff in sustainability practices as well as the cultural heritage of the area.
Hotel details
Address: 
Balyoz Sokak Asmalı Mescit Mahallesi, Balyoz Sokak No:14, Beyoglu, 34430 Istanbul, Turkey.
Guest rating:
4.4 out of 5
Price per night:
From $94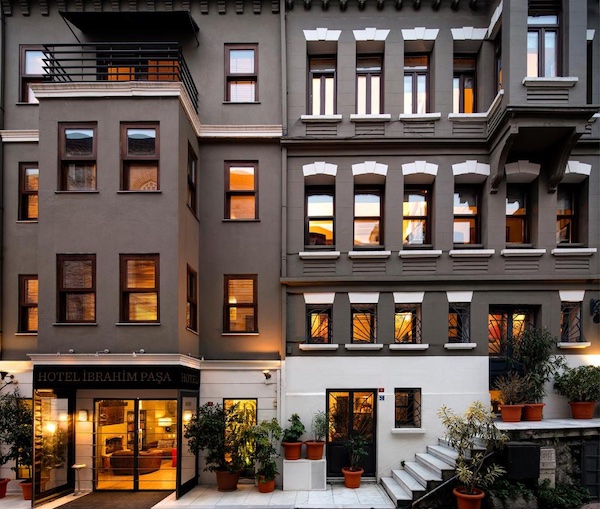 Hotel Ibrahim Pasha
Hotel Ibrahim Pasha is located south of the Golden Horn in the Sultanahmet district. This quarter is also one of the more popular parts of Istanbul, so you can expect to be right in the center of the action by choosing to stay here. The Hagia Sophia mosque is also just a short walk away, allowing you the opportunity to visit before the crowds arrive. You'll also find several more museums, historical attractions, and outdoor parks in this district.
There are just 24 rooms in this contemporary and comfortable hotel and the walls follow the outlines of an old house. This makes Hotel Ibrahim's Ottoman influence feel cozy without showing too much that a visitor would find it kitschy. Although the atmosphere is set in an old home, you'll find all of the usual modern amenities, from wireless internet to heated floors. The hotel also offers phenomenal views overlooking the Sultanahmet district, including a great view of the domes and spires of the Blue Mosque in the distance.
Why is the Ibrahim Pasha Hotel sustainable?
Regarding its sustainability practices, Hotel Ibrahim Pasha strives to create an eco-friendly atmosphere for its guests. It's not the most eco-friendly option on our list, but they do use energy-efficient lighting and allow guests the option to reuse towels and linens. Additionally, you'll find that their food ingredients are sourced from local farms and that their staff is friendly and knowledgeable about the local cultural heritage.
Hotel details
Address: 
Terzihane Sok. No:7, Sultanahmet, Fatih, 34122 Istanbul, Turkey.
Guest rating:
4.6 out of 5
Price per night:
From $105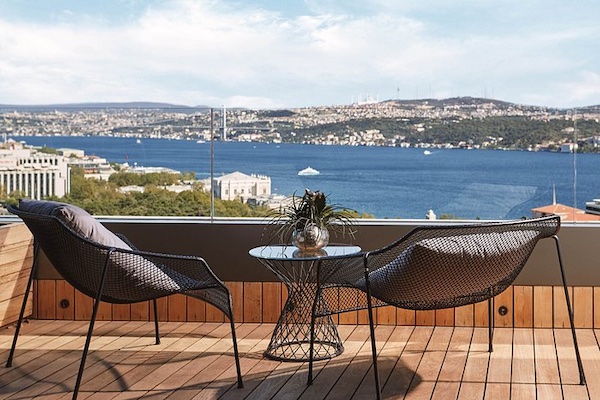 Gezi Hotel Bosphorus
Gezi Hotel Bosphorus is a 5-star hotel overlooking the Bosphorus River. It's also across the street from the beautiful Taksim Gezi Park. Although it's one of the more pricey options on our list, the added cost gets you access to some of the most gorgeous views anywhere in Istanbul. Nearby you'll find the Dolmabahçe Palace and the Galata Tower. Be sure to stop in at a few of the many restaurants in the area too for some incredible Turkish cuisine.
When it comes to luxury, you'll definitely be impressed with what Gezi Hotel has to offer. The remarkable hotel has an interior that features warm, welcoming materials like wood, leather and stone. The rooms themselves also offer a bit more spaciousness given the elevation of the hotel above the busy streets of the square below. The Gezi Hotel also has an in-house restaurant and bar, a spa, a 24-hour fitness center, and a meeting room for business travelers. The windows are also sound-proofed, so you can enjoy the views of the city without having to take in all of the noise below.
Why is the Gezi Hotel sustainable?
Gezi Hotel also excels in its sustainability practices, with several ongoing initiatives to preserve the health of the environment. They use renewable energy to power the hotel, but they also reduce the amount of energy needed with efficient lighting, heating, and cooling systems. They have also removed single-use plastics from their premises and provide guests with the option to reuse towels and linens. Finally, you'll find that Gezi Hotel farms organic and hydroponic produce on their property, while also sourcing additional food ingredients and wine from local suppliers.
Hotel details
Address: 
Mete Cd. 34 Taksim, Beyoglu, 34437 Istanbul, Turkey.
Guest rating:
4.4 out of 5
Price per night:
From $155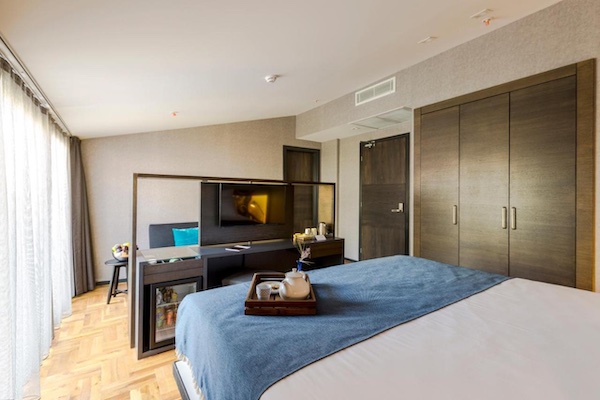 Lampa Design Hotel
Located in the district of Şişli, Lampa Design Hotel is in one of the more artistic and quieter areas of the city. Nearby, you'll find a small handful of museums, mosques, and restaurants. If you're interested in venturing out to visit some of the major attractions in Istanbul, you'll probably want to hop on public transit to be taken into the main area of the city. Nonetheless, Lampa Design Hotel isn't too far off the beaten path, and it's definitely walkable if you don't mind a little bit longer of a journey on foot.
As for its interior decoration, Lampa Design Hotel provides guests with a sleek black atmosphere and dozens of pieces of art to look at. In fact, the owner is an avid collector of local art, many pieces which can be seen throughout the hotel. It's true that this is more of an urban boutique hotel instead of a 5-star resort, but you'll get the added luxury of a cozy atmosphere. To add, you'll be able to take advantage of a cool coffee bar and a Turkish-style breakfast buffet.
Why is the Lampa Design Hotel sustainable?
When it comes to sustainability, Lampa Design Hotel has many of the usual eco-friendly practices that you might expect from a sustainable hotel. They have removed single-use plastics, they use energy-efficient lighting, they clean with eco-friendly products, and they also source their produce from local suppliers. The hotel truly shines, however, due to the fact that they regularly measure their carbon emissions, and are actively engaged in supporting and giving back to the community.
Hotel details
Address: 
Halaskargazi Cad. 19 Mayis Mah. Operator Raif Bey Sok. No: 35, Sisli, 34363 Istanbul, Turkey.
Guest rating:
4.1 out of 5
Price per night:
From $110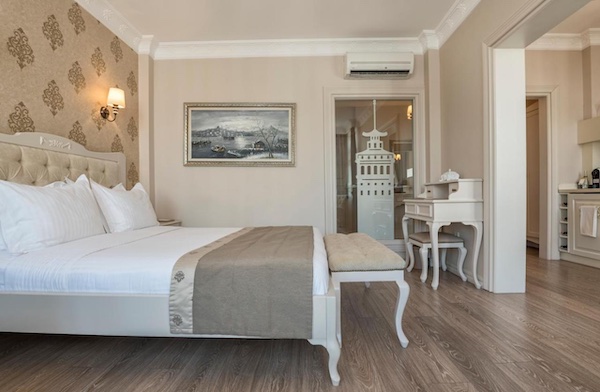 Louis Appartements Galata
If you're looking for something in between prices without sacrificing on proximity to major attractions, look no further than Louis Appartements Galata. This 4-star hotel is located close to the Galata Tower in the Şişhane district. This densely packed area allows guests to step out of the hotel and into the hustle and bustle of Istanbul's majestic town center. The city's well-known riverside cafés are also just a short walk away, a must-see experience while you're in the area.
The interior of Louis Luxury Suite Appartements are charming and elegant. The guest rooms' decorations almost feel like you're living in a dollhouse but in the best way possible. There's an on-site café for breakfast and the occasional meal, but the smaller common areas of the hotel encourage guests to venture out into the city to enjoy some of the nearby restaurants. With 12 rooms to choose from, this hotel ensures that your stay in Istanbul is quiet and rewarding.
Why is Louis Apartments sustainable?
As for their sustainability practices, Louis Luxury Suite Appartements focus on several key initiatives. They have also removed single-use plastics from use, allow guests the option to reuse towels and linens, and conserve energy when the rooms are empty. They have energy-efficient lighting, heating, and cooling, while also striving to train their staff in the best sustainability practices. All of this and more makes Louis Appartements Galata another great option to choose from.
Hotel details
Address: 
Sahkulu Mah. Ilk Belediye Cad. No:10 Sishane / Beyoglu, Beyoglu, 34000 Istanbul, Turkey.
Guest rating:
4.6 out of 5
Price per night:
From $85
How we select the best eco-friendly hotels in Istanbul
We are a travel research company. We check a lot of details and guest reviews before making a selection. First, we check which hotels follow eco-travel principles. Are they recycling their waste? Do they work with local communities? Are they using renewable energy? Are they not using single-using plastics?
Secondly, we check guest reviews across multiple websites and only list hotels with an aggregated review rating of at least 4 out of 5. So you can be confident you will stay at an eco-friendly hotel in Istanbul.
More and more people recognize the importance of sustainable travel. Not only is it better for the environment and our planet, but it also often leads to more meaningful experiences. If you're interested in learning more about eco-tourism, here are some eco-friendly travel tips to get you started.
More Istanbul guides
Get to know the city even better by reading our other articles about Istanbul: