Cyprus, a sunny destination in the Mediterranean's heart, is a beautiful place to visit year-round. The sun is always shining on its spectacular beaches, quaint towns, and lush forests. While it's not as traveled to as other places in Europe, it's a destination that everyone should have on their list.
This stunning island-nation is the birthplace of Aphrodite, the goddess of love. It is a romantic destination with six large cities and countless beaches to explore. You can find all types of coastlines here, from dramatic rocky shores to pristine white-sand beaches.
In Cyprus, you're never very far from pure turquoise waters. Its cities have plenty to do, from sightseeing to sampling exquisite cuisine. The island is famous for its fresh halloumi cheese and meat skewers. You can wash all of this down with the word's oldest wine.
If you want to visit, here are the five best boutique hotels: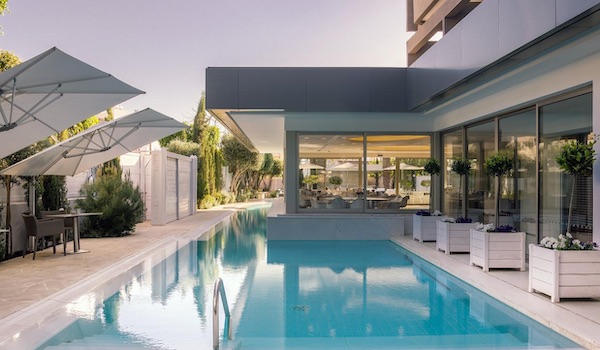 Alasia Hotel
Experience a luxurious island getaway at the Alasia Hotel. You can find this elegant spot in Limassol, a bustling coastal city on Cyprus's southern end. The hotel is in a residential district close to Old Limassol Port and Winery and the central shopping district.
You'll find an incredible city or ocean view in every room. Every accommodation has a neutral and modern color palette appointed with marble tiling, wooden flooring, and subtle decorative touches. Executive suites are ultra-luxurious and come with a private balcony with a jacuzzi. You can find tasty cuisine at the Polo Restaurant and Bar, on the lobby-level terrace, and in the lounge.
Guests love this hotel because of its attentive staff, delicious dining, and downtown location.
Hotel details
Address: 
6 Haidariou street, 3020 Limassol, Cyprus.
Guest rating:
4.6 out of 5
Price per night:
From $140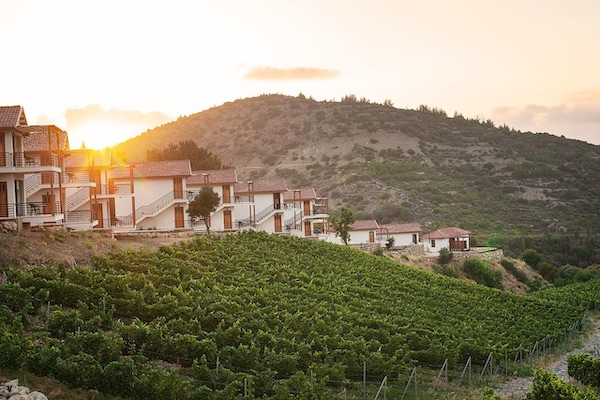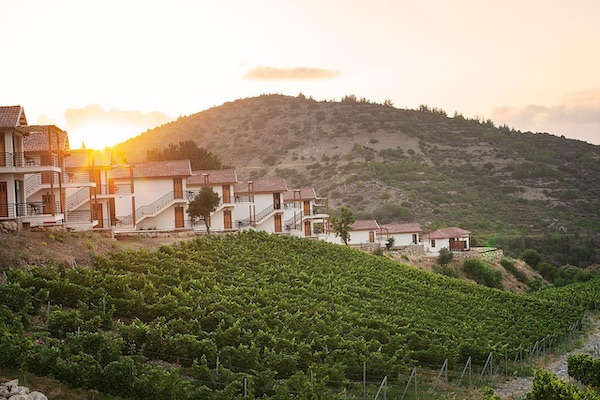 Gillham Vineyard
If you are a wine enthusiast, you'll be in heaven at Gillham Vineyard in Northern Cyprus. At this hotel, you'll have access to plenty of wine produced on-site. The winery offers guests tours and guided tastings of its delicious wine. On top of that, you'll only be fifteen minutes from the Mediterranean.
Its thirty-one rooms, including nine suites, come tastefully decorated with natural materials and spectacular views. Many of them have patios where you can sit outside and soak up the sunshine. Staying here is a relaxing experience, with a spa, hammam, and pool on its property. If you're hungry, its restaurant serves up an Israeli take on Cypriot classics.
Visitors enjoyed its picturesque setting, excellent eateries, and world-class wine.
Hotel details
Address: 
120 E Karaoğlanoğlu Caddesi, 9935 Temblos, Cyprus.
Guest rating:
4.8 out of 5
Price per night:
From $160
Annabelle
Overlooking Paphos harbor on the southwestern coast is Annabelle, a gem of a boutique hotel. While the hotel is spectacular enough to lounge around all day, you'll have no trouble exploring the Paphos Old Town. A relaxing day on Coral Bay beach isn't out of the question either.
The entire property, including its 244 rooms and 51 suites, has a décor that reflects the Mediterranean setting surrounding it. Its color scheme is soft neutrals with subtle pops of earth and water hues. There is no shortage of amenities to entertain guests, including a gym and squash and tennis courts. Hungry diners have five dining options at the resort.
Highlights include its proximity to the harbor, relaxed atmosphere, and exceptional amenities.
Hotel details
Address: 
Poseidonos Avenue, Kato Paphos, 8042 Paphos, Cyprus.
Guest rating:
4.6 out of 5
Price per night:
From $150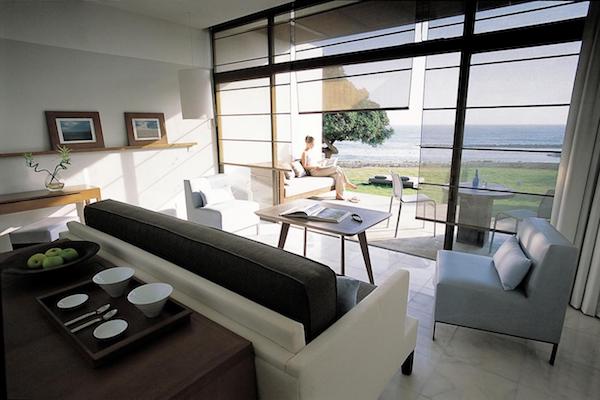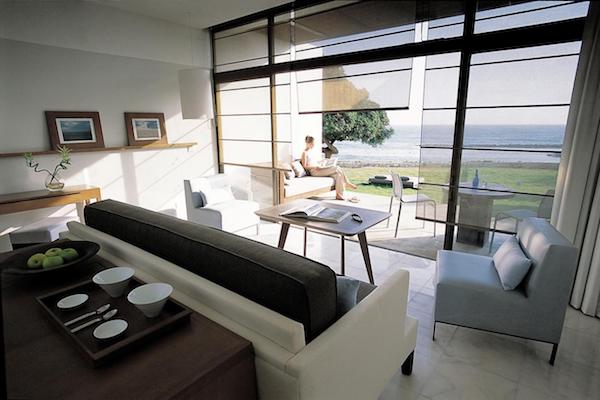 Almyra Hotel
The Almyra Hotel stands where the former Paphos Beach Hotel used to reside in Paphos. It is one of the city's most fashionable properties, steps away from the Mediterranean Sea.
Accommodations elevate the typical Mediterranean aesthetic with geometric furnishings and contemporary touches. However, the hotel's color palette is the same neutral canvas with a pop of ocean hues popular in the region. Rooms let in plenty of sunshine with floor-to-ceiling windows and terraces and balconies in some units. You can enjoy a delicious meal at night with an ex-Nobu chef serving up exquisite Japanese fare. During the day, this spot is a sunny poolside bar.
This hotel's high ratings come from its beautiful ocean views, superb dining, and welcoming staff.
Hotel details
Address: 
Poseidonos Ave 12, Paphos, Cyprus.
Guest rating:
4.4 out of 5
Price per night:
From $185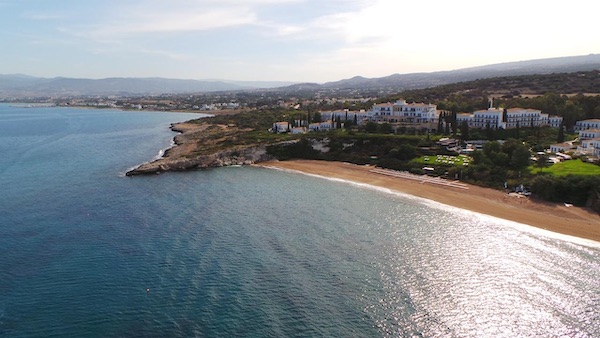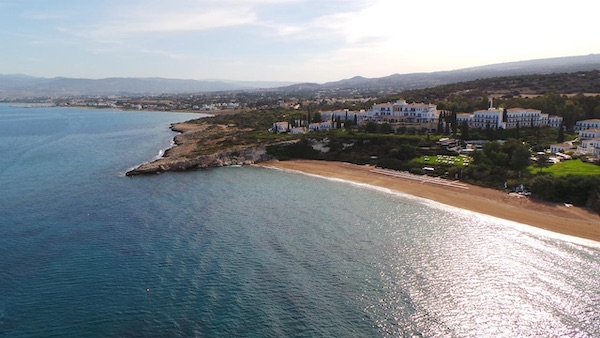 Anassa
Anassa is a tranquil getaway perched on a hilltop overlooking the Mediterranean Sea on the island's west coast. You won't encounter hordes of tourists during your stay because its location is a retreat from the major cities.  Byzantine villages inspired this hotel's design, and the property is a collection of villas.
Every room, no matter the size, is elegant and spacious. Its light and natural hues play up the sunlight coming through the floor-to-ceiling windowed doors that lead to its terraces. The hotel's visitors rarely leave because the Anassa experience is a complete vacation. Many rooms have a pool attached, but if not, there are three communal pools.
The hotel's highlights are its clean beach, dining options, and plentiful amenities.
Hotel details
Address: 
P.O.Box 66006, Latchi, 8830 Polis Chrysochous, Cyprus.
Guest rating:
4.7 out of 5
Price per night:
From $400
About our boutique hotel recommendations in Cyprus
We are a travel research company. We help you discover the best boutique hotels in Cyprus by researching the internet for you. It's not just our opinion, it's the opinion of many travelers who have been there before you. We make it easy for you to find out about cool design hotels and unique design hotels on the island. Some of them might be so romantic you might not want to leave your room.
Please note, we only list hotels that have an aggregated guest review rating of at least 4.0 out of 5. We aggregate all reviews from different booking sites and other unbiased review websites. Hence, you can be certain all hotels listed above offer you a great stay in Cyprus.
Best price guarantee
We partner with Booking.com and Hotels.com to provide you with the lowest price guarantee on your stay in Cyprus! Both those websites offer price matching. That ensures that you are paying the lowest price available online. If you find a cheaper offer on another website for the same cool hotel in Cyprus at least 24 hours before check-in, contact them to claim a refund of the difference!
Top 5 boutique hotels in Cyprus
Before you go, let's summarize this guide. Based on thousands of guest reviews and tips from travel experts, these are the best boutique hotels in Cyprus:
More Cyprus tips
If you like our guide above, you should also check out our other articles about Cyprus: