The island of Cyprus is a popular holiday destination thanks to its beautiful sandy beaches and natural beauty, its lively towns such as Ayia Napa, and its excellent sunny weather, which stays warm most of the year.
As people become more eco-conscious of their traveling choices, Cyprus has become an ideal destination for people looking to reduce their carbon footprint by choosing an eco-friendly hotel that values sustainability.
We have chosen the best eco-friendly and sustainably conscious hotels and resorts from the coast of Protaras to the city of Paphos. Read on to discover the 5 best sustainable hotels in Cyprus.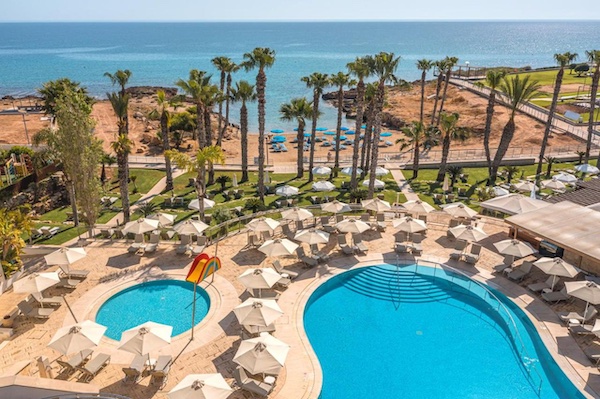 Louis Althea Beach Resort, Protaras
The Louis Althea Beach Resort is located in the Protaras area of Cyprus on the southeast coast, known for its stunning beaches and its National Forest Park. This area is popular for people who wish to be close to Paralimni city or Ayia Napa whilst enjoying the peace of Protaras.
The beautifully expansive hotel has excellent amenities with two large swimming pools, a children's pool, a spa and a wellness center, tennis and volleyball courts, and a kids club. The rooms are light, airy, and spacious and offer excellent views over the ocean from the balconies. Kalamies Beach is within strolling distance of the hotel, whereas the well-known Fig Tree Bay is a short drive away, excellent for those looking for a relaxing beach holiday.
What makes Louis Althea sustainable
The management of the Louis Althea Beach Resort has ensured the sustainability of the hotel is a top priority by implementing an eco-friendly action plan for the hotel to follow, which includes
Recycling hotel waste such as paper, glass, plastic, linens, and furniture where possible
Fitting low-energy LED light bulbs throughout the resort
Installing solar panels on the main building to support and reduce the energy used to heat water.
Closely monitor energy consumption and usage within the resort and reduce consumption where possible
Installation of eco-friendly toilets and showers within the guest rooms and staff areas
Re-use treated water for landscaping and gardening purposes
Educate staff and guests on the sustainable practices of the resort and encourage guests to contribute by reusing towels, recycling, and turning off lights when not in use.
Hotel details
Address: 
34, Ellinon Street, 5306 Protaras, Cyprus.
Guest rating:
4.4 out of 5
Price per night:
From $165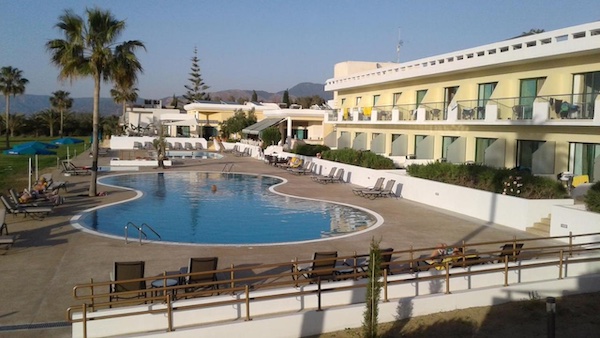 Natura Beach Hotel, Polis
The stunning eco-friendly hotel is located on the northwestern coast of Paphos on a stretch of extended beach, surrounded by beautiful botanical gardens and within a short drive of Paphos town. The hotel is an ideal location for nature lovers as it is conveniently located next to many excellent nature trails, with the Pafos Forest and the Akamas Peninsula National Park located nearby. Children are warmly welcomed at the hotel which has brilliant children's pool facilities and play areas.
The Natura Beach Hotel also has two large swimming pools, a small gym, a sauna, a restaurant serving traditional Cypriot cuisine, and a bar overlooking the ocean.
There are 86 rooms at the hotel including private villas which are decorated with clean Lines With modern amenities.
What makes Natura Beach Hotel sustainable
The Natura Beach Hotel is committed to sustainability and has received the Business Tourism Sustainability Award for its efforts toward being an eco-friendly hotel. The Natura Hotel has a strong environmental ethos, and the management ensures the hotel fulfills its commitments by:
Conserving and generating energy through the use of a solar panel system, which covers a large proportion of the everyday electrical needs of the hotel.
Using Green Energy to heat and maintain the eight swimming pools onsite
Using eco-friendly light bulbs throughout the resort
Installing automatic sensors to turn off the air conditioning when the balcony and external doors are open, and when the guest keycard is removed.
Organic matter is composted to be used in the hotel's organic vegetable garden and paper, metal, glass, and plastics are recycled.
As the beach that neighbors the resort is a known turtle breeding and nesting area, the Natura Beach Hotel takes great efforts to reduce outdoor artificial light, avoid excessive water sports on the beach and ensure that any nesting sites are protected to help protect endangered sea turtle species.
Hotel details
Address: 
Chr. Papanikopoulos rd., 8831 Polis Chrysochous, Cyprus.
Guest rating:
4.2 out of 5
Price per night:
From $73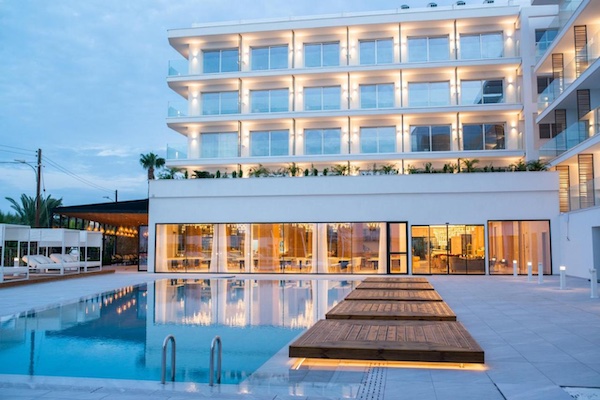 AT Herbal Hotel, Protaras
The AT Herbal Hotel is a striking 5-star hotel located on the southeast coast of Cyprus in the Protaras area which is known for its beautiful sandy beaches and the nearby Cape Greco National Forest Park.
The hotel offers spacious rooms decorated in a modern luxurious design with balcony spaces for each room. It also has excellent amenities such as a rooftop pool and garden area, a restaurant, 3 bar spaces, a spa, and a fully equipped gym. The hotel also offers many sporting activities to its guests including yoga, bike rentals, and Nordic walking. The AT Herbal Hotel is excellently located within walking distance of some stunning beaches including Sunrise beach and Marlita beach, and the lively town of Ayia Napa is a short drive away, where guests can enjoy the exciting nightlife of Cyprus.
What makes AT Herbal Hotel sustainable
The AT Herbal Hotel is an eco-conscious hotel with sustainability worked into the practices and management of the hotel. The hotel maintains its eco-friendly reputation by:
Monitoring water consumption throughout the hotel and installing water-efficient toilets in all the guest rooms.
Electricity consumption is reduced through the use of motion sensors and keycard-activated electricity within the rooms, meaning energy is conserved when guests are not in their rooms.
Food at the hotel is locally sourced and organic.
The hotel has its own green rooftop garden with a seasonal swimming pool.
The hotel uses energy-efficient LED light bulbs throughout the guest rooms and communal areas.
Hotel details
Address: 
15, Dios Street, 5291 Protaras, Cyprus.
Guest rating:
4.2 out of 5
Price per night:
From $88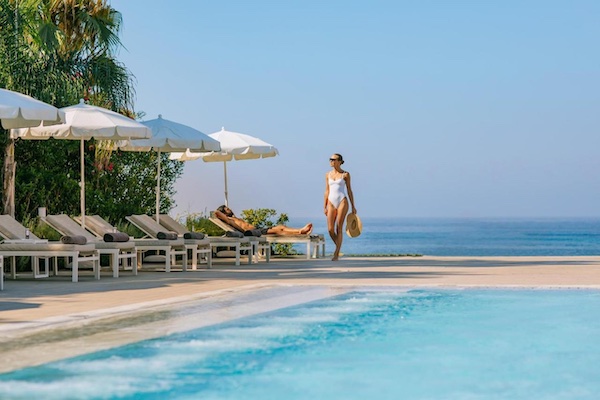 The Ivi Mare, Paphos
Located on the southwest coast of Cyprus, The Ivi Mare Hotel is on the beachfront of the attractive golden sand beach of Pachyammos, offering guests excellent access to many beach activities. The city of Paphos is a 30-minute walk away, or a short drive, and has many tourist attractions to discover including brilliant cafes, bars, and restaurants.
The adult-only hotel has excellent amenities, such as the luxury spa and wellness center which includes a sauna, steam room, and fitness area. All rooms are decorated to a high standard and each has a balcony and luxury room amenities. Suites include jacuzzis and all rooms have sweeping views of the ocean.
What makes The Ivi Mare sustainable?
The Ivi Mare Hotel is committed to sustainability and is conscious of its environmental impact. The management of the hotel recognizes its responsibility to the environment and ensures that the hotel and its staff reduce the hotel's impact on the environment by:
Implementing good practices within the hotel to protect the environment and prevent pollution.
Develop employees' environmental awareness and sensitivity and ensure they are trained to deliver the hotel's eco-conscious policies.
Single-use plastics have been fully removed from the hotel and guests are encouraged to use reusable alternatives.
Food waste is reduced and where possible, food is organic and locally sourced.
The hotel uses energy-efficient LED light bulbs throughout the guest rooms and communal areas.
The hotel has installed water-efficient toilets in all the guest rooms and throughout the hotel to help conserve water.
Bicycles are available for guests to rent and the hotel has a designated bicycle parking area
Hotel details
Address: 
12 Theas Afroditis Avenue, Yeroskipou, 8204 Paphos, Cyprus.
Guest rating:
4.6 out of 5
Price per night:
From $125
Nissi Beach Resort, Ayia Napa
The fabulous Nissi Beach Resort is excellently located between the pristine white sands of Nissi Beach and the tropical botanical gardens of Ayia Napa, offering guests the ultimate retreat into nature. The resort has light and airy accommodations with luxurious rooms and private bungalows offering spectacular views over the ocean.
The resort also includes a large pool area with a bar, a children's pool, 100,000 square meters of landscaped gardens, tennis courts, a beach bar, and three restaurants with attractive seafront views serving local Cypriot cuisine. The nearby town of Ayia Napa is a popular location for many tourists due to its lively nightlife and excellent selection of bars, cafes, and restaurants.
What makes Nissi Beach Resort sustainable
The Nissi Beach Resort has an extensive sustainability policy and an eco-conscious approach through many of the hotel's management operational practices, which include:
Reducing greenhouse gas emissions and ecological footprint through a yearly incremental reduction in energy and water consumption
Planting green areas around the resort to increase natural vegetation areas
Involving all staff in protecting natural areas around the resort such as the dunes
Upgrading all lighting to low-cost LED light bumps
Installing chillers with inverter compressors and energy-saving refrigerant
New machinery such as dishwashers, washing machines, and a/c units that include energy-saving features.
Reduce the use of chemical cleaners by using a disinfecting steam machine to kill bacteria at 190 degrees
Composting as much organic waste as possible, including trimmings from the garden and landscaping area
Removing all single-use plastics throughout the resort and replacing them with recyclable alternatives.
Conduct annual beach and sea cleaning days for staff to help remove waste from the nearby beach area
Hotel details
Address: 
Nissi Avenue, 5340 Ayia Napa, Cyprus.
Guest rating:
4.3 out of 5
Price per night:
From $108
How we select the best eco-friendly hotels in Cyprus
We are a travel research company. We check a lot of details and guest reviews before making a selection. First, we check which hotels follow eco-travel principles. Are they recycling their waste? Do they work with local communities? Are they using renewable energy? Are they not using single-using plastics?
Secondly, we check guest reviews across multiple websites and only list hotels with an aggregated review rating of at least 4 out of 5. So you can be confident you will stay at an excellent eco-friendly hotel in Cyprus.
Sustainable travel is the key to enjoying a responsible and meaningful trip. You can make a difference in the environment and the communities you visit with the right sustainable travel tips. From packing light to choosing eco-friendly transportation and accommodations, there are plenty of ways to reduce your environmental impact.
More Cyprus tips
Get to know the island even better and check out our other articles about Cyprus: