Los Angeles, California is one of the biggest and most sought-after destinations in all of the United States. Los Angeles is full of activities and new experiences for everyone that makes their way here. You might want to consider staying in a hostel if you are open to making some new friends or trying to save some money for adventures on your trip. Today, we are going to discuss everything you need to know about staying in a hostel in Los Angeles.
Los Angeles is a massive city on the southwestern coast of beautiful California. In Los Angeles, you will be able to see gorgeous mountains, world-renowned beaches, and incredible monuments throughout the city. A trip to Los Angeles is not complete without a visit to the infamous Hollywood Sign or taking a hike through Runyon Canyon Park for panoramic mountain views.
Los Angeles is known for having some of the most beautiful beaches in the country. Hardly anything beats posting up with a scrumptious picnic while watching an unreal and vibrant west coast sunset. The Santa Monica Pier is an iconic spot that makes for the perfect chance to feel like a kid again and fill up on some delicious treats. There are more than enough museums and attractions throughout the city that will please every kind of traveler, as well. Getty View Park is a lovely place with hiking opportunities and a museum on-site, too.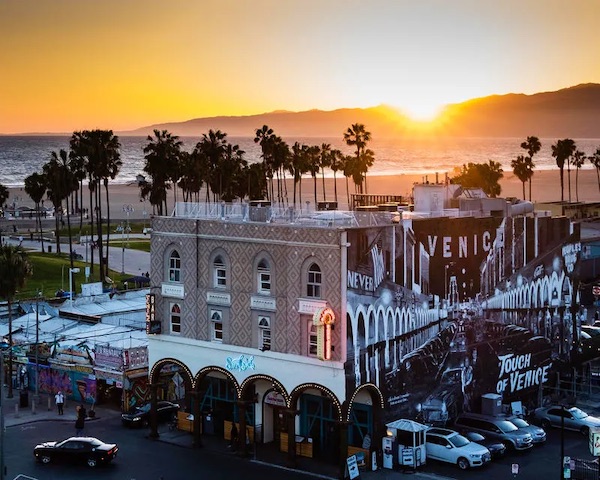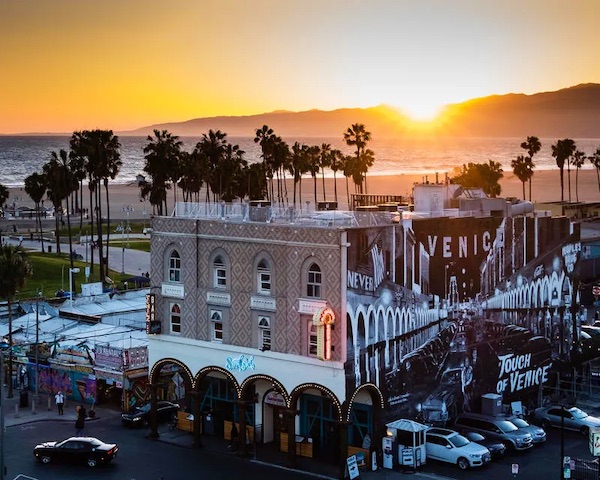 Samesun Venice Beach
First up, we have the Samesun Venice Beach hostel, which is located in a beautiful spot right across from the stunning Pacific Ocean. Other attractions throughout LA are just a short drive away, and the Venice Beach Boardwalk is right at your doorstep. Towels and bed linens are provided to guests staying at the Samesun Venice Beach.
This hostel has mixed and female-only dorms that sleep up to 8 people, and there are numerous private rooms available, too. Some of the private rooms have an ocean view, so you can wake up to one of the most beautiful sights out there. If you want to stash your items away, there are security lockers inside of the rooms, too.
Hostel details
Address:
25 Windward Avenue, Venice Beach, Los Angeles, USA.
Guest rating:
4.6 out of 5.
Price per night:
from $36.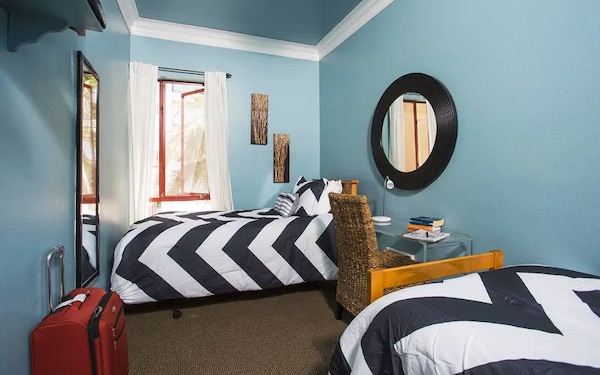 HI Los Angeles Santa Monica
HI Los Angeles Santa Monica is a hostel right on Santa Monica Beach, so you can have as much fun with the sand and surf as possible. Start your exciting days with a free breakfast provided by the hostel, and you can get some games of pool when you have had enough of the city.
You may opt for a shared mixed room or a private room, all come with bed linens and towels, so you do not have to pack them. There are luggage lockers for when you want to store your things away, and reading lights equipped in the bed areas so that you can get lost in your favorite book at night.
Hostel details
Address:
1436 2nd Street, CA 90401, Los Angeles, USA.
Guest rating:
4.5 out of 5.
Price per night:
from $31.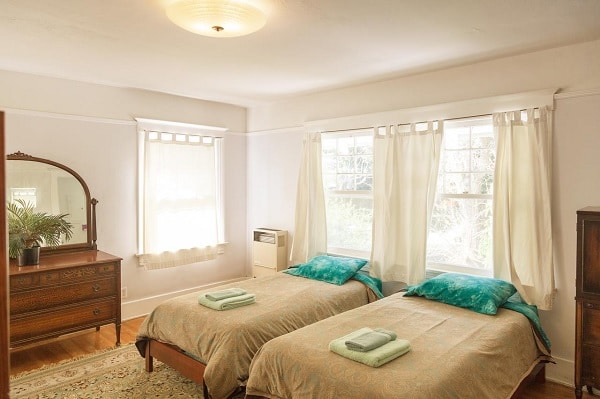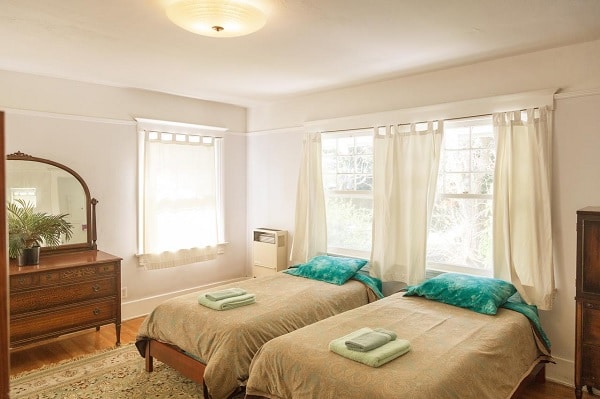 Orange Drive Hostel
The Orange Drive Hostel is centrally located in Hollywood, so you will be wonderfully close to all of the fun and great restaurants. There is a free breakfast provided here that consists of all-you-can-eat waffles and pancakes, yum! Be sure to make use of the communal kitchen at this hostel if you want to save some extra cash and not eat out. The common room is complete with a television and movie set up.
You can make the choice of booking a private room, dorm room, or group room. Some of the bathrooms are shared and some are within the rooms, and the Orange Drive Hostel will ensure you are provided with fresh bed linens for your stay.
Hostel details
Address:
1764 N Orange Drive, Los Angeles, CA 90028, USA
Guest rating:
4.4 out of 5.
Price per night:
from $38.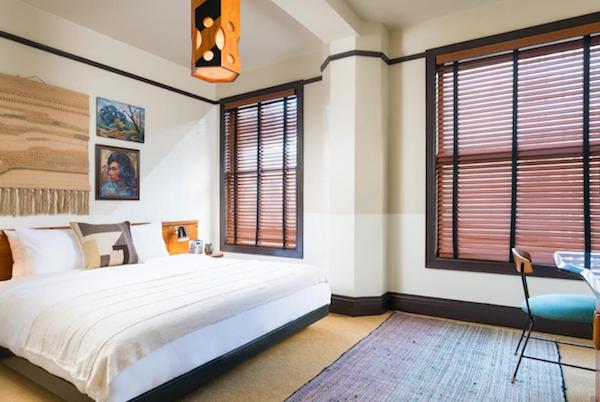 Freehand Los Angeles
At the Freehand Los Angeles, you will be met with outstanding comfort and friendly staff. Freehand Los Angeles is in close proximity to downtown LA, so you can get around safely and with ease. Guests are welcome to enjoy the rooftop bar and pool, restaurant, and gym on-site. There is even a nightclub on the premises that gets very lively when the sunsets.
The various rooms here have been recently updated, and they are either private rooms, female-only, or mixed dorms. All of the rooms here are set up with their own bathrooms inside, which definitely makes a stay more enjoyable. Do not worry about bringing your own bedding here, as the Freehand will lend luxurious linens to use during your stay.
Hostel details
Address:
416 W 8th Street, Los Angeles, CA 90014, USA.
Guest rating:
4.3 out of 5.
Price per night:
from $49.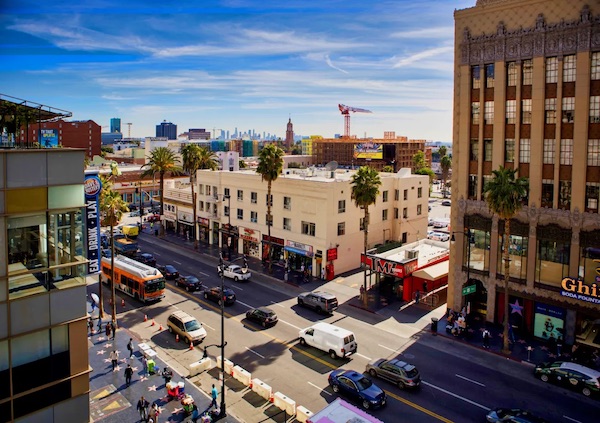 Samesun Hollywood
Our final hostel on our list is Samesun Hollywood. At the Samesun Hollywood hostel, you will receive plenty of amenities when staying here, such as a free breakfast every morning, social gatherings each night at the bar, and a fully equipped kitchen for guests to use. Samesun Hollywood is just steps away from all of the iconic spots on Hollywood Boulevard.
The Samesun Hollywood will ensure that you are accommodated with fresh bed linens for your room. Shared rooms that are mixed or female-only can be found here, as well as private rooms for when you want your own space. All of the rooms have ceiling fans, so you can comfortably escape the California heat when you need to.
Hostel details
Address:
6820 Hollywood Blvd, Los Angeles, USA.
Guest rating:
4.5 out of 5.
Price per night:
from $30.
This concludes our guide to some great hostels you can find in Los Angeles, California. Hostels constantly prove themselves as one of the best ways to have easy access to all of the best parts of an exciting city.
About our Los Angeles hostel recommendations
Are you a solo traveler looking for a private room? Or a backpacker traveling around in a group wanting to stay in a cheap and cozy dorm? Above you will find the best hostels in Los Angeles for all your needs.
Please note, we only list hostels that have an aggregated guest review rating of at least 4.0 out of 5. We aggregate all reviews from different booking sites and other unbiased review websites. Hence, you can be certain all hostels listed above offer an excellent value-for-money stay in Los Angeles.
Best price guarantee
For our hostel recommendations, we work together with Hostelworld and Booking. These partnerships don't have any influence on the recommendations we make or on the order in which our recommended hostels are listed. The reasons why we have chosen to partner with these companies is that they're trustworthy, offer excellent service and they both apply the best price guarantee. This means you can claim a refund for the difference if you find your reservation cheaper on another website. It has to be for the same property, accommodation type, dates, cancellation policy and conditions, otherwise, you can't claim the refund for the difference. If you book through Booking.com then all you need to do is contact them at least 24 hours before your check-in date. If you book through Hostelworld you must claim the refund within 24 hours after you made the booking.
Top 5 hostels in Los Angeles
To summarize again, based on thousands of guest reviews, these are the best hostels in Los Angeles:
Why you should be careful when booking the cheapest hostel available
The cheapest hostels available are typically not in a great location. If you want to go sightseeing or go for a night out in central Los Angeles, you probably end up having to pay for public transport or a taxi to get there. So your stay could end up being more expensive compared to a stay in a central location. For first-time travelers, we recommend staying central anyway, but also for frequent visitors, it's probably worth it to pay a bit more to stay in a central location.
Another reason why you shouldn't stay at the cheapest hostel is that the people staying at the cheapest hostels are often not the people that can afford to travel like you. Because a very cheap hostel is often cheaper than renting a flat, these places tend to attract migrant workers or local misfits. That's probably not the crowd you want to hang out with, especially if you're a solo traveler looking for friends.
The third reason why you should avoid the cheapest hostels is safety. Some of the cheapest hostels don't check IDs, don't ask for signatures, or only accept cash at check-in. The hostel won't know who is actually staying there.
Lastly, the service at these hostels isn't great. For instance, if you choose to store your luggage, your bags will be unattended in a public space. It won't be recorded anywhere or tagged and stored in a locked room.
So, it's probably worth it to spend a bit more on your hostel stay in Los Angeles.
And finally, a tip: always read the latest reviews of the hostel! All places have good and bad reviews, but the most recent reviews matter the most.
More Los Angeles tips
Get to know the city even better and check out our other articles about Los Angeles:
Best cheap hotels in Los Angeles
Best boutique hotels in Los Angeles
Best luxury hotels in Los Angeles