Montreal is one of the most exciting cities in North America. It is a hub for tourists, housing a boatload of attractions and activities. The city is full of impressive architecture, great cuisine, local culture, and trendy neighborhoods. It's the home of international events and has a variety of little bits of everything, including sustainability.
The city has developed 3 'Sustainable Montreal' programs to implement environmentally friendly practices all around the city. Montreal has accelerated its transition to a responsible, green, and circular economy. They have been ranked the 4th best city in North America for sustainability practices, and since tourism is one of their biggest financial factors, many hotel and tourism industries have made the transition as well.
During your next trip to Montreal, do your best to protect the environment by choosing to stay somewhere eco-friendly and which promotes green practices. To help narrow down your search, here are 5 of the best sustainable hotels in Montreal.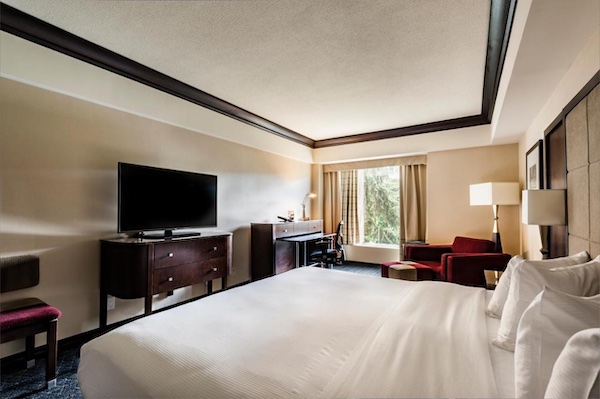 Hotel Bonaventure
Hotel Bonaventure is a luxury boutique hotel in the heart of Montreal. The urban icon offers an elegant and unique setting, a high level of quality, and a distinct character and personality. Surrounded by 2.5 acres of luscious gardens, it's an ideal oasis for a home in the metropolis.
Located in the city center, the hotel is just steps away from exciting nightlife, bars, restaurants, and shops. It sits in the heart of numerous festivals, surrounded by art galleries and museums. The hotel features a heated swimming pool suitable for year-round use, a fitness center, gardens, and a rooftop terrace. Rooms all come with a seating area, private bathroom, television, and work desk.
What makes Hotel Bonaventure sustainable
Hotel Bonaventure is sustainable by adopting a strategy to protect against climate change and reduce its ecological footprint, as well as being a member of the Green Keys Program. They strive to promote recycling and waste-saving practices, optimize water use and consumption, and recover residual materials.
Hotel details
Address: 
900 de La Gauchetiere West, H5A 1E4 Montreal, Canada.
Guest rating:
4.1 out of 5
Price per night:
From $142
Boxotel
Boxotel is a unique-concept boutique hotel in the heart of Montreal. Their motto, 'Like Home Only Better' promotes comfort and coziness with a hospitable atmosphere for all guests. Not only does it stand out for its spacious design concept, but it's sustainability and design as well, perfect for the modern-day eco-conscious traveler.
Located in Montreal's Quartier des Spectacles, Boxotel sits in a prime location to discover the best of the city. It is within walking distance from Quartier Latin, Gay Village, and Plateau Mont-Royal, and two train stations to take you wherever you'd like to go in the city. The hotel features an onsite fitness center, a panoramic terrace with a spa, and all the amenities from home. Rooms come equipped with modular furniture, a full kitchen, a private bathroom, a work area, and recycling bins.
What makes Boxotel sustainable
Boxotel is sustainable and strives to continually find new ways of reducing its ecological footprint to respond to an environmentally conscious clientele. The hotel uses natural and eco-friendly products, reduces towel services, promotes recycling and composting, eco-friendly construction, and energy-saving resources. Boxotel supports local artisans, companies, and products by incorporating them into the establishment and thereby giving these Montreal-area companies an additional showcase.
Hotel details
Address: 
175 Rue Ontario Est, H2X 1H5 Montreal, Canada.
Guest rating:
4.6 out of 5
Price per night:
From $175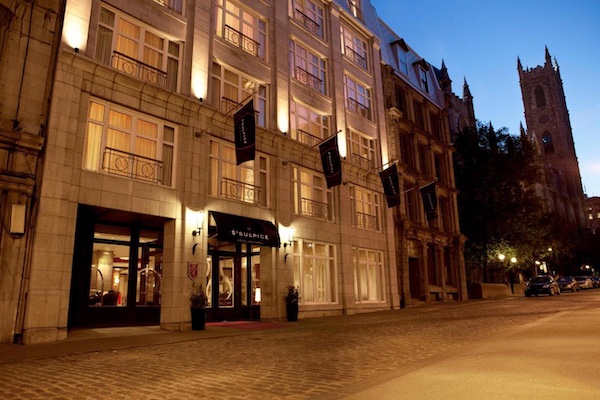 Le Saint Sulpice
Le Saint Sulpice is a 4-star luxury hotel in Old Montreal. With exclusive services, genuine hospitality, and high-class amenities, guests can feel right at home throughout the year during their stay in the city. No matter the rooms, get ready for a breathtaking garden, or old cobblestoned street views.
Located in the district of Old Montreal, it is in the ideal location for exploring. Just behind the Notre Dame Basilica, it is surrounded by charming shops and cafes, restaurants, and historical landmarks. The hotel features an award-winning restaurant, Oskar Restaurant, with delicious cuisine options and convenient direct access to the exterior terrace. Rooms in Le saint Sulpice come fully furnished with a coffee machine, television, kitchenettes, and private bathrooms.
Why is Le Saint Sulpice sustainable
Le Saint Sulpice is sustainable by being a part of the Green Key Program. The hotel promotes environmentally friendly practices by focusing on water and energy conservation, waste and recycling management, and the selection of primarily local suppliers who are environmentally conscious. They invite customers to opt out of housekeeping service during their stay at the hotel. For each day of refusal of service, $5 is donated to the organization of the month chosen by one of our employees.
Hotel details
Address: 
414 rue St Sulpice, H2Y 2V5 Montreal, Canada.
Guest rating:
4.6 out of 5
Price per night:
From $207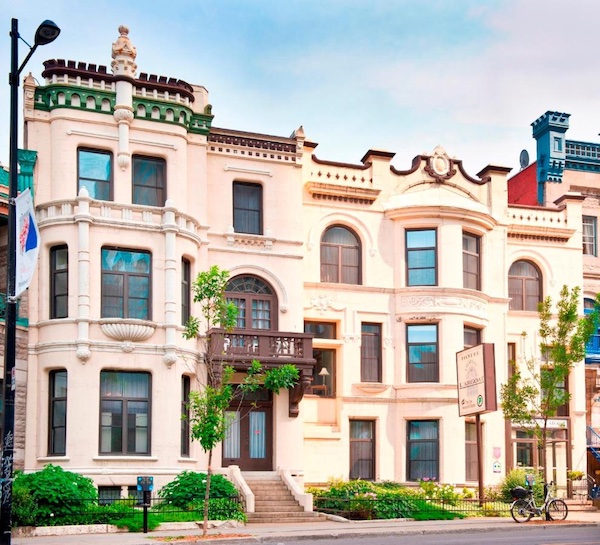 Hotel Chateau de Argoat
Hotel Chateau de Argoat is a beautiful hotel in the most eclectic district of the city. It resembles its surroundings, being colorful, friendly, unpretentious, and a relaxed atmosphere to top it all off. Immerse yourself into a relaxing and aesthetic paradise just moments away from all the action of Montreal.
Located on the border of the Latin Quarter and Plateau Mont-Royal, the hotel is in one of the most exciting and distinctive neighborhoods in the city. The streets are lined with shops and restaurants, sustainable bike paths, and loads of action and activities. Metro stations are nearby, as is the Grand Bibliotheque leading to Old Montreal. Guests get a daily continental breakfast each morning in a quaint setting, and rooms are spacious with private bathrooms and feature a seating area, television, large tall windows, and a cozy atmosphere.
What makes Hotel Chateau de Argoat sustainable
Hotel Chateau de Argoat has been sustainable since the early 2000s. The team of Château de l'Argoat has voluntarily adopted a green strategy and in 2010, joined the ''RéserVert'' program. The hotel goes to great lengths to protect the environment and minimize its ecological footprint
Hotel details
Address: 
524 Rue Sherbrooke Est, H2L 1K1 Montreal, Canada.
Guest rating:
4.3 out of 5
Price per night:
From $90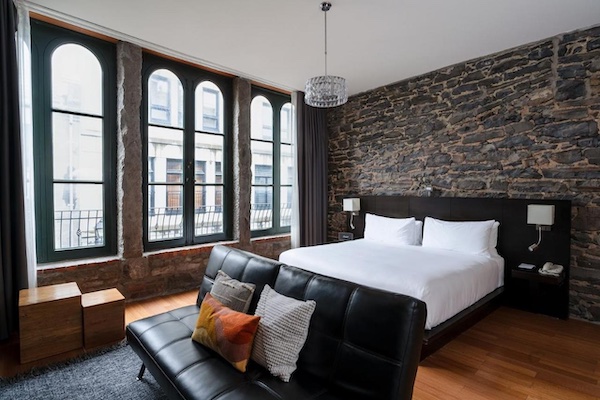 Le Petit Hotel
Le Petit Hotel is a warm and welcoming boutique hotel in the center of downtown Montreal, With historic architecture and modern design, the hotel feels more like a private paradise retreat just a moment away from the hustle and bustle of the city. Housed in a 19th-century building, the friendly staff and cozy atmosphere invite guests to feel right at home while on their adventure in Montreal.
Located in Downtown Montreal, the hotel sits within walking distance of various attractions like the Montreal Museum of Contemporary Art, Notre Dame Basilica, and Montreal's Botanical Gardens, all surrounded by various shops, restaurants, and bars. The onsite European cafe, le Petite Cafe, serves a free daily breakfast in a comfortable lounge setting, and the hotel also features a gym ad complimentary bikes. Rooms come decorated with a modern and unique design, equipped with flat-screen TVs, jet-massage shower heads in a private bathroom, a work desk, big windows, and a seating area.
What makes Le Petit Hotel sustainable
Le Petit Hotel is sustainable by being a part of the travel sustainable program. The hotel strives to protect the environment by implementing eco-friendly services. They have eliminated the use of all single-use plastic, use water-efficient toilets and showers, are provided with locally sourced organic produce, use LED lighting, and promote local craftsmen and artists.
Hotel details
Address: 
168 Saint-Paul Street West, H2Y 1Z7 Montreal, Canada.
Guest rating:
4.5 out of 5
Price per night:
From $180
We hope you have enjoyed this list of sustainable hotels in Montreal and that it inspires you to reduce your ecological footprint on your next adventure.
How we select the best eco-friendly hotels in Montreal
We are a travel research company. We check a lot of details and guest reviews before making a selection. First, we check which hotels follow eco-travel principles. Are they recycling their waste? Do they work with local communities? Are they using renewable energy? Are they not using single-using plastics?
Secondly, we check guest reviews across multiple websites and only list hotels with an aggregated review rating of at least 4 out of 5. So you can be confident you will stay at an excellent eco-friendly hotel in Montreal.
Sustainable travel is the key to enjoying a responsible and meaningful trip. You can make a difference in the environment and the communities you visit with the right sustainable travel tips. From packing light to choosing eco-friendly transportation and accommodations, there are plenty of ways to reduce your environmental impact.
More Montreal guides
Get to know the city even better by reading our other articles about Montreal: