As the second-largest city by population in all of Canada, there is a ton packed into its streets. Whether it be the food, the French influence, or anything else that could call Montreal home, you can make some fantastic memories.
There are many reasons why you may find yourself in Montreal. Whether it be for business, a family vacation, or anything in between, there are some great sites and scenes that can occupy your time.
One of the coolest ways to experience Montreal is in a boutique hotel. This form of accommodation gives you better customer service than any of the big chains can provide. This is a huge perk that is worth pursuing.
Here are five of the best boutique hotels in all of Montreal!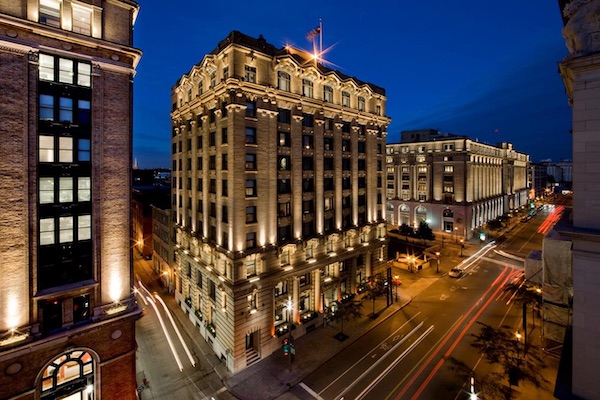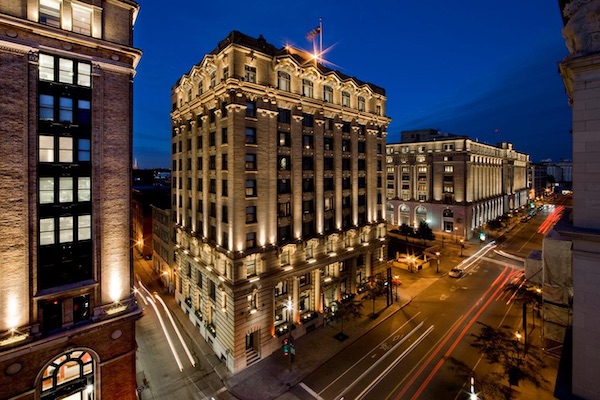 Hotel St. Paul
The first boutique spot on this list is the Hotel St. Paul. This hotel is in the old town quarter that has a lot of business buildings and hotels. However, this hotel stands out amongst those other options to provide a cool, relaxing experience in Montreal.
There are just under 120 rooms, which is fairly big for a boutique hotel, but it is not as busy as those big chains. One cool feature is the Black Suite, which is basically a penthouse that is way too big for any group with less than 3-4 people. There are also 18 other suites that are slightly smaller, but they are still more expensive than the normal room.
A great perk is the restaurant that is in the hotel. You will not have to venture far out to grab a good meal or a quick drink.
Hotel details
Address: 
355 rue McGill, H2Y 2E8 Montreal, Canada.
Guest rating:
4.4 out of 5
Price per night:
From $165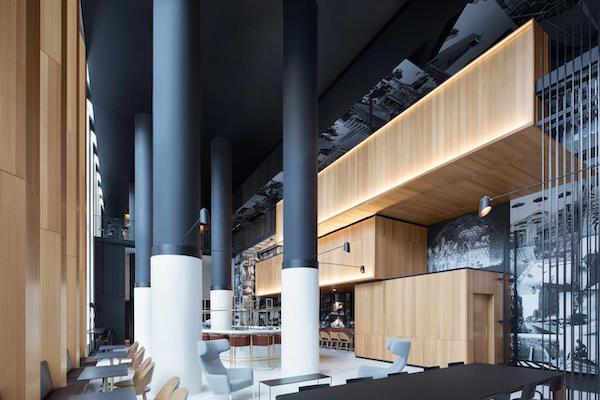 Hotel Monville
Montreal is known for its deep-rooted French culture, and this is quite present at Hotel Monville. With rooms spanning up to 20 floors, you can have an awesome view of the Montreal skyline. Especially when the weather is on your side, you can go up to the rooftop terrace and really enjoy the views.
There are about 270 rooms, making the Hotel Monville one of the largest on this list. If you don't like a lot of moving parts, you may want to pick another option. However, it does not have that super busy hotel feel that many of this size does. Amidst the high number of rooms, there is still an interesting, quiet part of the Hotel Monville that is very appealing.
Hotel details
Address: 
1041 Rue de Bleury, Montréal, QC H2Z 1M7, Canada.
Guest rating:
4.5 out of 5
Price per night:
From $116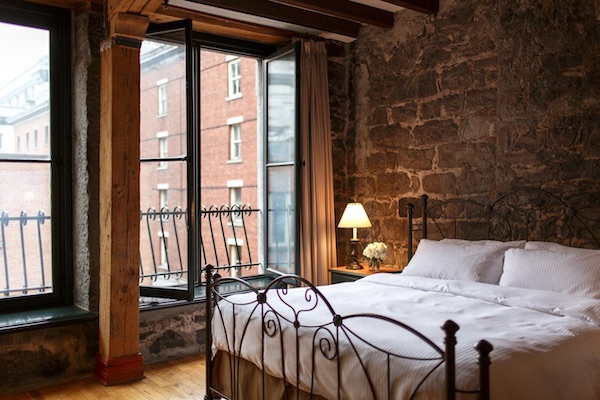 Auberge du Vieux Port
Next up is the Auberge du Vieux Port. This is kind of a time machine within Montreal that brings some European and North American influences at the same time. The European part comes with the delicious French restaurant within the same building. On the north American side, you can tell in the decor.
Once you walk in, you see the tall brick and stone walls that make you feel like you are exploring old town Montreal. So, this interesting mix is a cool way to experience this part of the city.
There are 45 rooms, so it is a midrange establishment that has enough rooms to amp up the events and ambiance while still giving you world-class service.
Hotel details
Address: 
97 Commune Street East, H2Y 1J1 Montreal, Canada.
Guest rating:
4.6 out of 5
Price per night:
From $165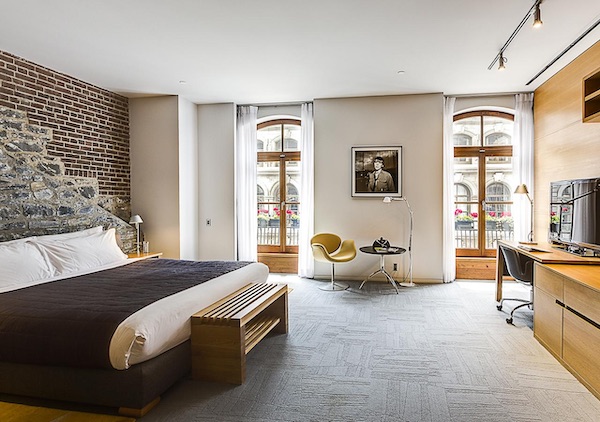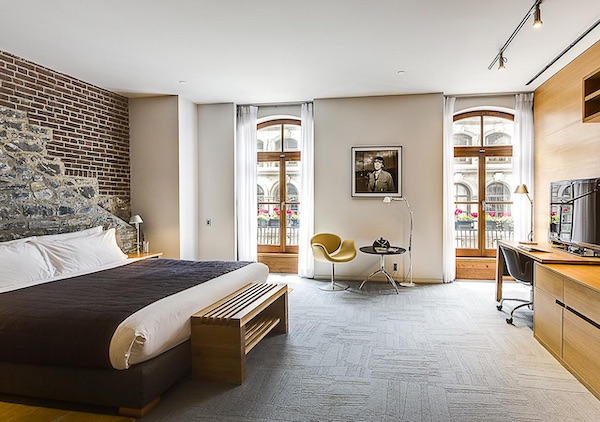 Hotel Gault
If exploring the historical area of Montreal is on your bucket list, Hotel Gault should be a top option. Many people underrate Montreal's historical significance. So, in order to best see this part of the city's identity, you should stay in it. This is exactly what the Hotel Gault offers to you.
There are 30 rooms, so you can keep it quiet and get a well-rounded experience. A cool perk is the types of rooms offered. There are not just some boring rooms that have a bed or two. There are lofts, suites, terraces, and apartments that make up this boutique hotel. So, if your budget allows, you have some options to upgrade.
Hotel details
Address: 
449 Rue Sainte-Helène, H2Y 2K9 Montreal, Canada.
Guest rating:
4.7 out of 5
Price per night:
From $125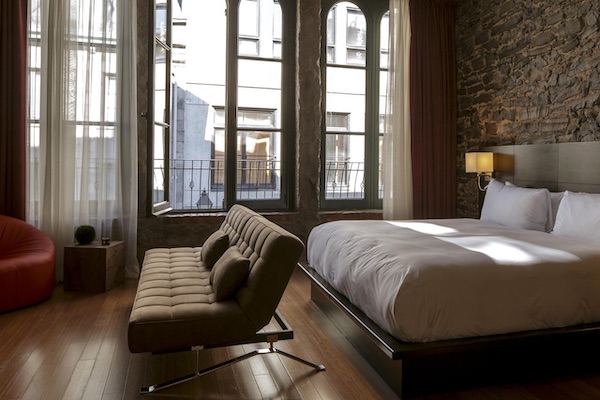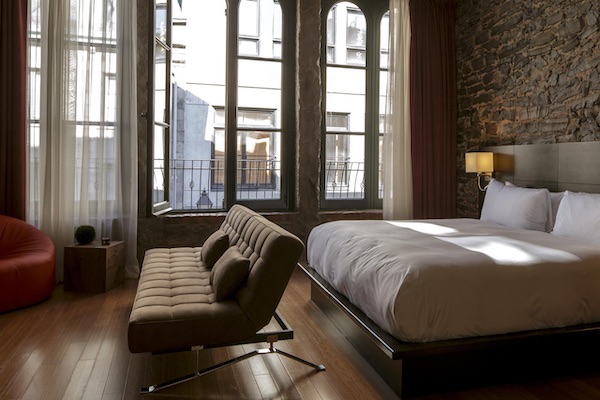 Le Petit Hotel
Last, but definitely not least, Le Petit Hotel is an option for those who want a luxurious stay that won't completely break the bank. With a spa, a restaurant, and great room service, just about everything you need is taken care of in-house.
There are 28 rooms, so it fits the general mold of a boutique hotel in Montreal. What separates this option from the others is the luxury and upscale feel that comes with it. The European architecture and decor add even more uppity vibes that can make you feel appreciated and comfortable.
So, if you want to experience Montreal in style, keep Le Petit Hotel in mind.
Hotel details
Address: 
168 Saint-Paul Street West, H2Y 1Z7 Montreal, Canada.
Guest rating:
4.6 out of 5
Price per night:
From $141
About our boutique hotel recommendations in Montreal
We are a travel research company. We help you discover the best boutique hotels in Montreal by researching the internet for you. It's not just our opinion, it's the opinion of many travelers who have been there before you. We make it easy for you to find out about cool design hotels and unique design hotels in the city. Some of them might be so romantic you might not want to leave your room.
Please note, we only list hotels that have an aggregated guest review rating of at least 4.0 out of 5. We aggregate all reviews from different booking sites and other unbiased review websites. Hence, you can be certain all hotels listed above offer you a great stay in Montreal.
Best price guarantee
We partner with Booking.com and Hotels.com to provide you with the lowest price guarantee on your stay in Montreal! Both those websites offer price matching. That ensures that you are paying the lowest price available online. If you find a cheaper offer on another website for the same cool hotel in Montreal at least 24 hours before check-in, contact them to claim a refund of the difference!
Top 5 boutique hotels in Montreal
Before you go, let's summarize this guide. Based on thousands of guest reviews and tips from travel experts, these are the best boutique hotels in Montreal:
More Montreal tips
If you like our guide above, you should also check out our other articles about Montreal:
Best luxury hotels in Montreal