Los Angeles offers so many experiences that it can be hard to know where to start! There's not just one downtown area—there are several, and they are all worth seeing. You'll need to spend a few days roaming the star-studded streets to soak everything in under the LA sun.
Let's start with the major attractions. There's the famous Hollywood Sign, the Hollywood Walk of Fame, Disneyland, Universal Studios, and Griffith Park and Observatory. That's just the beginning of it. Los Angeles covers a huge amount of land, and there are tons of famous neighborhoods immediately around it. For example, if you visit LA, you should also visit Santa Monica, Venice Beach, and Malibu, which have popular piers full of vendors, chic boutiques, and funky cafés, all set beautifully along the Pacific Ocean.
There are also plenty of museums to roam in including the Los Angeles County Museum of Art, The Getty, Battleship Iowa Museum, and the Museum of Contemporary Art. However, the culture of LA extends beyond these institutions. Make sure to allow plenty of free time to explore the many spunky vegan restaurants, awesome thrift shops, yoga studios, and chic rooftop bars throughout the city.
Whether you're a nature lover, artist, pop culture fanatic, or history enthusiast, Los Angeles has enough to do to fill several days. What better way to visit than book a stay at one of the several sustainable hotels in the City of Angels? In this article, we'll give you some ideas to make your LA trip more eco-friendly.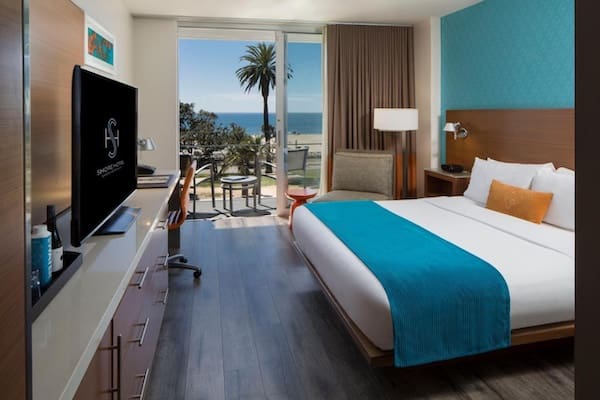 Shore Hotel
First up on our list of eco-friendly hotels in LA is the Shore Hotel, which is a little walk away from the famous Santa Monica Pier. It's literally right next to the beach—you can easily see the tide from many rooms. You can stroll along the pier whenever you want, and you're less than half a mile away from 3rd Street Promenade, home to many popular shops and restaurants. The Shore Hotel gives the California vibes you might be looking for with the bonus of sustainable practices.
The Shore Hotel has modern rooms with a breezy California flair. Rooms have free WiFi and flat-screen TVs; some offer unobstructed ocean views from a private balcony. Additionally, guests can enjoy a 24-hour fitness center, hot tub, and heated outdoor pool. If guests feel like eating in, the hotel's in-house restaurant offers casual bites of delicious Mexican food.
What makes Shore Hotel sustainable
Regarding sustainability, the Shore Hotel has plenty of practices to reduce its carbon footprint. Solar energy heats the swimming pool, showers have low-flow shower heads that save water. Additionally, the elevators save up to 75% more than conventional elevators, and over 10% of the building's materials are local to the area. Because of these efforts, the hotel has a Santa Monica Green Certification and two other eco-friendly certifications. If you stay here, you will have a lower carbon footprint than many LA hotels.
Hotel details
Address: 
1515 Ocean Avenue, Santa Monica, Los Angeles, CA 90401, United States of America.
Guest rating:
4.2 out of 5
Price per night:
From $235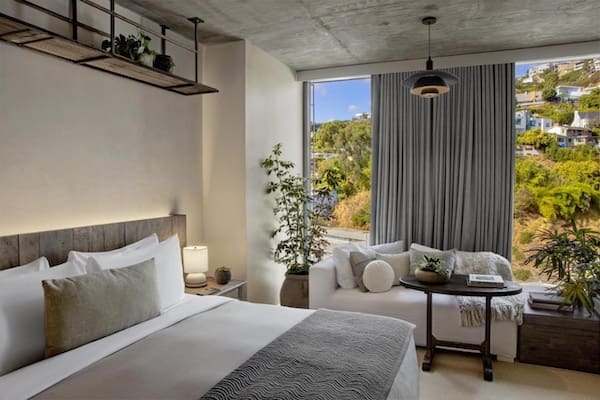 1 Hotel West Hollywood
1 Hotel West Hollywood is another great eco-friendly option in LA. As its name suggests, it is set in the heart of West Hollywood, right at the base of Hollywood Hills, and has beautiful views of Santa Monica. It's a perfect middle ground between the city and nature, and is just a short drive away from the Hollywood Walk of Fame, Melrose Avenue, and the Capitol Records Building. 1 Hotel even offers complimentary daily rides in a Tesla within a 2-mile radius of the hotel.
1 Hotel has all the luxuries for an unforgettable stay. The rooms have floor-to-ceiling windows and are aesthetically appealing, with beautiful plants and earthy tones running throughout. Impressively, the hotel has four different restaurants and bars: 1 Kitchen, Juniper, Harriet's Rooftop (a lovely rooftop cocktail lounge with panoramic views), and the Pool Lounge for yummy snacks. You will also enjoy an in-room Nespresso machine, Smart TVs, Bluetooth speakers, yoga mats, and comfy robes. Guests can also lounge on a daybed or under a cabana at the pool.
What makes 1 Hotel West Hollywood sustainable
In addition to the hotel's many restaurants, it also has the Lobby Farmstand, which has seasonal fruits that sellers would've otherwise thrown away due to cosmetic imperfections; this is just the beginning of its eco-friendly initiatives. 1 Hotel West Hollywood is one of many of the company's properties that is carbon-neutral and LEED certified (a sustainability benchmark). Additionally, the hotel donates to several charitable causes, such as Oceanic Global and Nature Conservancy.
Hotel details
Address: 
8490 Sunset Boulevard, West Hollywood, Los Angeles, CA 90069, United States of America.
Guest rating:
4.3 out of 5
Price per night:
From $530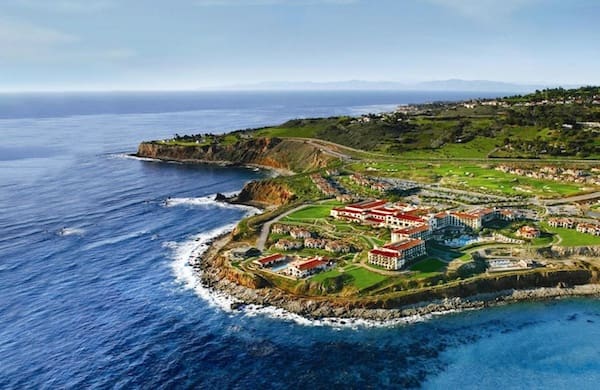 Terranea Resort
Terranea is another ocean-front, eco-conscious property that sits along the Pacific coast. It sits outside the city center on the more remote Palos Verdes Peninsula, offering sweeping views of the sea and a bit of separation from the buzz of the city. Although it is not right in LA, a free shuttle service goes to spots such as Abalone Cove and nearby malls. LA International Airport, Long Beach Airport, and downtown LA are just 30 minutes away.
Terranea is truly a top-notch LA experience with a Mediterranean flair. Upon arrival, you'll even be welcomed with a glass of wine. All rooms have flat-screen TVs, WiFi, and comfy furnishings; some rooms have a stunning ocean view. Terranea has four luxurious heated pools, boutique retail shops, a full-service spa, eight dining options, and tons of outdoor fire pits. Since you're right on the ocean, you have access to activities through the hotel, such as canoeing, whale watching, scuba diving, horseback riding, and more. There is also a 9-hole course for golfers. Lastly, Terranea Resort has a fitness center with classes.
What makes Terranea Resort sustainable
Let's talk about what makes Terranea one of LA's eco-friendly hotels. The resort is in a natural setting along the quiet coast and was designed to retain the region's beauty. For example, Terranea occupies just one-quarter of its total land, leaving more than 75 acres as a protected area.  Additionally, Terranea partners with Chefs to End Hunger, redistributing food that would typically be wasted from hotels to local food agencies. Additionally, Terranea donates partially-used toiletries that are still usable to those in need in downtown LA.
Hotel details
Address: 
100 Terranea Way, Rancho Palos Verdes, CA 90275, USA.
Guest rating:
4.5 out of 5
Price per night:
From $304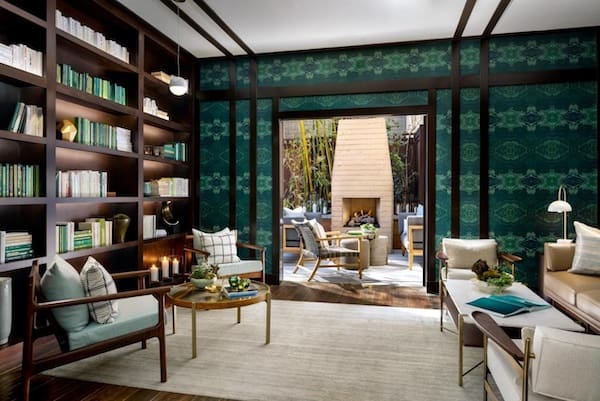 Ambrose Hotel
The Ambrose Hotel is a serene getaway from LA while still being close to the best of Santa Monica. It's in a peaceful residential neighborhood but is close to many restaurants and attractions, which you can get to by using their daily Tesla driving service or by renting a free bike. You're also very close to the famous Getty Museum and Montana Avenue, which has lovely shops and cafés.
All rooms have huge flat-screen TVs and a cozy residential vibe; many have hardwood floors, vaulted ceilings, and terraces that let in natural light. You'll find unique designs, warm colors, and lots of foliage throughout the property. The bathrooms are spacious and have L'Occitane bath products, cotton robes, and comfy slippers. The all-day dining menu has modern California fare, and there's even a beer and wine tasting from 6–8 PM. Ambrose Hotel also has laundry services, a small library, a gym, and 24-hour room service. Lastly, guests love the small bakery right across the street, although not part of the hotel.
What makes Ambrose Hotel sustainable
This list is about sustainable hotels, and Ambrose definitely fits the bill. They have a LEED Certification, in-room recycling, energy-saving lights, water flow reducers, free beach bikes, and organic food. The organization also donates to local communities. Overall, Ambrose Hotel gives a healthier and greener option for LA travelers without compromising comfort.
Hotel details
Address: 
1255 20th Street, Santa Monica, Los Angeles, CA 90404, United States of America.
Guest rating:
4.4 out of 5
Price per night:
From $305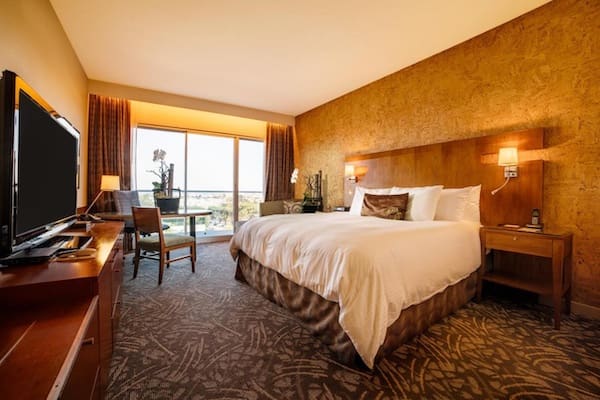 Miyako Hybrid Hotel Torrance
Last but definitely not least on this list of sustainable hotels in the City of Angels is Miyako Hybrid Hotel Torrance. The Miyako is a Japanese-influenced property located in the heart of Torrance, a popular neighborhood in Los Angeles. It's slightly tucked away for a perfect reprieve while still being close to major attractions. Popular eateries nearby include Restoration Kitchen and Wine as well as Rain Wine Bar and Lounge. Also within walking distance are Wilson Park and the Chen Art Gallery.
Miyako Hybrid Hotel offers many luxury features, including Relaken Spa, a spa with hot-stone treatments, and a well-equipped fitness center. The in-house restaurant, Ise-Shima, serves traditional Japanese food with modern California flavors and gets great reviews. You'll enjoy an on-site hot tub, 24-hour front desk, room service, and breakfast. Throughout the hotel, you'll find Japanese aesthetics mixed with contemporary Western styles, making for a unique LA stay; rooms also have flat-screen TVs, WiFi, refrigerators, and spacious bathrooms with a shower and bath.
What makes Miyako Hybrid Hotel sustainable
There are so many more policies in place which makes this one of the great sustainable hotels in the city. Miyako Hybrid Hotel Torrance has a LEED Silver Certification, uses sustainable building materials, and has several resource-saving features. For example, it uses recycled paper products, employs solar energy, and has seasonal and organic ingredients in its meals. Additionally, if you stay here, you'll be very close to public transportation, which can also lessen your footprint by avoiding driving.
Hotel details
Address: 
21381 South Western Avenue, Torrance, CA 90501, United States of America.
Guest rating:
4.4 out of 5
Price per night:
From $214
How we select the best eco-friendly hotels in Los Angeles
We are a travel research company. We check a lot of details and guest reviews before making a selection. First, we check which hotels follow eco-travel principles. Are they recycling their waste? Do they work with local communities? Are they using renewable energy? Are they not using single-using plastics?
Secondly, we check guest reviews across multiple websites and only list hotels which have an aggregated review rating of at least 4 out of 5. So you can be certain you will be staying at an excellent eco-friendly hotel in Los Angeles.
Sustainable travel is becoming increasingly popular and important as we strive to reduce our carbon footprints. There are many easy ways to reduce your impact while traveling, from choosing eco-friendly accommodations to respecting the local wildlife. Here are some of the most important tips for sustainable travel.
More Los Angeles guides
If you like the advice we've given you above, make sure to check out some of our other articles about Los Angeles:
Boutique hotels in Los Angeles