Madrid, Spain is one of those cities that every world traveler has to stop in at some point. This gorgeous city has so much value, culture, and attractions to offer to every visitor.
A great way to introduce yourself to the Spanish culture is by spending some time in Madrid. Even if you are really experienced with this lifestyle and vibe, this is still a hub of attraction for so many locals and visitors.
The cuisine, nightlife, and history are unlike anywhere else in the world. Madrid has a unique identity that is just calling for you to explore it.
Now, the best way to see everything you desire is by staying in the right neighborhood. This allows you to be close to your top priorities and within an easy travel distance from the further spots. Here are five of the best areas to stay in all of Madrid!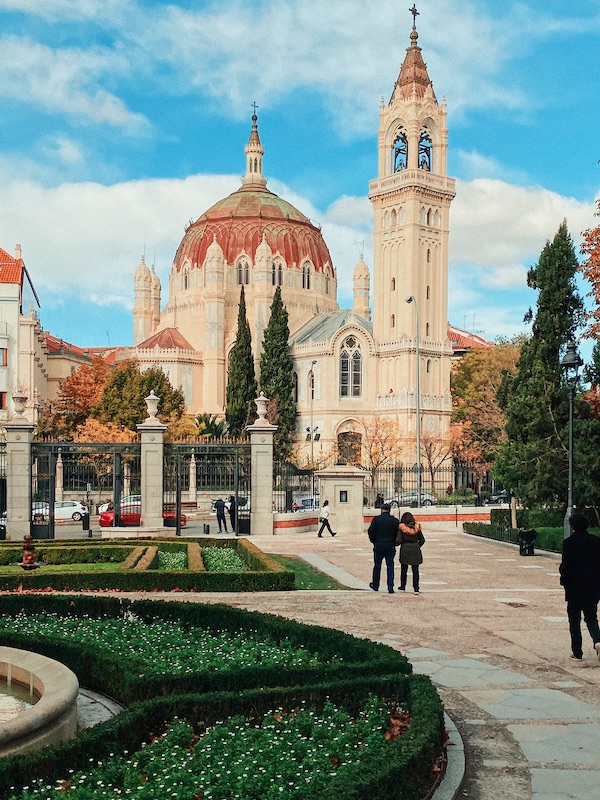 Chueca
To kick off the list of best areas in all of Madrid is Chueca. This is a very LGBT-forward area that is accepting of all lifestyles. That being said, the yearly Gay Pride Parade is well-known all over the world as a huge event with thousands of people involved.
Because of this young, alternative crowd, nightlife here is a pretty big attraction. More specifically, the wine scene is one of the best in all of Spain. One spot known as Angelita has over 500 wines that are there for your choosing. Almost all of them are from the Madrid area with the others being from France and the rest of Spain.
During the day, visit some of the museums that hold art, artifacts, and other historic relics. One of the popular options is the Romanticism Museum that houses some awesome paintings, jewelry, and pieces of old furniture.
One great activity that requires no money or plans is to simply explore what this neighborhood has to offer.
Best place to stay in Chueca
Only You Boutique Hotel. Address: Calle del Barquillo, 21, 28004 Madrid, Spain.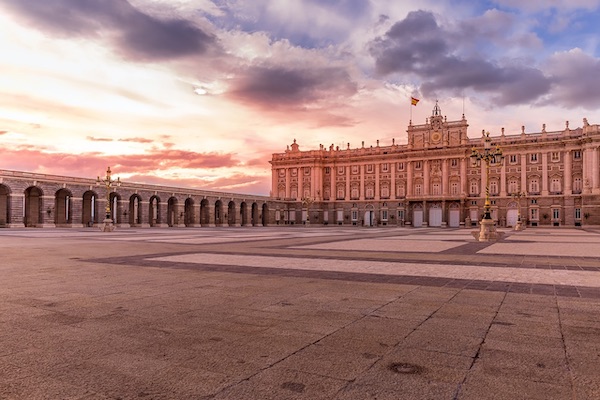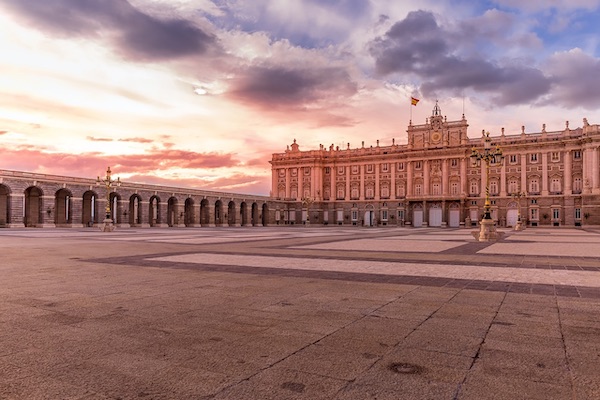 Chamberi
If you desire a more quiet, peaceful area that still has things to do, Chamberi may be the neighborhood for you. This is one of the least touristy neighborhoods in Madrid that isn't just residential complexes. Chamberi is one of the most traditional areas in Madrid and has a lot of historic focal points.
This is a very different experience than what is offered in the center of the city. There are far more Spaniards than tourists settled into Chamberi. So, staying here will give you a more authentic Madrid experience.
One of the historic hotspots that you need to check out is Anden Cero. This is known as Platform Zero and is the historic district that has some really cool focal points. To name one, there is the Chamberi Ghost Station. This is one of the oldest metro stations in the entire country and exemplifies classic Spanish architecture.
This neighborhood also has some very nice, high-end dining options. Some of Madrid's best restaurants are located here. This is a little different from the classic tapas bars and nightlife scenes, but there are those options as well.
Best place to stay in Chamberi
Leonardo Boutique Hotel. Address: Vallehermoso, 65, Chamberi, 28015 Madrid, Spain.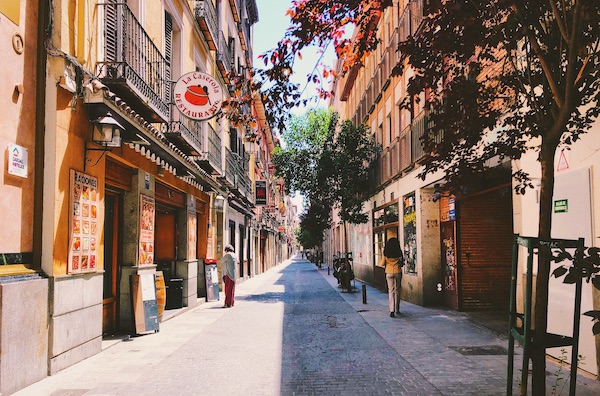 Malasana
One neighborhood that has gone through a huge transformation in the past few decades is Malasana. Now, this area is very contemporary and has a lot of trendy attractions that make it unique.
From the interesting graffiti to the various art galleries, you will know when you step foot in Malasana. That is because it is quite different from the other neighborhoods. You can spend a couple of hours just walking around and admiring the local quirkiness.
The most known attraction in this neighborhood is Plaza Del Dos de Mayo. This is a huge square that hundreds of people visit every day. Surrounding the historic square are cafes, shops, boutiques, and restaurants. In the middle of the plaza, there is a huge arch that is over 200 years old. This is a cool place that mixes contemporary trends with historic focal points.
Even if you choose to stay somewhere else, this is a great place to spend a day just exploring.
Best place to stay in Malasana
Hotel Emperador. Address: Calle Gran Vía, 53, 28013 Madrid, Spain.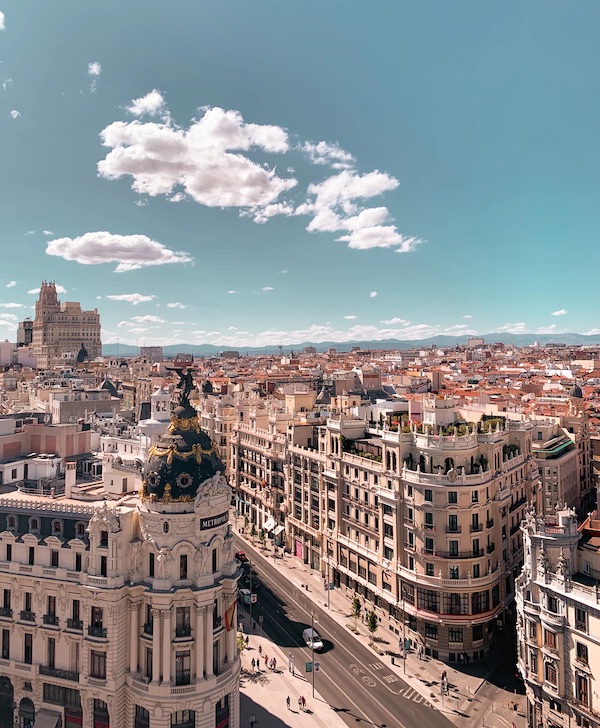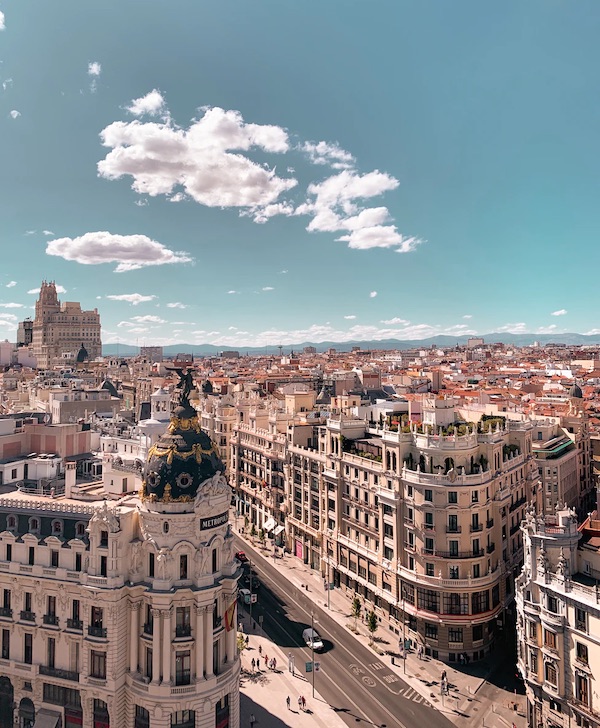 Sol-Gran Via
In order to be in the heart of the action, stay in Sol-Gran Via. This is part of the city center and is a hotspot for first-time visitors. Although this is a tourist-heavy area, there are many locals that work in this area, so a good mix is made.
Like some of the other areas, going to Sol-Gran Via is perfect for not having a plan and just discovering Madrid. But, if you do want a plan, here are a few attractions that you need to visit while in the area.
To see the artsy side of Madrid, visit el Circulo de Bellas Artes. This is a huge building that gives you an awesome look into this side of Spanish culture.
Depending on what time of year you are traveling, stopping by for carnival is a once-in-a-lifetime experience that you won't forget. The streets are filled with great vibes, live music, and majestic floats.
Best place to stay in Sol-Gran Via
The Principal Hotel. Address: Calle Marqués de Valdeiglesias, 1, 28004 Madrid, Spain.

La Latina
Last, but certainly not least, is La Latina. This is a fantastic nightlife hotspot that has tons of options for drinking, eating, and having a good time. If you find yourself in La Latina on a Friday or Saturday night, the streets will be filled with people looking to hang out. Good luck finding a spot at the bar or a table on the weekend!
That is why visiting during the week is your best bet. You can still have a great experience, but it will be a little quicker and easier to maneuver.
During the day, there are shopping complexes, cafes, and tons of open, green spaces. A lot is packed into La Latina.
From a historical perspective, there are a few focal points that are worth hitting. There is a 250-year-old church that you cannot miss because of its 108-foot dome. This is really a sight to see.
Best place to stay in La Latina
Posada del Dragón Boutique Hotel. Address: Cava Baja, 14, Madrid City Center, 28005 Madrid, Spain.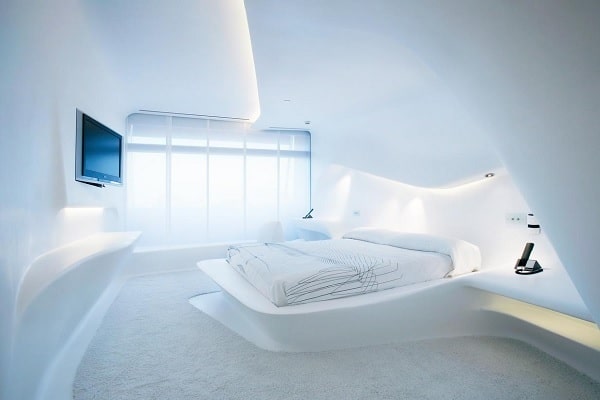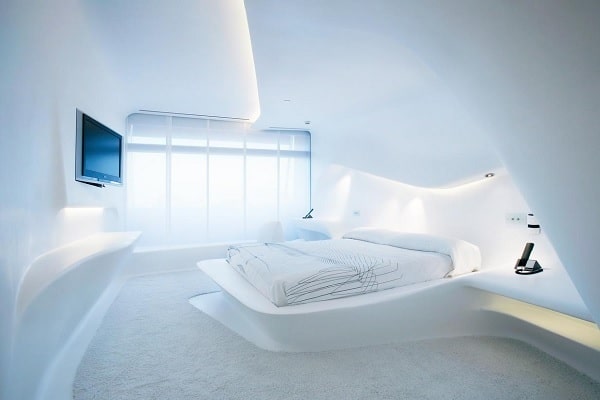 Where travel critics stay in Madrid
Want to know where travel critics from publishers like The New York Times, Frommer's, Fodor's and Lonely Planet stay in Madrid? Check out our overview of all recommended hotels, hostels and B&Bs in Madrid.
Budget
"The Hat hikes up the standard of Madrid hostels with the style of a boutique hotel and lots of good ideas for a comfortable, fun stay without paying silly prices. Sights, shops and restaurants are on the doorstep and there is a groovy bar up on the roof. Unsurprisingly, it attracts all ages." — Telegraph.
Address: Calle Imperial, 9, Madrid City Center, 28012 Madrid, Spain.
Mid-range
Apartosuites Jardines de Sabatini.
"Modern, spacious studios and suites are only half the story at this terrific property just down the hill from Plaza de España. Definitely pay extra for a room with a view over the lovely Jardines de Sabatini – simply brilliant." — Lonely Planet.
Address: Cuesta de San Vicente, 16, 28008 Madrid, Spain.
Luxury
Hotel Relais & Châteaux Orfila.
"The Orfila is a converted 19th-century palace. Close enough to the Castellana to feel the pulse of the city's main artery, set back enough to sleep quietly and stroll along sedate side streets." — CNN.
Address: Calle de Orfila, 6, 28010 Madrid, Spain.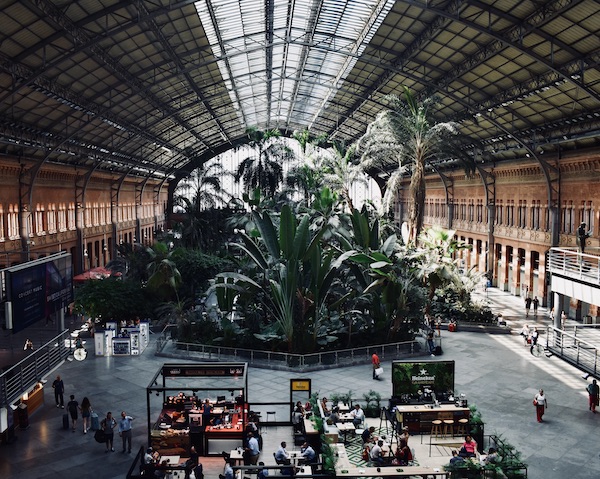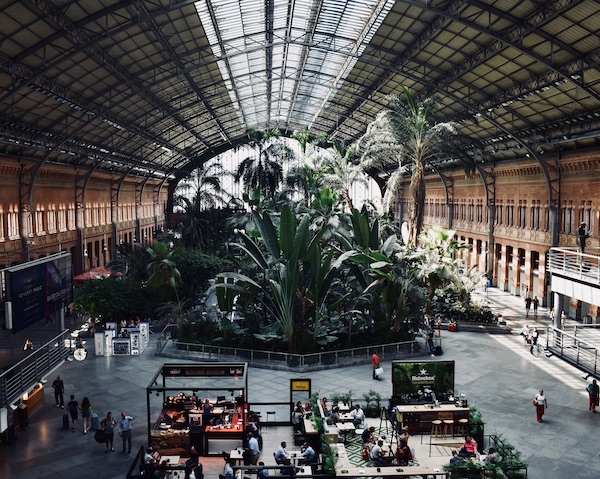 FAQ: Madrid hotel tips
Looking for the best budget, boutique, or luxury hotel in Madrid? Or maybe you're a backpacker looking for an excellent hostel? Want to know which Madrid hotel serves a great breakfast? Here are the answers to all those and other questions about where to stay in Madrid.
What is the best budget hotel in Madrid?
If you're looking for a cheap hotel in Madrid, then book B&B Hotel Madrid Centro Fuencarral. It's an excellent budget hotel offering great value for money. It's in a good location, it's been recommended by travel experts and the hotel has excellent customer reviews. Also check out our list of the best cheap hotels in Madrid.
What is the best boutique hotel in Madrid?
Not a fan of big chain hotels? No problem. If you want to stay in a boutique hotel in Madrid, then you should book Only You Boutique Hotel. The hotel has been rated highly by previous guests for its boutique style. It has also been recommended by influential travel journalists. Also make sure you read our shortlist of the best boutique hotels in Madrid, it's a manually curated list of the most unique and romantic hotels in the city.
What is the best luxury hotel in Madrid?
If money isn't a problem and you're looking for a luxury hotel in Madrid, then go for Gran Melia Palacio de los Duques. The hotel offers excellent service, it's in a top location, it has been rated very highly by previous guests and renowned travel critics have recommended it. Also check out our list of the best luxury hotels in Madrid, it's a manually curated list of the most exclusive 5-star hotels in the city.
What is the best hostel in Madrid?
If you're looking for a great hostel in Madrid, then you should check out Hostel The Hat. The hostel has magnificent reviews by backpackers, it has been recommended by well-known travel experts and it's in a good location. Also make sure you read our shortlist of the best hostels in Madrid.
How much does it cost to stay in a Madrid hotel?
For a 3-star hotel, you have to pay around $120 per night and for a 4-star hotel, you would be looking at $170 per night. If you're after a luxury 5-star Madrid hotel then you can expect to pay around $270 per night.
Best time to visit Madrid
Spring (March to May) is the best time to visit Madrid! As the temperatures begin to rise and the harsh winter cold becomes a distant memory, the city comes to life with an abundance of colorful blossoms, lush green parks, and a palpable energy that is nothing short of contagious.
By visiting Madrid during this time, you'll be blessed with comfortable temperatures ranging from 50°F to 70°F (10°C to 21°C), allowing you to explore the city's picturesque streets, visit its world-renowned museums, and indulge in its mouthwatering tapas without breaking a sweat.
Visiting Madrid during the spring season also means you'll be able to experience several exciting festivals and events that truly showcase the city's unique spirit. One such event is the famous Semana Santa or Holy Week, where the streets come alive with captivating processions and traditional religious ceremonies. Another can't-miss celebration is the colorful Feria de Abril, which brings the city's squares to life with vibrant flamenco performances, delicious food, and an unmistakable atmosphere of joy.
If you're unable to make it to Madrid during the spring, fear not! The fall season (September to November) is another fantastic time to visit Madrid. The sweltering summer heat begins to dissipate, making way for pleasant temperatures and fewer crowds. This is the perfect time to explore the city's architectural marvels and take in the breathtaking autumn foliage that adorns the city's parks and gardens.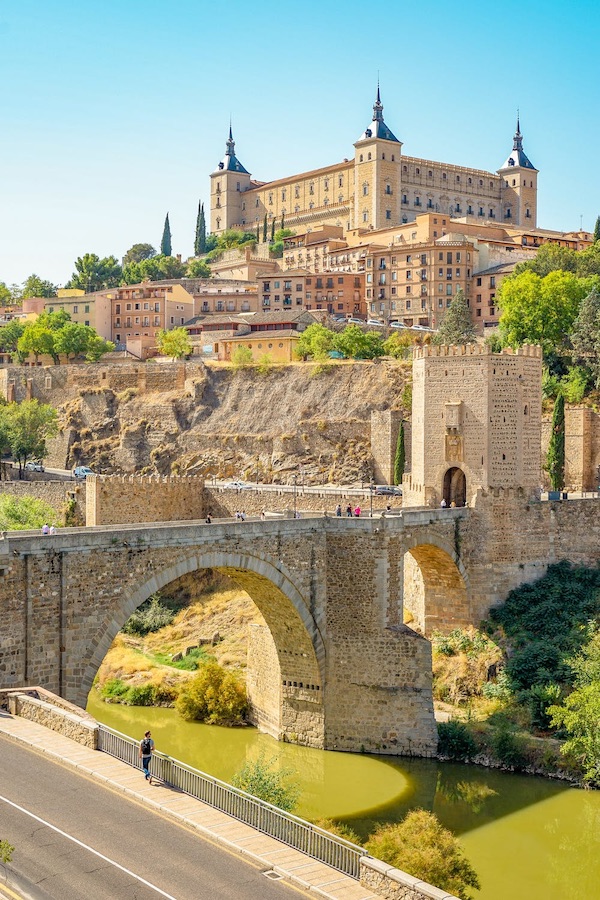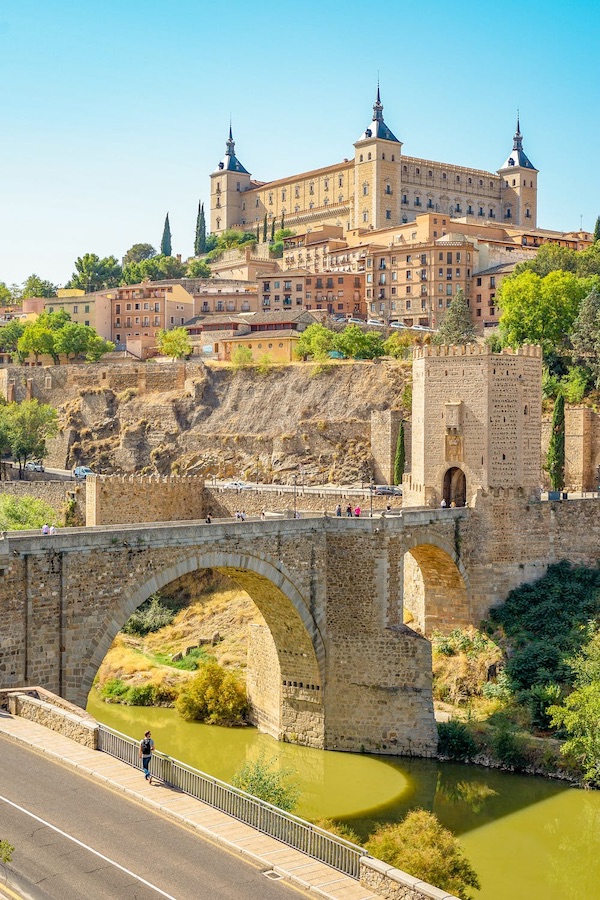 Best things to do in Madrid
There are a lot of things to do in Madrid and surrounding areas, including day trips, attractions, museums, sightseeing tours and many other activities. Here's our list of 3 things you should definitely do when you're in Madrid:
Madrid: Royal Palace Skip-the-Line Guided Tour
Enjoy an early-access guided tour of the Royal Place in Madrid with a walk from Plaza de Isabel II. Visit the Private Royal Apartments and Royal Gardens. Price: $40. More info.
Toledo and Segovia Tour with Alcazar Entrance from Madrid
Immerse yourself in the medieval majesty of Toledo, a UNESCO-listed site replete with historical monuments, and Segovia on a full-day tour from Madrid. With a knowledgeable guide, witness the arresting landmarks of each city while discovering fascinating historical facts. Price: $75. More info.
Madrid Tapas and Wine Tasting Tour
Discover Madrid's vibrant culinary scene on a delicious tapas tour. Stroll through the evening-lit streets with a guide and sample delicious tapas dishes at popular restaurants while learning about the local ingredients. Price: $89. More info.
Deciding where to stay in Madrid
Let's recap what we just learned in this article. We've covered the best areas of Madrid above. Now you can decide where to stay while visiting!
Top 5 neighborhoods to stay in Madrid
La Latina
Sol-Gran Via
Malasana
Chamberi
Chueca
As you have seen in this travel guide, there are a lot of things to explore, and deciding where to stay in Madrid is important. Whether you stay in La Latina, Sol-Gran Via, Malasana, Chamberi or Chueca, all those neighborhoods are in good locations.
The atmosphere of the area, whether you travel for leisure or business, whether you travel with your family or friends, and proximity to the attractions you prefer to visit should probably be the deciding factors. Whatever your preference is, you'll have a great time in Madrid.
Check out our other guides about the best places to stay in Madrid: