Madrid is a must-experience city in Spain, known for its arts, culture, and laid-back atmosphere. As the 2nd largest city in the EU, Madrid is a major hub with historic neighborhoods (the city dates all the way back to the ninth century!) as well as modern ones. If you're looking to book a Madrid vacation, make sure to stay long enough to see it all. You can book a room at one of the many hotels in the city, including sustainable hotels, to make the most of your trip.
Some landmarks include the Plaza Mayor, the Royal Palace of Madrid, and the Buen Retiro Park. Throughout the urban area, you'll find museums, theaters, and countless art galleries; there's also a good chance you'll be in Madrid during one of the many festivals, such as the Festival of Alternative Art or the Gastrofestival of Madrid. Like many big cities, there are nearby sporting events throughout the year.
Of course, after a long day of sightseeing, you can enjoy a delicious meal at one of the many traditional or modern Spanish restaurants and follow that up by joining in with the very vibrant nightlife in areas like Chueca, Huertas, or Malasaña.
Madrid also has opportunities for green-minded travelers to lessen their footprint; the city center doesn't have cars, it has many green spaces (around 8.2% of Madrid is green area), and eco-friendly transportation. Whether you're spending the day shopping, enjoying a patatas bravas at a tapas restaurant, experiencing art in the Golden Triangle of Art district, or sitting in a bohemian café in the Malasaña neighborhood, Madrid certainly won't disappoint.
If you're looking for a place to stay, consider booking one of the eco-friendly hotels in Madrid, which offer both a comfy experience and a smaller environmental footprint. Here's our list of five sustainable hotels in Madrid to check out, along with everything they have to offer!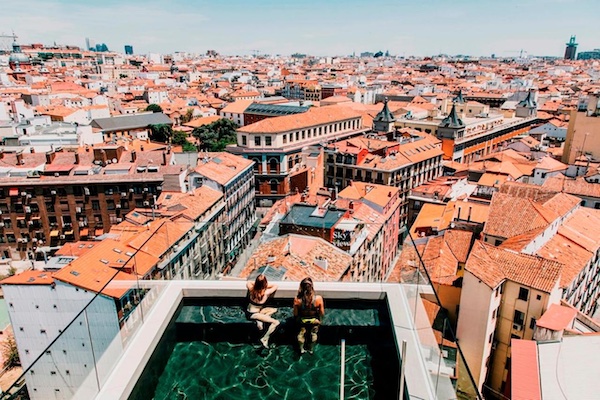 Dear Hotel
First up on our list of hotels is Dear Hotel, near the city's center and therefore very close to the Plaza de España, the Royal Palace of Madrid, and Casa de Campo. You'll sit right on Gran Vía, where there are loads of great restaurants, shopping, and convenient public transportation. If you're someone who likes to stroll out the front door of your hotel room and be in the center of everything, Dear Hotel is the perfect place for you.
Dear Hotel has everything guests need, including a Smart TV, a helpful 24-hour reception desk, and free wifi. The rooms are modern but cozy and many have stunning views of Plaza de España and the Gran Vía. What sets Dear Hotel apart, however, is its beautiful rooftop, where the Nice to Meet You Restaurant and Lounge and pool sit surrounded by plants for an award-winning "urban garden" feel. You can be in the center of Madrid while also enjoying the serene, expertly-designed roof of Dear Hotel, which is available for all meals and cocktails. Take advantage of the rooftop's panoramic view of the bustling city center!
What makes Dear Hotel sustainable
What makes Dear Hotel eco-friendly? Starting off, it uses low-energy bulbs for every room and doesn't have any single-use plastics as part of its amenities. It also has a meticulous recycling system and compostable straws and stirrers. Additionally, you'll be centrally located, so the location is ideal for sightseeing on foot.
Hotel details
Address: 
Gran Via, 80, Madrid City Center, 28013 Madrid, Spain.
Guest rating:
4.4 out of 5
Price per night:
From $156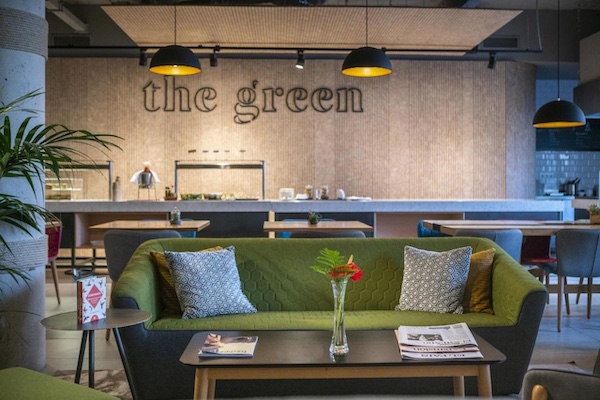 Artiem Madrid Hotel
Artiem Madrid was one of the first sustainable hotels in Madrid and sits a bit outside the center in the Arturo Soria neighborhood, making it a bit more laid-back. However, you can easily get into the heart of the city easily through nearby metro stops. It's just a 15-minute drive from Barajas Airport and 3.5 kilometers from the football stadium.
As a 4-star hotel, Artiem Madrid has a lot to offer and prioritizes relaxation. The rooms are spacious and comfortable, as they are equipped with a living area and desk, a rain shower, and free wifi. People also come here for its fitness amenities; the new gym is big, and they will even give you a "Gym in a Bag" if you prefer to stretch or do light exercises in your room. The breakfasts in the Slow Lounge are delicious, and snacks, coffee, and tea are in the fridge, which is available at any time for guests. Lastly, visitors say the service of the hotel's 24-hour guest service is unbeatable.
What makes Artiem Hotel sustainable
As one of Madrid's eco-friendly hotels, Artiem Madrid is committed to defending the environment. They are a Certified B Corporation, which means it meets a certain level of environmental accountability. The yummy breakfast you'll enjoy includes fresh, seasonal produce, and minimal plastic is used in toiletries and other products. Additionally, it plans to reduce its CO2 emissions by 80% over the next eight years. Embrace the hotel's mission of slowing down and disconnecting in one of Madrid's most eco-friendly hotels!
Hotel details
Address: 
Juan Perez Zuñiga, 20, Ciudad Lineal, 28027 Madrid, Spain.
Guest rating:
4.7 out of 5
Price per night:
From $85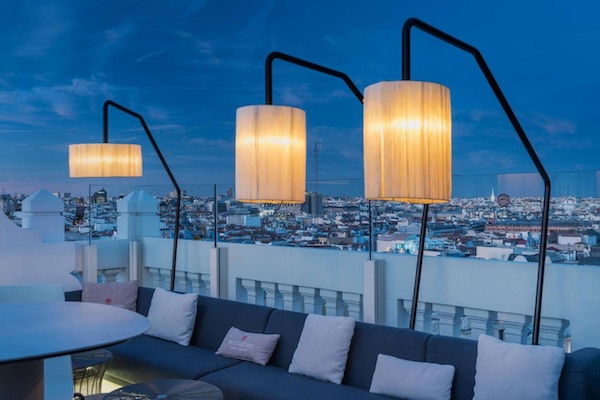 NH Collection Madrid Gran Via
Next up on our list of sustainable hotels in Madrid is NH Collection Madrid Gran Vía. One of the awesome aspects of this hotel is its location; stay here, and you'll be right in one of the trendy areas of the city, Gran Vía. Walk just a few minutes from the hotel and you'll have a selection of restaurants, bars, and shops. NH Collection Gran Vía will also put you close to 'Spanish Broadway,' an area known for its theaters. To visit major sites such as Plaza Mayor, you can hop on the closeby Gran Vía metro station or simply walk.
NH Collection has a serene rooftop with Picalagartos Sky Bar and Restaurant, run by Michelin-rated chef Manuel Berganza. You'll get a great view of the bustling street below here. The rooms are stylishly decorated with neutrals and have a Nespresso coffee machine. It also has a buffet breakfast and wifi throughout the Hotel. For an extra charge, you can have babysitting, massage services, and a bike rental.
What makes NH Collection Gran Via sustainable
As far as sustainability goes, the hotel adopts several practices making for a lower environmental impact. It works with responsible providers and has a number of practices to preserve water, including aerators and water cistern implements. It also limits its laundry, strictly controls energy and water, uses LED lighting, and has robot recycling programs. NH Collection Madrid Gran Vía is one of the great eco-friendly hotels in the heart of Madrid.
Hotel details
Address: 
Gran Vía, 21, Madrid City Center, 28013 Madrid, Spain.
Guest rating:
4.5 out of 5
Price per night:
From $175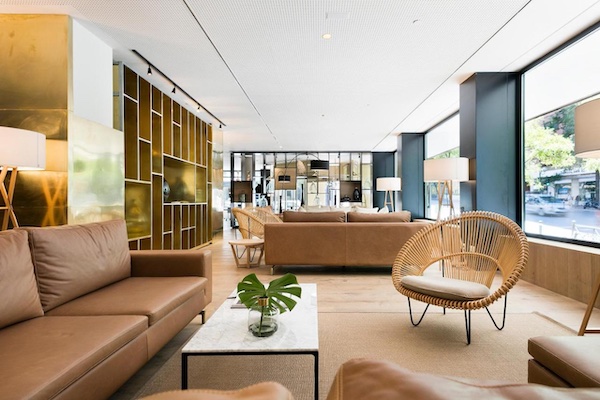 Melia Madrid Serrano
Melia Madrid Serrano is in the Salamanca district of the city, which is the heart of luxury in Madrid. The area is most known for the Golden Mile, which is a high-end fashion and art district. You'll also find a lot of Michelin-star restaurants as this is the center of avant-garde cuisine. Some of Madrid's famous museums, such as Museo Lazaro Galdiano, are just a short walk away.
Enjoy all the typical amenities such as 24-hour reception and gym, close-by parking, room service, and wifi, plus some added ones. For example, you'll have access to a refreshing rooftop pool complete with a large sundeck and Bali beds. The terrace is beautiful and of course, offers a great view right in the middle of the city. As far as food goes, Melia Madrid Serrano embraces local cuisine with innovative twists at Arado Grocery & Restaurant, which takes reservations for your convenience. Melia Madrid Serrano's rooms are very sleek and modern while not sacrificing comfort and they have a wide variety of room setups to pick from.
What makes Melia Madrid sustainable
Melia Madrid Serrano is a member of EarthCheck, a sustainability program that measures businesses' impact on the environment, cultural heritage, local economy, and community. For example, it uses locally-sourced food in its restaurant. Additionally, Melia Madrid Serrano signed the UNESCO Travel Pledge. With all these measures in place, Artrip earns its title as one of the more sustainable hotels in Madrid.
Hotel details
Address: 
Claudio Coello, 139, Salamanca, 28006 Madrid, Spain.
Guest rating:
4.3 out of 5
Price per night:
From $180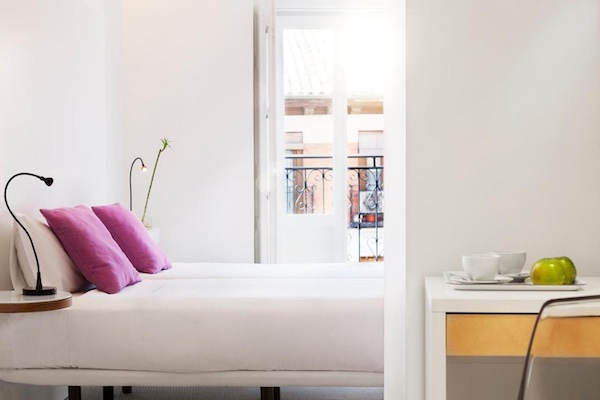 Artrip Hotel
Art lovers looking for a sustainable hotel in Madrid should check out Artrip Hotel, which gives you easy access to many of the art establishments in Madrid, such as the Prado Museum, Thyssen Museum, and the Reina Sofia Museum, where works by world-famous artists such as Dalí and Picasso reside. The Lavapies neighborhood offers more, too—roam along cobbled streets, discover the Rastro flea market, and visit landmarks such as the Palacio Real and Plaza Mayor. Additionally, you will be within walking distance of the AVE (high-speed train), perfect for convenient travel around Spain.
Artrip is minimal but quite comfortable. All rooms are decorated in a modern aesthetic and give you all you need for a comfy stay, such as wifi, well-stocked bathrooms, a flat-screen TV, and a 24-hour reception desk. Many rooms also have a balcony overlooking the street. Artrip has a café on the ground floor and lovely art throughout. Additionally, within a five minutes walk, you'll find countless tapas bars.
What makes Artrip sustainable
Artrip has a number of eco-friendly policies to lessen its environmental impact, and the convenient location means you can primarily sightsee on foot. Make your action-packed Madrid vacation complete by staying at Artrip or another one of the sustainable hotels in the Spanish capital.
Hotel details
Address: 
Valencia, 11, Madrid City Center, 28012 Madrid, Spain.
Guest rating:
4.6 out of 5
Price per night:
From $122
How we select the best eco-friendly hotels in Madrid
We are a travel research company. We check a lot of details and guest reviews before making a selection. First, we check which hotels follow eco-travel principles. Are they recycling their waste? Do they work with local communities? Are they using renewable energy? Are they not using single-using plastics?
Secondly, we check guest reviews across multiple websites and only list hotels with an aggregated review rating of at least 4 out of 5. So you can be confident you will stay at an excellent eco-friendly hotel in Madrid.
Sustainable travel is the key to enjoying a responsible and meaningful trip. You can make a difference in the environment and the communities you visit with the right sustainable travel tips. From packing light to choosing eco-friendly transportation and accommodations, there are plenty of ways to reduce your environmental impact.
More Madrid tips
Get to know the city even better and check out our other articles about Madrid: