Madrid, Spain is the capital of the country and has a very distinct culture that is unrivaled by anything else of its size. Between the famous football clubs, incredible food, and historical roots, there is a ton to unpack in Madrid.
Spain is an incredible place to visit, and Madrid is one of the must-see areas of the country. Whether you want to engage in the party scene or take a historical tour, there is an array of options here.
One of the coolest ways to see the city is by staying in a luxury hotel. This ensures that you can get the best experience possible.
Here are five of the best luxury hotels located in Madrid!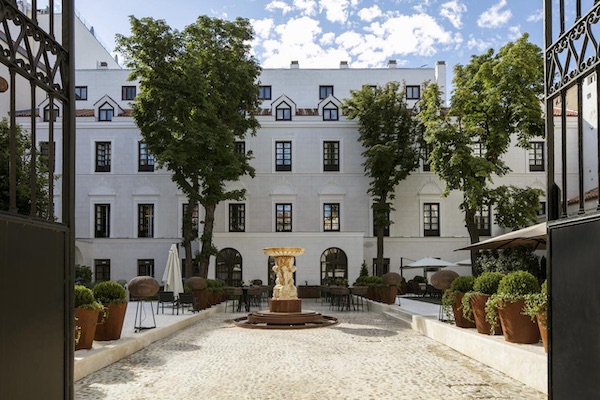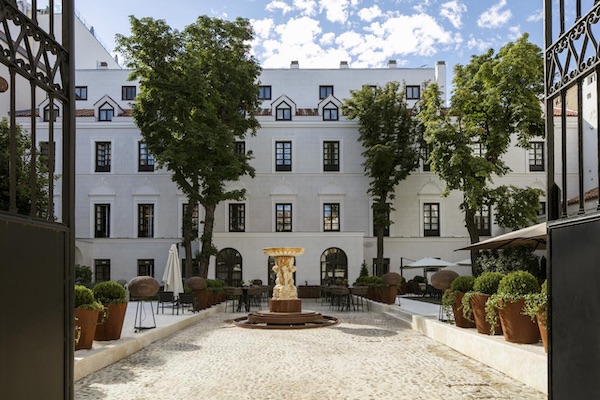 Gran Melia Palacio de los Duques
The first option to kick off our list is the Gran Melia Palacio de los Duques. This hotel is as luxurious and grand as it sounds. This is the place to be when in-house amenities are a top priority for you. With free internet, a luxurious courtyard, a food club with some complimentary ordeals, and much more.
There is also a pool that can be enjoyed on those hot Spanish days where you just need to relax. Overall, the Gran Melia Palacio de los Duques is a big, extravagant location that helps you take advantage of the luxury that you may desire.
Hotel details
Address: 
Cuesta Santo Domingo, 5 y 7, Madrid City Center, 28013 Madrid, Spain.
Guest rating:
4.7 out of 5
Price per night:
From $274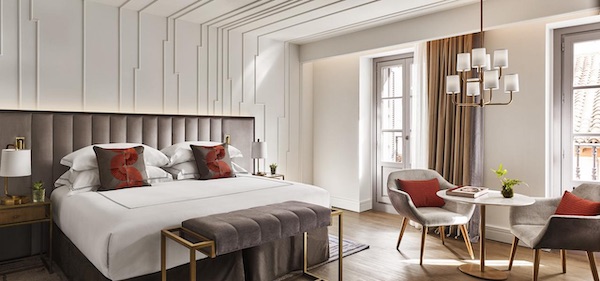 Gran Hotel Ingles
Madrid is an interesting place because it has a deep-rooted history, but the recent popularity has sparked some more modern accommodations to move in. An interesting mix of this idea is the Gran Hotel Ingles.
This hotel is over 100 years old yet there have been some remodels and amenities added that can give you the best of both worlds. Although you can still get an updated stay, the barebones of an older establishment shine through just enough.
With only 48 rooms, getting an exclusive experience is quite simple, as long as you can get a reservation before it fills up. Having a smaller hotel will allow for a more peaceful experience without too much traffic.
Hotel details
Address: 
Calle Echegaray 08, Madrid City Center, 28014 Madrid, Spain.
Guest rating:
4.7 out of 5
Price per night:
From $270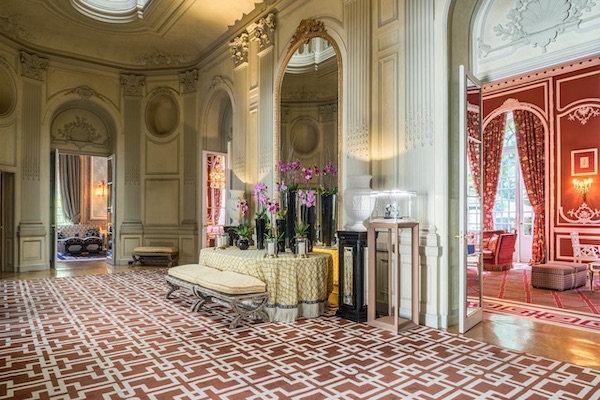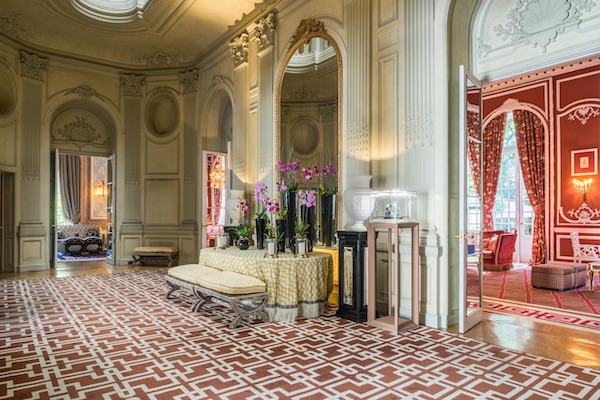 AC Santo Mauro
Although Spain has a unique identity that takes on a life of its own, the AC Santo Mauro is a French escape within Madrid. French elegance is on full display in this hotel.
With just 51 rooms, this location is similar to the one above. You get some excellent features while not having to deal with heavy foot traffic. Now, one thing to keep in mind is the location. This spot is not located right in the heart of the action. You are a bit off of downtown, so you will have to commute into the city center. Based on your wants and needs, this could be a good or bad thing. It all depends on what you want out of the experience.
Hotel details
Address: 
Zurbano, 36, Chamberi, 28010 Madrid, Spain.
Guest rating:
4.6 out of 5
Price per night:
From $240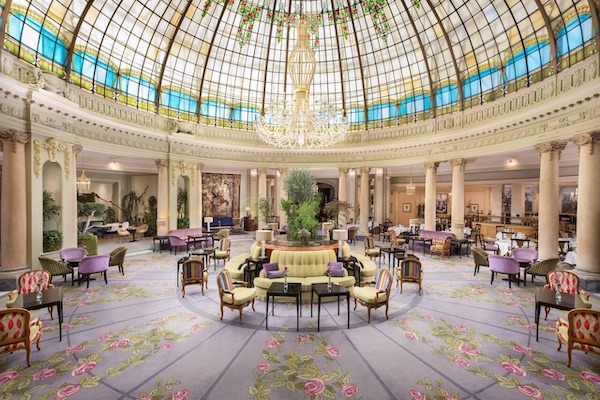 The Westin Palace Madrid
Next up on our list is the Westin Palace Madrid. With over 100 years as a hotel in Madrid, this is truly a unique and historical spot. Not every high-end place can have such an impact on the city as the Westin does.
Although being fairly old, it has a distinct charm and elegance that sets it above the rest. When you want a luxurious experience, there is no shortage of luxury here.
A unique factor of the Westin is the diversity of room types available. There are so many upgrades you can purchase to elevate your stay to a whole new level. Some of the room types include deluxe, premium, executive, and a few others. These may just sound like buzzwords, but they all have unique features that will add to the luxurious experience.
Hotel details
Address: 
Plaza de las Cortes, 7, Madrid City Center, 28014 Madrid, Spain.
Guest rating:
4.4 out of 5
Price per night:
From $260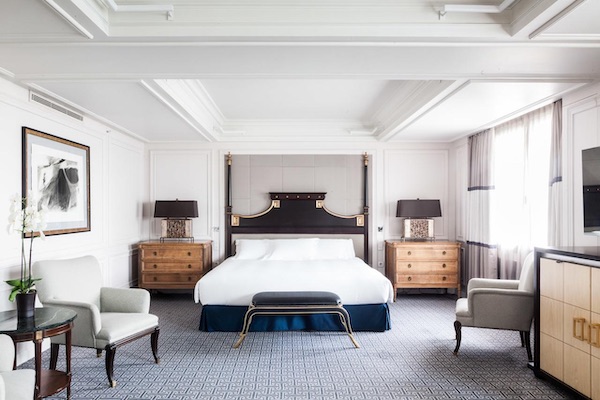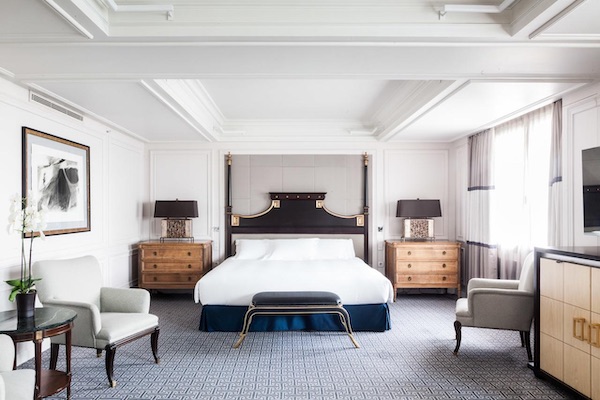 Hotel Villa Magna
To round out our list of luxury spots in Madrid, there is the Hotel Villa Magna. With a total of 150 rooms, this is a great medium of business and calmness. Having the perfect recipe is the key to a good stay.
There is a long list of amenities and features that are open to each and every guest. Some of the coolest include a jacuzzi, sauna, spa, and a Turkish bath. These perks are worth using in and of themselves. Although you may spend most of your time outside of the hotel, having on-site features is a good perk.
Although the Hotel Villa Magna is at the end of our list, it still ranks toward the top in terms of what you can get out of the stay.
Hotel details
Address: 
Paseo Castellana, 22, Salamanca, 28046 Madrid, Spain.
Guest rating:
4.7 out of 5
Price per night:
From $310
About our luxury hotel recommendations in Madrid
We are a travel research company. Our team helps you discover the best luxury hotels in Madrid by researching the internet for you. We have also visited some of these places. Hence, it's not just our opinion, it's the opinion of many travelers who have been there before you. We make it easy for you to find out about the most luxurious and exclusive 5-star hotels in the city.
Please note, we only list hotels that have an aggregated guest review rating of at least 4.0 out of 5. We aggregate all reviews from different booking sites and other unbiased review websites. Hence, you can be certain all hotels listed above offer you a great stay in Madrid.
Best price guarantee
We have partnered with Booking.com and Hotels.com to offer the best price for your stay in Madrid! Both sites offer price matching, so you can be sure that you are getting the cheapest rates possible for a luxury hotel in Madrid. If you find an even lower rate on another site at least 24 hours before check-in, contact them to claim a refund of the difference!
Top 5 luxury hotels in Madrid
Having read this guide, now let's summarize what we learned. We found the best 5-star hotels in Madrid thanks to reviews and tips from thousands of guests and travel experts:
More Madrid recommendations
We hope you enjoy the advice we've given to you above. If so, be sure to check out some of our other articles about Madrid:
Best boutique hotels in Madrid