Prague is a beautiful historic city known for its colorful Baroque buildings, gothic churches, and picturesque cityscapes. It is a popular destination for people looking for a charismatic city break packed with unique places to eat and exciting things to do.
Tourists enjoy exploring the romantic cobbled streets where you can visit Prague Castle, walk across the famous Charles Bridge, or wonder at the impressive Astronomical Clock. Prague is also a foodie haven with many excellent places to eat across the city and is packed with cultural sights to explore.
Prague is also known as the 'City of a Hundred Spires' thanks to its beautiful architecture and a highlight of the city is the Petrin Tower. With 299 steps to the top, the view of the city is most certainly worth the climb.
There are many luxury eco-friendly hotels in Prague, as this historic and stylish city becomes more eco-conscious, with many environmentally targeted programs. The city has many large open spaces and nature reserves and many hotels located in the city center are focusing on sustainability to help encourage eco-tourism in the city.
Prague has an excellent selection of eco-friendly hotels to choose from. However, we have found the 5 best sustainable hotels in Prague for your next city break.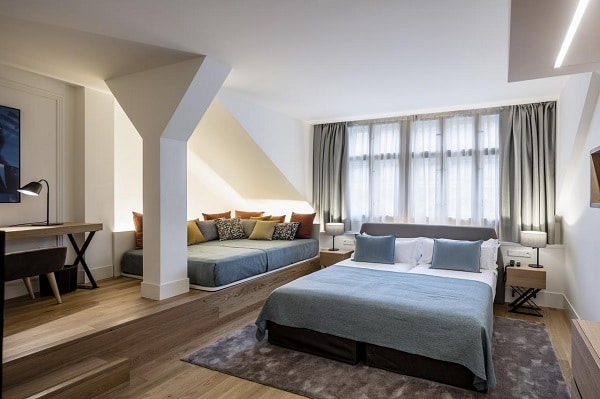 BoHo Hotel
The sleek and modern BoHo Hotel is located in Prague's Old Town, a popular place for tourists to visit. It is close to the famous Old Town Square and is ideally located near many museums, bars, and restaurants.
The hotel has an impressive minimal appearance with high ceilings and an arty vibe. The lobby is decorated with neutral gray hues and has an elegant bar and library for guests to enjoy. The guest rooms have a minimal-chic design with luxury fabrics and modern luxuries such as flat-screen TVs and coffee machines. The hotel has a small spa with a relaxing plunge pool for guests to unwind. For fitness fanatics, there is also an excellent gym to make use of during your trip. The BoHo Hotel has a fantastic rooftop restaurant serving a contemporary menu and delicious cocktails, the perfect place to go after a day of sightseeing.
What makes the Boho Hotel sustainable?
The BoHo Hotel has made excellent efforts toward becoming a sustainable hotel option. The following practices have been adopted by the hotel and its staff to make the BoHo an eco-friendly hotel option:
Renewable energy sources are used throughout the hotel
Eco-friendly energy efficient lighting is used in the guest rooms and communal hotel areas
Single-use plastics such as straws have been removed from use in the hotel
Food waste in the hotel is reduced through the use of composting
The food menu in the Hotel's restaurant is seasonal and uses locally sourced produce
Vegan food options are available
Staff are trained on sustainability to ensure the Hotel's eco-friendly practices are adhered to
Hotel details
Address: 
Senovážná 1254/4, 110 00 Nové Město, Czech Republic.
Guest rating:
4.9 out of 5
Price per night:
From $114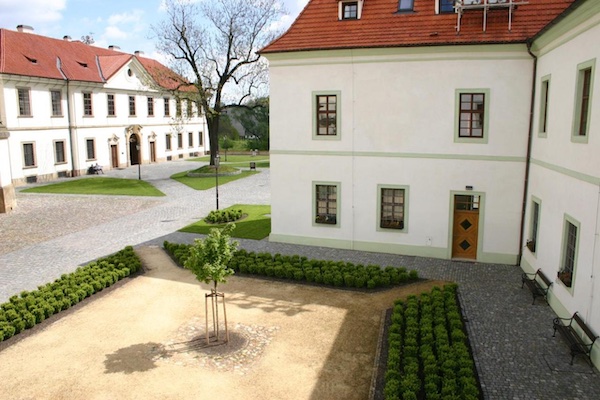 Hotel Adalbert
Hotel Adalbert is a unique eco-friendly hotel based in a sprawling Baroque Monastery on the edge of the city center. The hotel boasts 23 guest rooms in a peaceful location in one of the greenest locations in Prague, surrounded by a beautiful forest and rock canyons. It is an ideal place for a romantic and sustainable getaway with the option of exploring the nearby city center or taking an idyllic walk through nature.
The guest rooms are spacious and designed in a traditional style with wood furniture and comfortable beds. The hotel also has a fantastic restaurant, the Monastery Tavern, serving locally sourced rustic cuisine next to an open fire.
What makes the Hotel Adalbert sustainable?
The Hotel Adalbert recognizes itself as one of the first hotels in the Czech Republic to acknowledge the need for sustainability within the hotel industry and to design itself as an eco-friendly hotel option. Hotel Adalbert is committed to investing in the environment and achieves this through implementing the following practices;
Investing in repairs to the Monastery to ensure that it remains energy efficient
Restoring the terrace garden and Orangery
Restricting the water flow from taps and showers to conserve water
Installing shampoo and soap dispensers that limit waste
Separating paper, plastic, and glass waste so it can be recycled
Reducing overall waste within the hotel
Reducing the use of single-use items
Installing motion sensors to help conserve electricity
Hotel details
Address: 
Markétská 1/28, Prague, 169 00, Czech Republic.
Guest rating:
4.5 out of 5
Price per night:
From $65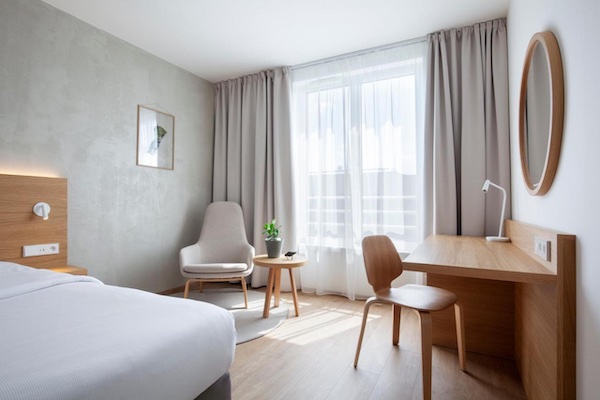 Botanique Hotel
The beautiful Botanique Hotel is a superb hotel that embraces sustainability and describes itself as a hotel designed by nature. Located in the heart of the city, the hotel is excellently located near many of Prague's famous sites, such as the Old Town Square and the Astronomical Clock.
The Botanique Hotel is a modern hotel with excellent features. The hotel lobby is bright, with many plants adorning the communal areas and the hotel supports green energy with electric car chargers. The guest rooms are impressive, light, and airy, designed by Czech designer – Olgoj Chorchoj; they have a modern, minimal style with all the expected luxuries.
The hotel does not have its own pool and spa. However, guests are invited to use the facilities at the nearby Living Well Health Club and Spa at a discounted rate. Guests can also enjoy the excellent Bistro and Bar at the hotel, with its impressive aesthetic, serving seasonal traditional Czech dishes made with locally sourced ingredients.
What makes the Botanique Hotel sustainable?
The Botanique Hotel is serious about its commitment to the environment and has developed its own Be Green program, which encourages guests to help make more sustainable choices during their stay. The hotel has also implemented the following eco-friendly practices into its day-to-day running;
All guest rooms are equipped with energy-saving systems and LED lights
Plastic key cards have been replaced with eco-friendly versions
Single-use plastics are not used within the hotel
Paper waste has been reduced by removing guest leaflets, menus, and unneeded signage – instead, guests can access all information online
Organic toiletries are provided in refillable dispensers
Coffee machine pods are recycled
Reusable cork coasters are used in the guest rooms and the bar and restaurant
All hotel reporting is carried out electronically
The hotel recycles as much waste as possible
Hotel details
Address: 
Sokolovská 11, Prague, 18600, Czech Republic.
Guest rating:
4.5 out of 5
Price per night:
From $73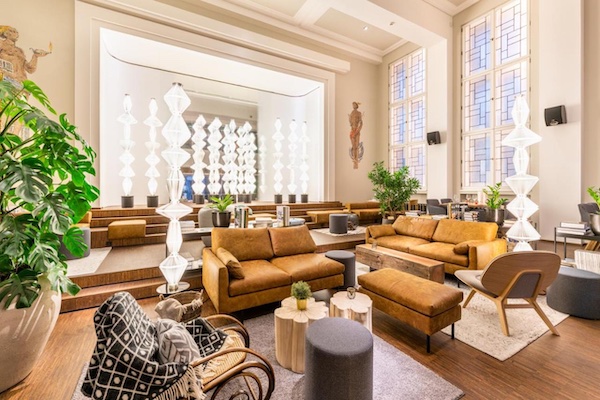 Mosaic House Design Hotel
The Mosaic House Design Hotel is a stunning hotel located near the city center, close to the picturesque Vltava river. The hotel is excellently designed with a bright and spacious lobby, with grand chandeliers and intricate mosaic floors. The hotel has a grand design with a traditional yet modern feel and has an eco-conscious ethos that runs through the hotel.
Guest rooms at the hotel have a modern, minimal design, with clean lines and luxury touches. Larger rooms enjoy balconies overlooking the city and the penthouse suite has its own panoramic roof terrace.
Guests at the hotel can experience the private spa facilities, including a luxurious Finnish Sauna and jacuzzi, and have the option to book massages. The Mosaic House Design Hotel also has an excellent cafe and restaurant, located in a former theater with high ceilings and plenty of light, and a secret garden filled with greenery.
What makes the Mosaic House Design Hotel sustainable?
The Mosaic House Design Hotel is committed to sustainability and protecting the environment and has implemented many practices to become an eco-friendly hotel option.
Recycling wastewater within the hotel – such as using waste shower water to flush toilets
Uses a heat recovery system to use wasted heat from the wasted water to generate new energy
Free bike rental for guests to explore the city
Reducing food waste at the property where possible
Removing single-use plastics
Recycling waste where possible and encouraging guests by providing recycling bins
Offering electric car charging ports
Using energy-efficient LED lighting
Double-glazed windows to reduce heat loss
Hotel details
Address: 
Odborů 4, Prague, 120 00, Czech Republic.
Guest rating:
4.7 out of 5
Price per night:
From $99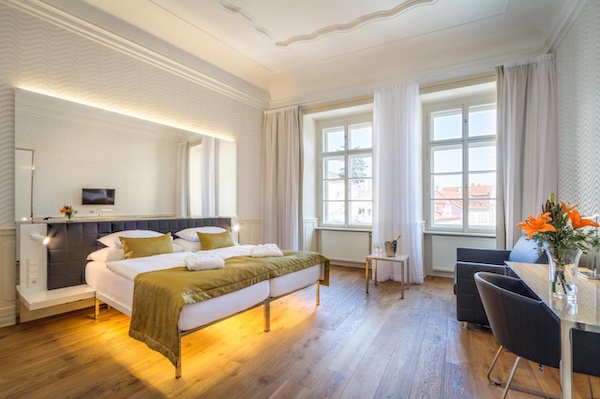 Hotel Golden Star
Located beneath Prague Castle, this impressive Baroque hotel has the most convenient location in the city. With a beautiful view of the Malá Strana and a short distance from the Old Town Square, the Hotel Golden Star is an excellent hotel choice for anyone looking to explore the city of Prague.
The hotel itself has some of the most beautiful historic features, such as the 270-year-old staircase and intricately detailed ceilings. However, despite its age and historical details, the Golden Star hotel has been perfectly redesigned with modern features, making guests feel comfortable and relaxed.
The guest rooms are light and airy, with plenty of space. Each room has a beautiful view of the city, modern furnishings and facilities, and luxury ensuite bathrooms. The hotel has a cozy restaurant with a historic vaulted ceiling for guests to enjoy and serves traditional Czech cuisine. In summer, the restaurant's terrace is ideal for guests to sit and relax and enjoy the hustle and bustle of the city around the hotel.
What makes the Hotel Golden Star sustainable?
The hotel is committed to sustainability and making changes that will benefit the environment. The Hotel Golden Star is making excellent investments toward sustainability and has already implemented the following practices at the hotel.
Reducing food waste at the property where possible
Single-use plastics have been removed throughout the hotel
Recycling waste where possible and encouraging guests by providing recycling bins
Using energy-efficient LED lighting
Double-glazed windows to reduce heat loss
Motion-controlled electricity ensures energy is conserved
Food provided at the hotel is locally sourced.
Hotel details
Address: 
Nerudova 48, Prague, 118 00, Czech Republic.
Guest rating:
4.7 out of 5
Price per night:
From $75
How we select the best eco-friendly hotels in Prague
We are a travel research company. We check a lot of details and guest reviews before making a selection. First, we check which hotels follow eco-travel principles. Are they recycling their waste? Do they work with local communities? Are they using renewable energy? Are they not using single-using plastics?
Secondly, we check guest reviews across multiple websites and only list hotels with an aggregated review rating of at least 4 out of 5. So you can be confident you will stay at an eco-friendly hotel in Prague.
More and more people recognize the importance of sustainable travel. Not only is it better for the environment and our planet, but it also often leads to more meaningful experiences. If you're interested in learning more about eco-tourism, here are some eco-friendly travel tips to get you started.
More Prague recommendations
Get to know the city even better by reading our other articles about Prague: