Bordeaux is a city known for its luxurious lifestyle, elegant architecture, and renowned vineyards. It's no surprise, then, that the city is home to some of the finest luxury accommodations in the world.
From five-star hotels with impeccable service and stunning views to historic chateaus nestled in the vineyards, Bordeaux has some of the most luxurious and exclusive hotels in Europe.
If you're planning a trip to Bordeaux and want to indulge in the luxurious experiences this city offers, you're in the right place. In this guide, we'll explore some of the best luxury hotels in Bordeaux, what makes them stand out, and what you can expect from your stay.
So, whether you're planning a romantic getaway, a business trip, or simply looking to treat yourself to a luxurious vacation, this guide will help you find the best luxury hotels in Bordeaux for an unforgettable experience.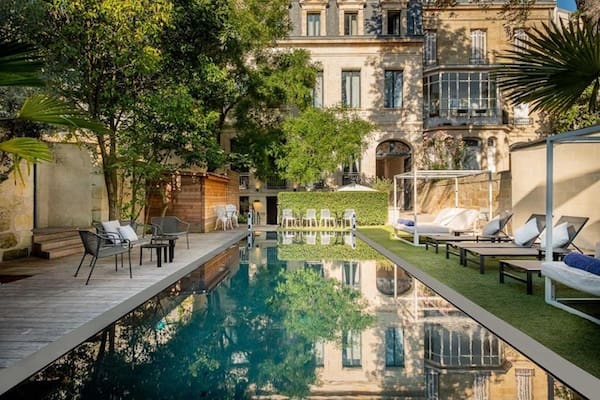 Le Palais Gallien Hôtel & Spa
Le Palais Gallien, located in the heart of Bordeaux, is a charming boutique hotel with a delightful blend of history, luxury, and modern comforts. This elegant establishment is nestled near the historic ruins of an ancient Roman amphitheater.
The name "Le Palais Gallien" is a nod to the site's rich history, as it refers to this old theater that once stood as a symbol of Bordeaux's prominence in the Roman era.
As you step inside Le Palais Gallien, you are instantly transported into a world of refined elegance and warm hospitality. The hotel boasts 26 luxurious rooms and suites, each uniquely designed to pay homage to Bordeaux's rich heritage while providing all the modern amenities that discerning travelers expect.
The rooms feature plush beds, chic furnishings, and state-of-the-art technology, ensuring a comfortable and memorable stay for every guest.
One of the standout features of Le Palais Gallien is its exquisite dining experience. The onsite gourmet restaurant, led by a talented and passionate team, offers a delectable menu showcasing the best local produce and culinary techniques.
The hotel's beautiful terrace provides the perfect setting for al fresco dining, where guests can savor their meals while enjoying the stunning views of the city.
Hotel details
Address:
144 Rue Abbé de l'Epée, Bordeaux City-Centre, 33000 Bordeaux, France.
Guest rating:
4.5 out of 5
Price per night:
From $380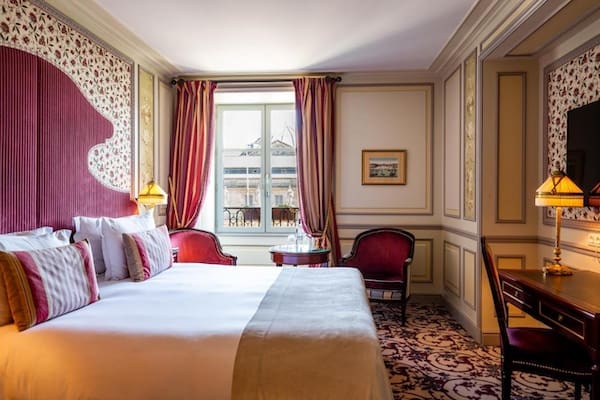 Intercontinental Le Grand Hotel
Guests are assured of an exceptional experience at the Intercontinental Bordeaux Le Grand Hotel. This opulent establishment, celebrated for its impressive architecture and superior service, is situated across from the Grand Théâtre—an ideal spot to delve into the city's deep cultural and historical roots.
The hotel recently underwent a redesign under the expert eye of Jacques Garcia, enhancing its majestic 18th-century façade that radiates refinement and class. Upon entering their exquisitely decorated lobby, visitors are welcomed by a cozy ambiance marking a pleasant start to their stay.
A standout feature of Intercontinental Bordeaux Le Grand Hotel is its collection of 130 stylish guest accommodations. Each is outfitted with luxurious furniture and up-to-date facilities creating an exquisite balance between ageless elegance and modern-day comfort—guaranteeing restful stays for all patrons.
Numerous rooms provide guests with stunning city views or tranquil sights of the hotel's private courtyard. Standard room provisions include WiFi access, flat-screen TVs, coffee makers while those opting for upgraded options can enjoy additional amenities like seating areas and in-room wine bars.
Dining at the Intercontinental Bordeaux Le Grand Hotel becomes a culinary journey, thanks to its two extraordinary dining establishments.
The brasserie-inspired restaurant, Le Pressoir d'Argent, offers mouth-watering French dishes masterminded by renowned chef Gordon Ramsay. Additionally, guests have the option of enjoying a cocktail at Victor Bar located within the hotel premises.
For individuals in pursuit of relaxation and renewal, there's also a spa within the hotel that spans 1000 square meters and serves as an oasis of serenity. It is equipped with an indoor swimming pool, fitness area and a terrace featuring a hot tub alongside an assortment of lavish treatments.
Hotel details
Address:
2-5 Place De La Comédie, Bordeaux City-Centre, 33000 Bordeaux, France.
Guest rating:
4.3 out of 5
Price per night:
From $320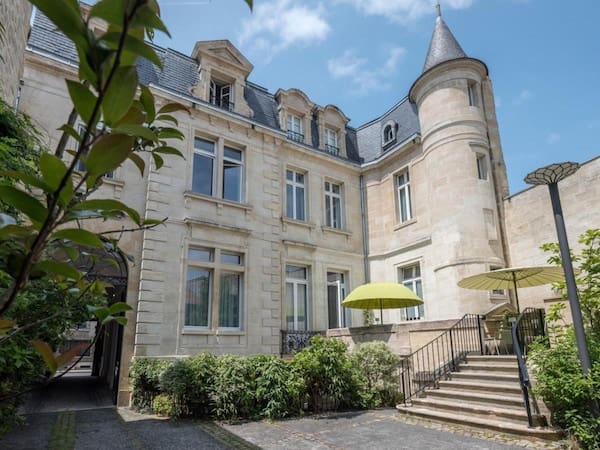 Yndo Hotel
Located near several landmarks, Yndo Hotel is a beautiful and luxurious boutique hotel that promises an unforgettable experience for its guests. Set in a 19th-century mansion, Yndo Hotel blends classic elegance with contemporary design, ensuring that every stay is both comfortable and stylish.
Yndo Hotel boasts 12 unique and individually decorated rooms, each exuding its own sense of character and charm. From cozy rooms to opulent suites, there is an option to suit every traveler's taste and preferences.
All rooms have high-quality amenities, including air conditioning, iPads, and flatscreen TVs, providing guests with all the modern comforts they need.
A true standout feature of Yndo Hotel is its exceptional service, ensuring every guest feels well taken care of throughout their stay.
The friendly and attentive staff go above and beyond to cater to guests' needs and requests, offering personalized recommendations and organizing activities such as wine tastings and guided tours.
Another highlight of Yndo Hotel is its delightful gourmet breakfast, prepared fresh daily using locally-sourced ingredients. Guests can also enjoy delicious snacks and drinks throughout the day in the cozy hotel lounge or on the beautiful outdoor terrace, perfect for those warm Bordeaux afternoons.
Hotel details
Address:
108 Rue Abbé de l'Epée, Bordeaux City-Centre, 33000 Bordeaux, France.
Guest rating:
4.6 out of 5
Price per night:
From $310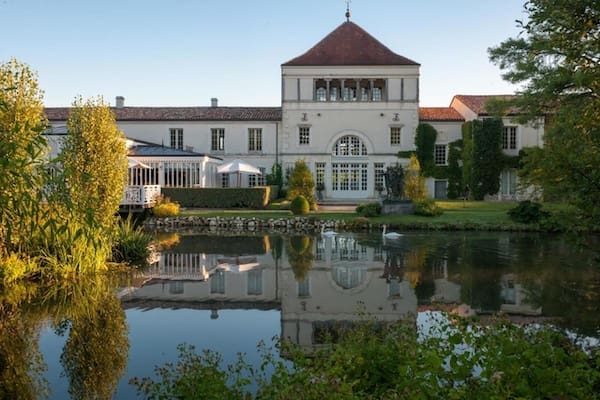 Les Sources De Caudalie
Surrounded by the lush vineyards of Bordeaux, Les Sources de Caudalie is a charming luxury hotel that exudes the essence of French countryside living.
This beautiful retreat, set in the heart of the iconic Château Smith Haut Lafitte winery, offers its guests an exceptional experience combining the best wine, gastronomy, and wellness.
The hotel features 40 rooms and 21 suites, each uniquely designed to reflect the region's wine-making heritage and local craftsmanship.
Inspired by the area's traditional "Landes" houses, these accommodations blend rustic elegance with modern amenities, ensuring a comfortable stay while immersing guests in the authentic French countryside ambiance.
Les Sources de Caudalie takes pride in its exquisite dining options. Enjoy two Michelin-starred restaurants, including La Grand'Vigne, helmed by Chef Nicolas Masse, offering gourmet cuisine that showcases the freshest local ingredients paired with the region's finest wines.
For a casual dining experience, guests can enjoy La Table du Lavoir, a charming bistro serving delicious regional dishes.
The hotel's pièce de résistance, however, is its world-renowned spa, the Vinothérapie Spa. This unique wellness facility offers a range of treatments based on the healing properties of grapes and grapevine extracts.
The spa's signature treatments, such as the Crushed Cabernet Scrub and the Grape Barrel Bath, provide an indulgent experience that rejuvenates the mind, body, and soul.
Hotel details
Address:
Chemin de Smith Haut-Lafitte, 33650 Martillac, France.
Guest rating:
4.6 out of 5
Price per night:
From $250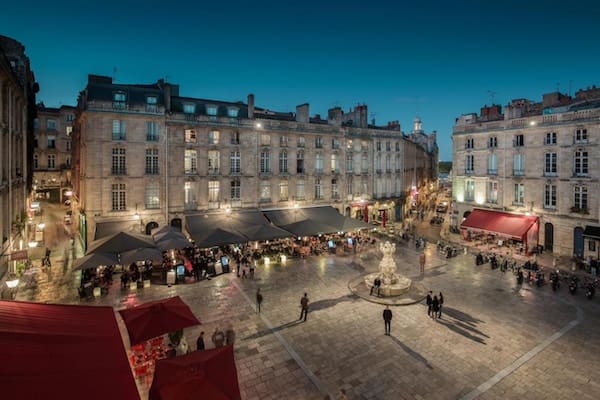 Villa Reale
Housed in a splendidly refurbished mansion from the 18th century, this premium hotel provides an exceptional mix of traditional charm and cutting-edge facilities, promising a unique stay for vacationers and business guests alike.
Villa Reale's standout aspect is its prime setting, located on the renowned Place du Parlement. This area encompasses major retail outlets, gastronomic destinations, and significant cultural sites within the city.
The hotel's location in Saint Pierre, a historical quarter, allows guests to conveniently visit iconic landmarks like Grand Théâtre, Place de la Comédie or the famous water mirror.
This lodging boasts roomy individually styled rooms and suites replete with tasteful furniture pieces. These spaces are further enhanced by superior quality bedding materials as well as modern features including air conditioning systems, flat-screen television sets along with complimentary access to WiFi services.
Guests have three separate room categories to choose from during their stay. Some benefits you can look forward to include daily cleaning services; your own wine cellar stocked with champagne in your room; plus free coffee selection and herbal teas at your disposal.
Villa Reale is notable for its tailored service and meticulous focus on detail, ensuring visitors feel appreciated and well-taken care of during their stay.
The staff, proficient in numerous languages, are constantly available to help with any needs – from planning tours and wine sampling sessions to coordinating airport transport and making dining reservations.
A singular highlight of the hotel is the sauna facility – a tranquil sanctuary where guests can relax post an eventful day of exploring or business meetings. For a supplementary fee, guests may choose a breakfast option consisting of pastries, breads, yogurt, and fruits.
Hotel details
Address:
9 Place du Parlement, City-Centre, 33000 Bordeaux, France.
Guest rating:
4.7 out of 5
Price per night:
From $260
About our luxury hotel recommendations in Bordeaux
We operate as a travel analysis firm. Our dedicated team endeavors to help you unearth the top-tier luxury accommodations in Bordeaux, rooting through online resources on your behalf. Notably, some of the places have even been visited by us.
Therefore, it's not just our perspective we're relying on. It's an amalgamation of views from various travelers who've experienced these locations before. We simplify the task of discovering information about Bordeaux's most prestigious and exclusive five-star lodgings.
Please be aware that our guide only includes hotels with a cumulative guest review score of at least 4 out of 5. This is calculated by aggregating reviews from diverse booking platforms and impartial review sites.
Consequently, you can rest assured that all hotels mentioned herein promise an excellent experience during your stay in Bordeaux.
Best price guarantee
We partner with Hotels.com and Booking.com to ensure you get the best price for your stay in Bordeaux! Both sites offer price matching. That means you pay the lowest prices for your stay.
If you find a cheaper offer on another website for the same luxury hotel in Bordeaux at least 24 hours before check-in, contact them to claim a refund of the difference!
Best 5-star hotels in Bordeaux
Now that you've gone over this guide, let's summarize it. We got to know what the best 5-star hotels in Bordeaux are thanks to thousands of guest reviews and tips from travel experts:
More Bordeaux guides
If you like the advice we've given you above, make sure to check out some of our other articles about Bordeaux: