Bordeaux is a picturesque city in southwestern France, renowned for its scenic beauty, rich cultural heritage, and fine wine. While this city is known for its elegant and luxurious accommodations, it's also home to a variety of affordable yet charming hotels that offer great value for money.
If you're planning your next trip to Bordeaux on a tight budget, don't worry, there are plenty of great cheap hotels in the city to choose from.
In this guide, we'll explore some of the best cheap hotels in Bordeaux, highlighting their unique features and what makes them stand out. From cozy bed and breakfasts to budget-friendly hotels, we'll help you find the perfect place to stay that's both affordable and comfortable.
So, whether you're a solo traveler, a couple, or a family on a budget, this guide will help you find the best cheap hotels in Bordeaux, without compromising on quality.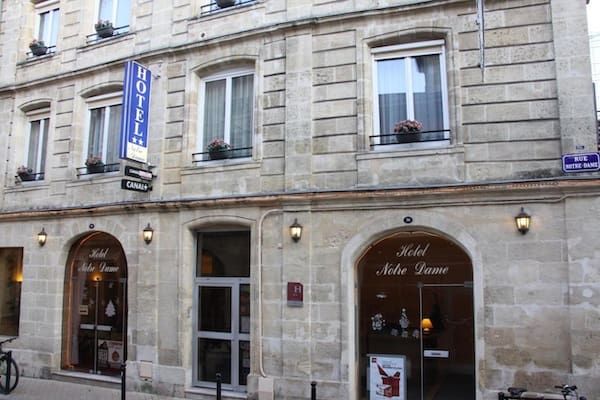 Hotel Notre Dame
Hotel Notre Dame, an exquisite and charming establishment located in the historic Chartrons district of Bordeaux, is nestled in a fully renovated 19th-century building, blending traditional architecture with modern comfort and style.
The result is a unique and inviting atmosphere that perfectly embodies the essence of Bordeaux's rich history and vibrant culture.
As you step into Hotel Notre Dame Bordeaux Chartrons, you'll be greeted by a warm and friendly staff dedicated to providing exceptional service and ensuring your stay is comfortable and memorable.
The hotel features tastefully decorated rooms, each offering a cozy and serene ambiance designed to make you feel right at home during your stay.
The hotel is conveniently situated within walking distance of many of Bordeaux's top attractions, including the stunning Place de la Bourse, the Cité du Vin wine museum, and the picturesque Garonne River. Public transportation is easily accessible, allowing you to explore the city with ease and convenience.
At Hotel Notre Dame Bordeaux Chartrons, you can enjoy a delicious daily breakfast buffet for an additional charge, featuring fresh and local products, served in the hotel's lovely breakfast room or the comfort of your room.
Whether you're visiting Bordeaux for business or pleasure, Hotel Notre Dame Bordeaux Chartrons is the perfect choice for a truly unforgettable experience in the heart of this enchanting city.
Hotel details
Address:
36-38 rue Notre Dame, Chartrons, 33000 Bordeaux, France.
Guest rating:
4.0 out of 5
Price per night:
From $68
B&B Hotel Bordeaux Bassins
The B&B Hotel Bordeaux Bassins à Flot boasts 124 air-conditioned rooms, all equipped with high-quality bedding, a private bathroom, and a flatscreen TV.
Each room is bright and friendly, and with options ranging from single to family rooms, there's a perfect space for every guest, whether you're a solo traveler, a couple, or a family.
One of the many perks of staying at this hotel is the hearty and delicious breakfast buffet, which features a variety of fresh, quality products to kickstart your day. From crispy croissants to savory sausages, you won't start the day hungry.
Location-wise, the hotel is a mere 18-minute walk from the famous Cité du Vin, a must-see for any wine enthusiast. The nearby tram stop also allows easy access to the city center, making it convenient for guests to explore Bordeaux's many attractions, shops, and restaurants.
The B&B Hotel Bordeaux Bassins offers free WiFi, free parking, and even pet-friendly rooms, ensuring a hassle-free experience for all its guests. If you're seeking a welcoming and budget-friendly stay in the enchanting city of Bordeaux, look no further than the B&B Hotel Bordeaux Bassins!
Hotel details
Address:
147 Rue Lucien Faure, 33300 Bordeaux, France.
Guest rating:
4.3 out of 5
Price per night:
From $63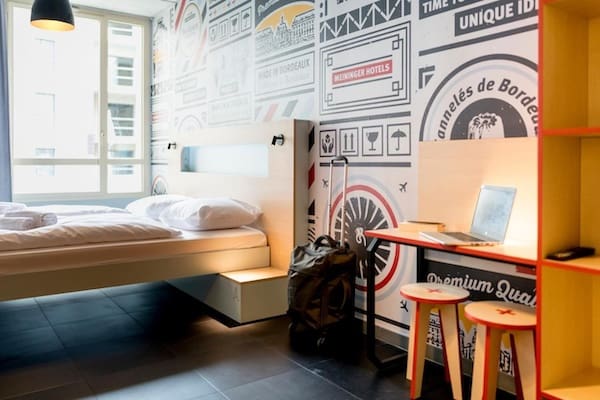 Meninger Hotel Bordeaux Gare Saint-Jean
Meninger Hotel Bordeaux Gare Saint-Jean offers an unparalleled experience for travelers seeking comfort, convenience, and style. This contemporary hostel is situated just a stone's throw away from the Bordeaux St-Jean train station, making it an ideal choice for those traveling to the city by train.
The Meninger Hotel Bordeaux Gare Saint-Jean offers a variety of accommodation options to cater to the diverse needs of its guests. With a selection of private rooms and shared dormitories, this hostel can accommodate solo travelers, couples, families, and groups.
Each room is designed with guest comfort in mind, featuring modern amenities, comfortable beds, en-suite bathrooms, and secure storage options.
In addition to its comfortable rooms, the Meninger Hotel Bordeaux Gare Saint-Jean has top-notch facilities to ensure guests have an enjoyable stay. These include a 24-hour reception, a bar, a guest kitchen, and a game zone.
The hotel also offers free WiFi throughout the property, allowing guests to stay connected during their stay.
One of the standout features of the Meninger Hotel Bordeaux Gare Saint-Jean is the stylish and inviting communal spaces. The hotel's lounge area is the perfect place to relax after a day exploring the city, while the outdoor terrace provides a serene setting for guests to unwind in the evening.
Hotel details
Address:
12 rue du Commerce, 33000 Bordeaux, France.
Guest rating:
4.3 out of 5
Price per night:
From $70
About our budget-friendly hotel recommendations in
Bordeaux
We are a company specializing in travel research. Our expert team is dedicated to aiding you in identifying the top affordable hotels throughout Bordeaux, utilizing extensive internet-based research on your behalf. In addition, we have personally experienced some of these establishments.
Consequently, our suggestions do not solely rely on our viewpoint but are based on thousands of experiences from past travelers just like you. We aim to simplify your search for the most affordable and optimal hotel options within this city.
It's important to emphasize that we only feature accommodations with an aggregated guest review score of no less than 4.0 out of a possible 5-point maximum.
We accumulate reviews from various online booking platforms as well as other impartial review websites into one comprehensive rating per hotel listed here should have nightly rates at or under $100.
Therefore, it's assured that all hotels featured above provide excellent yet economical lodging options during your stay in Bordeaux.
Lowest price guarantee
We partner with Booking.com and Hotels.com. Both booking websites offer the lowest price guarantee, so you can be certain you will always get the best deal for the hotels above.
If you have seen a better price elsewhere, you need to contact the booking website, and they will refund you the difference immediately. You can price match right until the day before check-in.
We also recommend you read our guide about how to save money on hotel bookings. It's a list of tips about when you should book a hotel, what tools you can use, and other things you can do to find your preferred hotel at an affordable price.
Top 3 budget hotels in Bordeaux
Let's summarize this affordable travel guide. Based on thousands of guest reviews, these are the best budget hotels in Bordeaux:
More Bordeaux recommendations
Get to know the city even better by reading our other articles about Bordeaux: