Bordeaux is a stunning city in southwestern France, beloved for its rich history, mouth-watering cuisine, and world-renowned wines. Whether you're interested in exploring the city's stunning architecture or simply seeking a relaxing vacation, Bordeaux has something to offer everyone.
During your visit to Bordeaux, choosing the right area to stay in can make a massive difference to your experience. The city is home to a range of neighborhoods, each with its own distinct character, cuisine, and attractions.
From the elegant center of town and the bohemian tunes of Saint Michel to the modern Chartrons quarter and the historic Saint-Pierre district, plenty of areas in Bordeaux suit every taste and budget.
The best part is, no matter which one you choose, you'll be surrounded by incredible architecture, landmarks, and fantastic eateries!
In this guide, we'll discuss the best areas to stay in Bordeaux, highlighting their unique attractions and what makes them stand out. Whether you're traveling with friends, planning a family vacation, or doing some solo traveling, this guide will help you find the perfect neighborhood to stay in during your visit to Bordeaux.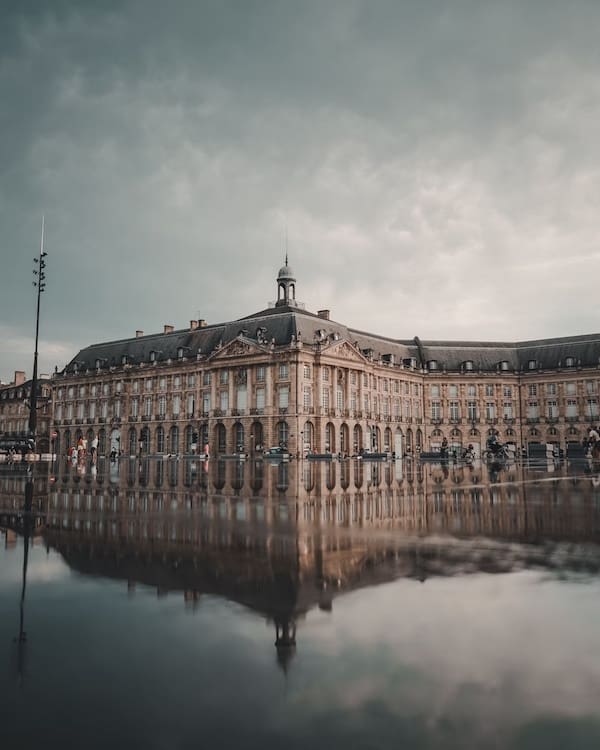 Saint Pierre and Saint Paul
The charming neighborhoods of Saint Pierre and Saint Paul are the historic heart of Bordeaux. These two districts are known for their beautiful architecture, vibrant atmosphere, and narrow cobblestone streets. If you are a history buff or a lover of old-world charm, these neighborhoods should be at the top of your list.
As you stroll through the narrow streets, you'll notice charming monuments like la Grosse Cloche (the bell tower), the Gothic-style Saint Pierre Church, and Porte Cailhau (the ancient city gate).
This area is bounded by the Garonne River, which has a lovely promenade along the banks. The river promenade is home to the Miroir d'eau, the world's largest reflecting pool. With so many of Bordeaux's most notable sights, this is one of the best places for first-time visitors.
Saint Pierre is one of the oldest parts of the city and is filled with beautiful squares, such as the Place du Parlement and Place Camille Jullian. In Saint Paul, you'll find the iconic Porte Cailhau, a medieval gate that dates back to the 15th century, which is a must-see for any visitor.
These neighborhoods are also home to many bars, restaurants, and boutiques, making them perfect for a leisurely stroll and a bite to eat.
Best place to stay in Saint Pierre and Saint Paul
Villa Reale. Address: 9 Place du Parlement, 33000 Bordeaux, France.
Cheaper alternative:
Quality Hotel Bordeaux Centre. Address: 27 Rue du Parlement Sainte Catherine, 33000 Bordeaux, France.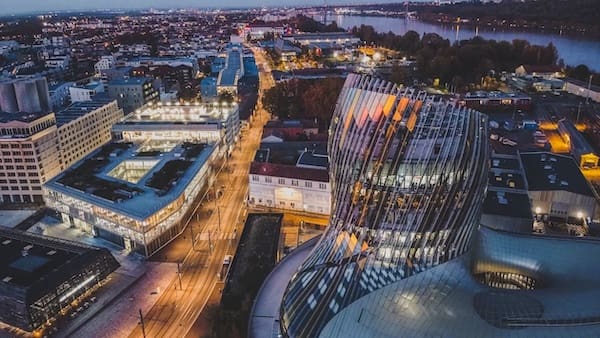 Chartrons
Located north of the city center, Chartrons is a trendy district famous for its wine trade history. Established in the 17th century by Flemish, Irish, and German wine traders, this area quickly became a bustling and lively neighborhood.
This neighborhood is perfect for those looking to explore Bordeaux's rich wine culture, as it is home to the Cité du Vin, a modern wine museum, and the Chartrons Market, where you can taste local products and wines. This area also has several cafes, boutiques, restaurants, and museums.
While you're here, be sure to stroll the rue des Notre Dame, one of the main streets in Chartrons. As one of the most beautiful streets in the city, you could spend an entire afternoon admiring the architecture and flowers, shopping, and sampling the local pastries in the many boulangeries.
Chartrons is also known for its beautiful 18th-century architecture and picturesque areas lined with antique shops and art galleries. This neighborhood has a lively atmosphere, with plenty of restaurants and cafes along the waterfront.
For a more laid-back experience, stroll along the riverfront or relax in one of the many parks and gardens.
Best place to stay in Chartrons
Maison La Course. Address: 69 Rue de la Course, 33000 Bordeaux, France.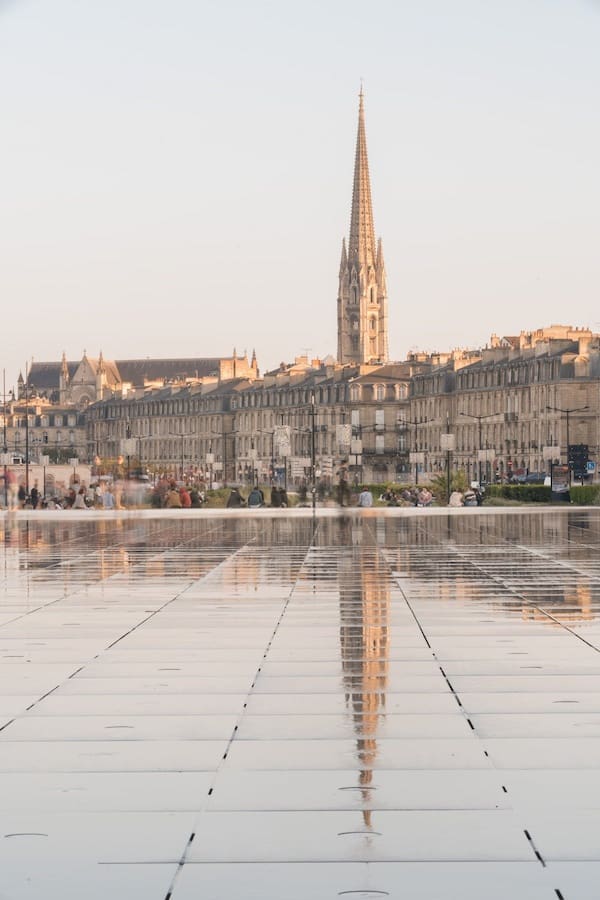 Saint Michel
Situated south of the city center, Saint Michel is a vibrant and multicultural neighborhood. It's home to the famous Basilica of Saint Michel and the iconic Flèche Saint-Michel bell tower. As a less touristy neighborhood, this is a great spot to meet the locals. However, there are still plenty of sights to see.
Spend some time in the main square to people watch, read a book, sunbathe, or browse the outdoor Capuchin market. The covered Capuchin market is another excellent spot to grab some local produce, pastries, or street food.
Saint Michel is also a great place to experience the local nightlife, with plenty of bars and live music venues. Don't forget to take advantage of the opportunity to explore the narrow streets and hidden courtyards that give this district its unique charm.
While you'll find traditional stone houses, cobblestone alleyways, and small shops, you can also find bustling streets with flea markets, international cuisine, and thrift stores. Saint Michel is one of the most exciting and charismatic neighborhoods in Bordeaux!
Best place to stay in Saint-Michel
LOLA Boutique Hotel. Address: 13 Rue des Faures, 33800 Bordeaux, France.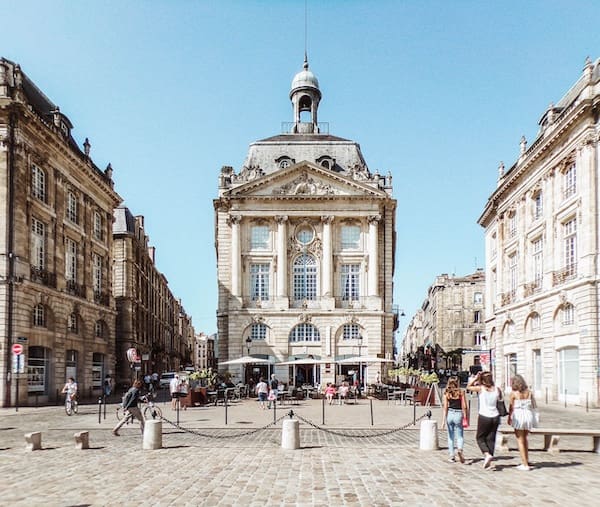 Triangle d'Or
The Triangle d'Or, or Golden Triangle, is an upscale shopping district in Bordeaux, located between the Cours de l'Intendance, Cours Georges Clemenceau, and the Allées de Tourny.
As one of the most prestigious neighborhoods in Bordeaux, this area is perfect for fashionistas and luxury shoppers, as it is home to high-end boutiques, designer stores, and elegant wine bars.
The Triangle d'Or also offers beautiful architecture, including the Grand Théâtre, a stunning example of 18th-century neoclassical design. With its wide boulevards and stately squares, the Triangle d'Or is the perfect place for a stroll or a relaxing coffee break in one of its many cafes.
Although this district borders the old town from the north, you'll notice that the architecture and atmosphere contrast the center's quaint alleyways and cobblestone streets. In the Golden Triangle, bigger is better!
This neighborhood also leads to Jardin Park, the largest green space in the center of Bordeaux. This park makes Triangle d'Or an excellent place for kids. Several festivals occur in this park throughout the year, including the big brocante of Bordeaux, an amusement park, and a Christmas market.
Don't forget to sample some local chocolates while you're in the Golden Triangle – this neighborhood houses some of the best chocolatiers in Bordeaux.
Best place to stay in Triangle d'Or
Hotel Konti. Address: 10, Rue Montesquieu, 33000 Bordeaux, France.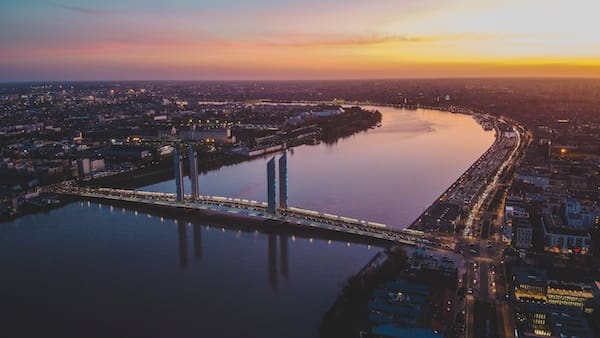 La Bastide
Located on the east bank of the Garonne River, La Bastide is a rapidly developing district that offers a more laid-back and green alternative to the bustling city center. It's quickly becoming one of the hippest districts in the city.
This area is perfect for families and nature lovers, as it is home to several parks and gardens, including the beautiful Botanical Garden.
Bastide also offers stunning views of the city's historic center from the famous Pont de Pierre bridge. The area is well-connected to the rest of the city by public transport, and its riverside location makes it perfect for a leisurely bike ride or a picnic by the river.
In recent years, Bastide has seen a surge in new restaurants, cafes, and cultural venues, making it an exciting and evolving part of Bordeaux.
Because this area has so many green spaces, it is particularly lovely between May and October. Visitors can enjoy the al fresco bars and restaurants along the riverfront during the spring, summer, and fall.
La Bastide is much less touristy than neighborhoods on the east side of the river, so this can be an excellent option for budget travelers.
Best place to stay in La Bastide
ibis Bordeaux Centre Bastide. Address: 16 allee Serr – ZAC Coeur de Bastide, Bastide, 33100 Bordeaux, France.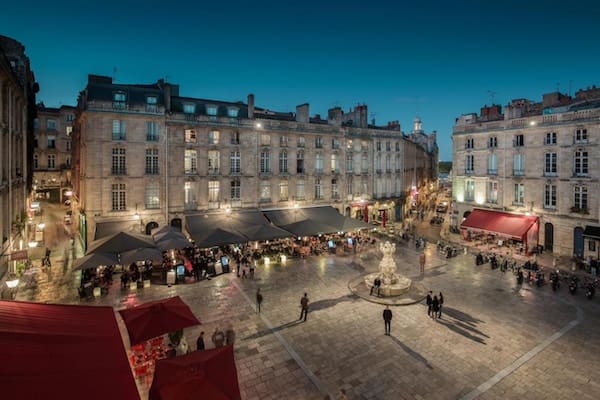 Where travel critics stay in Bordeaux
Curious to discover the accommodation choices of travel experts from renowned publishers such as The New York Times, Frommer's, Fodor's and Lonely Planet when they are in Bordeaux? Delve into our comprehensive guide showcasing all highly recommended hotels in Bordeaux. This includes everything from hostels to B&Bs that these critics prefer during their stay.
Budget
"With personalised iMacs, video booths and free movies in every room, Mama Shelter is up-to-the-minute. White rooms are small, medium or large; XL doubles have a sofa bed. The ground-floor restaurant sports the same signature rubber rings strung above the bar as other Philippe Starck–designed hotels." – Lonely Planet.
Address: 19 Rue Poquelin Molière, 33000 Bordeaux, France.
Mid-range
"In a quiet, residential area slightly out of the center, lies this chic hideaway, just across the street from a chunk of a 2nd-century Gallo-Roman arena. Back in the 18th century these buildings made up a postal relay; today the golden limestone facade hides a collection of comfortable, modern rooms with polished wood floors, contemporary furniture, and luscious colors on the walls." – Frommers.
Address: 111-113 Rue du Docteur Albert Barraud, 33000 Bordeaux, France.
Luxury
"Festooned in luxury fabrics and 18th-century furnishings, this posh extravaganza, designed by France's überchic Jacque Garcia, put Bordeaux back on the world scene with its veritable army of restaurants and bars, along with a swanky Roman bath–inspired spa—all just steps from the city's Golden Triangle shopping district." – Fodor's.
Address: 2-5 Place De La Comédie, 33000 Bordeaux, France.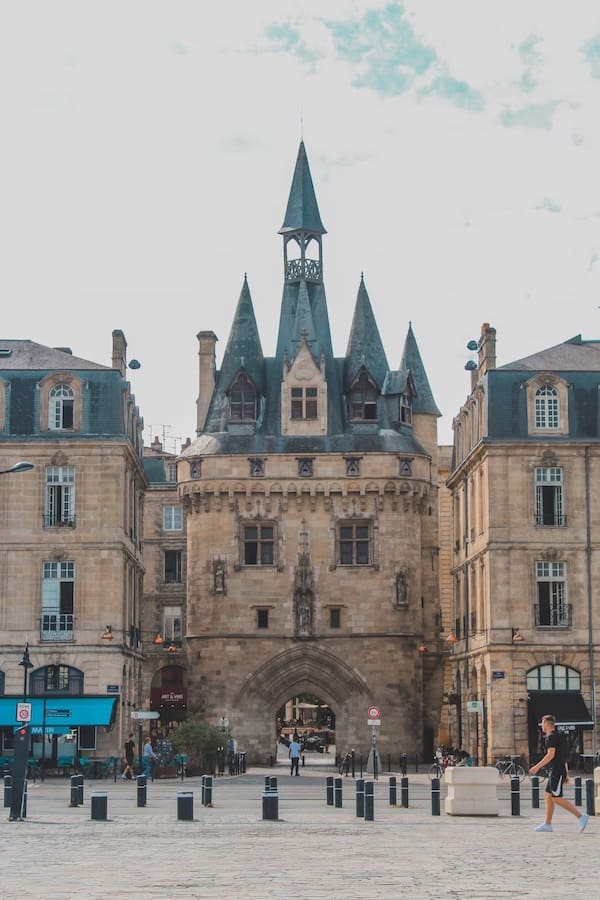 FAQ: Bordeaux hotel tips
Looking for the best budget, boutique, or luxury hotel in Bordeaux? Or maybe you're a backpacker looking for a splendid hostel? Want to know which Bordeaux hotel serves a great breakfast? Here are the answers to all those and other questions about where to stay in Bordeaux.
What is the best budget hotel in Bordeaux?
If you are on the hunt for an affordable hotel, then you should consider reserving B&B Hotel Bordeaux Bassins à Flot. It is a great option for those on a budget, as it provides good value for your money. Additionally, the hotel is in a suitable location, and professional travelers have given it their approval. Moreover, the guests who have stayed at the hotel have shared positive reviews. We also have a list of the top-rated budget hotels in Bordeaux.
What is the best boutique hotel in Bordeaux?
If you fancy a bit of extravagance but prefer to stay away from the well-known chain hotels, then Maison La Course is an excellent option for you. This hotel has been very well-reviewed by travelers and experts alike. For more information on other cool hotels, take a look at our list of the top boutique hotels in Bordeaux.
What is the best luxury hotel in Bordeaux?
If cost is not an issue, Villa Reale is a great option for those seeking a luxurious hotel in Bordeaux. This establishment offers exceptional customer service, is situated in an ideal location, and has garnered high reviews from customers and travel experts alike. To discover more 5-star hotels, take a look at our selection of the top luxury hotels in Bordeaux.
What is the best hostel in Bordeaux?
If you're searching for a well-priced private room or comfy dorm in Bordeaux, Central Hostel is worth a look. The hostel has been highly praised by backpackers. Additionally, we have compiled a shortlist of the finest hostels in Bordeaux based on thousands of reviews from backpackers.
Which Bordeaux hotel offers the best views?
If you're looking for a room with a view, then check out Villa Reale. This hotel offers magnificent views of the city.
Which Bordeaux hotel serves a delicious breakfast?
To begin the day on a positive note, Maison La Coruse is a great choice if you're seeking accommodations in Bordeaux with a fantastic morning meal. Those who have recently stayed there have provided excellent reviews about the breakfast provided at the hotel.
How much does a night in a hotel in Bordeaux cost?
If you want to stay in a 3-star hotel in central Bordeaux, you would be looking at an average price of $110 per night. For 4-star hotels, the average price is around $160 per night. For a 5-star hotel in central Bordeaux, the average rate is around $250 per night.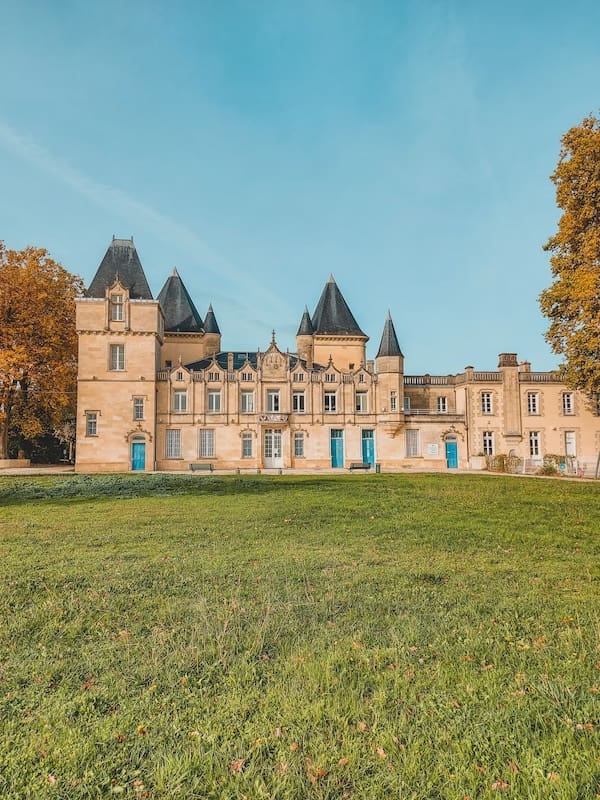 Best time to visit Bordeaux
The best time to visit Bordeaux is between June and August. Summer in Bordeaux is absolutely magical. The weather is pleasantly warm, averaging around 24-28 degrees Celsius, and the vineyards are in full bloom.
The city is alive with various festivals, concerts, and events that showcase the rich history and culture of this French marvel. Imagine sipping on some of the world's finest wines under the summer sun, surrounded by lush green vineyards.
You can also indulge in various outdoor activities such as cycling, hiking or just strolling along the gorgeous Garonne river. The UNESCO World Heritage site, the Port of the Moon, is also at its most beautiful during this time.
The culinary scene in Bordeaux during summer is something that will make every food lover's heart skip a beat. From high-end restaurants serving exquisite French cuisine to bustling local markets offering fresh produce and delicious street food, Bordeaux has it all.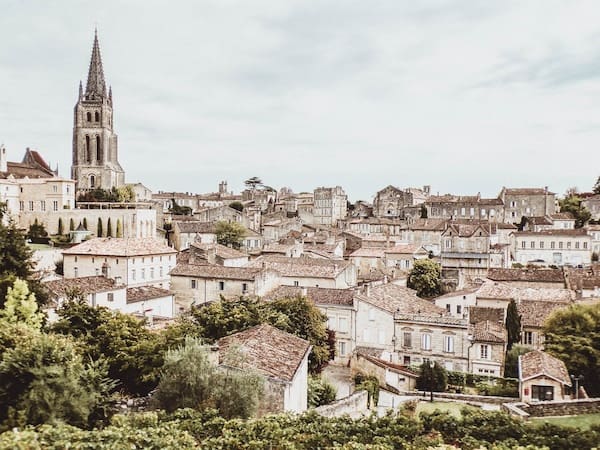 Best things to do in Bordeaux
There are many things to do in Bordeaux and surrounding areas, including day trips, attractions, museums, sightseeing tours and many other activities. Here's our list of 3 things you should definitely do when you're in Bordeaux:
River Garonne Cruise with Glass of Wine
Admire the beautiful city of Bordeaux with a sightseeing cruise on the Garonne River and soak up the sights, such as the Bordeaux Cathedral. Hear live commentary as you enjoy a glass of wine and cake. Price: $21. More info.
Saint Emilion Day Trip with Sightseeing Tour & Wine Tastings from Bordeaux
Spend a day sipping French reds and whites in the Saint-Emilion and Pomerol wine region. Departing from Bordeaux, visit two chateaux to taste the region's famous wines and wander the streets of beautiful Saint-Emilion, a UNESCO World Heritage Site. Price: $169. More info.
Bordeaux Cheese and Wine Tasting
Experience the best of France at a 1.5-hour cheese and wine tasting in Bordeaux. Sample a selection of fine wines and tasty produce at an authentic cellar in the city center. Price: $50. More info.
Deciding where to stay in Bordeaux
As a closing note, let's summarize this travel guide. We covered the best areas of Bordeaux, so you can decide which part of town you want to stay in.
Top 5 areas to stay in Bordeaux
Saint Pierre and Saint Paul
Chartrons
Saint Michel
Triangle d'Or
La Bastide
As you have seen in this article, there are plenty of things to explore, and deciding where to stay in Bordeaux is important. Whether you stay in Saint Pierre and Saint Paul, Chartrons, Saint Michel, Triangle d'Or or La Bastide, all those neighborhoods are great areas for your stay.
When deliberating your stay in Bordeaux, several factors may come into play. The ambiance of the area, whether your journey to this magnificent city is prompted by business or pleasure, and who you're traveling with family or friends. Also important is how close you'll be to the attractions that spark your interest.
Regardless of these variables, one thing remains certain – a fantastic time awaits you during your stay in Bordeaux!
More Bordeaux tips
Get to know the city even better by reading our other articles about Bordeaux: