Santiago de Chile is the capital of the stunning country of Chile, and it is the perfect place to travel if you are searching for a place with a fascinating history and with breathtaking architectural structures. Hiking San Cristobal Hill is a must when you are visiting this city, as you are guaranteed to be met with jaw-dropping views of Santiago when you reach the peak.
Plaza de Armas is another attraction you cannot leave Santiago without experiencing first, as it has been around since the mid 16th century, which is pretty remarkable. Eat like a local by trying out pastel de choclo, empanadas, and cazuela.
It is always a good idea to opt for a hostel when you are traveling to a major city, as you will end up saving a fair amount of money and you will be given the best chance to make new friends and learn about the region in this setting. Keep reading to find more out about some of the best hostels in Santiago de Chile.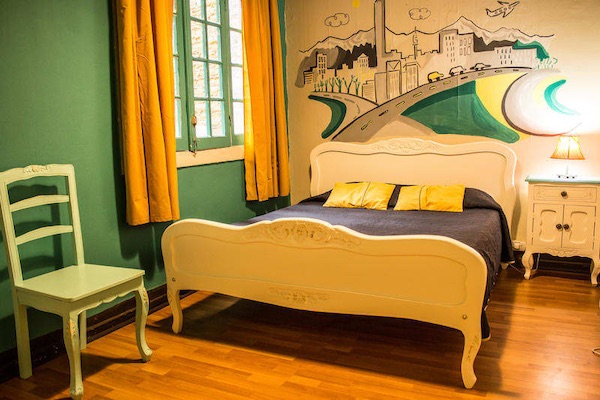 Hostal Forestal
The first hostel that we have on our list is Hostal Forestal, a cozy and welcoming space that is in a convenient location within the city of Santiago. This hostel will make you feel right at home, and you will easily make new friends during your stay here. Grab some tea or coffee any time of day for a pick-me-up and be sure to stop by the book exchange to see if there is anything that catches your eye.
There are ample choices when it comes to rooms here, with many private room options that will surely suit your needs. If you want to socialize more, there are mixed dorms situated here, too. Bed linens, towels, and a security locker will be waiting for you in your room, so you do not have to stress about not having any of these things.
Hostel details
Address:
Coronel Santiago Bueras 122, Barrio Lastarria, Santiago, Chile.
Guest rating:
4.5 out of 5.
Price per night:
from $16.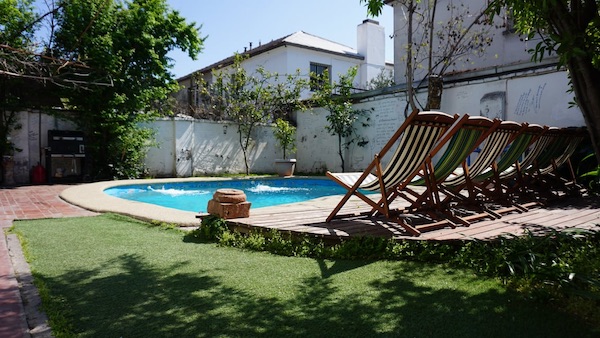 Ventana Sur Hostal
At Ventana Sur Hostal, you are only a short walk away from some of the best tourist attractions in Santiago. If you need to get somewhere that is a bit further away, the metro station is just down the street. Spend your downtime on the lovely terrace or in the refreshing pool on warmer days.
Ventana Sur Hostal provides breakfast for all of its guests, so you do not have to start your day hungry. Guests may choose between a mixed dorm or a spacious private room for their stay. Bedsheets are provided, and towels can be rented for a small price. The lounge room is great for catching up with friends, or for playing any of the board games that are offered here.
Hostel details
Address:
Claudio Arrau 0340, Providencia, Santiago, Chile.
Guest rating:
4.8 out of 5.
Price per night:
from $11.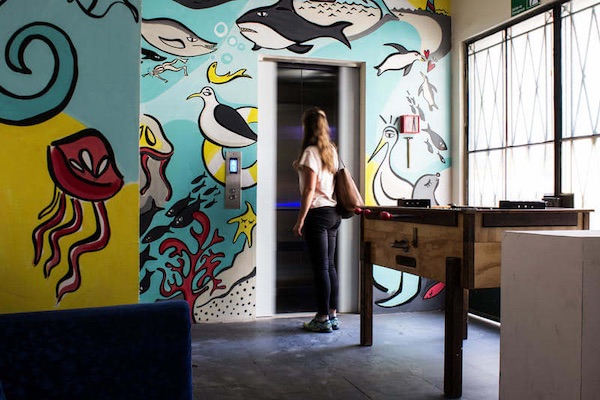 Hostal Providencia
Hostal Providencia is situated in a great location within Santiago, as it is either only a short walk or drive away from all of the best sights in this city. The hostel hosts dinners with specialty Chilean cocktails, so you definitely do not want to miss out on this during your stay. There is ample lounge space during those times you need to relax, as well.
Guests have the option to stay in female-only or mixed dorms, and there are multiple styles of private rooms to choose from, as well. Some of the private rooms have en-suites, and some are shared. Do not worry about providing your own linen here, as Hostal Providencia has it covered. Be sure to head out to the outdoor terrace to catch a beautiful Santiago sunset, too.
Hostel details
Address:
Ernesto Prado Tagle 85, Providencia, Región Metro , Santiago, Chile.
Guest rating:
4.6 out of 5.
Price per night:
from $11.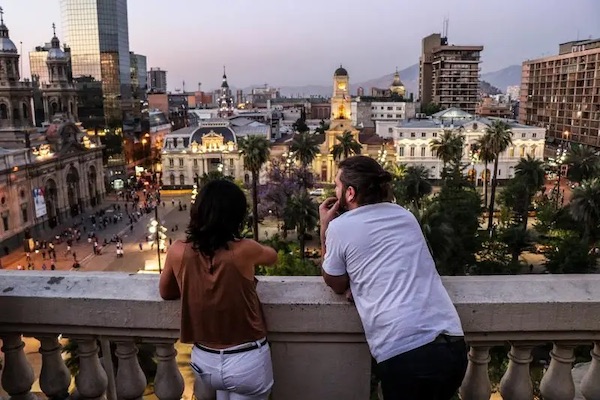 Plaza de Armas Hostel
Up next, we have Plaza de Armas Hostel, which can be found in one of the most popular regions of Santiago. Obtain unreal views of this historic square from the balcony at this hostel. There are plenty of pastimes to keep you busy while at Plaza de Armas Hostel, such as board games and video games in the lounge space, and guests can take advantage of the free coffee offered here at any time.
When it comes to the rooms here, there are female-only or mixed dorms, as well as numerous private rooms. Most of the rooms do have en-suites, but a few of them do have one located outside of the room. Plaza de Armas hostel also kindly provides linens and free breakfast to all guests, so your stay here can be as comfortable as possible.
Hostel details
Address:
Compaia 960 Dp. 607, Santiago, Chile.
Guest rating:
4.4 out of 5.
Price per night:
from $16.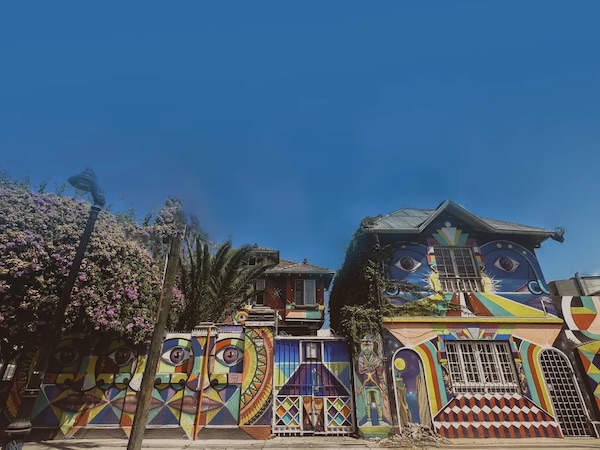 La Chimba Hostel
The final hostel we have in Santiago de Chile is La Chimba Hostel, a conveniently located accommodation that is within walking distance to many major sights, as well as the metro station. Wind down in the evenings on the lovely outdoor terrace with a beverage in hand, or swing by the lounge room for some games of foosball or pool.
La Chimba Hostel boasts mixed dormitories or private rooms, some with en-suites and some without. Each guest will be provided with bed linens and a free breakfast each morning, and there is a tea and coffee station set up for whenever you may need a dose of caffeine. Swing by the book exchange and dive into a new book in your bunk that has a reading light arranged nearby.
Hostel details
Address:
E. Pinto Lagarrigue 262, Barrio Bellavista, Santiago, Chile.
Guest rating:
4.2 out of 5.
Price per night:
from $14.
Santiago de Chile is an electrifying and beautiful city to explore. Staying in a homey and affordable hostel is an ideal way to settle in here. Hostels continue to be the best way to make new friends that you can make lasting memories within a new and exciting place.
About our Santiago de Chile hostel recommendations
Are you a solo traveler looking for a private room? Or a backpacker traveling around in a group wanting to stay in a cheap and cozy dorm? Above you will find the best hostels in Santiago de Chile for all your needs.
Please note, we only list hostels that have an aggregated guest review rating of at least 4.0 out of 5. We aggregate all reviews from different booking sites and other unbiased review websites. Hence, you can be certain all hostels listed above offer an excellent value-for-money stay in Santiago de Chile.
Best price guarantee
For our hostel recommendations, we work together with Hostelworld and Booking. These partnerships don't have any influence on the recommendations we make or on the order in which our recommended hostels are listed. The reasons why we have chosen to partner with these companies is that they're trustworthy, offer excellent service and they both apply the best price guarantee. This means you can claim a refund for the difference if you find your reservation cheaper on another website. It has to be for the same property, accommodation type, dates, cancellation policy and conditions, otherwise, you can't claim the refund for the difference. If you book through Booking.com then all you need to do is contact them at least 24 hours before your check-in date. If you book through Hostelworld you must claim the refund within 24 hours after you made the booking.
Top 5 hostels in Santiago de Chile
To summarize again, based on thousands of guest reviews, these are the best hostels in Santiago de Chile:
Why you should be careful when booking the cheapest hostel available
The cheapest hostels available are typically not in a great location. If you want to go sightseeing or go for a night out in central Santiago de Chile, you probably end up having to pay for public transport or a taxi to get there. So your stay could end up being more expensive compared to a stay in a central location. For first-time travelers, we recommend staying central anyway, but also for frequent visitors, it's probably worth it to pay a bit more to stay in a central location.
Another reason why you shouldn't stay at the cheapest hostel is that the people staying at the cheapest hostels are often not the people that can afford to travel like you. Because a very cheap hostel is often cheaper than renting a flat, these places tend to attract migrant workers or local misfits. That's probably not the crowd you want to hang out with, especially if you're a solo traveler looking for friends.
The third reason why you should avoid the cheapest hostels is safety. Some of the cheapest hostels don't check IDs, don't ask for signatures, or only accept cash at check-in. The hostel won't know who is actually staying there.
Lastly, the service at these hostels isn't great. For instance, if you choose to store your luggage, your bags will be unattended in a public space. It won't be recorded anywhere or tagged and stored in a locked room.
So, it's probably worth it to spend a bit more on your hostel stay in Santiago de Chile.
And finally, a tip: always read the latest reviews of the hostel! All places have good and bad reviews, but the most recent reviews matter the most.
Get to know the city even better and check out our other articles about Santiago de Chile:
Best hotels in Santiago de Chile
Best cheap hotels in Santiago de Chile
Where to stay in Santiago de Chile
Best boutique hotels in Santiago de Chile
Best luxury hotels in Santiago de Chile