Ibiza might be known as the center of dance music and clubbing, but that doesn't mean that nightlife is the only highlight of this island. While travelers come from all over the world to experience thumping clubs, lively bars, and incredible DJs, Ibiza offers plenty of ways to recover from all of that drinking and dancing.
With fantastic weather and sunny beaches, lovely coastal areas abound in Ibiza. Whether you want to lay on white sands, hike on a rocky beach, or climb the cliffs to panoramic vistas, this island has plenty of ocean-side scenery. Add in several quiet coastal villages and intriguing historical sites, and you have a well-rounded island getaway that caters to every want and need.
Not only is there plenty to do throughout Ibiza's regions, but the cuisine is top-notch as well. The island's fresh seafood is prepared with both Spanish and Mediterranean influences, creating a unique cuisine for this Balearean Island.
There is no shortage of neighborhoods to choose from, between charming villages, luxury beach resorts, vibrant party areas, and upscale promenades when deciding where to stay in Ibiza. Keep reading to discover Ibiza's five best areas to stay during your next vacation.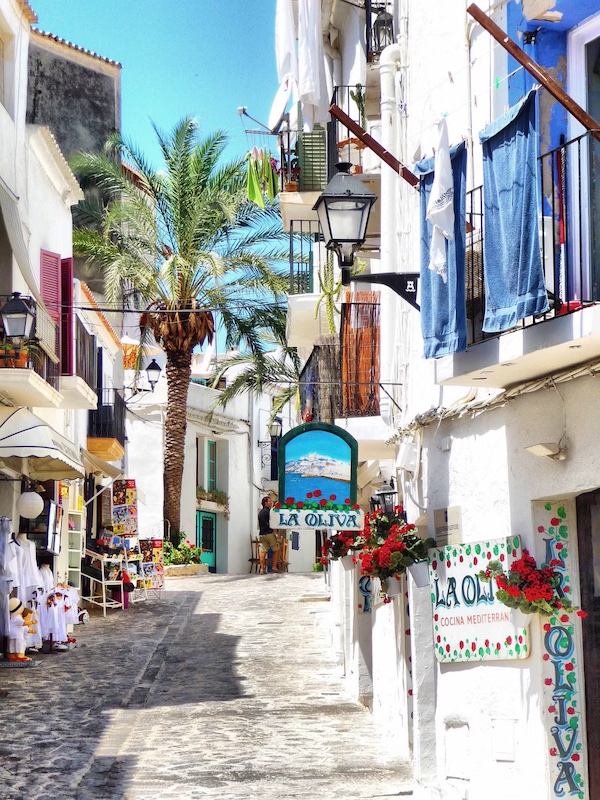 Ibiza Town
If it's your first time experiencing Ibiza, you won't regret staying in Ibiza Town! This area is the primary city on the island, home to several attractions, restaurants, and nightlife. The well-preserved Old Town boasts cobblestone streets and alleyways, historic cathedrals, and outstanding ocean views. The Old Town, also known as Dalt Villa, is a UNESCO World Heritage Site, is located on top of a hill, towering above the water and city. While you're here, be sure to visit the Cathedral de San Maria, dating back to the 13th century.
You can also find plenty of hideaway cafes and restaurants serving fantastic Spanish and Mediterranean cuisine. One must-visit nightclub in Ibiza Town is Pacha, a bustling venue with live music, dancing, and excellent drinks. This club opened in 1973, and has since hosted world-famous DJs like David Guetta, Alesso, and Calvin Harris.
If you want to experience one of the nearby beaches, Talamanca Beach provides white sand, blue water, and several water activities. The nearby beach promenade is ideal for a day of shopping, exploring, and enjoying one of the many waterfront cafes. Ibiza Town is the ultimate place to stay for nightlife, exploring historic sites, and enjoying the water, allowing you to experience the best of Ibiza in one spot!
Best place to stay in Ibiza Town
Hotel La Torre del Canonigo. Address: Joan Roman 1, 07800 Ibiza Town, Spain.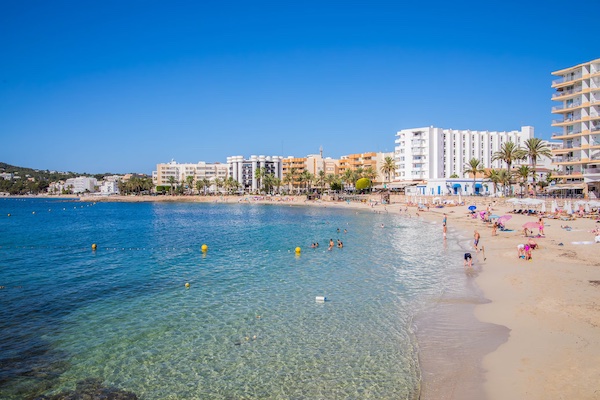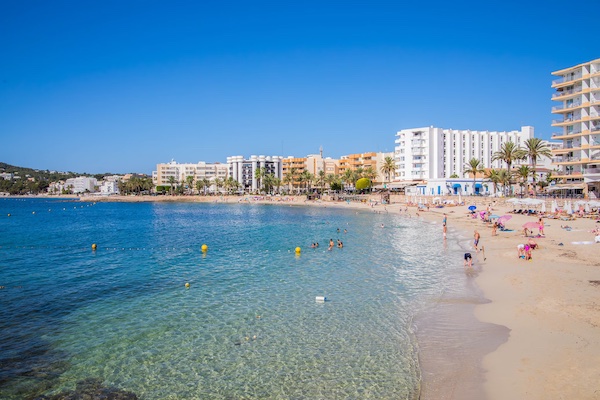 Santa Eulalia
Santa Eulalia is the best place to stay in Ibiza for those bringing the whole family. This quiet resort town is perfect for family getaways or for those who want a tranquil and relaxing experience. As the island's third-largest resort area, Santa Eulalia has accommodations for all kinds of visitors, whether you are looking for boutique hotels or large resorts with massive swimming pools.
The nearby beach area boasts pristine white sands and crystal clear waters where you can swim, snorkel, build sand castles, and enjoy water sports. Jet skiing, golfing, spas, and a climbing park can all be found in this area. Santa Eulalia's palm tree-lined promenade showcases several local restaurants, and some claim that this area has the best food on the island. Many of these eateries serve authentic Ibizan dishes, like seafood paella, sobrassada pork sausages, and fish stew. You can also check out one of the many local art galleries, boutiques, shops, and the stunning yacht marina. While you can find bars and clubs in Santa Eulalia, nightlife tends to be a bit more laid back in this region of the island.
Best place to stay in Santa Eulalia
Hotel Riomar. Address: Carrer des Riu – Playa Els Pins, 07840 Santa Eularia des Riu, Spain.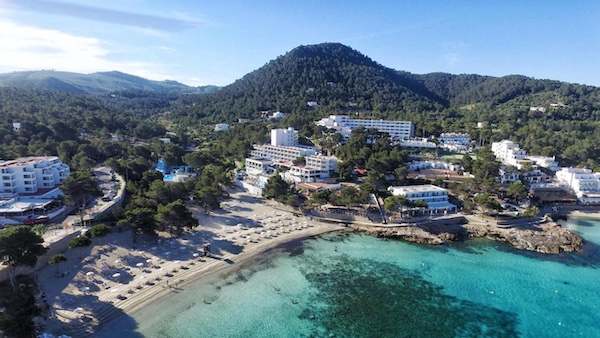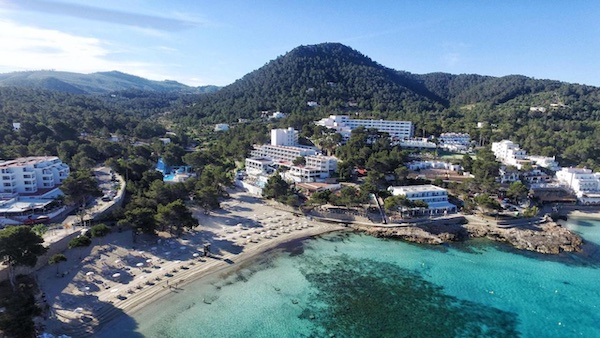 Portinatx
With postcard-worthy scenery and crystal blue water, Portinatx is fantastic for both couples and families. Located on the north side of the island, this area has three incredible beaches: Playa Porto Beach, S'Arenal Petit, and S'Arenal Gros. While all three of these beaches provide plenty of sun loungers, bars, and restaurants, they all have different strengths.
S'Arenal Petit is the most secluded of the three, S'Arenal Gros is the largest, while Playa Porto is the most scenic, surrounded by green hills and a lighthouse. Guests who stay in Portinatx enjoy taking stunning nature walks, snorkeling in the clear waters, and exploring nearby lighthouses. This town connects to Ibiza Town via bus, so you will have easy access to the main attractions on the island if you stay in Portinatx.
While this area does have fantastic bars and restaurants, they are catered more towards families. There are restaurant options for all budgets, from luxury dining to fast-casual. The beaches are shallow and calm, perfect for families with young kids. Each beach's promenade area is ideal for a day of exploring; visitors can browse through local shops and relax in one of the beachfront cafes. Protinatx is a fantastic spot for those who want a laid-back holiday with easy access to several attractions.
Best place to stay in Portinatx
Six Senses Ibiza. Address: Carrer Cami­ de sa Torre 71, 07810 Portinatx, Spain.
Cheaper alternative:
Apartamentos Portinatx Sea View. Address: Cala Portinatx, 07810 Portinatx, Ibiza.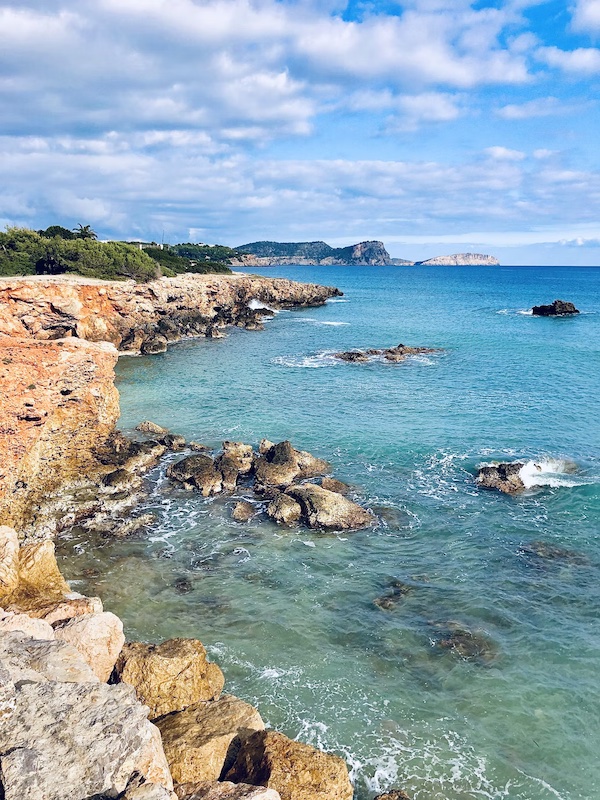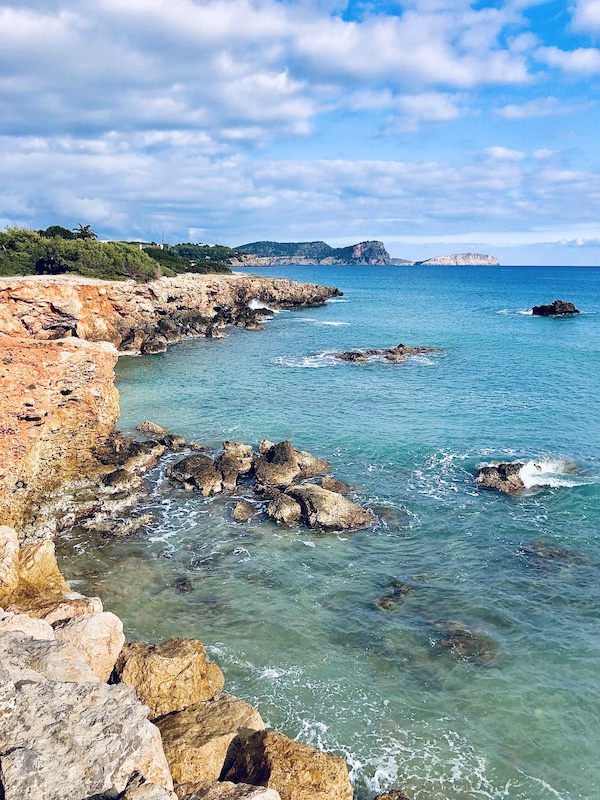 Es Canar
Situated on Ibiza's east coast, Es Canar is the place to stay if you want a small-town feel with plenty of things to do. This area can be as relaxing or as lively as you want it to be. Es Canar is surrounded by unspoiled beaches, where visitors can windsurf, parasail, and water ski. The beaches are within walking distance of the central area, and this stretch of the Mediterranean creates the perfect conditions for swimming and snorkeling.
Although this is a small harbor, there are a surprising number of restaurants to choose from. There are also many vibrant pubs and bars, boasting live music and waterfront views. Popeye's Bar is a popular spot in the evening; the lively ambiance makes this a must-visit while in Es Canar.
Punta Arabi, a famous hippy market, is held in Es Canar every week. This hippy market, where over 500 locals sell their products, is a great place to find handmade crafts, jewelry, and local goods. Held every Wednesday from April through October, this isn't only a good spot for shopping, but for enjoying the local musicians and good stands. If you're in the mood for an adventure, you can take the ferry boat from Es Canar's small fishing port to nearby Formentera, Cala Llonga, or Santa Eularia des Riu.
Best place to stay in Es Canar
Hotel Anfora. Address: Cardona 9. Playa es canar, 07840 Es Cana, Spain.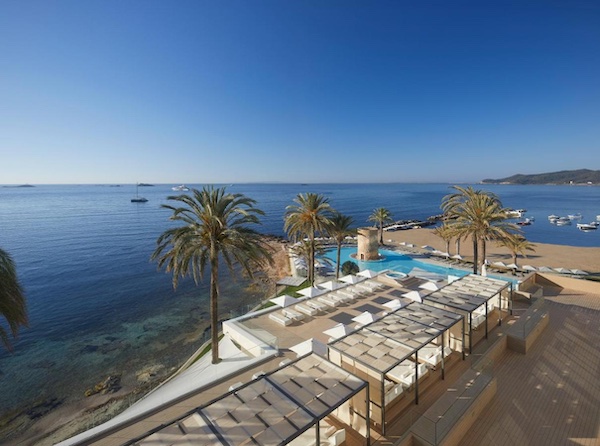 Playa d'en Bossa
While Ibiza Town is well-known for its thriving nightlife scene, Playa d'en Bossa is even better. Located south of Ibiza Town, Playa d'en Bossa boasts several nightclubs and comprises the island's longest stretch of white sand. Ushuaia is a must-visit while in this area. This super club is the largest outdoor venue, featuring a pool, iconic DJs, and plenty of dancing. If you want a more relaxing scene, there are many other beach bars with comfortable sun beds, excellent food, and laid-back music. You can also find more intimate and upscale cocktail bars in the evenings.
With a large expanse of water, visitors will enjoy several water sports activities, like paddle boarding, catamarans, and jet skiing. As with most beach areas in Ibiza, Playa d'en Bossa's promenade not only features bars and restaurants, but several shops, stores, and boutiques for daytime shopping. If you want to stay in a bustling beachfront area with plenty of opportunities for shopping, dancing, and drinking on the beach, staying in Playa d'en Bossa is the perfect option when traveling to Ibiza.
Best place to stay in Playa d'en Bossa
Hotel Torre Del Mar. Address: 07800 Playa d'en Bossa, Ibiza.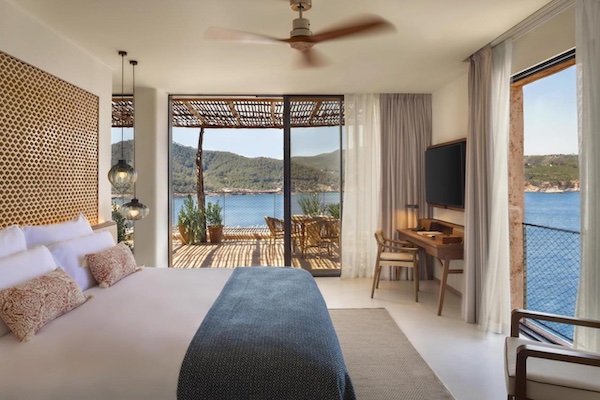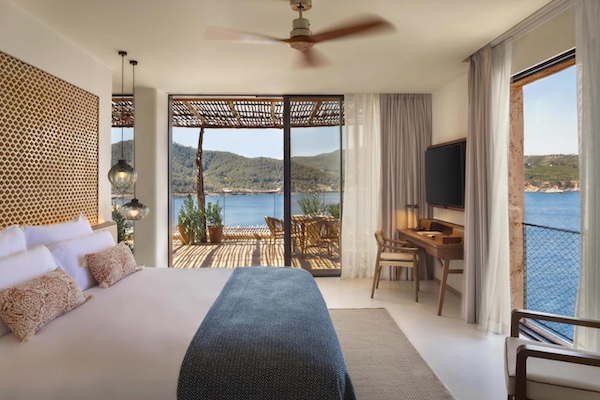 Where travel critics stay in Ibiza
Want to know where travel critics from publishers like The New York Times, Frommer's, Fodor's and Lonely Planet stay in Ibiza? Check out our overview of all recommended hotels and accommodations in Ibiza.
Budget
"Santi Marí Ferrer remade his family's finca (farmhouse), with its massive stone walls and native savina wood beams, into one of the island's friendliest and most comfortable country inns. Rooms are huge, with original stone arches separating sleeping and bathroom areas." – Fodor's.
Address: Ctra. San Juan, km 17.2, Sant Joan de Labritja, 07812, Ibiza, Spain.
Mid-range
"Some of the world's most prolific street artists (N4T4, INKIE, JEROM) have pooled their creativity in this design hotel with an alternative edge. The roomy, mural-splashed suites sport clever backlighting, proper workstations and balconies with terrific views." – Lonely Planet.
Address: Via Punica 32, 07800 Ibiza Town, Spain.
Luxury
"Cas Gasi is a large farmhouse that was converted into a beautiful agritourism hotel, with 10 modest rooms, two suites and a restaurant with an organic menu. Guests have included Robert DeNiro and Kate Moss." – New York Times.
Address: Camino Viejo de Sant Mateu, s/n, 07814 Santa Gertrudis de Fruitera, Spain.
FAQ: Ibiza hotel tips
Looking for the best budget, boutique, or luxury hotel in Ibiza? Or maybe you're a backpacker looking for an excellent hostel? Want to know which Ibiza hotel serves a great breakfast? Here are the answers to all those and other questions about where to stay in Ibiza.
How much does it cost to stay in an Ibiza hotel?
Ibiza is expensive! For a 3-star hotel, you have to pay around $130 per night; for a 4-star hotel, you would be looking at $210 per night. If you're after a luxury 5-star Ibiza hotel, then you can expect to pay around $400 per night.
What is the best boutique hotel in Ibiza?
Not a fan of big chain hotels? No problem. If you want to stay in a boutique hotel in Athens, then you should book Hacienda Na Xamena. The hotel has been rated highly by previous guests for its boutique style. It has also been recommended by influential travel journalists. Also, check out our list of the best boutique hotels in Ibiza, it's a manually curated list of unique and romantic hotels on the island.
What is the best affordable hotel in Ibiza?
If you're looking for an affordable hotel, then book Hotel Tarba. It's an excellent budget hotel offering great value for money. It's in a good location, it's been recommended by travel experts and the hotel has excellent customer reviews. Also, check out our list of the best cheap hotels in Ibiza.
What is the best luxury hotel in Ibiza?
If money isn't a problem and you're looking for a luxury hotel in Ibiza, then go for The Standard Ibiza. The hotel offers excellent service, it's in a top location, it has been rated very highly by previous guests and renowned travel critics have recommended it. Also check out our list of the best luxury hotels in Ibiza, it's a manually curated list of the most exclusive 5-star hotels on the island.
What is the best hostel in Ibiza?
Looking for a good and affordable private room or cozy dorm in Ibiza? Check out Amistat Island Hostel Ibiza. The hostel has been highly rated by backpackers. Also, check out our list of the best hostels in Ibiza.
What is the best Ibiza hotel for couples?
If you're looking for a romantic hotel in Ibiza, then check out Nobu Hotel Ibiza Bay. The hotel has great reviews by couples, it's an adults-only hotel and the accommodation has been recommended by leading travel experts.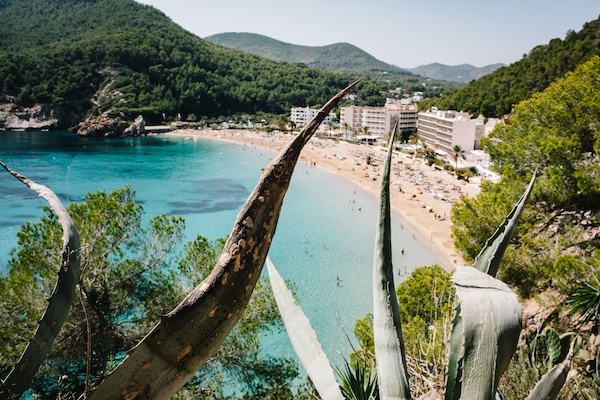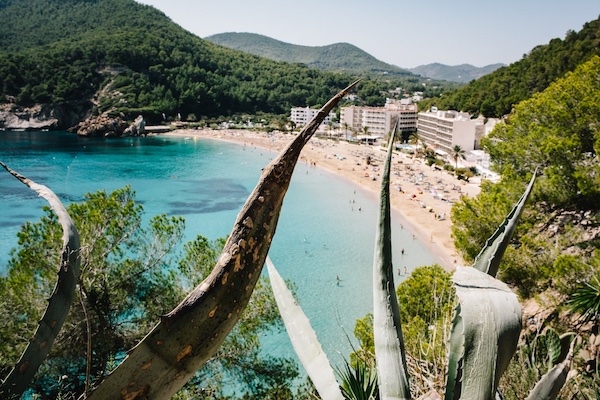 What are the best things to do in Ibiza?
There are a lot of things to do in Ibiza, including day trips, attractions, museums, sightseeing tours and many other activities. Here's our list of 3 things you should definitely do when you're in Ibiza.
Beach Hopping Cruise with Paddle Board, Snorkelling and Drinks
The double-decker glass-bottomed catamaran will stop at two of the finest beaches on Ibiza's west coast, Cala Bassa and Cala Conta. Swim, snorkel, paddle board, dive from the diving board, use the two on-board waterslides, and see what lies beneath the sea from the glass-bottomed viewing area. Price: $70. More info.
Jet-ski excursions (No license needed)
Book a license-free jet ski rental for a high-speed adventure along the Ibiza coast. Offering the perfect way to avoid the tourist crowds, this private jet ski option is valid for groups of up to four people, each on an individual jet ski on a route led by a guide. Price: $160 per group. More info.
Jeep Safari Island Exploration
Enjoy a scenic tour by Safari Jeep and explore parts of the island that are off the beaten path and have a swim at a sandy beach. Admire stunning, natural sights which are only reachable by foot or with these all-terrain vehicles. Price: $83. More info.
Deciding where to stay in Ibiza
Let's recap what we just learned in this article. We've covered the best areas of Ibiza above. Now you can decide where to stay while visiting!
Top 5 areas to stay in Ibiza
Ibiza Town
Portinatx
Playa d'en Bossa
Es Canar
Santa Eulalia
As you have seen in this travel guide, there are a lot of things to explore, and deciding where to stay in Ibiza is important. Whether you stay in Ibiza Town, Portinatx, Playa d'en Bossa, Es Canar or Santa Eulalia, all those areas are in good locations.
The atmosphere of the area, whether you travel for leisure or business, whether you travel with your family or friends, and proximity to the attractions you prefer to visit should probably be the deciding factors. Whatever your preference is, you'll have a great stay in Ibiza.
More Ibiza recommendations
Check out our other guides about the best places to stay in Ibiza: