Ibiza is an iconic Mediterranean destination famous for its endless parties and celebrity culture. There are several towns on the island, the largest of which is Ibiza Town, more commonly called Vila, or you can venture over to the island's western side to visit Sant Antoni. However, as a small Spanish island off the coast of the Iberian Peninsula, Ibiza boasts a stunning landscape complete with countless white-sand beaches and unique culture that has more to it than just nightlife.
Although Ibiza is known for its music and dance festivals that draw many young people in the summer, it can also be a good destination for the whole family. Whether you're an EDM fan or a parent looking for a memorable vacation, you'll be able to find a perfect place to stay.
Since it's such a small island, consider reducing your environmental impact by staying at one of the several sustainable hotels in Ibiza. In fact, over the COVID-19 pandemic, Ibiza's natural setting got a reprieve from the huge amount of tourists normally flocking to its shores; residents experienced a healthier ecosystem, with reports that wildlife was flourishing. However, Ibiza's economy depends on tourism—so now that we can travel there again, we can help take the load off of the island's beautiful setting by staying at eco-friendly hotels.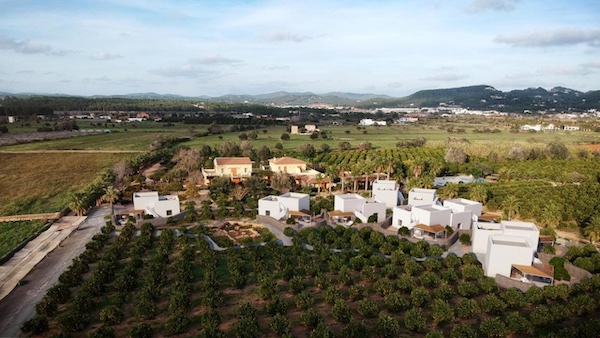 Can Jaume
First up on our list of sustainable hotels is Can Jaume, a serene property that gives you a secluded feel while still being close to Ibiza Town. With just 15 beds, Can Jaume offers travelers a boutique experience with a soothing vibe. Located in the quaint village of Puig d'en Valls, just two miles from Ibiza Town, Can Jaume gives you the best of both worlds (the closest beach is Talamanca Beach, under 3 kilometers away).
In addition to its lovely location, Can Jaume boasts a beautiful design meant to coexist with nature. It's housed in what was once a dairy farm, and the rustic character remains. Accommodation is in the form of light and airy private villas with a warm feel. You can opt for a range of rooms, but all boast a private porch or balcony; many have bathtubs or Jacuzzis for ultimate comfort. From 8:30 until noon, Can Jaume serves a popular breakfast buffet; the front desk also gives great recommendations for Ibiza Town restaurants. Other amenities include an outdoor swimming pool, a beautiful garden, an outdoor rooftop Jacuzzi, and a 24-hour front desk.
What makes Can Jaume sustainable
But it doesn't stop at just luxury—Can Jaume is sustainable, too. For example, tons of orange trees surround the hotel, which are used to make fresh orange juice for guests. The hotel bans single-use plastics, filters its own water, and has a free electric car charger. Can Jaume is a solid option for eco-minded travelers looking for a boutique experience.
Hotel details
Address: 
Puig de'n Valls, 07819 Ibiza Town, Spain.
Guest rating:
4.6 out of 5
Price per night:
From $210
Can Lluc
Can Lluc, like Can Jaume, invites guests onto a nature retreat. It's in the center of the island, but the area is so small that you're only a short drive to Ibiza Town. It feels much more secluded because tall pines, figs, and olive trees populate the property. It's owned by Tina Soriano and Lucas Prats, a husband and wife duo who restored the property from Prats' grandfather's home into a charming sustainable hotel. Here, you'll experience a true rural Ibiza in a former family home. The location is ideal for people looking to explore the island by themselves and is closest to the village of San Rafael, just five minutes away.
The decor complements the nature around it. Earthy neutral tones fill the space; for example, there are original stone walls and wood ceilings. The hotel is quaint with just 12 rooms/villas—however, there are tons of amenities, such as a spa/beauty and wellness center, a pool with a pretty view, a fitness center, and a good restaurant serving a free breakfast buffet with organic ingredients. For dinner, guests enjoy Mediterranean and local flair with fresh produce from the property. All rooms have a coffee maker. Uniquely, Can Lluc also has a children's playground, perfect for families.
What makes Can Lluc sustainable
The founders have a sustainable mindset, as well. They fill the bathrooms with responsible products and support the local environment with the building's minimal design. A lot of the furniture and decor are upcycled, adding to both its charm and eco-friendly value. There are also electric car charging points, a robust recycling process, and no single-use plastics.
Hotel details
Address: 
Carretera Sant Rafael a Santa Agnes, Km 2, 07816 Sant Rafael de Sa Creu, Spain.
Guest rating:
4.4 out of 5
Price per night:
From $380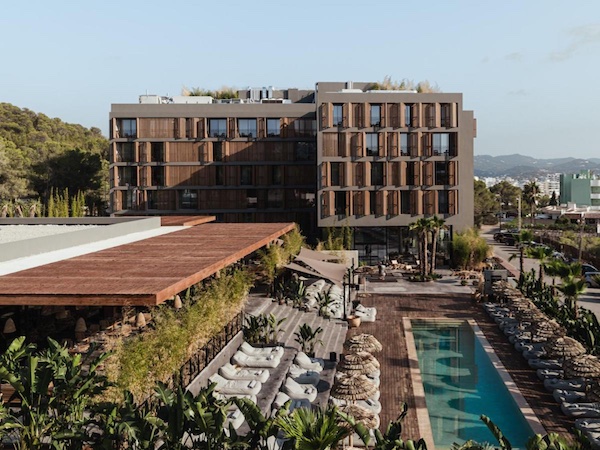 OKU Ibiza
OKU Ibiza is a good option for travelers looking to be in the center of the action. You'll be on the island's western side near San Antonio, a popular party site. However, OKU Ibiza will give you a nice break from the action, since the 189-room hotel has a chill vibe. Nearby, you'll find small intimate beaches as well as energetic clubs.
OKU Ibiza has a wide range of amenities for all kinds of travelers. For meals, OKU boasts a meal with freshly caught fish and local wines and cocktails. You can choose between a juice bar, a normal bar, all-day dining at To Kima, and a finer dining experience at the OKU Restaurant, all featuring local flavors. If you're looking to party, OKU Ibiza has an in-house DJ for nighttime. The hotel employs earth tones in its thoughtfully designed hotel; the Japanese philosophy of wabi-sabi informs the aesthetic. For example, oak and stone blend seamlessly inside and outside at OKU Ibiza. Guests can even start their day with a complimentary morning yoga session.
What makes OKU Ibiza sustainable
Why is OKU Ibiza one of the more sustainable hotels on the island? First off, as a recent hotel, it needed to meet stricter eco-measures than older properties. For example, OKU uses LED technology and motion sensor lights to save energy. The furniture is handmade with organic materials, and the wellness center/spa only uses local ingredients. Additional sustainable measures include reduced food waste, water-efficient appliances, minimal use of single-use plastic, green spaces, bike rentals, and electric car charging stations.
Hotel details
Address:
2 Camí del Portixol, 07820 San Antonio, Spain.
Guest rating:
4.5 out of 5
Price per night:
From $330
Cas Gasi
Let's look at another boutique hotel, Cas Gasi. The 19th-century farmhouse is situated in a beautiful valley on an organic farm, restored with Ibizan charm by its owners. It opened around 20 years ago and has been committed to sustainability from the outset. If you stay here, you'll be just a 15 minutes drive away from the top beaches and attractions.
Cas Gasi doesn't hold back on the luxury experience. The interior has been restored with stunning decor, creating an aesthetic that is a mix of rustic and modern. Additionally, art by local artists fills the walls. Conveniently, the property has two swimming pools, one for adults and one for kids; beautiful gardens surround them. You'll encounter many quiet corners with thoughtful touches as you roam the property. Cas Gasi offers many different room configurations with all the typical amenities for a comfy stay, no matter the group.
What makes Cas Gasi sustainable
Although they founded the hotel with eco-friendly measures in mind, the owners of Cas Gazi are still introducing new initiatives. For example, they recently reformulated the vegetable garden with a no-dig system which is less disruptive to the soil. They embody the farm-to-table philosophy by using clean and non-intrusive harvesting methods; the produce forms fresh Mediterranean cuisine and local meat and fish. All onsite vehicles are electric (there are charging points for guests to use as well). Single-use plastic isn't anywhere to be seen, most lighting is efficient LED, and windows are double-glazed for the best insulation. Cas Gasi is definitely one of the most eco-friendly hotels on the Spanish island.
Hotel details
Address: 
Camino Viejo de Sant Mateu, s/n, 07814 Santa Gertrudis de Fruitera, Spain.
Guest rating:
4.7 out of 5
Price per night:
From $449
Six Senses Ibiza
To wrap up this list of sustainable hotels in Ibiza, we have Six Senses, a brand-new hotel (it amazingly opened in the middle of the pandemic). It's situated in the peaceful Zarraca Bay and has 116 to offer travelers; its design is simply stunning, with some suites literally built into cliffs. It's a bit further out but still just a 35-minute drive from the international airport.
Six Senses is truly a luxury experience. The resort has four restaurants and two bars—all offering organic and seasonal food. Of course, Six Senses as an outdoor pool with an ocean view and a full-service spa. On top of that, there is a schedule of yoga, fitness, sound healing classes, and more offered every week. Guests have access to a gym, outdoor boxing ring, rooftop yoga deck, and relaxation room. Additionally, there is a 400-year-old olive press onsite where guests can have the unique experience of helping to grow produce. This huge forward-thinking resort has several different types of accommodation for different travelers.
What makes Six Senses sustainable
Renewable energy powers Six Senses and impressively has a zero-waste and zero single-use plastic objective. It's also the first resort in the Balearic Islands to have a BREEAM certification, a leading sustainability criterion. Six Senses works with local groups such as the Ibiza Preservation Fund to support ecological projects on land and sea. Additionally, 0.5% of the revenue goes into its Six Senses Sustainability Fund, which supports local groups with similar values regarding community responsibility. There's even more to be said on the sustainability front, which you can read about on their website.
Hotel details
Address:
Carrer Cami­ de sa Torre 71, 07810 Portinatx, Spain.
Guest rating:
4.3 out of 5
Price per night:
From $760
Ibiza is a world-class destination that attracts tons of people every year. If you're one of them, consider booking with one of these sustainable hotels to help keep the beautiful Spanish island pristine.
How we select the best eco-friendly hotels in Ibiza
We are a travel research company. We check a lot of details and guest reviews before making a selection. First, we check which hotels follow eco-travel principles. Are they recycling their waste? Do they work with local communities? Are they using renewable energy? Are they not using single-using plastics?
Secondly, we check guest reviews across multiple websites and only list hotels with an aggregated review rating of at least 4 out of 5. So you can be confident you will stay at an excellent eco-friendly hotel in Ibiza.
Sustainable travel is the key to enjoying a responsible and meaningful trip. You can make a difference in the environment and the communities you visit with the right sustainable travel tips. From packing light to choosing eco-friendly transportation and accommodations, there are plenty of ways to reduce your environmental impact.
More Ibiza recommendations
Get to know the island even better by reading our other articles about Ibiza: