Of all the great places to visit in southern California, San Diego has to be near the top. With a world-famous zoo, great weather and plenty of beachfront, there is a lot to do in this city. Whether you find yourself in San Diego on business or for pleasure, you will be in for a fabulous time.
Today, we will be specifically talking about accommodations in San Diego and how you can save some money. Staying at a cheap hotel allows you to allocate funds to other aspects of your trip. Whether it be seeing more attractions or eating better food, when you do not need to worry about high hotel costs, you are set.
So, here are the three best cheap hotels in San Diego and why you should consider them for your next stay!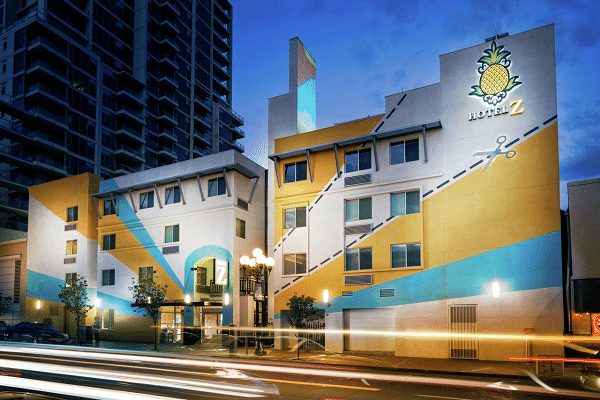 Hotel Z, A Staypineapple Hotel
The first location we will talk about is Hotel Z run by Staypineapple. With any hotel in a new city, location is everything. You want to base your location on your wants and needs in a stay. If you like to be close to the action, that is a consideration to make. If not, so be it. With Hotel Z, you are in the Gaslamp Quarter, so tons of shopping and restaurants are a short walk away.
There are also a number of great amenities at the hotel itself. When dealing with budget hotels, you do not often get those great add-ons but there are some quality ones with Hotel Z. Examples include free Wi-Fi, renovated rooms, free bikes to ride to the beach, and much more.
In terms of the rooms themselves, there are a couple of things to point out. There are 96 total rooms, so it is not some loaded corporate location that has a lot of foot traffic. The hotel was also renovated in 2015, so the rooms are clean, modern, and simple. You will be outfitted with TVs, coffee makers, and everything else you need in a good stay despite the low prices.
Hotel details
Address: 
521 Sixth Ave, San Diego, CA 92101, USA.
Guest rating:
4.6 out of 5
Price per night:
From $109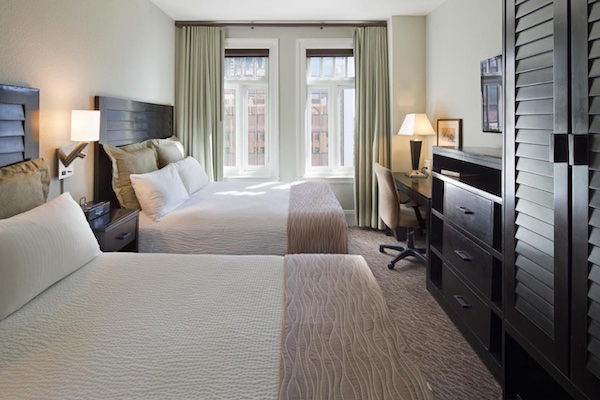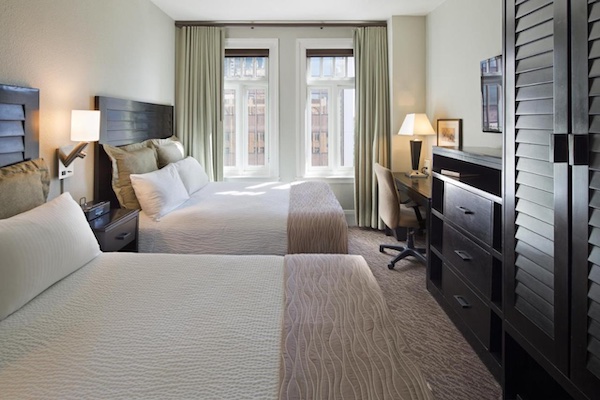 The Sofia Hotel
Located in downtown San Diego, The Sofia Hotel is another great option for those who want to save some money. Although the location is not right in the heart of the real action, short drives will put you anywhere you want to visit in the city. We already talked about the Gaslamp Quarter and how it has all the action. Although the Sofia Hotel is not in that quarter specifically, you are a walk away from it. So, it can be accessed without too much trouble.
There are also a few amenities that will be worth pointing out if you are one that likes to have that type of value implemented in your stay. Some examples include a bar, yoga center, 24-hour gym, free bike rentals, and so much more. So, yes you are saving money but you are absolutely not roughing it. The Sofia still brings great value to your time in San Diego.
The rooms themselves are quite small and simple. So, if you do not need that extra room, this will save you money for not taking up as much space. If you do need more room for company or items, you may want to consider a different option.
Hotel details
Address: 
150 West Broadway, Downtown San Diego, San Diego, CA 92101, United States of America.
Guest rating:
4.2 out of 5
Price per night:
From $116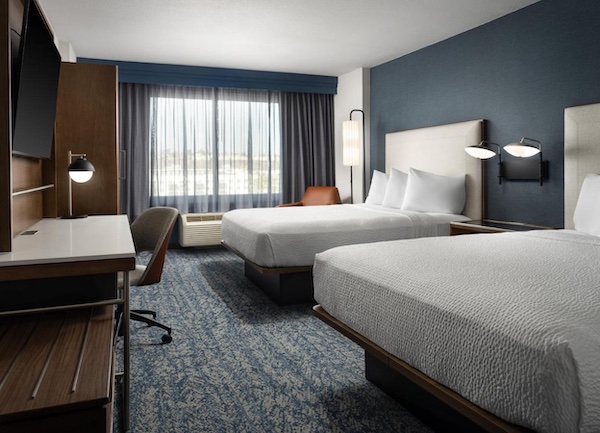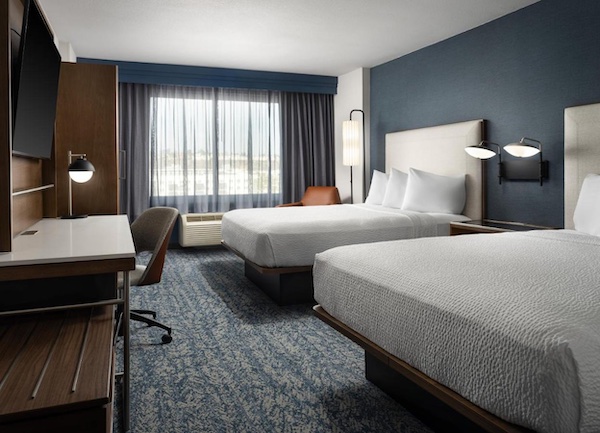 Courtyard San Diego Mission Valley/Hotel Circle
To round out our list, we have the Courtyard San Diego in the Mission Valley/Hotel Circle area. Of the three on this list, this is the most "chain" hotel, so there are more rooms and more of a corporate vibe. This could be good or bad depending on your wants and needs in a stay.
What does come with more rooms and a bigger reputation is a larger set of features. For example, this Courtyard is outfitted with an outdoor pool with a jacuzzi, free Wi-Fi, large rooms, and discount tickets for the San Diego Zoo. Having a high reputation in the place you are staying is a great way to ensure a good time.
The rooms are incredibly basic and not too much to write home about. However, there is a restaurant and bar on-site to enjoy. This is a great perk when you really don't feel like venturing out too far.
There is also the option to upgrade to a suite. Suites have much more room and a couple of upgraded amenities. So, if the budget allows, you can spring from the more pricey option.
Hotel details
Address: 
595 Hotel Circle South, Mission Valley, San Diego, CA 92108, United States of America.
Guest rating:
4.0 out of 5
Price per night:
From $120
About our budget hotel recommendations in San Diego
We are a travel research company. Our team helps you discover the best cheap hotels in San Diego by researching the internet for you. We have also visited some of these places. Hence, it's not just our opinion, it's the opinion of thousands of travelers who have been there before you. We make it easy for you to find out about the best budget hotels in the city.
Please note, we only list hotels that have an aggregated guest review rating of at least 4.0 out of 5. We aggregate all reviews from different booking sites and other unbiased review websites. Any hotel listed here should have a price of $120 or less per night. Hence, you can be certain all hotels listed above offer you a great and affordable stay in San Diego.
Lowest price guarantee
We partner with Booking.com and Hotels.com. Both booking websites offer the lowest price guarantee so you can be certain you will always get the best deal for the hotels above. If you have seen a better price elsewhere, all you need to do is contact the booking website and they will refund you the difference immediately. You can price match right up until the day before check-in.
We also recommend you read our guide about how to save money on hotel bookings. It's a list of tips about when you should book a hotel, what tools you can use, and other things you can do to find your preferred hotel at an affordable price.
Top 3 budget hotels in San Diego
Let's summarize this affordable travel guide. Based on thousands of guest reviews, these are the best budget hotels in San Diego:
More San Diego recommendations
Get to know the city even better by reading our other articles about San Diego:
Best luxury hotels in San Diego
Best boutique hotels in San Diego